MUSIC
Alsarah educates us on the diasporic music that populates the United States.
"Your creativity is somehow a natural gift, where a man's creativity is hard work and skills...."
Women are killing it in the music industry, and the world of song lovers couldn't be happier! In our new column, #WomenCrushWednesday, we'll feature an awesome lady whose tunes are blowing up our playlists and ask them about their musical journey.
In this week's feature, we spoke with Alsarah of the group New Alsarah & the Nubatones, a talented musician originally from the Sudan who is broadening the music scene in the United States with her East-African Retro-Pop sound. Most recently, the group released an album of remixes from their release last year, and to accompany it are debuting a video exclusively on Popdust with behind-the-scenes tour footage and more. Few other artists embrace the melting pot image of the United States in their work like Alsarah has. Read below to see how music has inspired her and more about the Nubatones upcoming projects.
---
How did you become interested in music?
My love for music began with my earliest memories. I used to steal my parents cassette tapes when I was a kid and listen to them. My favorite amongst them was this little underground tape of a leftist collective of artists in Sudan that was being passed around during the 1986 elections. I memorized the entire tape, front to back. It was and still is one of my favorite and earliest musical memories...obsessing over all the songs. I even revamped one of them (titled "Vote") a few years ago in a remix with the hiphop artist Oddisee for the last referendum elections in Sudan. Then I got a keyboard for my birthday when I was 8. Then I moved to the USA when I was 11 or 12 and joined my first choir. Once I started singing I knew right away that this was gonna be love forever.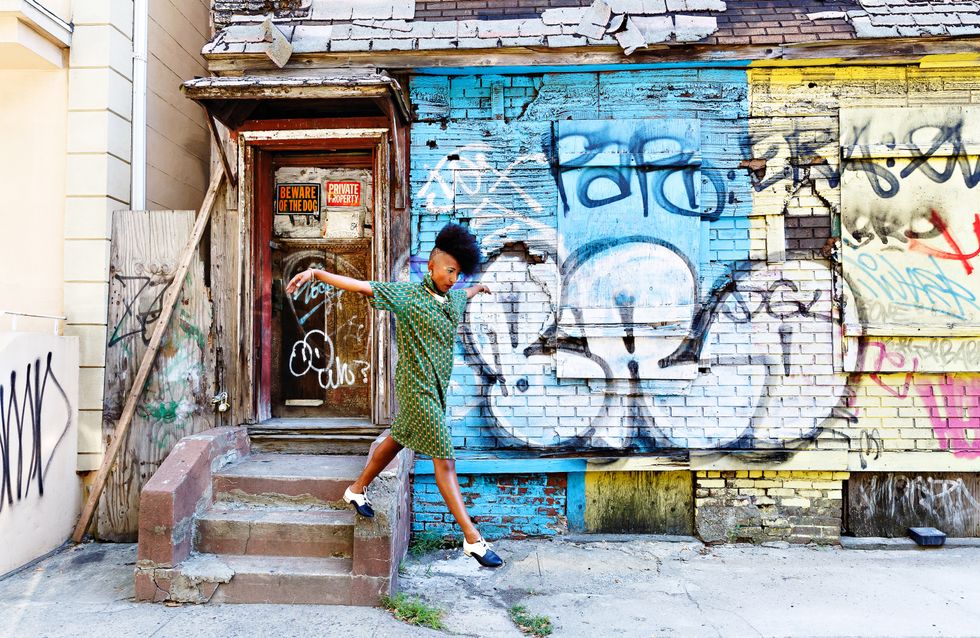 You were born in Sudan, but had to flee the country with your parents and have lived in many places all over the world. Can you talk a little bit about that experience and how it has, if at all, influenced your music?

I think moving from an early age around different countries and being questioned constantly about who I am, where I come from, etc. creates a certain kind of self awareness. Almost a consciousness of yourself as 'not the norm' which then leads to questioning what the norm is and should be. A bird eye's view of the self in a way that allows you to examine yourself constantly (could be a good thing or a bad thing depending on how you channel it). Which then creates a deep hunger to connect that you somehow also know will never be satiated so you try to find other ways to normalize. For me, music was the answer. A way to recreate my home in a way that fits my always growing self. A way to communicate and connect beyond words. Because words at the end of the day are a small part of of the big communication picture.
Being a cross-cultural artist in America, how do you think your music is perceived? Have there been any challenges?
I consider my music to be diasporic music. And the USA is the land of the diasporas despite the way some folks act (if you are not a person of the first nation, you are an immigrant...basic facts). If I had never left Sudan, my art wouldn't sound like this. But I did leave. And now I'm a Brooklynite just as much as a I am a Sudanese person. So to me, my music is equally at home here as it is in Sudan. However the music industry in the USA hasn't caught on to the fact that people and their music can be two or more things at the same time. That people are multi-deminsional beings that can't be flattened into a one dimensional frame. So having to explain the concept of being a person who can see on both sides of the bridge is probably one of the biggest challenges I have making music in the USA.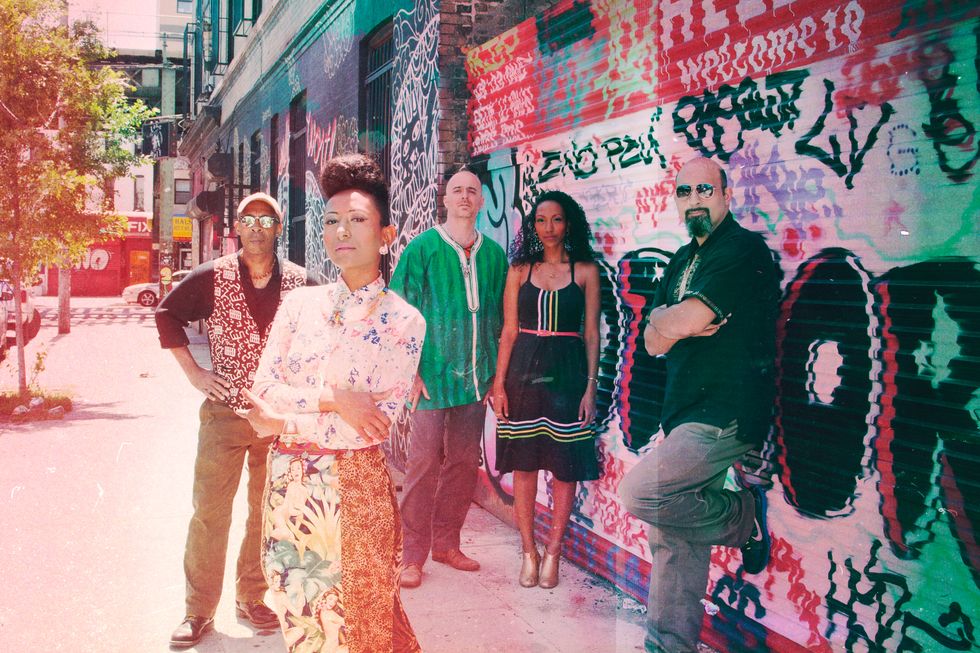 Can you also speak to what your experience has been in the music industry as a woman?

Respect is STILL a big issue in this industry if you are a woman. It's 2017 and slut shaming is still somehow a thing. Demanding what you are rightfully owed makes you a 'bitch' or a 'diva.' Your creativity is somehow a natural gift, where a man's creativity is hard work and skills....I can keep going forever, but let's just say I started my own band because I got tired of being a woman in the music industry.
You formed your band, the Nubatones. How has your work together evolved over that time?
I actually formed this band with Rami El Aasser, the percussionist whom I had known since 2006 working in various projects around NYC. I brought my sister into the band 3 years ago. The band has had a very natural evolution. We started out just basing our work in covers only, then I began bringing in my songs to the band, and we would arrange together until we got to the place where we would jam and take creative sabbaticals to write together. We have had ups and downs and many years to just get to the place of releasing our first album...we even had bandmates and team members die...So I think we are a family at this point.
You're exclusively premiering a video on Popdust recapping your tour and featuring the iZem remix of the song "Alforag." What do you love about the song, and why did you use it in the video?

Well this song to me is about the final phase of missing someone. It's when you miss the fading memory of missing someone. When the missing becomes normal...like a left over scar that no longer makes you flinch but is still there. What I love so much about iZem's take on it, is how he found the joy in it, the dance in it, the possibility of meeting again. He breathed new life into the song. He made me fall in love with the song all over again. And when I tour, the audience helps bring a new dimension to all the songs all over again. So it seemed appropriate. Plus, it's a such a fun remix and one of my favorites on the album!!!
This fall you also released the remix album for Manara. What was the process for producing that album like?
This is the second remix album that I make with Wonderwheel recordings, and it very much feels like I'm making it with them. They are heavily involved in the process of curating the producers and contacting them etc. I love that because it's so different than working on my albums. I produced both Silt and Manara, and I didn't really allow anyone besides the band and the sound engineer to be involved in any way in the making of it or even hearing it until it was basically done. But with the remixes, it's so far removed from me. It's really about each producer's take on the song...turning it inside out and injecting it with a new personality. They stop being my babies and become their own creatures. I really love watching it. It makes me fall in love with them again.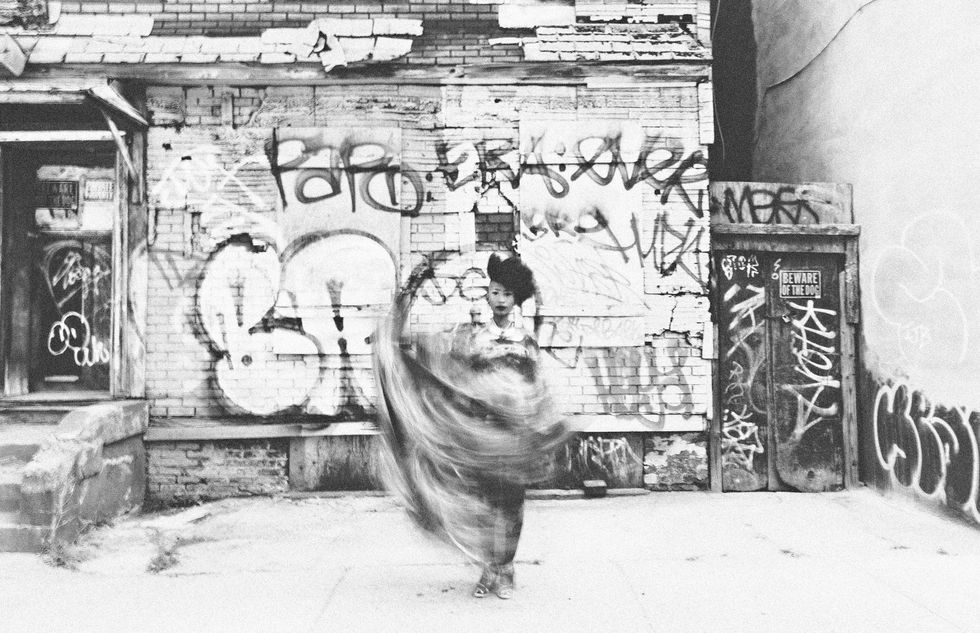 Have the remixes for any of the songs changed your opinions on them? What are some of your favorites?

Oh totally! Each remix creates a new thing. personal favs: 3roos El Neel (El Buho); Fulani (pablo fierro); Nar (Nickodemus and Kiko Navarro); Salam Nubia (Khalab); and of course Alforag (iZem).
What's up next for you and the Nubatones heading into 2018?
We will be touring the first half of 2018 so keep your eyes peeled for us in a town near you! We also hope to take another creative sabbatical like the one we took last year and start planting the seeds for our next album.
---
Follow New Alsarah & the Nubatones on Facebook.
---
Rachel A.G. Gilman is a writer, a radio producer, and probably the girl wearing the Kinks shirt. Visit her website for more.
Have a female or femme-identifying artist we should profile? Send a pitch email to Rachel.
---
POP⚡ DUST | Read More About Music...
#WomenCrushWednesday | The Maggie Szabo Interview
#WomenCrushWednesday | Yasmine Hamdan Interview
#WomenCrushWednesday | Maisy Kay Interview and her new EP "Disguises"
---