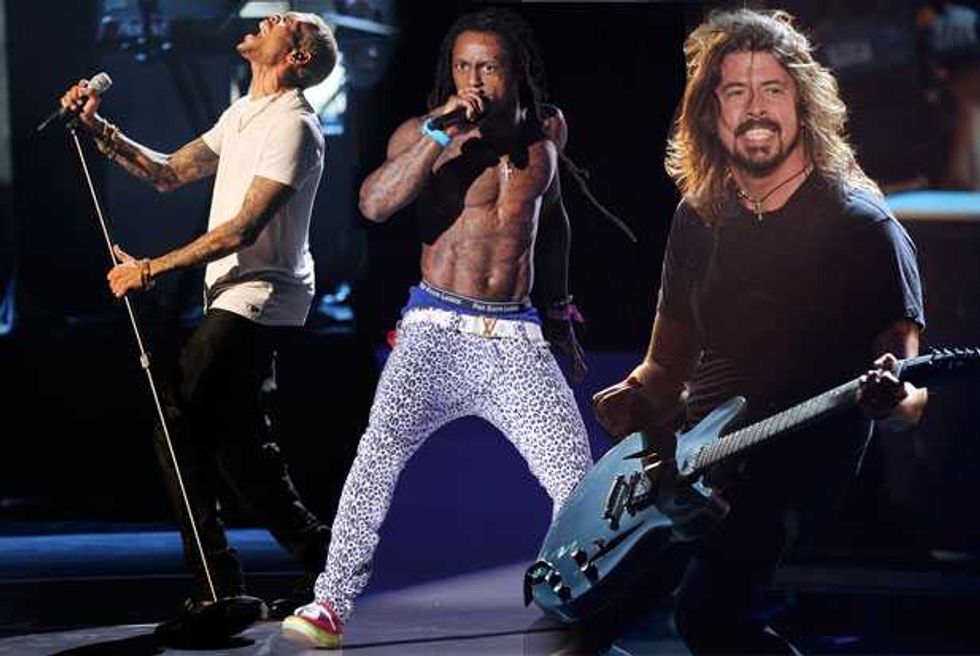 Nobody loves themeslves an ill-fitting, partially nonsensical live collaboration quite like the Grammys. These are the guys who have had Sting duet with Sean Paul, Foo Fighters with Chick Corea, and Justin Timberlake with Arturo Sandoval—all in the same year! Still, even which that rich history, they've truly outdone themselves this time. According to a recently circulated press release, Chris Brown, Lil Wayne, the Foo Fighters, Deadamau5 and David Guetta will all be appearing together at the ceremonies, as part of what the release is referring to as "a special segment spotlighting dance/electornica music for the first time ever" at the Grammys. Goody.
Now obviously, we have a lot of questions about the logistics of this thing. We presume that Foo Fighters made the cut due to the Deadmau5 remix of "Rope" scoring a Grammy nomination...but how often do you see bands play a remix live? And we suppose Lil Wayne and Chris Brown are there to assist David Guetta on the trio's Nothing But the Beat track "I Can Only Imagine"...but don't those guys have legitimate hits of their own they'd rather be playing? And as long as Nicki's gonna be in the building, doesn't it make a ton more sense to have her there instead, doing recent smash "Turn Me On"? Also, not like we need to say it, but c'mon: No Skrillex, no credibility.
Still, uh, good for dance/electronica. (Has anybody actually used the word "electronica" since AMP went off the air?) We also look forward to another potential milestone in Grammy history, as the five artists should be playing in "in a special outdoor tent adjacent to Staples Center." Do we smell the first Chillout Tent in Grammy history? We're officially pumped.