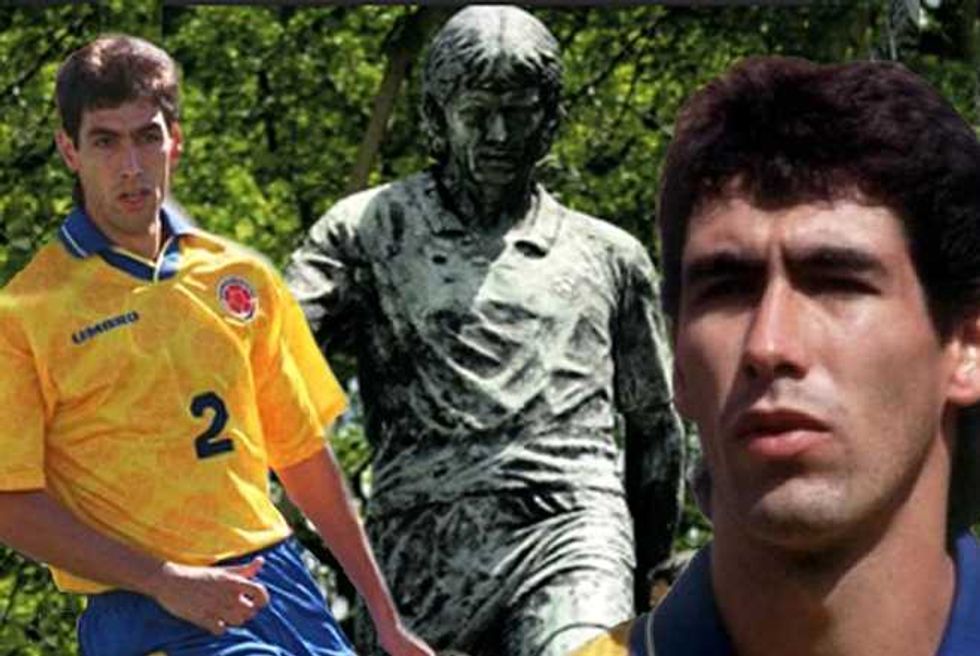 We all know soccer (or rather, "fúbol") fans are hardcore when it comes to their fanaticism for the beautiful game—so let's face it, Brazil's 7-1 loss to Germany earlier this week can't have been easy for the host nation's footie lovers to stomach.
But, World Cup organizers are hoping a shrine to slain Colombian footballer Andres Escobar, situated in Rio de Janeiro, will help fans remember how far sports mania can go, and how dangerous and regretful the consequences of that can be.
Maybe the most poignant moment following Brazil's defeat was David Luiz's tearful apology, where he pretty much summed up the disappointment to a T.
"I just wanted to give joy to the people who suffer so much. Unfortunately we could not, sorry everyone, all Brazilians. I just wanted to see people smiling…" said Luiz.
Total. Fucking. Bummer.
But at least things weren't as bad as they could be. Not sure what I'm talking about? Let's take a little trip down memory lane, back to the 94' World Cup.
It's Colombia Vs the United States – Colombia's second match of the tournament. In attempts to cut out across U.S. midfielder John Harkes, defender Andres Escobar ends up deflecting the ball… into his own net.
That's right, Andres Escobar, the "Gentleman of the Field" (El Caballero del Fútbol) scored a goddamn OWN GOAL… but, not just an own goal… the deciding goal…Colombia lost the game 2-1.
Their World Cup dreams were dashed and they were heading home.
10 days later, Escobar was dead.
How's that for a shock-and-awe inspiring headline?
The 27-year-old was gunned down outside of a nightclub, in a Medellin parking lot. And at a time when most of the county was only too aware of the influence and power of the drug cartels, it wasn't long before rumors started to spread about who was responsible for the murder.
Escobar had gone to the club with some friends to try and get his mind off the World Cup. But soon after walking in, he left, to avoid the harassment and heckling that he had been met with—witnesses say patrons starting chanting "own-goal, Andrés, own-goal!" as he entered.
Escobar was shot six times in the parking lot of El Indio nightclub after an argument with men who were later tied to the cartels.
Needless to say, a lot of the other Colombian players were freaked….the.... fuck….out.
Faustino Asprilla, the team's center forward, said he was assigned 20 bodyguards after the murder. Others went into hiding. Several decided they would never play for their country again.
Humberto Castro Muñoz was later identified as the triggerman and sentenced to 42 years in prison. Muñoz was a driver for renown drug traffickers Pedro David and his brother Juan Santiago Gallon Henao—but, through it all, he refused to implicate his bosses, who were with him at the time of the murder. He was subsequently released after just 11 years.
20 years later, fans are taking time to make sure that Escobar is remembered during the 2014 games. In a small pavilion in the quiet, sun-kissed gardens of Rio de Janeiro's Museu da Republica, a shrine stands in honor of the murdered player.
Going forward, let's hope we can learn from the past, keep our mistakes at bay, and act as rationally as we can despite all our irrational urges.