A pinch hit home run by Eduardo Nunez gave Boston the boost they needed to secure a win last night in Game one of the World Series.
Both teams were ready for a battle of the bullpens as elite pitchers Clayton Kershaw and Chris Sales took their turns on the mound. The scores were tight most innings, with each team fighting to maintain narrow leads. The tension remained until a clutch three-run homer — from an unlikely hero — sealed the Sox victory.

Amazingly, the most buzzed about hit of the game didn't come from the Dodgers, stacked with a line up of statistically favored left handed power hitters. It didn't even come from the Red Sox starting lineup – the unlikely batting hero was none other than Eduardo Nunez, pinch hitting for Rafael Devers in the seventh inning.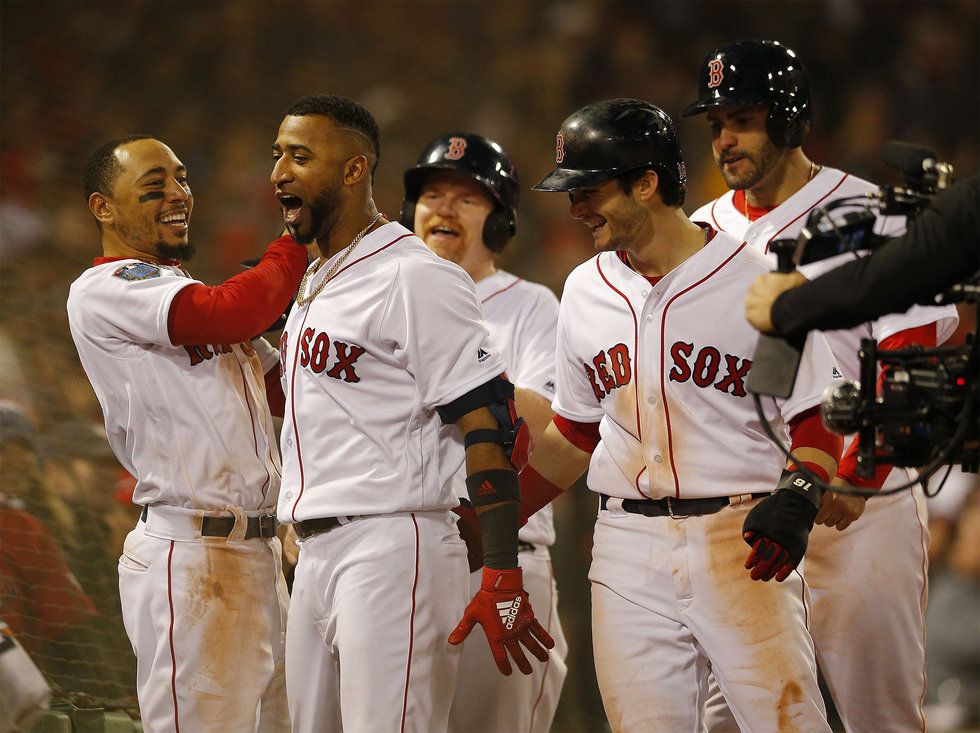 Los Angeles Dodgers at Boston Red Sox, USA - 23 Oct 2018
Before that glorious moment, the pendulum of victory was still swinging back and forth between the two teams. In the bottom of the fifth, the bases were loaded and Dodger's reliever Ryan Madson struck out Martinez, it looked like the inning was over following a ground ball hit by Xander Bogaerts. But, shockingly, Bogarts barely beat the double play relay throw and brought the go-ahead run home preceding an RBI single by Devers, which brought the score to 5-3. Boston struggled to hold on to their lead though, as Manny Machado snagged an RBI for LA in the seventh, making it a 5–4 game.

The Red Sox pushed forward and with two men on base and two outs at the bottom of the seventh inning, Nunez blasted a three-run homer off Alex Wood, widening their lead to 8-4. The Red Sox managed to keep their lead, and win the game.
Catch more of the action tonight on FOX The Dodgers and the Red Sox battle it out in Game 2 of the 2018 World Series.
POP⚡DUST | Read More…
Selma Blair Spotlights MS Disease's Difficult Diagnosis
INTERVIEW | Indie-Rock Trio, The Slang
'Labyrinth' and 'British Bake Off' Meet in 'Curious Creations of Christine McConnell'