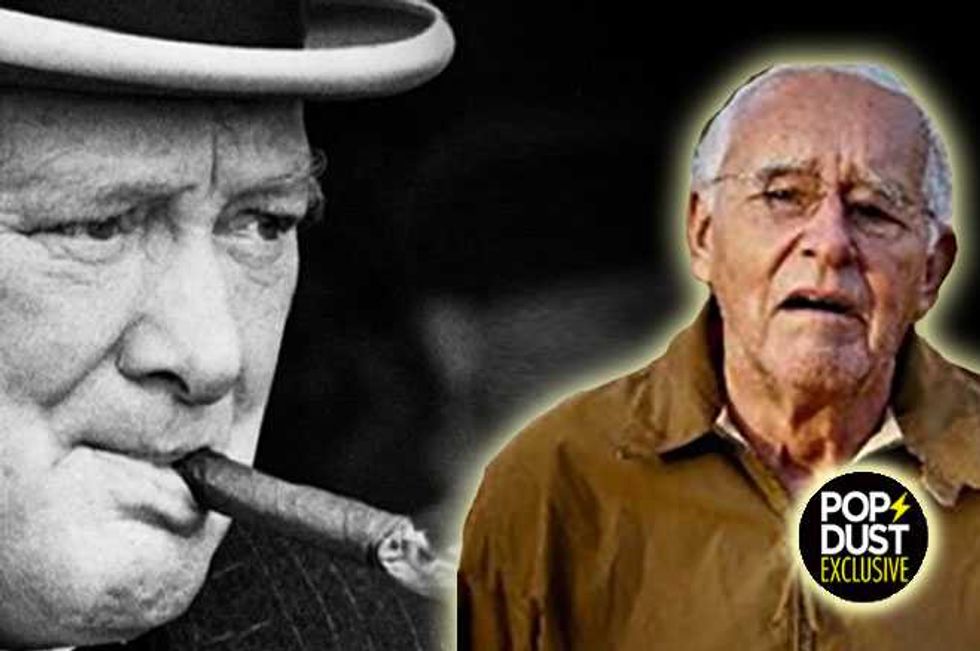 The UK's Worrying OAP regularly vents his feelings via the very modern platform of Twitter—sharing his grievances, and everyday observances, with his legion of over 13,000 loyal followers.
A pull-your-socks-up, ruddy-well-get-on-with-it senior citizen, Worrying OAP truly embodies the "bulldog spirit" of yesteryear and puts the Great in Great Britain.
The self-professed "retired jobsworth with too much time on my hands so I worry and moan about the little things in life" took a break from tending to his hanging baskets; worrying about his security light; dining out in the Morrisons cafe; and blowing his pension down the local Aldi, to air his grievances with Popdust—and share why things were just better back in old Churchill's day.
Popdust: Where do you get your inspiration?
WO: For my tweets and that sort of whatsit, everyday life, but my biggest inspiration is Winston Churchill.
PD: What are your biggest gripes?
WO: Yobbos standing on street corners, undercrackers round their backsides, talking like they just landed here from bloody Mars. Oh, and our neighbors over the back. They have barbecues and don't tell us to take our washing in. Also, the way the youngsters sing in songs these days. You can't understand a word they're saying. It's just grunting and groaning over a drumbeat.
PD: What are you most worried about?
WO: At the moment? My hanging baskets. This weather has battered them something rotten. They were unrecognizable when I went out the front this morning.
PD: Do you think you're grumpy?
WO: No, not at all. I'm not one of these nutters, who goes around burning incense, banging on about how beautiful the bloody earth is, wearing linen, bare footed, but I'm definitely not grumpy. I don't think so anyway.
PD: What comment has gotten you the most retweets?
WO: I can't remember. Any time that Ricky Gervais off the telly retweets us I get a lot of letters, and most tweets about Mick next door seem to be very popular, too, but it's not surprising, he's a truly marvelous man. I reckon he should be on the West End. He's a motorbike mechanic by trade, but you should hear him sing Neil Diamond at our summer barbecues. You'd think it was really him standing there. Well, if he got rid of his silly beard. A goat. I think that's what he calls it.
PD: What is your home life like—wife, kids, etc?
WO: I don't want to say too much, as you never know what sort of sickos could be reading this. One minute they've got my wife's name, the next they're hacking into our premium bonds and bang goes our plans for a larger conservatory. But it's just me and the wife at home, and our cat of course. I have two sons, a daughter, and teenage grandchildren.
PD: Who is your least favorite celeb and why?
WO: How long have you bloody got love? We could be here all afternoon and I've got supper to eat at 5. I suppose if I had to choose one, it would probably be Heston Blumenthal. Probably a lovely chap, but the way he fannies about with food... well, it's enough to curdle your blood isn't it? Not keen on that Vernon Kay either. Eyes are too beady.
PD: Who is your favorite celeb and why?
WO: Martin Clunes. He's a fine actor and that Doc Martin ought to be done in Hollywood.
PD: If you could rid the world of one thing what would it be?
WO: Self service checkouts in supermarkets. They reckon it's quicker, but I spend about 5 bloody hours trying to iron out my ten pound note so the thing accepts it and doesn't chuck it back out at me. I can't stand them. Do away with them altogether.
PD: Have you ever tried anti depressants?
WO: No. The only anti-depressants I need are a long walk to town, a new fleece from Millets, an hour of The Marx Brothers and the wife's apple crumble. Not her plum one though. That was dreadful.
PD: If you could go on a date with Kim Kardashian, would you?
WO: Who the bloody hell is Kim Kardashian? That's not the tart off Emmerdale is it? I can't bloody stick her...oh, the grandson just got a photograph up on the computer of her.
PD: If you could say one thing to Kim Kardashian, what would it be?
WO:  I think I would have to say put on a pullover. You'll be whinging when you get a cold, love, and then you'll take up a valuable doctor's appointment slot and it's murder up there as it is since the new fandango computer system. It's touch screen, you know. You feel like you're in Star Trek.
PD: Was there a time in your life where you felt like people were doing things right?
WO: We do some things right now days, don't get me wrong. I love some of the BBC 2 documentaries and Morrisons cafe do a fish and chips so lovely, you'd not get better at The Savoy. But in the war, we had it right. The second rations stopped, we got greedy and careless and starting chucking everything. If it's broken these days, we throw it, we don't even try and fix it.  If Churchill was still in power, we'd all be alright. Just a shame he's brown bread and that David Cameron is a bit of a wet weekend.
Head to Twitter and follow @WorryingOAP for more insights from the British senior citizen turned national treasure....