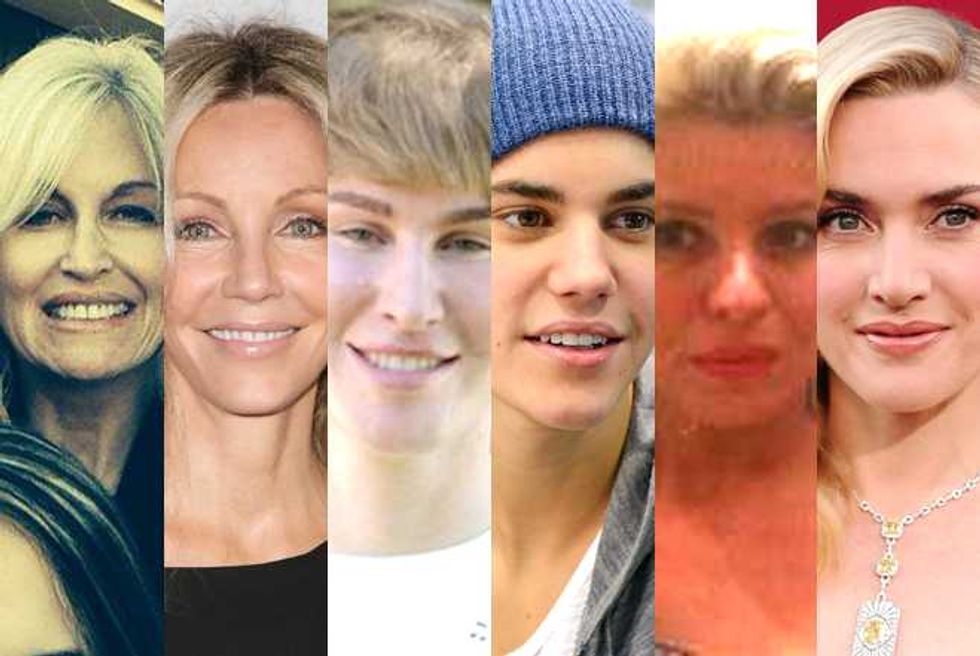 What on earth would possess someone to undergo plastic surgery in order to look like their favorite celebrity?
Believe it or not it happens more often than you would think and the New York Times has an in-depth report about why—Popdust has details.
The Times interviewed a man who had surgery to look like Vanessa Paradis, a woman who went under the knife to look like Heather Locklear and another who wanted to look like Kate Winslet.
"I wanted her baby face," New York fashion stylist Nino Dean explains (the Vanessa Paradis dude). "I still find her my favorite beauty of all."
"I know it sounds crazy, but I'd be happy being more like [Heather Locklear]," explains 49-year-old Stacy Shanahan. "I wouldn't miss how I look. She's beautiful."
So beautiful in fact, the account executive dropped $6,500 on plastic surgery in her bid to evoke "the spirit" of the Melrose Place star.
Meanwhile, Deborah Davenport claims she was motivated to go under the knife to look like Winslet because she was sick of people telling her she looked like Cameron Diaz!!!
Davenport forked out a cool $15,000 to look like the Oscar winner—her doc shaved cartilage from her nose, plumped up her cheeks with the dermal filler, Sculptra, and injected Botox around her eyes and into her forehead.
Then there's singer-songwriter, Tony Sheldon.
As Popdust previously reported, the 33-year-old has spent a whopping $100,000 in his bid to look like his idol Justin Bieber.
"Once Justin shot to fame his face was everywhere and all I kept thinking when I saw his picture was, 'I want to look like him'," Sheldon said as way of explanation.
This all may seem rather bizarre and unusual—but, according to experts, although these requests don't happen every day, they do happen a lot more often than you would think.
"About once a month, someone comes in who wants to look like a family member, friend or celebrity," Dallas based plastic surgeon, Dr. Sam Lam tells the New York Times.
"We really cannot make someone 'pass' for someone else," Santa Monica based surgeon, Dr. Steven Teitelbaum says.  "At most, we can try to mimic a feature, such as a nice nose, or even to put in a grossly disproportionate chin implant to mimic the nearly cartoonish visage of Jay Leno."
"I had a patient who went from doctor to doctor trying to get surgery to look like Brad Pitt," New York based dermatologist, Dr. Amy Wechsler, says. "There was this sense of, 'My life will be so much better if I had this person's X, Y or Z.' It can become an obsession."