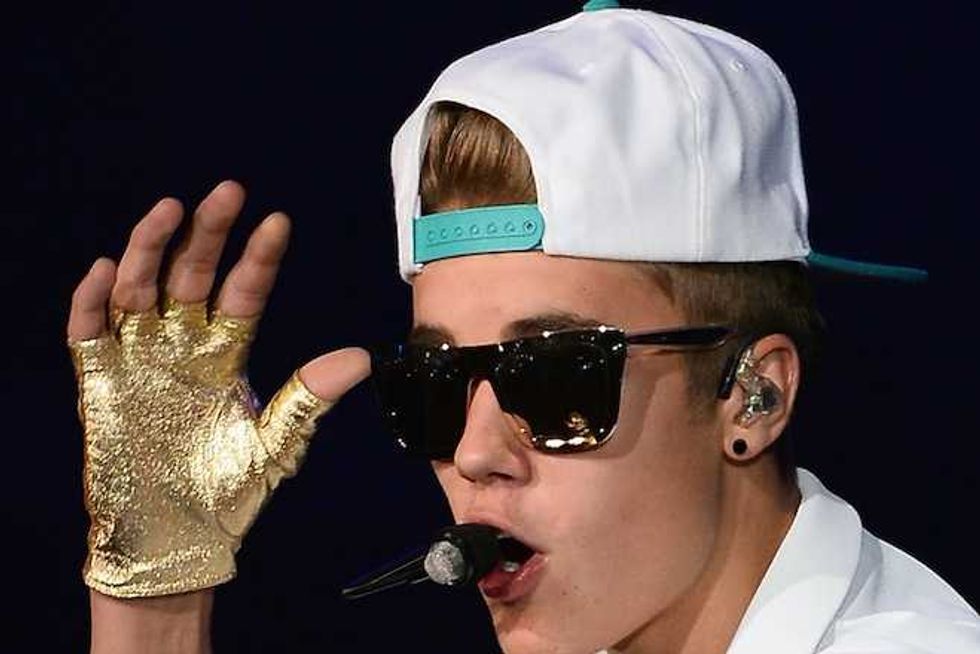 Justin Bieber has been up to all kinds of mischief on his Believe world tour. Just a week after a Panamanian prostitute told a Spanish newspaper that The Biebz ejaculated all over her breasts for the hefty price of $500 (we know many Beliebers that would probably let him do that for free), Page Six reported that the "Baby" singer was spotted leaving a Brazilian brothel under the cover of a bed sheet to avoid the paparazzi.
While it's difficult to prove the total accuracy of these sleazy reports (although the brothel story looks likely since JB's tattoo could be seen under the sheet), what we can vouch for are the crappy conditions of Bieber's official meet and greet tour package.
A leaked cell phone recording from the Sao Paulo meet and greet shows a string of teenage girls getting less than five seconds to have their photo taken with The Biebz (who looked rather stoic behind a pair of sunglasses) before being firmly yanked away by bodyguards and pushed outside. We get that some of these crazy fangirls might need to be manhandled at times, but this seems pretty excessive considering the price their parents paid to make this happen. Gawker says the tickets were over $1000, which sounds accurate since the Australian leg of the tour is charging almost $500 for a GROUP photo with Bieber and five other fans. (To be fair, a floor seat and autographed album is also included in the package, too.)
Making matters worse, Gawker also says that Bieber was three hours late to the meet and greet, kicked a Brazilian flag, and finished the concert early after a fan threw a water bottle at his head. We'll defend Bieber a bit and say that he probably didn't realize that he was kicking the country's flag (it must be a bit disconcerting trying to move around with stuff everywhere and 30,000 girls screaming at full capacity), and nobody should be throwing things at an artist while they're performing. However, when we take a look back at the fifty million other douchy things Bieber's done this year alone, it's pretty hard to sympathize with him.