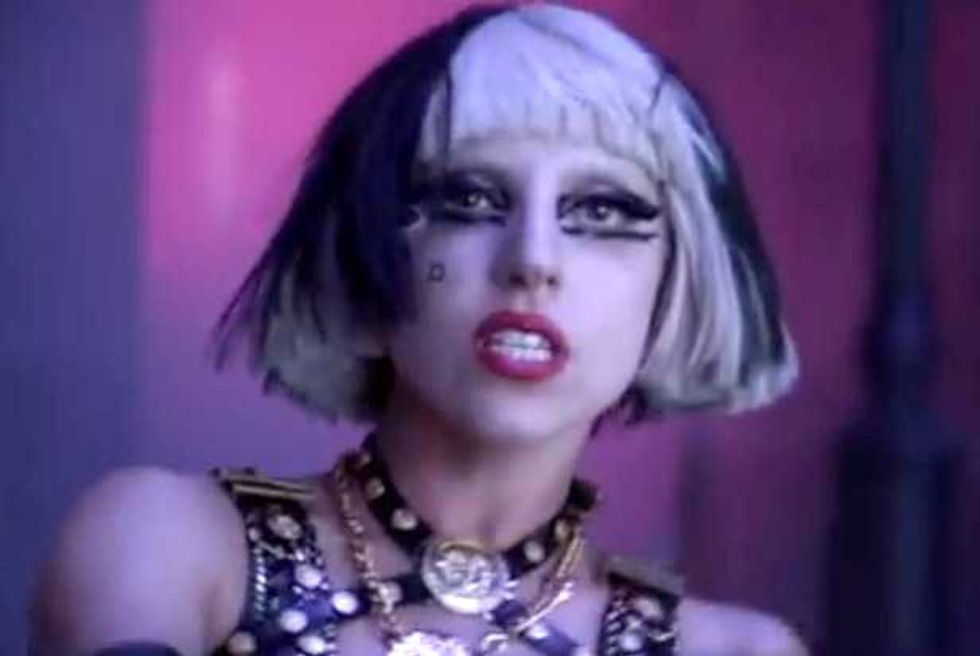 Motorcycles, murder plots and most of all, major choreography. Lady Gaga videos are usually elaborate, high-concept affairs we may not entirely understand, but give us plenty to talk about nonetheless. With another nationally televised video premiere on So You Think You Can Dance Thursday night, Little Monsters were expecting nothing short of a religious experience (she's advertised videos as such before) with "The Edge of Glory." But then it came and went, and we, along with many others, couldn't help but feel confused. (That was it? Her Google Chrome commercial is more interesting!)
For a song that already borrows '80s sounds from the likes of Pat Benatar and Clarence Clemons, Gaga continued her homage to the Me Generation with a very low-concept (and probably low-budget—a push from Interscope to save money?) "Beat It" meets "Opposites Attract" video, only without the gang fights or animated DJ Scat Cat. For such a triumphant and unifying track, Gaga simply chills on a stoop with Clemons and dances around a dimly lit street corner... for five minutes. There's no drama or intrigue, just cheesy pink lighting and ominous smoke emanating from the sidewalks (another '80s throwback). Fan reaction has not been pretty:
[blackbirdpie url="http://twitter.com/#!/17days/status/81530816517255169"]
[blackbirdpie url="http://twitter.com/#!/XTINASDISCIPLE/status/81539662715420672"]
[blackbirdpie url="http://twitter.com/#!/jonnonaarch/status/81528494785441792"]
Initially said to be directed by Jospeh Kahn, the man responsible for bringing the music of Britney Spears, Eminem and even earlier Gaga to life, expectations for "The Edge of Glory" were exceedingly high. So what happened? "I did NOT direct Lady Gaga's "Edge of Glory" video. Lady Gaga did," Kahn tweeted on Wednesday. "No, I don't co-direct. One canvas, one paintbrush. Respect the art. Very simple rule with me." Kahn's message led to rampant speculation that he was fired while filming, a rumor fueled even more by revelations from on-set editor Chancler Haynes. In a series of direct messages with a fan over Twitter, Haynes claims that Gaga and her people rejected Kahn's original vision two days into shooting in favor of one entire backlot scene. (A shame considering the leaked production stills and talk of a mermaid seascape and shots of the Brooklyn Bridge were at least a little more interesting than the end result.) "Kahn was there from start to finish of shoot. Gaga changed her mind and told Joseph what to do. His hands were tied. Joseph's concept died," he wrote. After the fan released the conversation online (be careful who you're talking to; nothing stays private nowadays!) Little Monsters fired angry messages at Gaga choreographer (and Haus member) Laurieann Gibson, who attempted to confirm that there weren't any on-set power trips, merely a difference of opinion between creative minds ("411..The EOG.. Video was not directed by me.. And creative Changes happen always educate ignorant Monster's!!!"). Yet Gaga may have furthered any actual (or fabricated) tension with the following tweet, posted after the video's premiere:
[blackbirdpie url="http://twitter.com/#!/ladygaga/status/81525882417717248"]
Directed by the "Haus of Gaga." Ouch. That's cold, Gaga. Ice cold. Perhaps after spending way too much money on videos that will never possibly make her anywhere near as much in return, Gaga was advised to scale back and rest on the popularity of the song and her persona alone. But after a series of mind-blowing videos, haven't we been conditioned to expect much, much more? Other artists have done it, sure, but it is Gaga at the level where she and she alone can hold our attention for over five minutes? She hasn't quite reached Michael Jackson status. Yet.