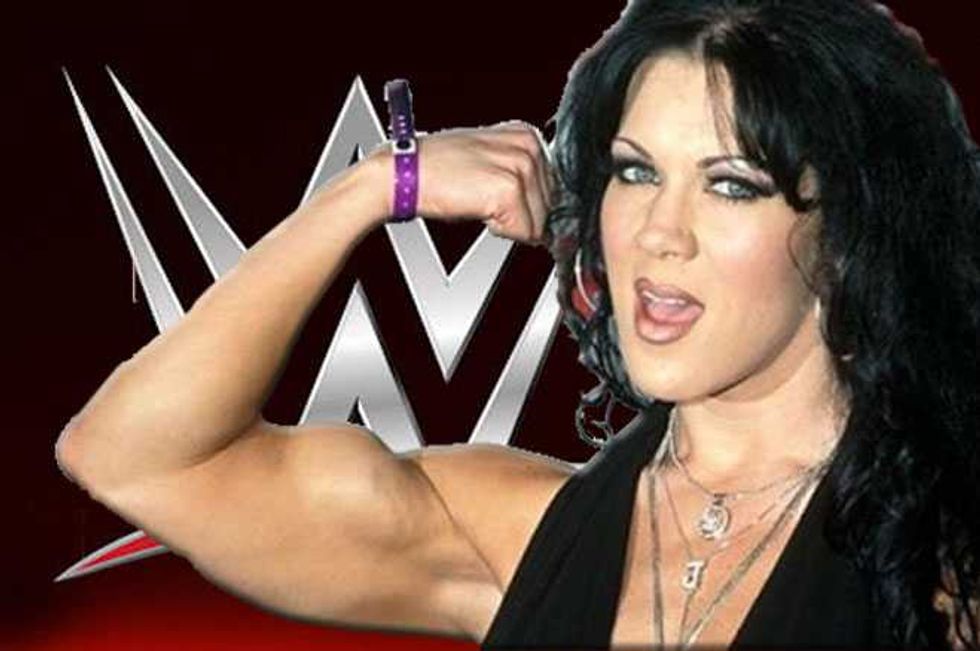 The untimely death of WWE legend Chyna has shocked her legions of fans
WWE star Chyna, real name Joanie Laurer has been found dead in her apartment in Los Angeles.
TMZ report that police were called to her Redondo Beach apartment at around 7.30 pm last night.  They had been contacted by a concerned friend who hadn't heard from her for a few days and went to check on her—however a police statement confirmed that she had died some time before being found.
A statement was posted on her Twitter account saying;
"It is with deep sadness to inform you today that we lost a true icon, a real life superhero. Joanie Laurer aka Chyna, the 9th wonder of the world has passed away. She will live forever in the memories of her millions of fans and all of us that loved her."
Police say they aren't treating her death as suspicious however due to her history they are said to be investigating a possible overdose—Chyna had substance abuse issues in the past and appeared on Celebrity Rehab back in 2008. Prescription bottles were found at her apartment but no illegal drugs.
As one one the biggest WWE stars of the early 2000's, the 45 year old's untimely death has left WWE world in shock. She is recognized as changing the face of WWE, teaming up with Triple H to become one of the founder members of D-Generation X and she was the first woman to enter the Royal Rumble. She remains the only female wrestler to win the WWE Intercontinental Championship.
She went to wrestle in Japan in 2002 and after retiring from the ring she posed for Playboy and got into porn, releasing six films as well as appearing on reality TV.  Sadly, she wasn't ever added to the WWE's Hall of Fame because of her 'adult' work.
Chyna posted a worrying video to her YouTube page earlier this week and she didn't look in the best shape—she was slurring her words as she moved around her apartment, something that must have rung alarm bells to her friends and family.
Tributes are pouring in from grieving fans and the world of WWE—she was a pioneer in women's wrestling and will be sorely missed.
I just heard the tragic news that @ChynaJoanLaurer has passed. She was truly a pioneer in our industry, and she will be missed. #RIPChyna

— Stephanie McMahon (@StephMcMahon) April 21, 2016
David Bowie 1947-2016 The singer/actor/producer died January 10 from liver cancer. He was 69-years old
Alan Rickman 1946-2016. The actor died of pancreatic cancer January 14. He was 69-years old
Sir George Martin 1926-2016. The famed music producer died in his sleep on March 8—the cause of death has not been released. He was 90-years old