For anyone who's been digging the tunes behind some of the best moments on TV (that is, everything on Broad City), today is your day!
Everything from the show's very-recognizable theme song, DJ Raff's " Latino & Proud," to Lizzo & Caroline Smith's "Let 'Em Say," which soundtracked last season's insta-classic opening, is now available from Milan Records or on a vinyl-y record at an Urban Outfitters near you.
To get some perspective on the music behind Broad City and the kinds of voices that Abbi Jacobson and Ilana Glazer have been putting to the forefront of my consciousness, at the very least, I talked to Caroline Smith, the LA-via-Minneapolis artist who joined fellow Minneapolis singer Lizzo last year to record "Let 'Em Say" which was used in the premiere of the third season of Broad City back in February. Check out the full song below:
Originally fronting the indie folk outfit Caroline Smith and the Goodnight Sleeps, Caroline turned to an exciting solo career that spans from Minneapolis sound-inflected R&B to contemporary electro-pop. The very excellent Half About Being a Woman arrived in 2013 and she has just released the first single from its follow-up, "Trying to Not to Love You"
I had a chance to talk to her, in between hectic touring and the recording her new record, about her love for Broad City and Anderson.Paak, feelings toward small town life, and why Erykah Badu remains the queen.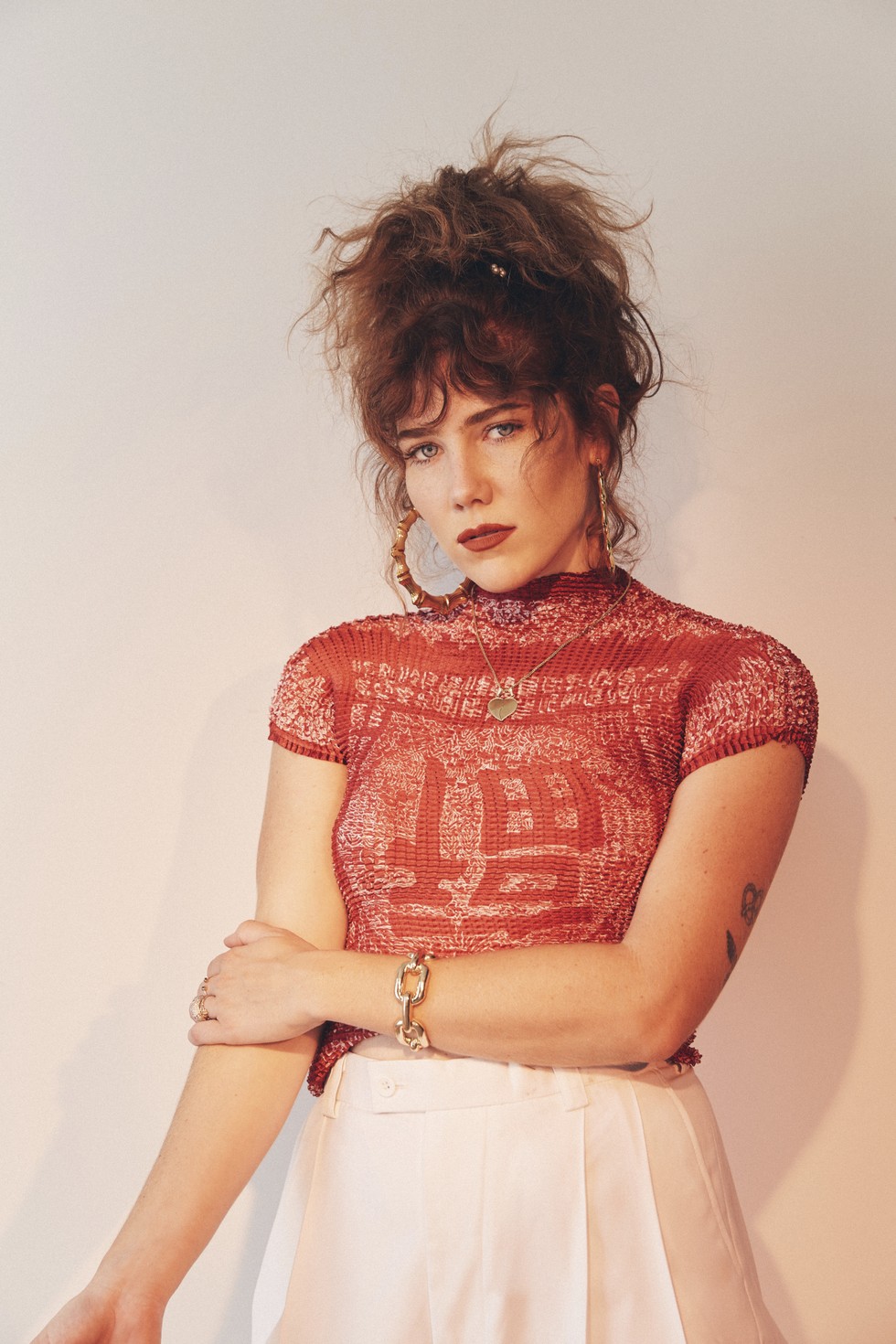 First things first. Do you watch Broad City?
Oh girl yes!
Are you an Abby or an Ilana?
I'm definitely [an] Abby. A little spaced out but always down.
Let's talk about "Let 'Em Say." How did you end up working with Lizzo?
I met Lizzo through a mutual friend of ours. I was looking for another singer to collaborate with and to sing with me in my band. When I first heard her voice I was like "who the fuck is that person?" And although we are close friends, I am and will always be a massive, massive fan of hers. I mean, what the fuck, how is she so talented? I'm so grateful for her friendship and her presence in my life; she has pushed me as an artist farther than anyone ever has.
What should we be expecting on the new album?
I've been really inspired by Jimmy Jam and Terry Lewis these days, trying to give a good ol' nod to my hometown heroes, so hopefully you'll pick up on some of those influences. I'm also still just as obsessed with lyrics just as much as I always have been so I think the combo between those two things has been exciting territory for me to explore.
The new single "Trying Not To Love You" adds even more electro-pop flourishes to the old school soul/R&B-inflected sound you've worked on as a solo artist.
What were some of your reasons for transitioning from working with a band?
Honestly the short answer to that question is that I wanted to make a record that reflected my music taste; a record that I would actually listen to if it weren't my own. The longer answer is that of course took a certain confidence and trust in myself to achieve that. I had garnered some small success from my folk sound and I was really scared to lose the fans I had made but I was really really unhappy singing puppy-love songs on an acoustic guitar. I felt like I had so much more to say than that. So I just kinda said "fuck it. I'd rather be happy and honest than miserable and successful," and out came Half About Being A Woman.
Half About Being a Woman felt very much like a lyrical and musical celebration of feminism and body positivity. What is your take on today's pop feminists like Beyoncé or Taylor Swift?
I love any woman with a platform and a microphone who is creating their own art. I love being a woman, I love being a part of a community of women artists, and there is ALWAYS room for more.
The R&B sound on that album drew a lot of comparisons to the neo-soul movement of the late 90s. Are there any contemporary artists you're listening to now?
I'm sure this will not surprise you, but I was very inspired by Anderson.Paak's latest release Malibu. I loved the amalgamation of influences you can hear all throughout that record but how it is still so remarkably Anderson. I love Hiatus Kaiyote and The Internet. But the woman who has my heart and will always have my heart for as long as I can live and breath is the queen Erykah Badu. I always joke with my friends saying that if I got Erykah's endorsement, I'd retire.
The music video for "Magazine" which you did with Dan Huiting, is an opus of embracing the mess of daily life over the gloss of the retouched photo finish. Were there any visual artists or feminist voices that influenced those choices?
Oh big time! My whole inspiration behind that video was dismantling what society tells us being a woman should be. Ya know, be sexy in your underwear! Fight other women for your place in the world! Cook in the kitchen! Find your worth in a bedroom! I wanted to destroy all of that with the powerful women around me. My favorite people in history are women who challenge the patriarchal construct around them. Dorothy Parker, Beyonce, my mother, etc.
You've worked with Huiting before, on the Regional Emmy-Award winning documentary short, My Way Back Home which focused on your life growing up in Detroit Lakes, Minnesota. Do you miss small town life? Do you feel like it still has a large influence on your music?
I do not miss it. Ever. It's hard being an individual in a small ass community of Lutherans. But I will say that I am happy I grew [up] there. It made me fight for who I was and who I wanted to be. I met some really beautiful people there who were fighting for who they wanted to be. I still cherish those relationships so much and they influence everything I do as an adult, especially as a musician. I'll never stop fighting for what I believe in and who I want to be.
You were also a big part of the Minneapolis music scene, a scene whose diverse history stretches from Prince to the Replacements. Were there any parts of that history you've tried to channel?
Oh man absolutely. I mean at the end of the day I'm just trying to make Jimmy Jam proud, ya know? I love all of the Janet [Jackson] stuff that came out of Minneapolis and I love the 90s R&B like Mint Condition. Stokley [Williams] is the man.