In 2010, the Belgian-Rwandan hip hop star, Stromae, released his French classic, "Alors on Danse" ("So We Dance") to young Europeans everywhere. Shortly thereafter, the song became an international hit. Why? It had a simple and driving beat, unique melodic elements (namely, the saxophone motif), and an intriguing music video. It became so famed, in fact, that despite his not knowing French, our very own Kanye West did a remix of the song in his classic "hit-the-club" style. But little did Kanye (presumably) know that Stromae's original song was not just about clubbing and getting some. The French lyrics reveal a tragic and meta dance song about how people attempt to escape the depression of quotidian life through monotonous dancing. This example raises a very important question:
Can you enjoy a song if you can't fully understand it?
Of course you can, according to Stromae. While he hadn't met West prior to the collaboration and knew that the American rapper wouldn't understand the song's full meaning, he appreciated West's willingness to converge their styles and bring the song to a wider Anglophone audience. In fitting déjà vu, Stromae himself used to listen to English music like Notorious B.I.G., even though he had no idea what B.I.G. was talking about.
In a 2014 interview with Elle, Stromae said, "We are all human and we are all able to listen to music that we cannot understand." The musician, whose music is solely in French, has still managed to have a huge following in the U.S., even though many Americans don't understand the lyrics of his songs. That's the power of music; as long as you have heart and a beat, that's a recipe to move someone.
We could say the same for another rising Euro-band who you may have never heard of. YELLE, the French dance-pop duo is made up of friends Julie Budet and Jean-François Perrier, who go by Yelle and GrandMarnier, respectively. In 2005, they took their friendship to the next level and did what all good friends do: start a band.
That usually doesn't go so well for most friends, but fortunately, Budet and Perrier's efforts resulted in success. Their first 2005 MySpace-launched single, "Short Dick Cuizi" wasn't the favorite of the French rapper whom it criticized (Cuizinier), but that was no indication of how the rest of the Francophone world would take it. The song soon became the French top five and indie hit, "Je Veux Te Voir" in 2006.
Things went quickly from there. Source Records released their debut album, Pop Up in 2007, and then they went on the road. Between touring and prepping for their second album, Safari Disco Club, they had some sweet collabs with Robyn and Crookers, and also remixed Katy Perry's "Hot & Cold."
That led them to go even deeper into their international touring season, and they were able to sign their third album, Complètement Fou, with Dr. Luke's Kemosabe label in 2014. So now, after all the non-stop touring and record producing, it's time for a little reflection. That's exactly what their new song, "Ici et Maintenant" ("Here and Now") is about. It's also a testament to how a catchy beat and a killer video can bridge the language barrier. Here's what YELLE has to say about it:
After 3 albums and crazy intense touring over the world, we felt we needed to pause, not looking at the past or being in loops about what is next all the time; no, instead we want to be connected to the present. Here and Now. That's exactly the idea behind the song. That's our state of mind. Being simply and fully in the moment.
The video reflects that, it's very here & now, super extra normal! We made it with our friend Nathan Barnatt who we met a few years ago after he'd done a 'fan' video of our 'Que Veux tu' song remixed by Madeon.
Normcore to the four on the floor!
Here's the video:
That "super extra normal" comment is exactly on point. Whereas their other videos are extravagant, 80s-inspired masterworks of quirk, this song takes a well-deserved breather. An adorable and infantine glockenspiel opens the song with Budet in bed, staring poker-faced at the camera, while next to her, out of frame, something is violently shaking.

She sings, "Je vais bien / Oui c'est certain que je vais bien / J'ai pris mes médicaments" ("I'm doing well / Yes it's certain that I'm doing well / I took my medicine").
Seems fairly "normcore," right?
But then things get a little weird.
Budet gets out of bed and proceeds to do a variety of everyday rote tasks, like taking a shower, doing yoga, and going for a jog. But beside her throughout every task is a man spastically dancing in the background, unable to perform any of these tasks himself. In one particularly satisfying scene where Budet is tying her shoes, he struggles to tie his own laces, which are a pile of spaghetti. While brushing his teeth, he brushes his entire face with toothpaste. When taking out the trash, he cannot push the garbage can in a straight line. His dancing takes over everything.
Budet doesn't crack until the chorus which takes it half-time, and she and the man dance together, then get back to checking their texts when they feel they've overindulged in the moment. This is the "here and now" to which the song is referring, where they both take the time to reflect and connect.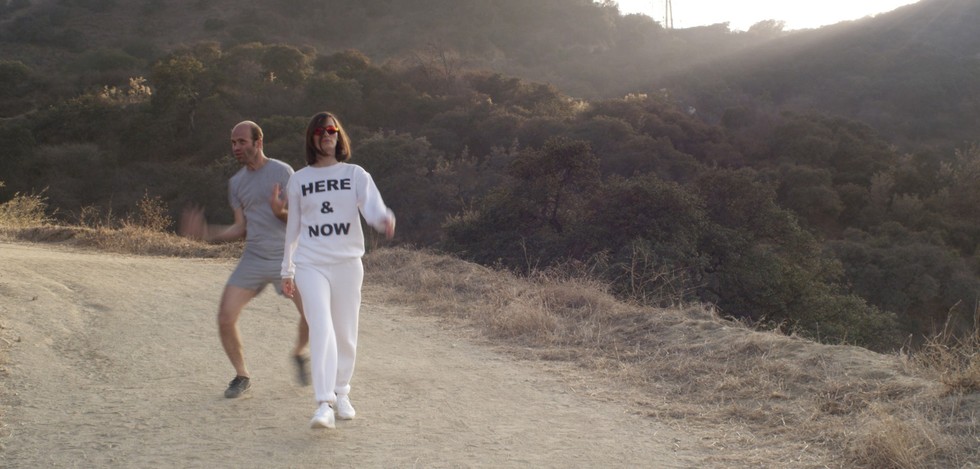 YELLE
In another hilarious scene, Budet throws plates at the man, who shatters them to the ground one after another. She sings, "Mais pour l'instant c'est ici et maintenant / On joue au frisbee dans un ouragan / Je traverse NYC sur un cheval blanc" ("But for the moment, it's here and now / We play frisbee in a hurricane / I cross NYC on a white horse.")

The two continue in this style until, as a sign of hope(?) at the very end, Budet lets loose, finally adopting the outrageous dance style of her partner.
The cutesy electro beat reminds me of the campiness of Stromae's "Moules Frites," which on the surface, sounds almost like a children's song, but is really a dark warning about STDs and AIDS. Even without knowing what the lyrics to "Ici and Maintenant" mean, the video's spontaneity pays homage to this "seize the day" attitude, just by music, gesture, and dance alone.
In the end, their French language has not limited YELLE, but instead made them both unique and universal. Themes like being present are ones to which we can all relate, especially in these, (dare we say) trying times. YELLE can move you with their artistry and sharpness, without being able to speak your language. With the song, produced on YELLE's own label, Recreation Center, the group hopes to combat not only the overwhelming nature of being an internationally touring musician, but to teach us all to take a moment for ourselves and dance, whatever language we speak.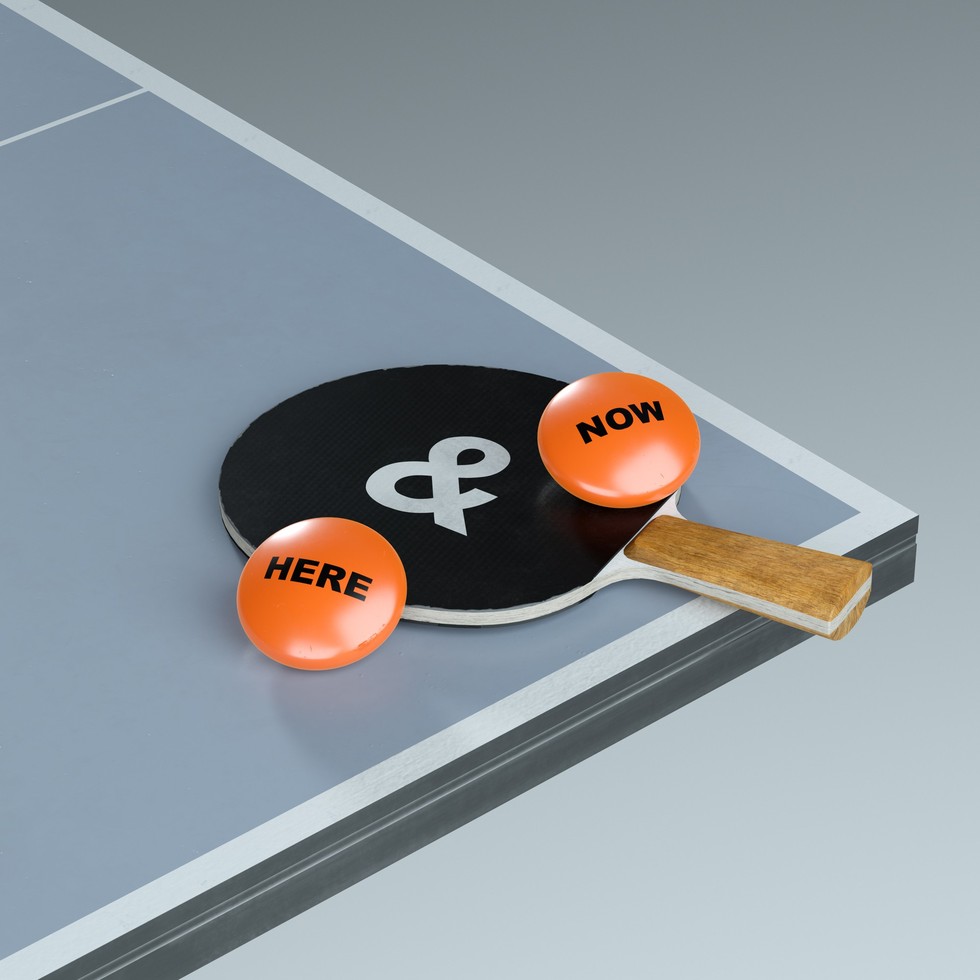 YELLE
WEBSITE: www.yelle.fr
FACEBOOK: https://www.facebook.com/Yelle
TWITTER: https://twitter.com/yelle (@yelle)
INSTAGRAM: https://www.instagram.com/yellestagram (@yellestagram)
YOUTUBE: https://www.youtube.com/user/yelle
SNAPCHAT: @yellesnap
YELLE "Ici & Maintenant" (Here & Now)
https://open.spotify.com/track/1avpXwvtoCS4ycUsVPXQs7
https://soundcloud.com/yelle/here-now
Available for sale/stream here: https://idol.lnk.to/IciMaintenant