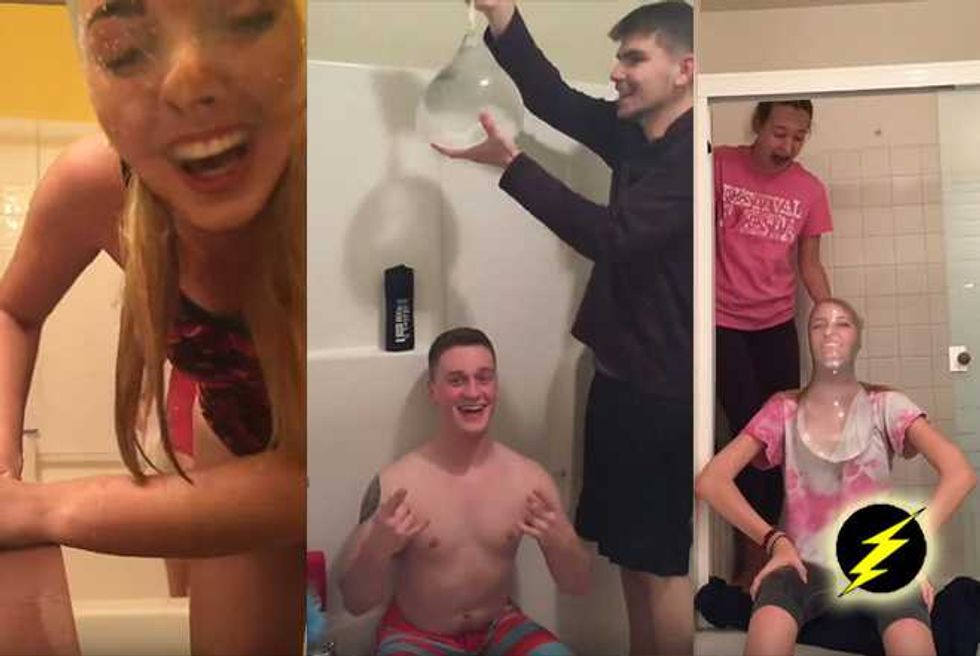 The Condom Challenge
How many new stunts have there been that have gone viral? From planking to happy slapping to the Kylie lip challenge there's always something going on that people love to share themselves doing.
The latest craze that's sweeping social media is the 'Condom Challenge'. This is where someone (let's face it usually a teenager) fills a condom with water, ties a knot in the end and drops it over a friend's head.
Naked But For A Plastic Bag—WTF Is The New Selfie Trend About?
The result is a weird face mask that clings to the face. Young people seriously have too much time on their hands. You have people like 'miniminter' and 'Wroetoshaw' on YouTube, doing this challenge for the millions of fans they have.
Man Almost Dies After ALS Ice Bucket Challenge Mishap
The craze already has its own Twitter account with more than 55,000 followers and the stunt is supposed to show how strong condoms are, that saying, the condom broke is not an excuse for an unintended pregnancy.
Leggings Aint Pants Rant By Tennessee Woman Goes Viral
Obviously as with all good viral challenges, the stunt comes with a health warning from responsible adults.
Not surprisingly, there is a  risk of choking or drowning—which for most teens probably just adds that extra bit of fun to the challenge.
You're probably still confused, so here is a video of the condom challenge and a gallery of fucking idiots challengers for you to take a look at.
Butt Chugging Cough Syrup: All The Cool Kids Are Doing It!
You've been warned.
The Condom Challenge
The Condom Challenge