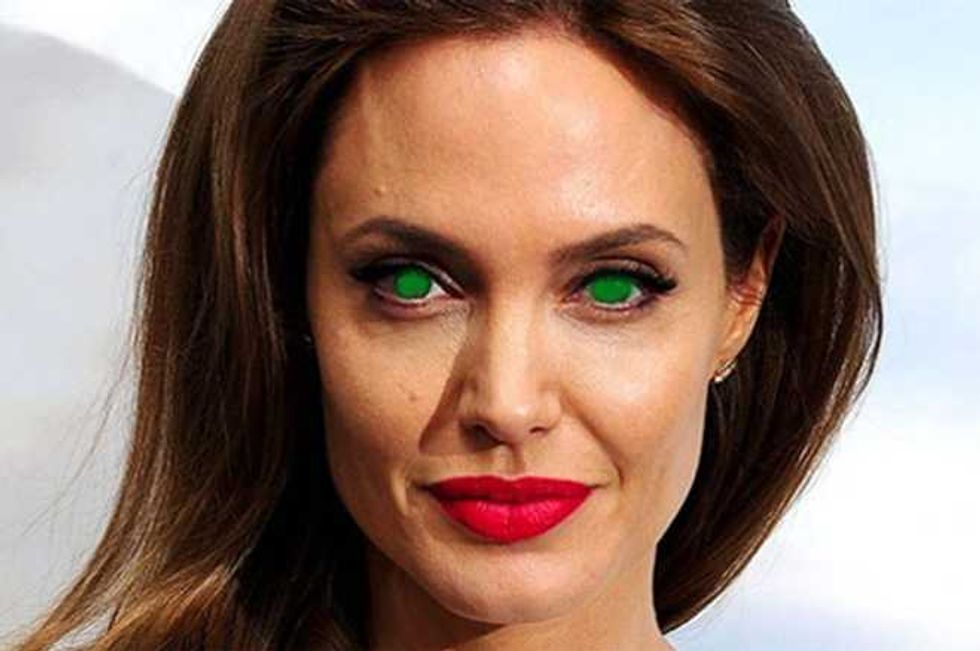 Angelina Jolie is known as one of the most stunning women in Hollywood, but the blue-eyed beauty's green-eyed monster is slowly wearing down the most glamorous pair in Tinsel Town.
Inside sources say the biggest threat to Brad Pitt and Angelina Jolie's marriage is her jealousy. "It's a pretty well-kept secret, but Angie is one of the most jealous women in Hollywood," a friend of the super star couple's reveals. "She once even tried to choke a girl she thought was fooling around with Johnny Lee Miller. The two women wound up rolling around on the floor until Johnny broke it up."
Watch Brad Pitt And Angelina Jolie Portray A Bad Marriage In Stupefying New Trailer!
People believe that because Brad and Angelina have been together for so long that jealousy is no longer a factor.
The 40 year-old mom of 6 has been criticized for having no female friends, but the insider claims, there's a method to her madness.  "Angie can't bear the thought of having other women around Brad! If she chooses friends, they're usually pretty plain looking, but even that starts to make her nervous after a while, and she cuts them loose."
Battle Of Boobs Between Angelina Jolie and Jen Aniston At Critics Choice Awards
In fact, Brad's friendship with George Clooney has always been an issue for the Oscar-winning stunner. "Everyone knows, that, until very recently, George has been one a the word's biggest playboys, and the fact that he had a parade of gorgeous young actresses and models around Brad constantly drove her nuts."
Angelina Jolie vs Amal Clooney—Who's The REAL Real Deal?
But the fact that George is now a one-woman man hasn't helped matters all that much.  "Suffice it to say, there's no love lost between Amal Clooney and Angelina."