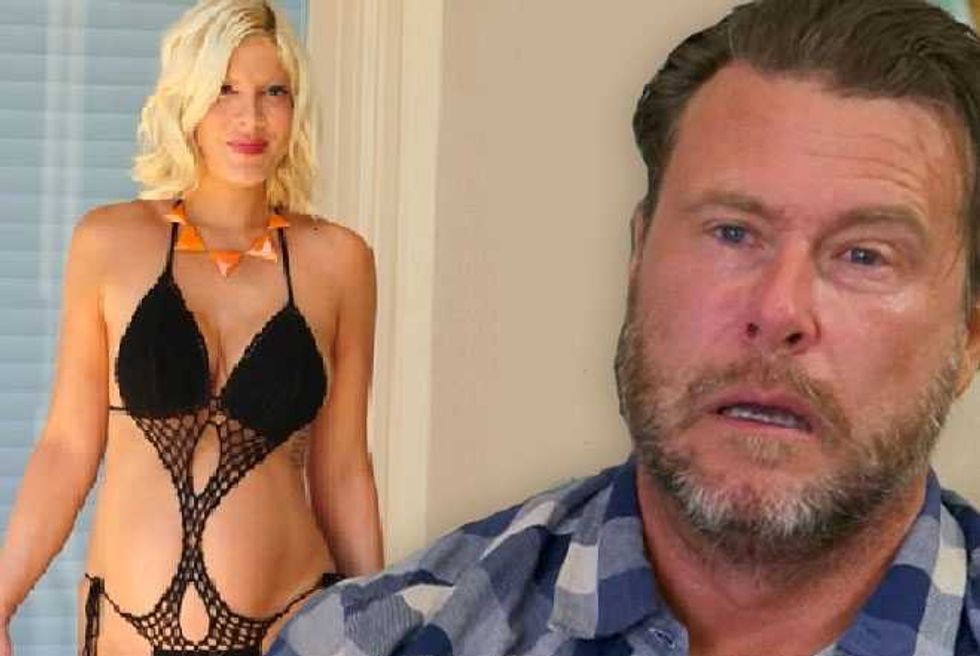 dean mcdermott tori spelling hot Yes DeanMcDermott We Get It—ToriSpelling's The Hottest Wife Ever..Yawn
Can someone please let that Dean McDermott dude know, that yes, we get it, we are all aware that he thinks Tori Spelling is the hottest wife ever.
Because, at this point it's starting to feel like the gentleman doth protest too much—as, McDermott appears to feel the need to reiterate how smokin' hot he thinks his wife is, at each and every press opportunity he's afforded.
True Tori Finale—'I'm Watching This Trainwreck And It's My Life.'
As if getting a truly horrific and creepy, utterly humungous tattoo of your wife—busting out with her very best "come hither" look while clad in only a black bra— inked over your entire inner forearm; in addition to her name tattooed directly above your cock; and, just for added good measure, your wedding vows tattooed all over your goddamn rib cage—and, oh shit son, that's gotta really hurt—isn't enough already to prove your undying devotion and bottomless well of love for her.
NOTE TO MCDERMOTT:
Just try keeping your Tori tattooed dick in your pants, that should let her, and the entire world, know what your true feelings are when it comes to the mother of your four children—after all, they do say that actions speak louder than [tattooed] words….
True Tori Recap—Sorry Dean, No Girlfriends For You!
Anyway, we digress.
McDermott was keeping strictly to script at the weekend, when he and Tori ran the press gauntlet, as they walked the red carpet at David Tutera's 50th Birthday Party in Los Angeles on Friday.
[Tori's] amazing. She's stunningly hot. I'm the luckiest guy in the world. I have a super-hot wife.
Yep, stunningly hot…..super hot, no less…. We get it dude, we get it.
However, just to hammer the point home yet further, McDermott turned to Spelling and shared this testament to his love:
Our relationship is in the best place it's ever been. I was just thinking about it in the car ride over here, about how grateful I am and how filled with gratitude I am that we're still together, and my life is wonderful. I have these wonderful babies with you. I have this wonderful life with you. I'm so grateful and happy.
Awwwww!!! It's [almost] enough to warm the cockles of even our shriveled, cold, cold hearts…
Not surprisingly, given this fucked-up dysfunctional couple's standard M.O. Spelling was quick to reciprocate.
Tori gushed:
For me, [I'm most proud of] the growth [of our relationship]. It just gets better, and I think when you go into a relationship, at least for me, you have all these fairy tale expectations. What it should be or shouldn't be, where it's going to go and where it's going to plateau. You get to that point where [it's like], 'Wow, this is amazing' on a different level of what I ever expected.

In our relationship, we've definitely had to, not start over, but rebirth the relationship as something that was new and kind of moving on towards the future. By doing that, we've had this great, amazing rebirth of our relationship, and it's more exciting each day.
Now, not to be cynical here, but, as anybody who watched even just five minutes of True Tori knows only too well, when it comes to love, this relationship is way more the poster child for abortion than for rebirth.
But, hey, that's Hollywood for you folks.
For more entertainment, world, music and pop culture updates and news follow Max Page on Twitter