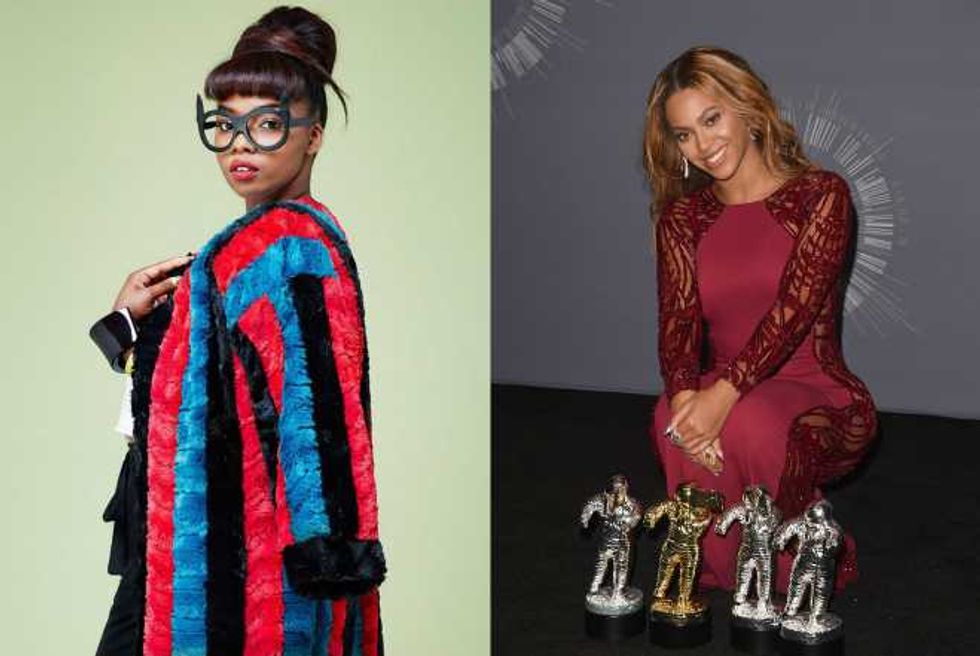 You could fill a phone book with the number of songwriters that have either alluded to or downright stated that Beyonce doesn't write her own songs, and now we have another one to add to the list.
In a new interview with Noisy, singer-songwriter Renee 'Shi' Wisdom --who's worked with Drake before and penned Rita Ora's "R.I.P."-- lifted the lid on how songwriting really works behind-the-scenes of the music industry.
"Who in this industry writes their stuff all the time?" she said. "I don't know anybody who writes their stuff all the time that is a big artist, not one person. When you go into these meetings with these labels they tell you who is looking for songs, and it's a bunch of people who you thought wrote their own songs."
Wisdom continued, singling out Beyonce (who has a co-writer and co-producer credit on almost all of her music) as one of today's pop stars who she believes doesn't write their own songs.
"To be a songwriter on a song all you have to do is contribute one word. By the time the "R.I.P." record I did with Drake was finished, six writers including myself and him touched that song. That wasn't the plan, but that's what happens: Somebody comes in and says, "instead of saying 'boy' say 'you.'" Now they're a writer on the song, but that's access. For the longest time Beyoncé didn't write any of her records. I personally still don't believe she's written any of her records."
If Beyonce just told the truth about her artistry for once, she wouldn't have handfuls of industry folk coming out every year and accusing her of being ghostwritten. Although, at this stage, for her to do this would basically be the same as admitting to being a liar for more than a decade, so it's no surprise that Bey continues to pull the wool over everyone's eyes. Her fans don't seem to care, and as expected, they've already started sending death threats to Wisdom on Twitter for daring to share an opinion on Mrs. Carter that isn't hysterically positive, so it's no wonder that Bey has never bothered to come clean about her songwriting.
[Via Noisy]