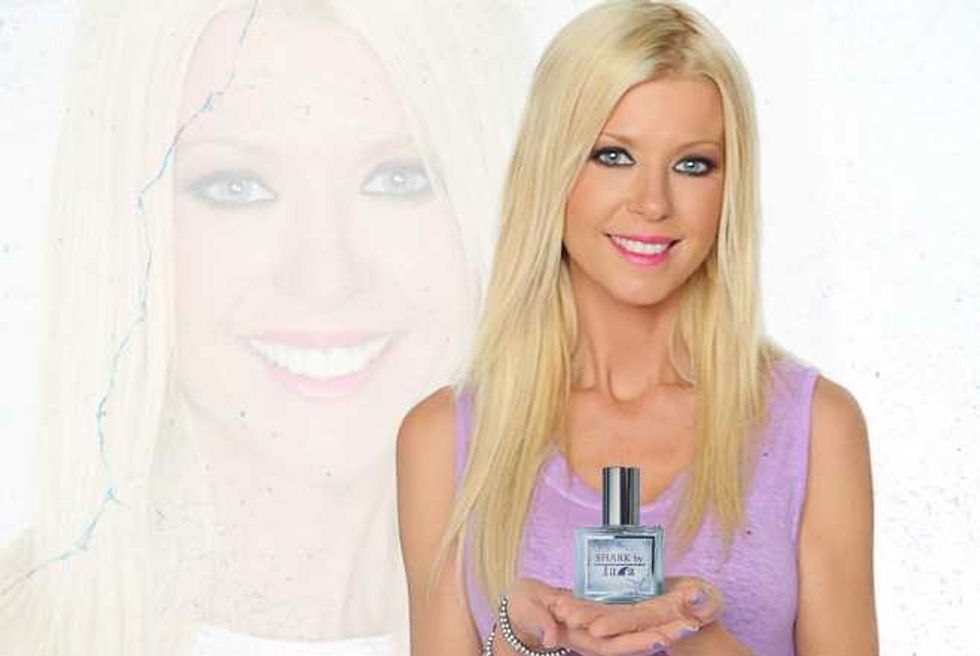 Fresh off the premiere of Sharknado 2: The Second One comes Tara Reid's first fragrance, Shark by Tara.
Yes, you read correctly: Tara Reid has officially entered the celebrity fragrance market.
Ads for Shark by Tara are now appearing on the Sharknado chanteuse's official website, which is selling the scent for the affordable price of $24.95.
Contrary to what you might think, Shark by Tara does not smell like cigarettes, pie, suntan lotion, and Long Island Iced Tea carpet stains. It's actually a lavender inspired perfume (Tara's favourite color), with refreshing top notes of iced mint, violet, and lemon. The heart is a floral concoction of jasmine, tuberose and lily of the valley, while musk, amber, and "cool blue rose" (whatever that is) make up the base.
It actually sounds quite nice, doesn't it? In fact, if I was having a B.O. emergency and had to choose between Paris Hilton's Dazzle, Nicki Minaj's Onika, Nicole Polizzi's Snooki Couture, and Shark by Tara to cover up my smelliness, you can bet your sweet ass I'd be dousing myself in Reid's signature scent.