MUSIC
His debut album is finally here.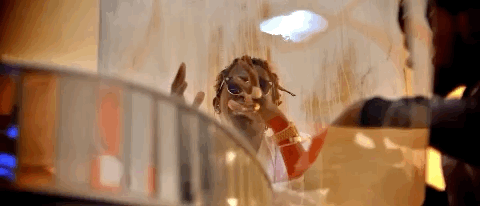 Young Thug has been one of the most prolific rappers of the last decade, yet he just released his first solo album on Friday.
Since 2010, Thugger has put out 18 mixtapes, 3 EPs, and a collaborative effort with Future, and he's made more than enough guest appearances to have secured himself a venerated space within the rap industry. He has slowly built a reputation for providing smooth melodies and amassed a loyal fanbase in the process.

But Young Thug has zero concern for the old-school hip-hop heads. He has never catered to a more mainstream, pop-centric rap sound; he's untethered—freely flowing however he sees fit, frequently over unorthodox instrumentals. The broken melodies are Thug's recipe for success, as people have gravitated towards his devil-may-care approach and raw creative energy. In a genre that has become increasingly fractured over the last few years—with hip-hop purists on one side of the divide and mumble rap fans on the other—Young Thug's refusal to conform is refreshing.
When you hear the first few seconds of "Just How it Is," the first track of So Much Fun, it's clear he's still not taking himself too seriously. He wastes no time before coming in over a laid back instrumental, finding a unique cadence and melodic flourish. Experimentation with melody has always come naturally to Young Thug. He croons on the chorus: "Ooh-woo, diamonds peek-a-boo / Ooh-woo, I done f*cked her crew / Ooh-woo, I done did the robbin' / I done did the jackin' / Now I'm full rappin'."
The emcee brings a few familiar faces to the party, too. One of the album's highlight bangers, "Sup Mate," features frequent Thug collaborator, Future. You can hear Gunna's calm and effortless swagger on "Hot" and "Surf." Lil Uzi Vert shows up on "What's the Move." 21 Savage goes in alongside Doeboy on "I'm Scared." Plus, you'll hear Quavo, Juice WRLD, Lil Keed, Lil Duke, and Lil Baby throughout. Oh, and of course we can't forget about the J. Cole and Travis Scott assisted hit, "The London," which closes out So Much Fun on an upbeat note.
In a 2016 interview with GQ, writer Devin Friedman asked Thug a fruitful but straightforward question: "'People probably ask you the same sh*t all the time. What's something you wish people would ask you?'"
"'Do I care?'" Thug replied.
"'Okay, do you care?'"
"'No. I don't give a f**k.'"
Young Thug revels in not caring. All Thugger cares about, at least on his latest effort, is having a good time. In an interview with No Jumper from July, he prefaced the album's release with some cautionary words to would-be listeners. "If you not having fun or in a fun mood," he said, "don't even play this album."
So Much Fun