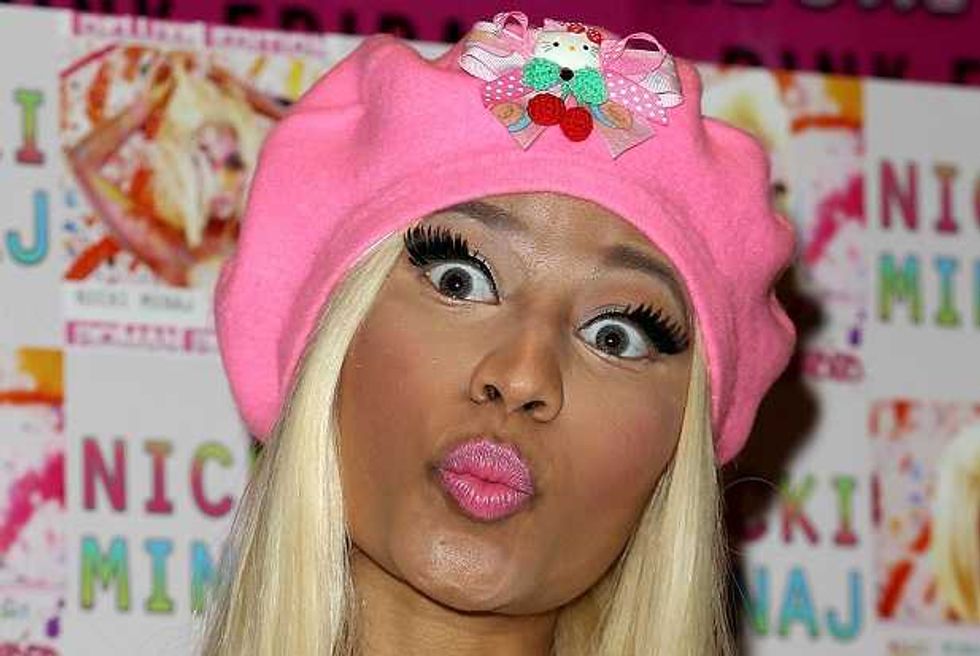 For the record, we really hope Nicki Minaj returns to Twitter. That way, we can talk about Nicki Minaj's singles and videos and projects and mixtapes, exciting musical stuff, rather than talk about watching everyone trying to summon her back to a website that people might not even use in 10 years. (Are you still on Myspace? Xanga? Geocities? Yeah.)
Sigh. For instance, the following hashtag, is not enough, as Nicki said during her U.K. press tour (in this case: Tim Westwood's show:
Nicki Minaj, Please Come Back To Twitter We Love You And It Isn't The Same Without You Do It For The Barbz And Ken And Everyone That Love To Wear Pink On A Friday Give Me Life (spaces inserted as to not kill your browser.)"
See? One little Guetta reference at the end doesn't cut it. You're going to have to get into the deep cuts, the obscure guest references, the fifth category down on Wikipedia, that sort of thing. Or you're going to have to wait until Nicki's promoting her next project or under label pressure or concocting the next DONDA. Whichever comes first.
We're just going off clips from the interview, mind you (to which you've got to wonder--how is that the most noteworthy clip, the one that gets reported in advance?) But there's more. There's this, for instance. Is Nicki Minaj retiring? Now, right after releasing an album with three singles on the vine?! With so many extra-musical ventures?!?
I think we all know the answer to that. In the meantime, imagine this in Lil Wayne's voice. Because that's how it was said. The full interview's out tonight from 9 to 11 p.m. London time, so then you could even get to hear it!
People aren't even giving the kid props for taking it back to the essence… This is my fourth mixtape really. You know what I'm saying. The Kid did like that so she could feed her fans. But really, now the Kid is thinking maybe she should leave the game.