Ever thought you would see Zac Efron, Seth Rogen, and Jimmy Fallon dressed up drag?
You don't need to imagine it anymore, because it actually happened!  Last night (May 6) on The Tonight Show Starring Jimmy Fallon, an Ew! skit featured on the show.  This is not the first time, Fallon has featured Ew! skits on his show.  Lindsay Lohan and Emma Stone have also appeared in an Ew! skit.
The three dress up in drag and get girly phone cases to match the set.  Sara (played by Fallon), Alyson (played by Rogen), and Brittany (played by Efron) are three best friends.  Alyson stops by Starbucks and Sara has to try some.  The two are then accompanied by Brittany.  They dance and they take selfies.  They also dish on how they think James Franco is 'Ew!'
MORE: 'That Awkward Moment' Starring Zac Efron Releases on iTunes
What's a party without selfies?  Efron posted this photo on Instagram.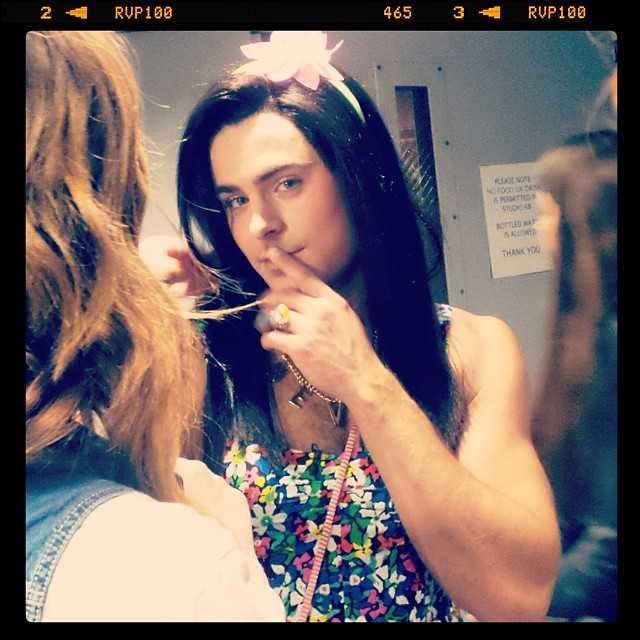 How fabulous does Efron... we mean Brittany, look in that floral dress? Work it, girl! Work it!
You can catch Efron, Rogen, and Dave Franco in their new movie Neighbors hitting the big screen this Friday (May 9).
For more Zac Efron, Seth Rogen, and James Franco updates, stay tuned to Popdust.com and follow @Popdust on Twitter.
For all updates pop culture, follow @vivianxo67 on Twitter.