Zendaya shut down trolls on Twitter;
Zendaya is awesome when it comes to putting Twitter trolls in their place.
It's a fact of social media life that some saddos really have nothing better to do than to hide behind their keyboard and be disgusting to people they don't know and who have never done them any harm whatsoever.
It's something that anyone who has any level of public profile has to learn to ignore, but why should they?
---
READ MORE ABOUT TROLLS...
Despicable Trolls Bully Teen Over Prom Photo—Because Despicable Trolls
Piers Morgan's Nicki Minaj Rant Is The Perfect Bitter Angry Little Troll Piece
Donald Trump Is Truly The Most Amazing Troll Of Our Times
---
Well one celebrity who doesn't see why she should sit back and take the abuse is Zendaya. The actress and singer has become a master at shutting down a Twitter troll and she did it again this weekend in the perfect and dignified way we've come to expect from her.
Here are the top 3 times Zendaya shut down trolls;
The horrible rapey man;
In a tweet which has since been deleted, a delightful man named @ogxbenson put up pictures of Zendaya, Beyonce, Rihanna and Nicki Minaj with the question "If the purge was real, who y'all raping?". This is in reference to the 2013 movie The Purge where nothing is illegal for one night of every year.
Zendaya got wind of the disgusting tweet—this idiot has 6,500 followers and shut him down brilliantly. He didn't even get that he may have offended her, but just celebrated that he got noticed. She shut that down too.
Zendaya replied with class;
Zendaya's parents Twitter defense;
Last August another troll on Twitter called her parents ugly and 19 year old Zendaya hit back perfectly, saying;
"First I'm gonna pray for you. While you're so concerned about what my parents look like, please know that these are two of the most selfless people in the world," she wrote at the time. "They have chosen to spend their entire life, not worried about trivial things such as looks and insulting people's parents on Twitter, but instead became educators who have dedicated their lives to teaching, cultivating and filling young shallow minds. (One of the most important yet underpaid jobs we have). Please, log out, go to school, hug a teacher and read a textbook. And while you're at it, go look in the mirror and know that you too are beautiful, because such hateful things only stem from internal struggles. Bless you."
The make up madness;
Earlier on this year a guy tweeted that he had seen Zendaya without makeup and and was scared by the vision. She owned him.
Boom—shut down in two words!
This girl is a class act. Remember the whole Giuliana Rancic episode? Zendaya got her point across, but didn't need to see Rancic hung, drawn and quartered (d'ya hear her Kelly Osbourne?) and was beyond graceful in her comment on the incident.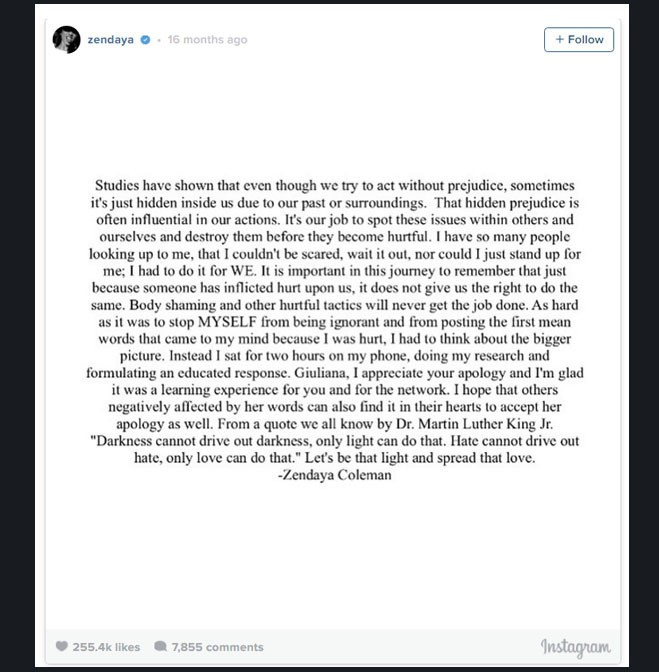 Zendaya's perfect response to the Red-Carpet-Fashion-Police episode.
While Zendaya shuts down trolls, check out these other women standing up for their rights...