Deposit Photos
Updated: 9/8/2022
In a surprising twist of events...it appears Kourtney Kardashian woke up and chose irony. Kourt has been named Boohoo's new Sustainability Ambassador....where do I begin?
Can we start with the fact that Boohoo, a fast fashion brand, is claiming they are at all sustainable? And to top it all off...their face of "sustainability" is Kourtney Kardashian, whose water intake literally had to be flagged by the city of Los Angeles? This has to be some episode of What Would You Do?
I bet Kourtney did this on Kris Jenner's day off, because there is no way my PR Queen would let this happen...I need a drink.
The summer's hottest gossip is in and it's scathing: celebrities don't give a damn about the global climate crisis and it shows. I can just hear the gasps now as the room falls silent.
Let's start with Elon Musk's nine-minute flight that's only five stops on the train. So much for Tesla being the pioneer of environmentalism, or whatever it was they claimed when they started. When it comes to celebs taking frivolous flights that pour CO2 into our atmosphere, Musk's private jet flight is only the tip of the iceberg.
Taylor Swift tops charts in more ways than one…leading with the most private jet flights taken. The most CO2 emitted. Even if she claims people borrow her private jet, why?
While California faces a drought worse than any since the 1800s…I wonder if anyone's listening. I wonder if we truly care that our environment is imploding. Is it worth defending celebrities if they refuse to acknowledge they're part of the problem? And why aren't they interested in being part of the solution?
Kim Kardashian, Kourtney Kardashian, Sylvester Stallone, Kevin Hart, and Dwayne Wade all received notices to cut back their water usage. They surpassed consumption by 150% since last year.
Before you start telling me about DWade's stats or how Kevin Hart cracks you up…I know. I love these selfish celebs who blatantly ignore the fact that people are dying so they can live a life of luxury.
No seriously. I get they have so much money they don't know what to do with it. But here's an idea, instead of all the wasteful jets and water use, donate to environmental charities!
We all make sacrifices to keep our planet going, so I'm sure Kim K can go without the fountain running for weeks on end. And, much to Elon's horror, public transportation won't kill you. Do better.
CULTURE
Just as she reinvented the notion of social media fame and the very concept of a fashion influencer as we know it, Chamberlain Coffee is up-and-coming in the coffee world.
It's National Coffee Day! But do the cool girls even drink coffee anymore?

From the TikTok "That Girl" videos, you'd think they only drink ceremonial grade matcha or mushroom tincture or some other frivolous bevy. But Gen Z hasn't yet dubbed coffee a millennial beverage or relegated it to pretentious hipsters. Have no fear, with Chamberlain Coffee, your caffeine fix is cool again.
Chamberlain Coffee is a brand founded by the Gen Z Queen-of-Casual, Emma Chamberlain. But who is Emma? Most recently spotted on the Met Gala red carpet getting flirty with Jack Harlow — some people just get everything, huh? Chamberlain's a former Youtuber turned certified fashion girl. But don't underestimate her. She also makes seriously fine coffee.
And you know it's good because Emma revealed she has a whole drawer of the stuff in her recent Architectural Digest tour of her perfect new home. We would too!
She told AD: "I have like a whole coffee corner. Of course, we have my espresso machine with little Chamberlain coffee magnets. Kind of a little bit conceited, but no, I gotta rep though, you know?"
But how did she get here? How did she conquer both the Met Gala and the coffee market?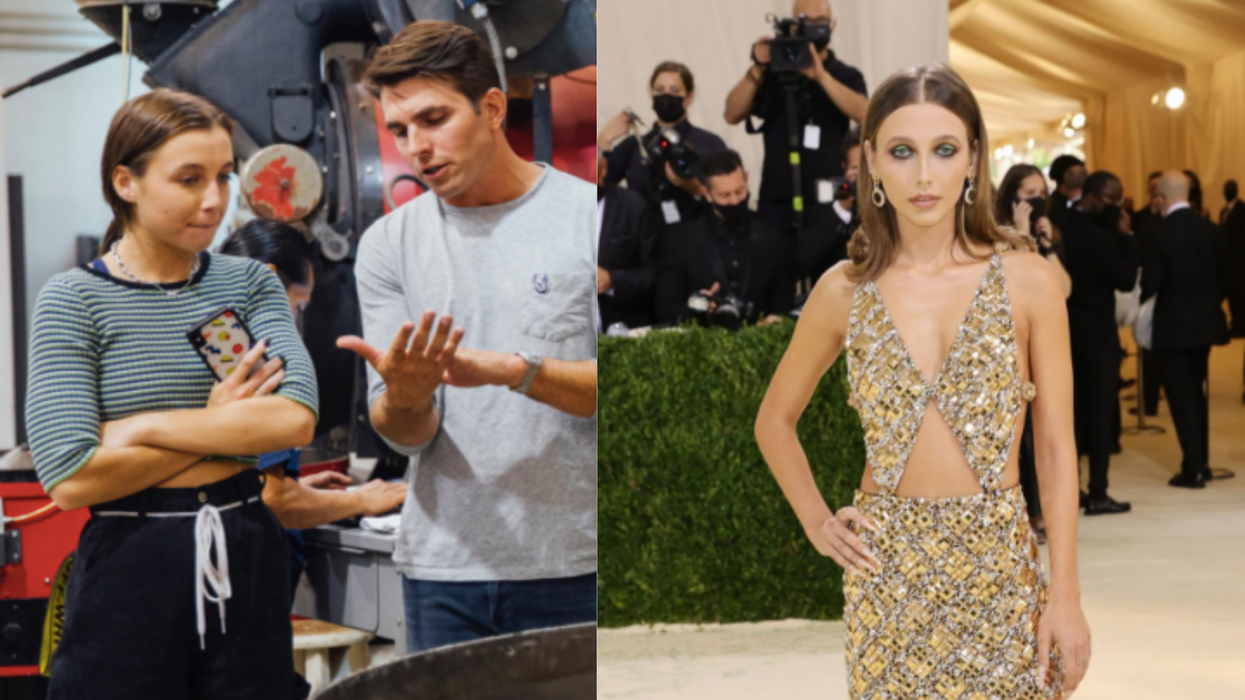 Just who is Emma Chamberlain?
"I have social media followers, therefore I am." Which is to say, the quickest way to explain Emma Chamberlain is by counting her social media followers. TLDR; there is a shit-ton of them. Chamberlain's Instagram audience alone is 15.5 million followers and her YouTube subscribership is over 11.4 million viewers.
She catapulted to fame on Youtube. While most former YouTube queens are highly produced makeup vloggers or sketch-based comedians, Emma changed the game by being … normal. In 2019, The Atlantic proclaimed her "the Most Important YouTuber Today," claiming that her appeal lies in the fact that "teens are abandoning hyper-produced personalities for people who seem just like them."
Indeed, Chamberlain's rise coincided with the cultural shift towards "casual" social media presences and less curated internet personalities. She was one of those rare people ushering in unfiltered, real-time posts and photo dumps on Instagram. At the time, TikTok was still a fledgling app — primarily used by Gen Zers. Its later success would prove that people seriously appreciate content from people who feel "relatable."
Chamberlain started composing vlogs in her bedroom about her regular teenage life and quickly skyrocketed to fame. A Tall Poppy among a glut of highly-edited, highly-filtered content, Emma's message featured lower-case titles, candid-seeming photos, chaotic vibes, and a video style now referred to as "instinctual editing." Each vlog was like an episode of a Disney Channel show — the weird, entertaining antics of a conventionally pretty white girl.
In 2019, The Atlantic reported that she was "one of the fastest-growing in the U.S." At that time, her 8 Million YouTube viewers meant she was probably "earning nearly $2 million in ad revenue on her YouTube videos alone." Not so relatable, huh.
Despite growing into her life and with it, her lifestyle, her fans stuck with her due to her unaffected, sincere personality. Gone were the days of an average teenager, however, Emma was now sitting front row at fashion shows, moving to LA — as one does when global internet fame calls — and branding herself as a fashion insider.
Whatever she did, it worked. Because she found herself at the top of the steps at the 2022 Met Gala interviewing some of the buzziest celebrities for the official Vogue Livestream.
Emma Chamberlain's Fashion It Girl Era
The 2022 Met Gala was not Emma's first. At only 20 years old, the newly minted fashion It-Girl has scored two coveted invitations to the most exclusive party in the world. While viewers may scoff at TikTokers and other influencers attending the exclusive event, many put an asterisk by Chamberlain's name.
Well, she's actually a fashion girl, so it makes sense, they think. And indeed, Chamberlain has cultivated relationships with major houses like Louis Vuitton. While she doesn't post on YouTube anymore — she's more likely to be found on the Vogue YouTube channel than on her own.
For her cover of V Magazine, the write-up described her skyrocketing fame as: "Emma, now at age 20, is entering the next frontier of her life and career as her evolving fashion partnerships and growing coffee business reach new potentials. From the girl-next-door who made videos out of boredom to becoming a rising fashion industry darling, Emma is moving beyond the speed of light."
During her interview, the star described the nexus of influencer success as intimidating to the more traditional world of celebrity. Emma stated: "In a sense, the fashion world itself has been around forever and influencers and digital celebrities are very new and haven't necessarily earned their stripes yet. I think some people are not ready to accept it as a new form of celebrity, which I totally understand because it's like mixing something new with something classic and it can feel wrong. I understand that kind of discomfort comes from people who have been into fashion since they were younger, [where] maybe it was before this was all a thing, and seeing digital influencers come in feels wrong. At the same time, the world of fashion and fame has to evolve in order for it to grow, so this is a natural part of that and it only makes sense. When people were questioning my entrance into it, it was kind of scary, but at the same time, I understood where they were coming from. My only hope is that people will accept me into it and let me be a part of it."
It seems Emma has been granted her wish. What else would you call flirting with Jack Harlow on the Met Gala steps? Being "a part of it"?
But fashion is not Chamberlain's only venture. It's not even her first love. Back before she was sitting on the front rows while supermodels strutted the catwalks, Chamberlain was known as a flagrant caffeine java addict.
The coffee-lover made the beverage such an integral part of her brand that it only made sense that she'd launch her own brand. Enter, Chamberlain Coffee.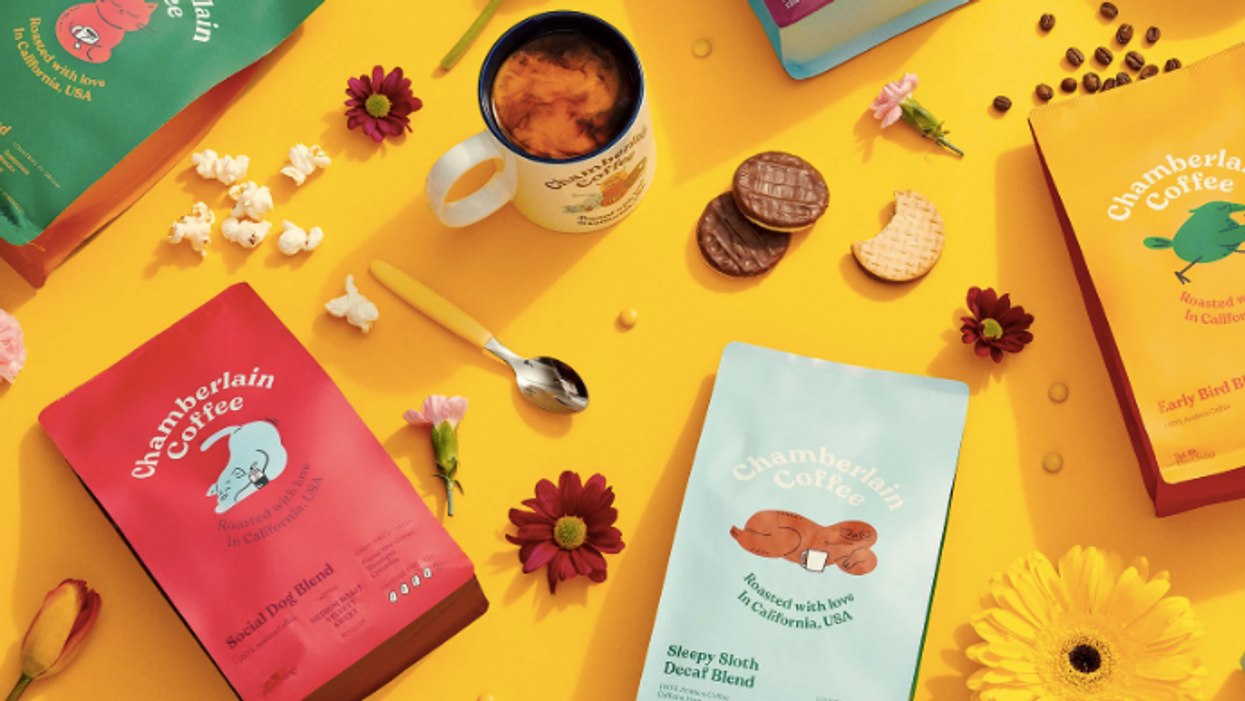 The brand sells coffee in the most Gen Z way: unpretentious, straight to the point, and, "look Ma, reusable metal straws!" Advertised as "More than a drink," Chamberlain Coffee is a lifestyle.
According to the website, it's as good as it is cool. The freshly roasted, responsibly-sourced beans come from suppliers across the globe. Then, they're delivered to your door in an eco-friendly Coffee bag. Just add water for an easy, delicious, it-girl-approved morning roast.
Chamberlain Coffee is also self-described as "coffee with a conscience," because it's made with no pesticides and no nonsense. From Peru to Guatemala, Colombia, Papua New Guinea, Nicaragua, Sumatra, Mexico, and beyond, their roasting facilities go to great lengths to source the finest quality, special grade coffee that's sustainably produced and Certified Organic. They even offer hot chocolate and cold brew kits. They seek partnerships like Food4Farmers, which helps coffee-farming communities by implementing and developing organic gardens that increase long-term food security for local families.
Just as she reinvented the notion of social media fame and the very concept of a fashion influencer as we know it, Chamberlain Coffee is up-and-coming in the coffee world. But not for long. Just like Emma, it might surprise you.
All products featured are independently selected by our editors. Things you buy through our links may earn us a commission
For such a tiny piece of clothing, bras are easily the most difficult product to buy -- and there is nothing more frustrating than coming home with one that either causes chafing or makes your boob pop out. We're not out here trying to look like some overhyped Victoria's Secret model, but you'd think we could find one that works for us.
On a quest to find the ultimate bra, our editors set out to find a brand that offers it all; a wide size range, different styles and colors, high-quality materials, and a reasonable price.
After some searching, we narrowed our findings down to three trending brands; CUUP, ThirdLove, and Skims. Here's everything you need to know:
Key Similarities
All offer bras designed to fit all shapes and sizes
All provide customer support to help you find the perfect fit
All are affordable
Key Differences
CUUP is a bra expert, offering lingerie and swimwear only – ThirdLove and Skims offer a broader range of clothing, including loungewear, activewear, and shapewear
CUUP and ThirdLove offer a Fit Quiz – Skims provides a sizing guide only
CUUP bras are constructed to enhance a woman's natural shape while providing maximum comfort and support – ThirdLove and Skims bras aren't as thoughtfully engineered
CUUP's mission is to redefine the way women look and feel in their underwear. Their bras are designed with stretchy, thin, light materials that support a woman's natural shape - no foam and no bump pads, just unlined simplicity. And yet, they still provide that effortlessly sexy look.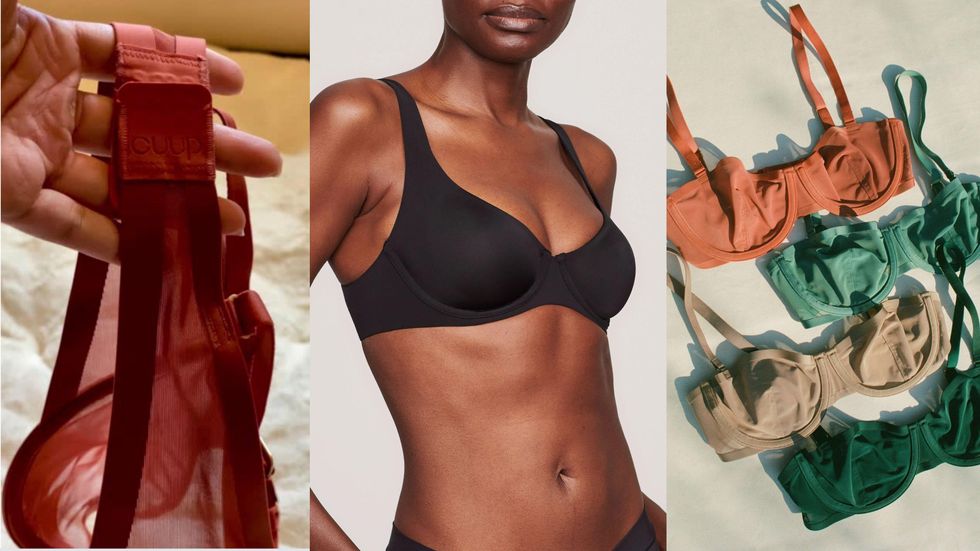 Image Courtesy of CUUP
Available in sizes A to H, there are 6 different styles and various materials to choose from. The Balconette, for example, is perfect for an open neckline, and The Plunge with its deep V silhouette works best when styled with a silk blouse or an open cardigan. CUUP even offers a FIT Quiz on their website to ensure you find your precise size.
By working with a development and manufacturing partner who's been producing bras worldwide for over 30 years and running a series of bra washes and wear tests, CUUP's quality is truly next-level.
CUUP leverages technology and even invented a flexiwire - a flexible underwire - that moves with you without poking or pinching -- they even reconstructed straps, gores, and cup proportions to achieve a perfect fit, even for bigger boob sizes.
For only $68 for premium materials and the flattering design, CUUP bras are super affordable.
Fit: 10/10, Material: 10/10, Design: 10/10, Support: 9.5/10, Price: 9/10
ThirdLove's main claim is to offer a wider-than-most size range, with band sizes ranging from 30 to 48 and cup sizes from A to I. But only a few combinations are available in their full-size range, which made their claim a little questionable…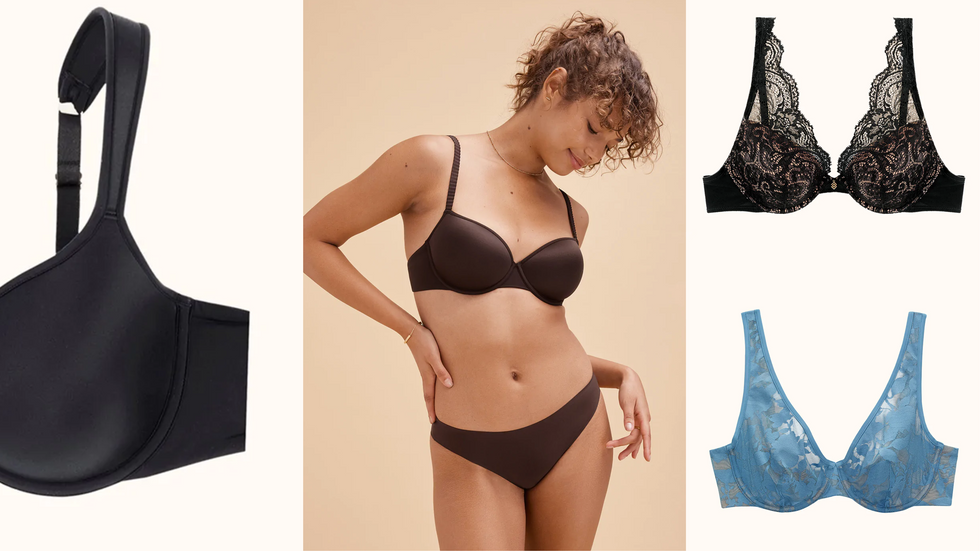 Image Courtesy of ThirdLove
ThirdLove's main claim is to offer a wider-than-most size range, with band sizes ranging from 30 to 48 and cup sizes from A to I. But only a few combinations are available in their full-size range, which made their claim a little questionable…
There are 11 different bra styles to choose from; classic styles such as strapless bras and T-shirt bras and more unique styles like their uplift plunge bra that comes with padding and a sheer mesh overlay.
While a ThirdLove bra is definitely comfortable, we weren't a big fan of the overall look and fit. What we did appreciate about ThirdLove is their 60-day return policy that includes worn and washed bras, which go to charity.
Fit: 8/10, Material: 7/10, Design: 8/10, Support: 9/10, Price: 7/10
Skims launched with undergarments and loungewear but became most famous for their shapewear. The brand offers 6 different bra styles in skin-matching shades with both non-padded and lightly padded options.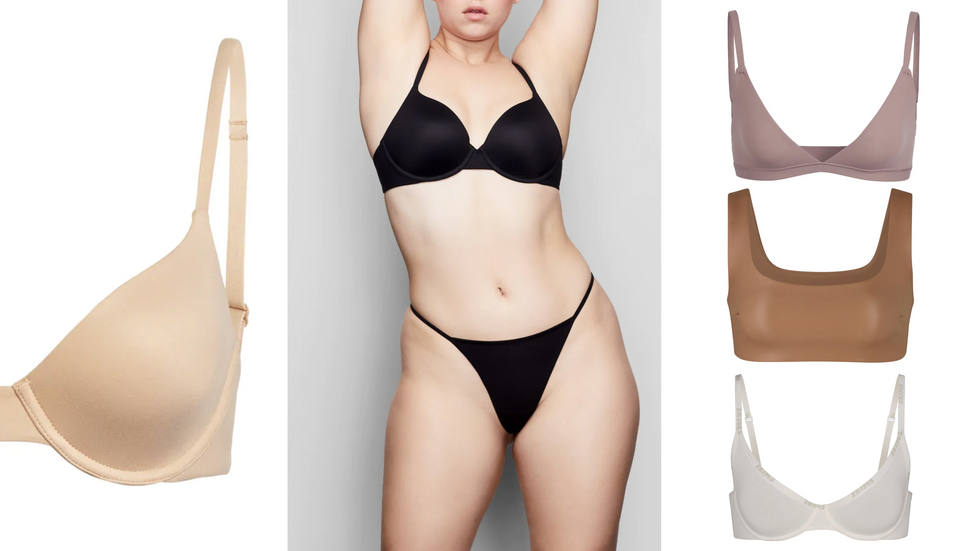 Image Courtesy of Skims
Looking at Skims' bra design, they're definitely on the simpler side. We took a closer look at their molded cotton underwire bra with no padding and customers reported that it wasn't as comfortable as they had hoped and that the underwire was digging into their chest.
Skims mastered shapewear, so their bras feel less engineered and less focused on support, comfort, and style. It's such a viral brand and while we usually love Kim K, we just don't think the bras live up to the hype. They not only lack quality, but they're also practically impossible to get with sizes and styles constantly being sold out.
Fit: 7/10, Material: 8/10, Design: 7/10, Support: 7/10, Price: 7/10
Final Thoughts
In terms of fit, materials, design, and support, CUUP is our top pick. Their bras feel luxurious and soft on the skin, and most importantly, they are affordable! Plus, we look damn sexy in them.
We could tell right away that Skims and ThirdLove focus more on other clothing categories than bras. Yes, they sell them but theirs are not nearly as thoughtfully designed or engineered as CUUP's -- especially when looking at material choice, comfort, and design.
And as an added bonus that we didn't even talk about in the comparison, CUUP's underwear is equally as incredible as the bras. Made in the lightweight and ultra-breathable, modal material, these are perfect for all-day and all-night wear. They come in a range of seamless styles and cuts from Thongs to Bikinis, and even High Waist for a timeless look, while colors range from basic packs for neutrals and blacks to cheetah and deep, oceanic blues.
CUUP has us all embracing our bodies as they are. No over-lifted padding, no push-ups, and no hiding what we're working with.
JUST FOR YOU: Shop bras that look and feel great in every size, A to H and shop Undies (3 for $48) for the perfect set. Follow this link to shop!
From Your Site Articles
Related Articles Around the Web