Mike Kerr and Ben Thatcher are childhood friends who shared a love for rock-and-roll music growing up. With Kerr's vocals and bass and Thatcher's drums, together the pair created Royal Blood- manifesting their love of rock into a full-fledged rock duo sensation. The British duo have been making hits for a while now, amassing a dedicated fanbase for good reason.
Their knowledge of rock shows in their own music, playing into guitar riffs and big drumbeats that meld perfectly together. Their music quickly tops the UK charts, and together they earned the highly coveted Best British Group at the 2015 BRIT Awards- beating out One Direction, Clean Bandit, Coldplay, and alt-J. Since 2013, the band has put out four flawless studio albums, most recently Back To The Water Below.
The aforementioned album was a stylistic shift for Royal Blood, who abandoned their normal sound and tailored each song specifically- choosing instruments that sounded right for specific tracks. They completely produced the track independently, and they stayed true to Royal Blood by having fun doing it.
It can feel risky for artists to change up their sound completely, but with the duo's growing confidence in their ability to make major music...there was no better time than now. With the success of their previous album, Typhoons, Royal Blood was able to create a full album unlike anything they've ever done before. It worked.
Back To The Water Below consists of 10 flawless tracks (and two bonus singles on the Deluxe version) that switch from graceful piano melodies to dream-pop bass runs seamlessly. It blends genres of pop, rock, and alternative without missing a beat, which is a sign of a band that knows who they are. You can listen to the album here:
Their performance at Sea.Hear.Now told me all I needed to know about Royal Blood: their confidence and swagger radiates onstage...and the new tracks like "Pull Me Through" truly encompass this new era.
Kicking off their North American headline tour at Sea.Hear.Now 2023, I sat down with singer and bassist, Mike Kerr to talk the new album, tour, and more!
PD: You released your new album this month, Back To The Water Below. What was the inspiration behind it?
RB: The inspiration is kind of always about reacting to the album you made before it, you know? So the album we made before was during COVID and lockdown, so it felt more like a studio album. With this album now, we made it for the live shows. Playing live and going back to that simplicity and who we are again is the main sort of inspiration.
PD: Would you say you had playing live in mind when you wrote the album?

RB: I think we always do. We get a lot of ideas- or beginnings of ideas- on the road when we were touring. So I feel like, yeah, it was always on our minds.
PD: This kicks off your North American tour- what are you most excited about with performing live?
RB: I think it's just getting to be with our fans and getting that connection. We don't get to come here as often as we'd like...and as COVID proved, you never know when the next time is that you're going to get to be together. I think it's about being in front of people.
PD: You're childhood friends who shared a love for rock- who were your favorite artists growing up?
RB: Favorite artists would be The Beatles, Queen, Rage Against The Machine, Foo Fighters, Nirvana, and Jeff Buckley.
PD: If you could summarize the album in a few words, what would they be?
RB: I would say melodic, English, and rock-and-roll...which I'm counting as one word.
PD: Songs like "Pull Me Through" are a bit of a stylistic shift for you guys. Were you consciously doing this while writing or did it just happen?

RB: It's mainly something that's just happening. I think when we start ideas that sound fresh, that's usually the kind of reason to continue with them. I think when you're writing and you feel like you've done it before, it's not really inspiring.
PD: What are your favorite songs to perform live?
RB: "Shiner In The Dark" is my favorite at the minute and a song called "Waves", which is the last track on the album.
Asbury Park, New Jersey is not just a popular shore destination, but a Mecca of music history. Home of iconic venues like The Stone Pony- where Bruce Springsteen got his start in performing- thousands of people flock just for The Pony alone...but every September, the seaside city gathers to celebrate rock and roll for Sea.Hear.Now.
Sea.Hear.Now is the perfect ending to your summer for multiple reasons. It gives you an excuse to enjoy the sun and the sand one more weekend post Labor Day, even better that you throw all of your favorite artists together. I've always said that festivals are the best bang for your buck as a music fan- you spend a few hundred dollars to see at least 10 artists over multiple days with general admission seating, as opposed to that $2,000 Taylor Swift ticket.
I've been to a few festivals spanning from Firefly in Dover, Delaware to the infamous Coachella in Indio, California. I've seen bands I may not have purchased single show tickets to, and I've become fans of artists just by happening upon their performances at these events. Festivals are great ways to try out new music without throwing all your money away- and there's no better way to get a feel of an artist than seeing them live.
This was my first year at Sea.Hear.Now, and it didn't disappoint. For fans of older music and new music alike, there's truly something for everyone here. Located on the actual beach (so bring sand-appropriate shoes), Sea.Hear.Now features clothing pop-up shops, local food and drink vendors, and much, much more. Here are the highlights:
The Best Performances of Sea.Hear.Now 2023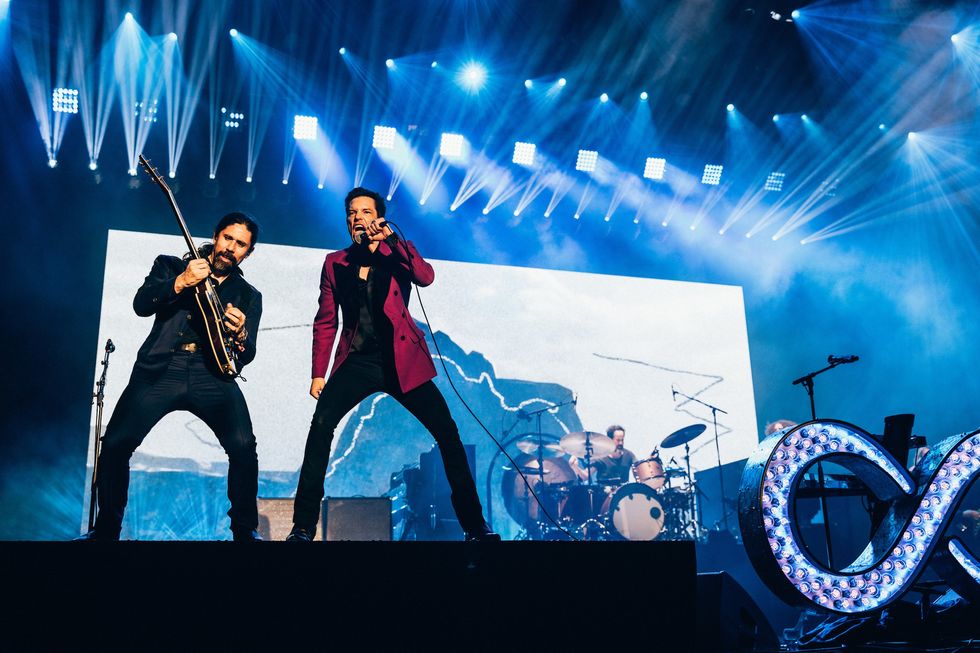 The Killers at Sea.Hear.Now 2023
Chris Phelps
I'd be crazy if I didn't start with what we all came for: the music. I hadn't seen most of these acts live before, but I have admittedly seen (and worshipped) The Killers at Firefly a few years ago. But my reviews are as follows:
Sheryl Crow- if I can look half as good as her, I will consider myself successful. My first headline thought was: Breaking News: Sheryl Crow Has Still Got It. She has a powerful voice, knows how to rock the guitar, and "Soak Up The Sun" will always be famous.
Greta Van Fleet- one word: wow. Everyone compares them to Led Zeppelin, and I was so shocked by the vocal range and witty banter they provided. I became an instant fan.

Royal Blood- not only did I get the chance to interview the lovely British duo this weekend, but also see these two rockstars. Kicking off their tour, Royal Blood did not disappoint.

The Killers- I can't say enough about this band and how amazing they are live. They opened with my favorite song of all time, "Mr. Brightside," and I astral projected to the moon. Ask anyone there, The Killers are a must-see whenever they're in town, bringing up a fan every time to play drums with them. Always electric, never a let down.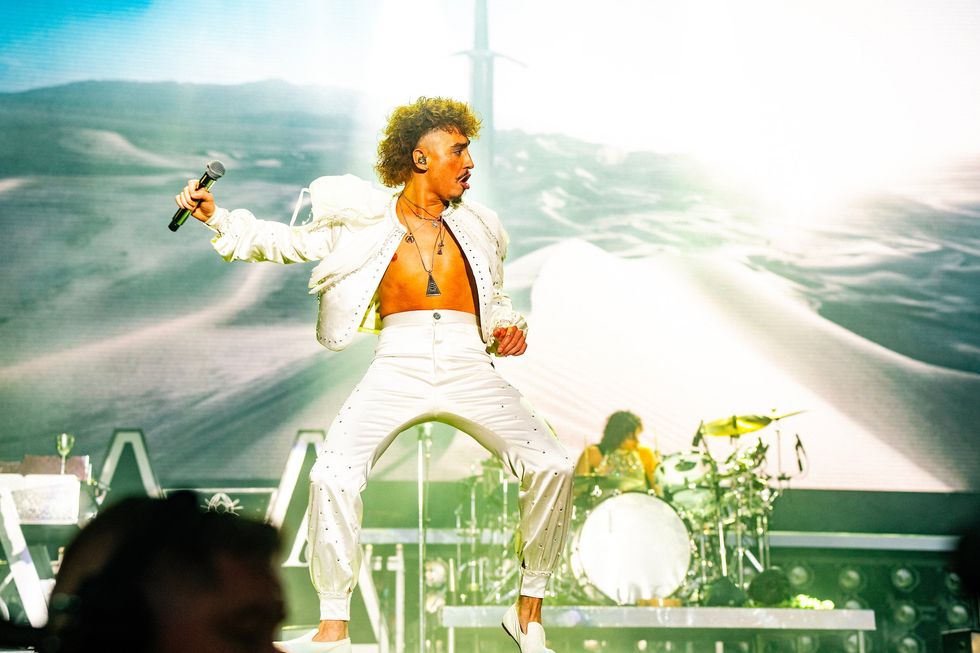 Greta Van Fleet at Sea.Hear.Now 2023
Pooneh Ghana
Stephen Sanchez- Sanchez creates story lines with his music, and to hear it seaside felt ethereal. Hits like "Until I Found You" sound better at the beach.
The Beach Boys- First of all, they brought out John Stamos as their drummer (instant win). But Mike Love and Bruce Johnston brought the house down, with Love's son also helping them out. I loved every second of it.
Mt. Joy- Philly's finest, Mt. Joy sounds just as good live as they do on your phone. Something about Mt. Joy at Sea.Hear.Now just makes sense.
Weezer- Weezer was another highlight of the festival- playing all of their hits and sounding identical to their soundtracks. "Beverly Hills" and "My Name is Jonas" were some of my faves.
The Foo Fighters- The Foo Fighter fans were plentiful, belting out every word. They didn't miss a beat, and were the perfect ending to a rock-filled weekend.
The Food at Sea.Hear.Now 
At any given festival, the food looks better than it tastes. It's just a fact, no matter what they try and tell you. However, I did have my first Korean-style corn dog, which was essentially a giant mozzarella stick with a hot dog in the center and sauce on top...and it was delicious despite the fact that it would have sent a Pilgrim into cardiac arrest.
The drinks were moderately priced compared to other festivals I've been to, there were plenty of free water stations (as opposed to Coachella), and I need to give a special shoutout to the Hendricks Boat Bar. They had the best triage of Hendricks drinks (I don't even like gin and these were delicious) curated by Erik Andersson, who also gave us a great tour.
The Experience at Sea.Hear.Now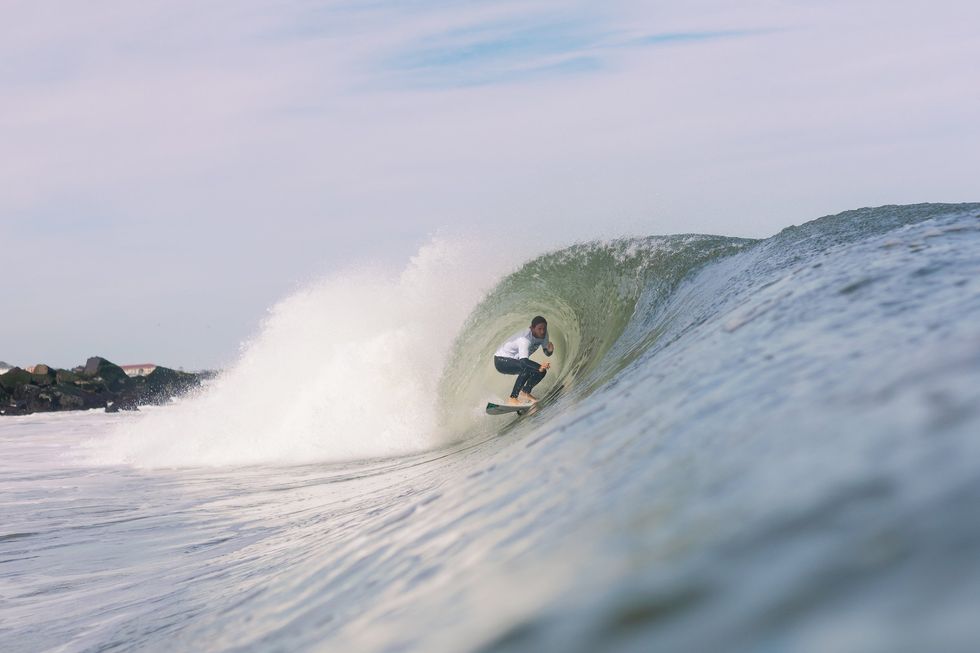 Cam Richards
Fiona Mullen
Sea.Hear.Now has a lot to offer: picture opportunities, specific drink tents like Tito's, Twisted Tea, etc., and even shopping opportunities. And for once, I want to emphasize the perks that VIP tickets could get you: your own viewing area close to the stage so it's never a bad view, access to festival merchandise (not bands, however), your own bathroom area and food/bars, TV's and a lounge. It's truly worth the upgrade.
There's even a surfing competition, which honestly worried me a bit since there was a hurricane but I'm not the professional. But what I loved about this festival is it stayed true to Asbury Park's roots, featuring everything the small city had to offer.
No matter what, it's a more relaxed vibe compared to the intense marathon that Coachella is. You have a wider age range of people, all dressed however they want (from festival chic to football jerseys on Sunday). But that's the beauty of Sea.Hear.Now: come as you are, all will be welcomed.
CULTURE
Recreate the style star's fashion week looks
By Matteo Chinellato // Shutterstock
Sofia Richie-Grainge is the biggest style star of the year. After her internet-breaking wedding, she single-handedly put #OldMoney, #QuietLuxury style on the map — never mind that, as our favorite nepo baby, her wealth only goes back one generation to her father, Lionel Richie.

What makes Sofia Richie's style so compelling is that it's timeless. Her outfits aren't ruled by what everyone else is wearing. In a sea of identical-looking influencers, Sofia's looks transcend trends. She creates trends.
Her looks also feel accessible. Sure, not her full Chanel couture outfits, but many of her outfits revolve around simple formulas and tailored silhouettes with good materials. Like any of us, she likes a good designer brand. But she's grown out of her logomania phases (we all had one) and favors looks that are more understated.
The combination of all of this makes her the perfect aspirational fashion inspiration. Take it from me — someone who has been following Sofia's style journey since her Tumblr 2013 era which was marked by Doc Martens and high-waisted shorts. Oh, how far we've all come.
Now, a decade later, Sofia's style has been making waves at New York Fashion Week. After hosting a private dinner to celebrate David Yurman's new collection to open her Fashion Week schedule, she has been seen all around the city and on front rows making headlines.
Of course, Fashion Week provides a wealth of sartorial inspiration. But Sofia's consistent bangers are putting her head and shoulders above everyone else.
Even if you can't replicate the exact brands Sofia wears, here's how to recreate some of her best transitional outfits to close out summer and ring in the fall.
All products featured are independently selected by our editors. Things you buy through our links may earn us a commission.
White Tee, Big Pants
They say there are four outfit combos: tiny top with tiny pants; tiny top with big pants; big top with tiny pants; and big top with big pants. In this look, Sofia is making a case for the latter. With an oversized silhouette and a classic black and white palette, Sofia makes a classic look feel fresh and polished. Plus, I can't get enough of that studded bag (hers is from Khaite).
Nightgown as Outerwear
I always say 90% of my wardrobe is literal boy's clothes — hoodies and vintage jeans from the men's section — and the other 10% is vintage sleepwear I wear as outerwear. From slip dresses to silk camis, I am always down for wearing nightwear outside. And now, in this Prada nightgown, the look is Sofia Richie-approved. She's also making a case for the red accessories trend we've been seeing all fall.
Tailored Suiting
While I'm not advocating for us to bring back business casual in the club, I love adding a little bit of polish to a casual look. From oversized blazers to trousers, suiting is back in a big way.