I'll admit it – I buy most of my makeup from Sephora and have spent well over $100 for three products in a small black-and-white striped bag. That's not to say I'm happy about it.
I just moved into a new apartment, which means I must budget. I can no longer afford my Sephora routine in which I repurchase the Kosas Concealer every few months.
It's easy to find influencers who plug Sephora's latest releases, but have you ever noticed that every last TikTok makeup lineup costs $300 for a full face?
Knowing I need to budget and that I can't afford the TikTok routines, I've regressed to my humble beginnings - drugstore makeup. From products that I've loved for years to TikTok's DS recs, here are full skincare and makeup routines with products available at your local drugstore.
Your Drugstore Skincare Routine:
Cleanser:La Roche-Posay Hydrating Gentle Cleanser
La Roche-Posay is my favorite drugstore skincare brand. Each product has effective results at my ideal price range. This cleanser is ultra-hydrating for the winter so you can keep that skin barrier strong and healthy.
BHA Toner: Peach Slices Acne Exfoliating Toner
I'm a fan of Paula's Choice BHA/AHA Exfoliant, but $34 may be a bit much. Peach Slices makes the perfect dupe that works just as well to clear your pores.
Serums:
I believe that every person should have a few serums in their skincare routine. Hyaluronic acid helps with hydration, while niacinamide brightens your complexion. Then, salicylic acid for breakouts and retinol a few nights a week will work to prevent signs of aging.
Moisturizer:La Roche-Posay Cicaplast
This balm/moisturizer changed my life. It saves my dry, flaky skin and can even be used on dry areas like elbows, cuticles, and hands.

Night Cream: CeraVe Skin Renewing Night Cream
CeraVe is another great drugstore skincare brand that you can't really go wrong with. This night cream targets dryness and aging, and I've used it forever and it gives me glowing skin by the AM.
Your Drugstore Makeup Routine:
Primer:Revolution Beauty Blur Stick +
I swear by this primer. Its formula is infused with vitamins and makes your foundation look flawless. I haven't found anything quite like it.
Foundation: wet 'n wild Dewy Photo Focus Foundation
This foundation is comparable to the NARS Light Reflecting or Charlotte Tilbury's Beautiful Skin. It provides full coverage, a next-level glow, and looks expensive – when it only costs $5.
Concealer:L.A. Girl HD Pro Concealer
TikTok's current princess, Alix Earle, has been an advocate for this $5 concealer, so we have to trust it. It covers up dark circles and blemishes without caking or drying out. Did I mention it was $5?
Blush: Milani Baked Blush
Makeup's hottest must-have is blush. Milani is highly pigmented with a little glow to it. It'll last forever on your face and in your makeup drawer.
Bronzer: wet 'n wild Megaglow Contour
A contour stick that isn't messy and sculpts your face? Sign me up. It's easy to use, so beginners and makeup gurus alike will love it.
Highlight:e.l.f. cosmetics Baked Highlighter
This highlighter packs a punch. You can never go wrong with e.l.f. products, but this highlight is simply the best.
Setting Spray:NYX Cosmetics Matte Finish Setting Spray
One of the most popular setting sprays on the drugstore market, you probably recognize the NYX Matte Finish. It glues your makeup to your skin for the night, which is all you really can ask for.
Setting Powder: Maybelline Fit Me Loose Setting Powder
The Maybelline Fit Me collection is a 10/10 across the board. The concealer, foundation, and setting powder will give you a flawless base for under $30. Worth the money every time.
Mascara:L'Oreal Telescopic Mascara
I use this every. single. day. I swear by L'Oreal Telescopic and I will forever get compliments on my lashes when wear it. If you buy one product from this list, make it this one.
Quinn XCII is back with his fifth studio album, The People's Champ. With Quinn's classic sound that seamlessly blends multiple genres together - this could be his best yet. While many of his songs are upbeat, his lyrics convey the essential message that reminds you to stay true to yourself.
With his new album out today, and a worldwide headline tour titled "The People's Tour" coming this spring, Quinn XCII sat down with Popdust for an exclusive interview:
QUINN XCII | Popdust Presentswww.youtube.com
The People's Champ is about being your own hero. The name, just like Quinn XCII's album, encourages you to be kind to yourself because, at the end of the day, that's all you have. Each track is a gentle reminder to have fun, spread love, and take care of you.
The Detroit native is known for his stellar collaborations with artists spanning multiple genres. The People's Champ is no exception, where we hear Quinn's vocals mesh with big names in the music industry like Big Sean, AJR, and Chelsea Cutler.
This isn't the first - or even second time - we've heard of a collab between Cutler and Quinn. However, "Let Me Down" is totally relatable, and their voices work incredibly well together to make for another refreshing single from the pair.
Quinn XCII revealed that working with Cutler is like hanging out with a trusted friend. Since the two have been close friends forever, they find ease in collaborating so the pressure is off. Having people Quinn trusts surrounding him for the creation of The People's Champ has subsequently been a huge part of why he's so proud of it.
In October 2021, Surf Mesa first heard Selah Sol's vocals that would eventually blend into his new single, "City of Love." Surf spent the same night remixing audio versions that perfectly pairs with Selah's sound. Finally, after close to a year and a half spent calibrating the track, Surf is ready to share it with the world.
The song has an effervescent beat that is true to Surf Mesa's ultimate sound. As one of the hottest rising stars in the dance music scene, Surf's performed at major festivals like Ultra and Lollapalooza. His song "ily (i love you baby)" has over 750 million streams on Spotify, and is one of TikTok's most popular sounds.
His ultimate goal however is simply to make chill, catchy tunes that help people enjoy their day a bit more. "City of Love" is the epitome of Surf's music, true to his sound with a mellow, yet upbeat, tone that reminds everyone of summer.
Exclusively with Popdust, Surf Mesa discusses his lastest single "City of Love" - out now! You can listen here:
Congratulations on your latest single "City Of Love," which comes out today! You've already seen support in your DM's from other names in the industry like Marshmello, Zedd, and The Chainsmokers. How have these names inspired your music?
Thank you so much! Yes, definitely. Zedd sticks out as someone who has been there as a role model in my eyes. I used to make remakes of his songs in high school because I loved his synth patches. There's a hidden Easter egg deep in my sound cloud where I remade "Spectrum." He has the best blend of melody with futuristic driving inspiring emotion.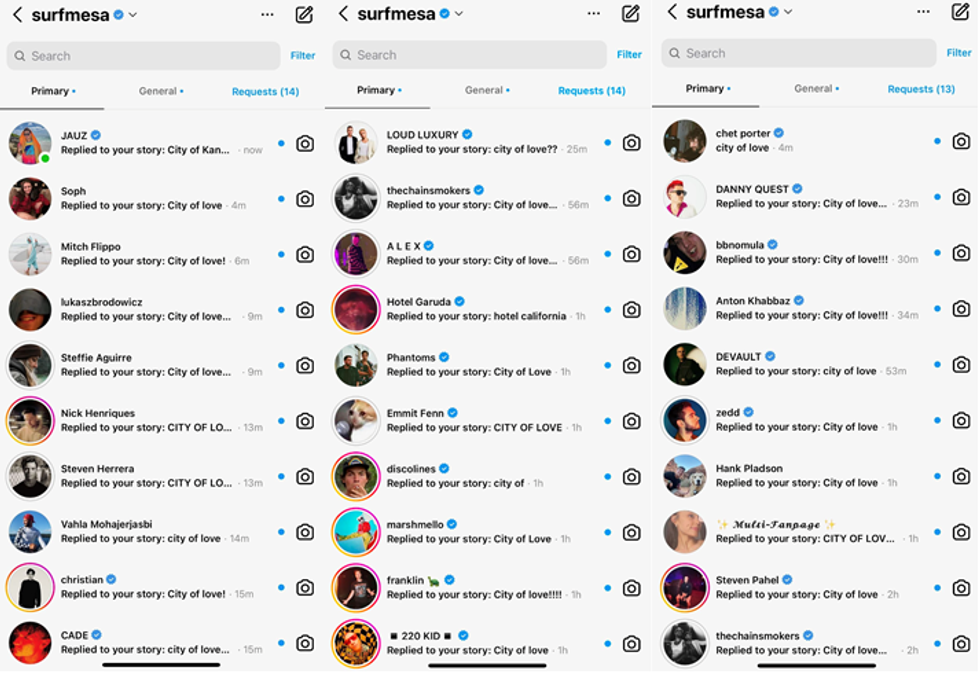 Surf Mesa/Capitol Music Group
"ily (i love you baby)" is such a pivotal song on both the charts and TikTok…and I'm sure "City of Love" will be no exception. How has Tiktok allowed you to reach new fans and promote your new single?
As much as TikTok has been a tool for my career, it's hard to get my music heard on it now. There's so many artists and DJs finding out they can utilize this platform to get their music out there. I'm very thankful for all it's done for me. I got extremely lucky - no question. I didn't know an app could have that capability. If you look now there's over 7.5 million videos made using "ily". That is insane - lol. But yes, I've been putting in an effort regardless to use the platform to promote "City Of Love." It's been going well! It's nice to see the comments of people getting excited.
What was it like working with Cole Trotta to create a visual for "City of Love?"
The kid has some serious talent! I was just scrolling on Instagram as one does until I hit my explore page. Typically I just see DJ videos, satisfying videos, and models. But no this kid was combing this hill on a longboard going at least 50MPH. I checked out the rest of his page and I couldn't stop scrolling. I followed him on Instagram and sent a DM and we went back and forth. Only a few days later I thought how cool would it be to make a video content piece including him demonstrating his skills with my music in the background! We set up a call and before we knew it… we were up in Malibu, CA, filming him GUN down this mountain. He brought his buddy, Tom, who mounted a camera on the hood on his car and followed Cole 3 feet behind him going 50MPH down this extremely windy hill. I got a chance to sit in the passenger seat and oh my goodness. It was quite a ride. We're so proud of what we made together. He's the nicest guy that deserves the world and I encourage everyone to go check him out!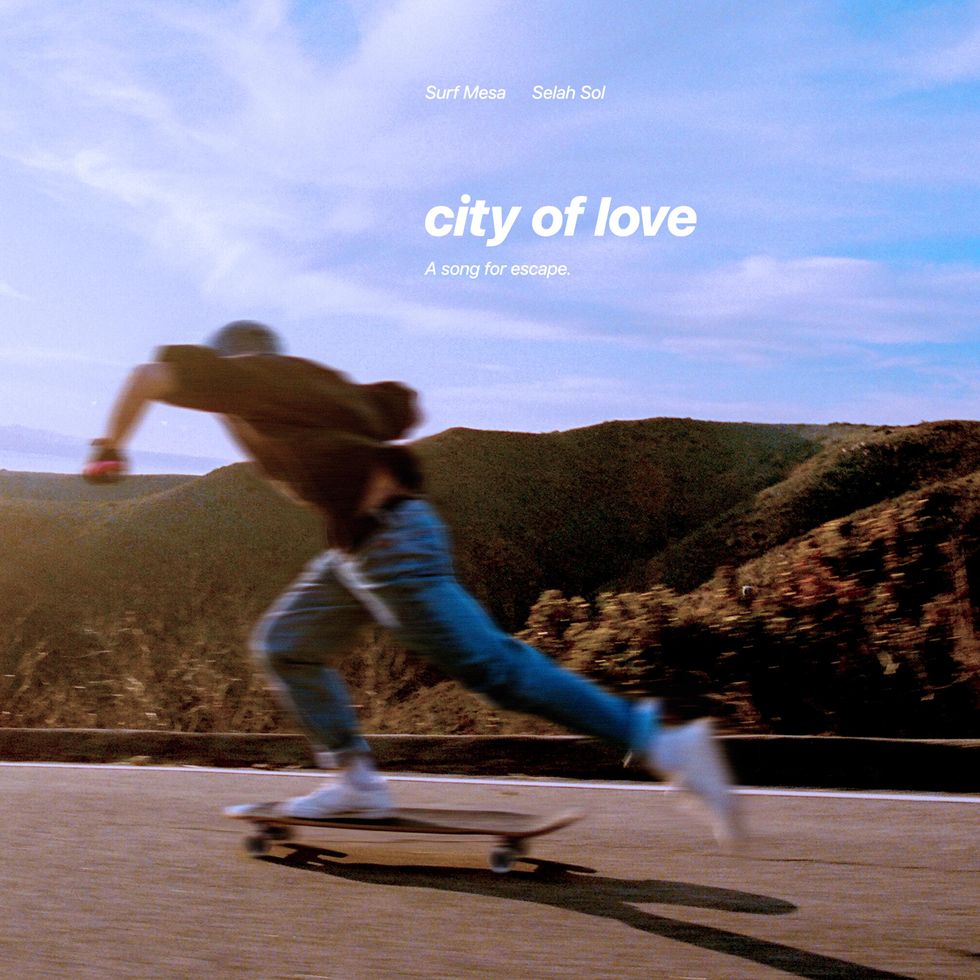 Surf Mesa/Capitol Music Group
You've been working on this single since 2021 and teasing it at some of your live shows…what was your favorite part about making it?
Wow, I remember my A&R Natalie Dodge from Astralwerks Records sending me this Demo. It was originally a ballad piano song at 60 BPM. It was the most beautiful and captivating vocal from Selah Sol. She got in with someone the most talented writers Tushar Apte, Neil Ormandy, and Nick Henriques. I spent late night in the studio reimagining the vocal into a house beat and after countless versions later… we have this one! It's been an amazing experience playing this song out before it came out and I'm so happy to share with the world. The best feeling after playing a show was having people ask and request the song!
As one of the most rapidly-rising stars in the dance music scene right now, how do you find ways to stay true to your sound?
Oh, man. That's nice to hear, thank you. There's definitely such thing as creating art that fuels your heart verse creating art that fuels your ego. I find that when I make more melodic and beautiful-sounding music, that's where my heart lies. But when I make little DJ Tools (edits, mashups, just dumb stuff) I'm fueling my ego. My true sound is mellifluous and nothing can take that away from me. I want my music to live forever. The lyrics, sounds, drums, samples, and every element in the track feel authentic and timeless.
What's next for you? Any touring or albums in your future?
This year I'm excited to put out music with some of my favorite electronic artists ever. These are artists that inspired me to take music seriously from a young age and make a life out of it! There's also very exciting performances this year. I'm ready to bring out a fresh sound to my project and to life on the stage.