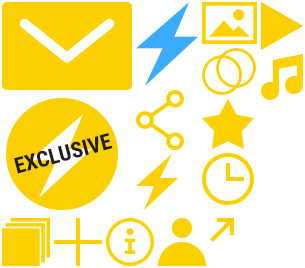 POPULAR NEWS
"As someone who has been one of those young girls, screaming and crying in a crowded venue, there is no feeling like seeing a bad-ass woman take the stage and bring the house down."
Women are killing it in the music industry, and song lovers couldn't be happier! In our column, #WomenCrushWednesday, each week we'll feature an awesome lady whose tunes are blowing up our playlists and ask them about their musical journey.
The lone lady in the alternative band The Mowgli's, Katie Jayne Earl, is our feature today, looking into how she brings energy to everything the group does. She has become a role model to the female fans of the band and is not shy to stand up for her adamant feminist principles. Read on to find out more about how the band got started, what they've got coming up in the future, and what it's like to be the only girl in the group.
---
How did you get interested in music?
My mom is really cool and when I was a kid, she let me explore EVERYTHING from horseback riding to gymnastics (which in hindsight, I'm glad didn't work out). The things that really stuck were musical theater and choir. I loved being involved in music and I loved being a part of an ensemble, so I stuck with those things all the way through until my 20's. That's around the time when my friends asked me to come and sing on a song they had written. That led to me singing with them at a show, which led to me becoming a member of the first and only band I've ever been in, The Mowgli's.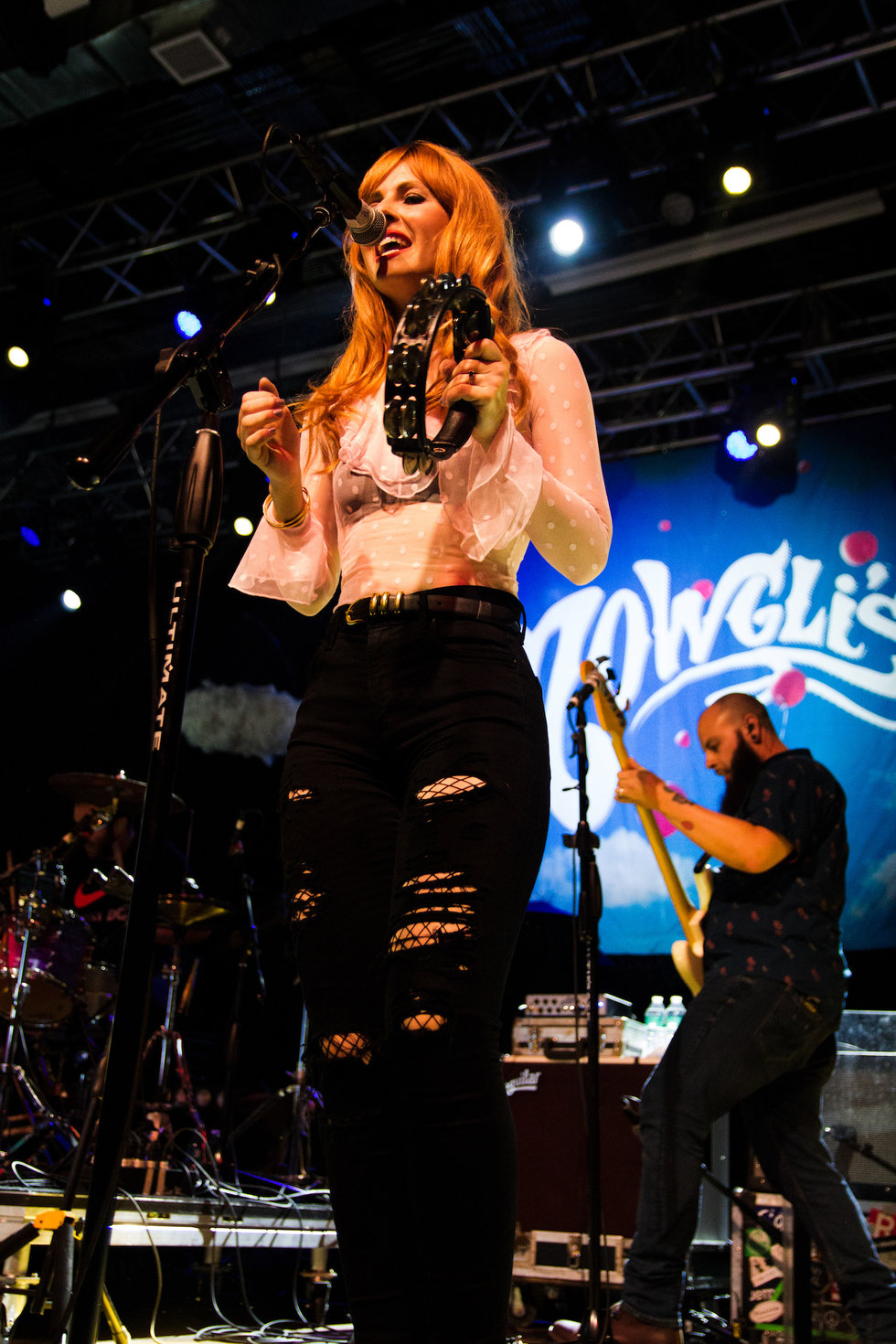 Makenna Malia
How did The Mowgli's start making music together?

In 2009, the collection of people who now make up The Mowgli's started playing and writing together under that name, but a number of the band members had worked together before that. It all stemmed from the local music scene. Like-minded people just kind of migrate to one another, and our story was no different.
You're the only woman in the band. What has that experience been like?
Being the only woman in any environment is a challenge, and that certainly remains true in music. Even my male friends who consider themselves feminists occasionally say and do things that make my blood boil. And as a woman, I feel I have to fight harder to be taken seriously than my male counterparts. I can't count how many times I've said something out loud, an idea or an opinion, that gets ignored, until one of my male peers repeats it. Then he usually gets credit for the idea. This kind of experience probably doesn't come off as shocking to any women who are reading this, and who work predominantly with men, and most men reading this are probably thinking, "Well, I never do that to my female co-workers"... but you do.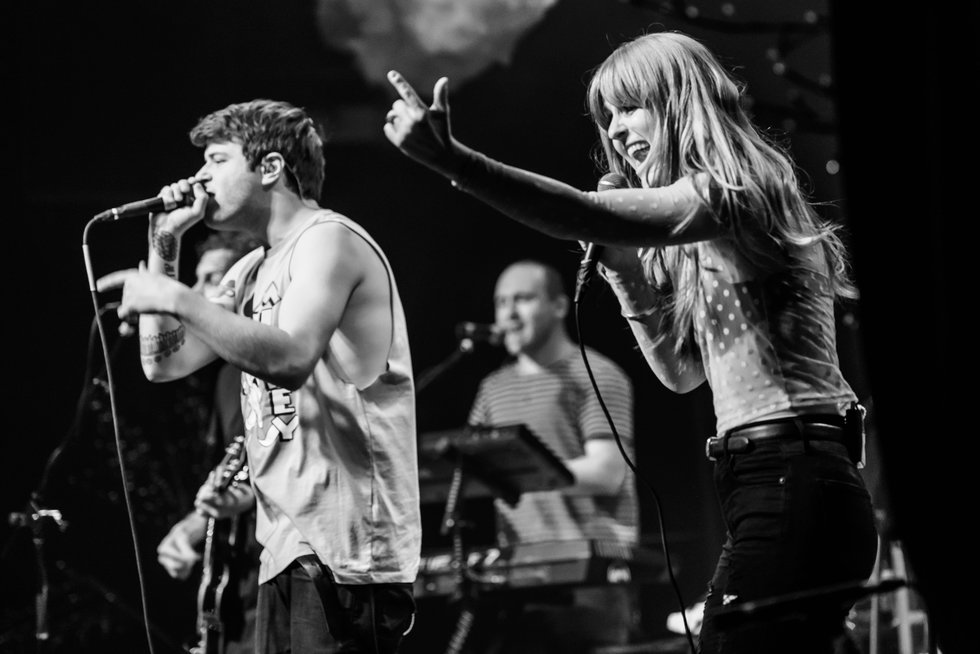 Mark Tepsic
You're a vocal feminist. What do you think about women's involvement in the music industry as a whole?

Women have been a major part of music forever, and not just as muses, but a lot of women have been written out of music history. Sure, without us who would fill the rooms of most venues with screams and tears? We've been the biggest supporters of music for decades! But we've also been there, behind the scenes, writing and playing on some of the most famous songs of our time! Take Carol Kaye, who played bass on just about every song The Wrecking Crew was doing in the 60's and 70's.. we grew up with those songs, and there she is.. on all of them. Not to mention all of the talented black women who were getting their songs and voices stolen from them at the time. Women have been embedded in popular music for 100 years, since vaudeville and jazz! But those women are not celebrated the same way their male counterparts are. Go figure.
Nowadays, I see more powerful women behind the scenes in music. They are running the companies, and writing the paychecks, but I'll always long to see them headlining the venues filled with young girls. As someone who has been one of those young girls, screaming and crying in a crowded venue, there is no feeling like seeing a bad-ass woman take the stage and bring the house down. I find it much more powerful and compelling than watching boys do it.
The alternative music scene is also missing a lot of representation of women. How do you feel about trying to change that?
It's annoying. If I see one more band of four straight white boys playing boring alternative songs about a pretty girl I'm gonna scream. And to be completely candid and honest, I wish my band did more to change the lack of female representation in alternative music. When we have an opportunity to put an opener in front of a crowd, it should always be a woman, in my opinion! But I'm a part of a group, and groups are political, and the music business is political, so I pick and choose my battles. With that being said, I feel like a superhero every time I walk out on stage because on most tours, I'm the only woman who will walk onto the stage that night...and that just isn't right.
The reality is that there are a ton of rad women making amazing alternative music right now. I see it in Los Angeles all the time. There are entire communities of them! Girl School LA and Play Like a Girl showcase amazing female-fronted alternative acts all the time... they just aren't getting the nationwide attention they deserve yet.. My advice is this: if you're thirsty for music that says something, find the women. They have something to say.
Your band has been releasing new music, but your sound has evolved. Can you talk a little bit about that journey?

Our sound has certainly evolved, and for many reasons. First and foremost, we have evolved, as musicians and as people! This project has taken us through our 20s, and over the past eight years, a lot has changed for us. I think those basic truths in and of themselves are valid explanation for any artist's evolution, and evolution is essential to the artist. Without growth, you stay in the same place forever. Since we try to remain honest in our music, our personal growth certainly shines through. But we've also teamed up with a producer who we think is pretty next-level. His name is Rob Ellmore and he's young and interesting and super talented. Having him join our team has definitely altered our sound, and exploring what can be done with him is an exciting creative endeavor.
Your most recent single, "Kansas City," came out. What do you love about the song?
"Kansas City" is one of my favorite songs of ours. It's so raw and honest, and I think there was some real stuff that happened in that room when that song was being written. Personally, I can FEEL it, and I could from the first time I heard it. It still makes me tear up whenever I hear it, or when we rehearse it. Beyond that, I love that Kansas City, which has been such a home base for us since we began touring, serves as a metaphor for a simpler life and time. It's a poetic contrast to our sunny California sound, which is inherently inspired by our sunny California life, which can actually be quite complicated and messy at times.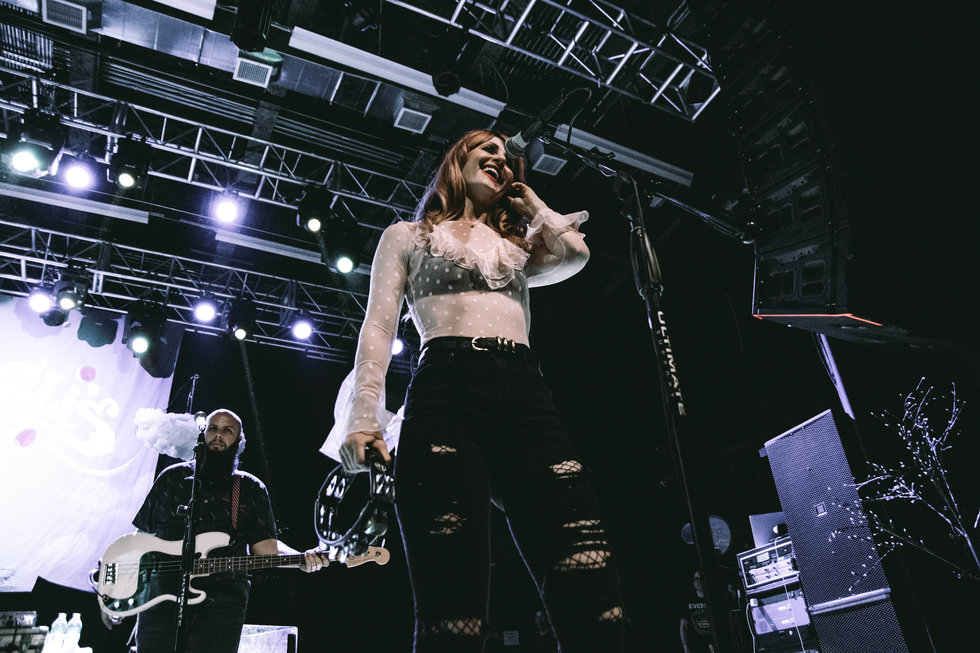 Sammi Hsu
You guys are on the road. What are your favorite things about being on tour?

Tour can be hard, but we are like a family, and even the worst parts of traveling on a bus you're not allowed to poop on with a ton of smelly boys can end in an eruption of stomach-aching laughter. I live for the making of those memories. But more than anything, I love the shows. Like I said, I feel like a superhero when I'm on stage. I'll put up with just about anything just to get to that moment.
What's coming up next for The Mowgli's?
We are no longer with our long time record label, Photo Finish. We have a small but growing collection of songs in the bank, and we're just releasing a few songs independently. For the first time in a very long time, I can say we don't know. And that's kind of exciting.
---
Rachel A.G. Gilman is a writer, a radio producer, and probably the girl wearing the Kinks shirt. Visit her website for more.

Have a female or femme-identifying artist we should profile? Send a pitch email to Rachel.
---
POP⚡DUST | Read More About Music...
RELEASE RADAR | Premiere from Some Professional Help
Popdust Presents | Taylor Grey wins big at the Independent Music Awards
---
Popdust.com uses cookies to ensure you get the best experience on our website. Read Our Policy.