Deposit Photos
Updated: 9/8/2022
In a surprising twist of events...it appears Kourtney Kardashian woke up and chose irony. Kourt has been named Boohoo's new Sustainability Ambassador....where do I begin?
Can we start with the fact that Boohoo, a fast fashion brand, is claiming they are at all sustainable? And to top it all off...their face of "sustainability" is Kourtney Kardashian, whose water intake literally had to be flagged by the city of Los Angeles? This has to be some episode of What Would You Do?
I bet Kourtney did this on Kris Jenner's day off, because there is no way my PR Queen would let this happen...I need a drink.
The summer's hottest gossip is in and it's scathing: celebrities don't give a damn about the global climate crisis and it shows. I can just hear the gasps now as the room falls silent.
Let's start with Elon Musk's nine-minute flight that's only five stops on the train. So much for Tesla being the pioneer of environmentalism, or whatever it was they claimed when they started. When it comes to celebs taking frivolous flights that pour CO2 into our atmosphere, Musk's private jet flight is only the tip of the iceberg.
Taylor Swift tops charts in more ways than one…leading with the most private jet flights taken. The most CO2 emitted. Even if she claims people borrow her private jet, why?
While California faces a drought worse than any since the 1800s…I wonder if anyone's listening. I wonder if we truly care that our environment is imploding. Is it worth defending celebrities if they refuse to acknowledge they're part of the problem? And why aren't they interested in being part of the solution?
Kim Kardashian, Kourtney Kardashian, Sylvester Stallone, Kevin Hart, and Dwayne Wade all received notices to cut back their water usage. They surpassed consumption by 150% since last year.
Before you start telling me about DWade's stats or how Kevin Hart cracks you up…I know. I love these selfish celebs who blatantly ignore the fact that people are dying so they can live a life of luxury.
No seriously. I get they have so much money they don't know what to do with it. But here's an idea, instead of all the wasteful jets and water use, donate to environmental charities!
We all make sacrifices to keep our planet going, so I'm sure Kim K can go without the fountain running for weeks on end. And, much to Elon's horror, public transportation won't kill you. Do better.
CULTURE
Why is Cashmere So Expensive? Here's How to Buy A Soft Fall Sweater Without Breaking the Bank
via Shutterstock
Brad Pitt is the latest celebrity hawking stuff we don't need at prices we can't afford. The heartthrob actor has been active during his most recent press tour, stunning spectators with his latest, whimsical Bullet Train red carpet style. But now I have to wonder if all those headline-making outfits were merely curated to establish him as a force in the fashion world … All so he can hawk cashmere.
What a brilliant plan. And it worked. Although I'm thoroughly enjoying my Coastal Grandmother phaser, I thought I'd check out Brad Pitt's cashmere sweaters. I even steeled myself for the prices. I estimated they'd cost a few hundred dollars and maybe I'd return to them if they ever had a sale. Oh, how young and naive I was.
Shirts from the Brad Pitt's new brand, God's True Cashmere, run at least $1,980 … EACH! My jaw dropped when I saw those prices. Now, I'm not above paying a titch more for a high-quality item that will last me forever (rather than getting decluttered after only one season), but two thousand dollars for cashmere? No-no-no-no-no, thank you.
Admittedly, the shirts are cool. They're versatile, they're well made, and they have lush details. The yarns are personally handpicked by Brad and his co-founder/friend, Sat Hari — so it's entirely possible you could be touching fabric Brad himself touched. Plus, the button closures are made of hand-cut gemstones —7 down the front that represent your chakras and 11 total, which is the number of mastery in numerology.
Cool, I'll concede. But what was going on inside that pretty movie star head of his when he priced those shirts? I couldn't say. But I do relate to the impetus behind it.
"[Cashmere] has elegance, quality, and comfort," Brad Pitt told Vogue. "It's also something that you can keep for a lifetime — something you can hand down and become heirlooms."
He also told Gwyneth Paltrow and GOOP that it's the only fabric he wants to live in. "Cashmere's the coveted cloth to be covered in," he explained. "It's just so damn soft and so damn cozy."
Perhaps this is why the entire world is craving cashmere this fall. Me, Brad, and now, Gigi Hadid. The supermodel also recently released her own brand, Guest In Residence. And no prizes for guessing what she's selling. Cashmere.
Born and raised in Los Angeles, when Gigi moved to New York, she was often cold. Basically, she lived in cashmere pieces she pilfered from her father's closet. And now, she's capturing that feeling with her very own reinvented cashmere pieces. Her collection features closet essentials like sweaters, slim-fit joggers, hoodies, tanks, scarves, beanies, and the like.
Gigi's supermodel style imbues each piece with her signature colorful, playful style. She calls it "varsity funk," and each piece "lasts forever" — supposedly. "I want clothes that feel sustainable and realistic to have for a long time," she told Vogue. "If you look after cashmere correctly, it can last for decades."
And all of this is great, but who can afford one thread of it? So, sorry Brad, and sorry Gigi. I won't be breaking the bank on celebrity cashmere this fall. Instead, I'll be shopping for cashmere essentials that have all the quality and longevity I seek at a price I can afford.
Here are the pieces I'll be shopping for this fall:
All products featured are independently selected by our editors. Things you buy through our links may earn us a commission.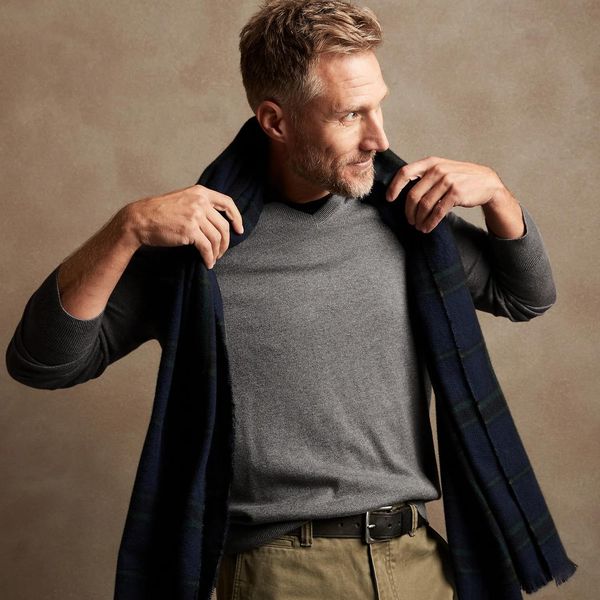 via Banana Republic
This sweater is made for any body and any gender. The ultimate basic cashmere sweater, it blends silk and cotton to make it both affordable and extra cozy.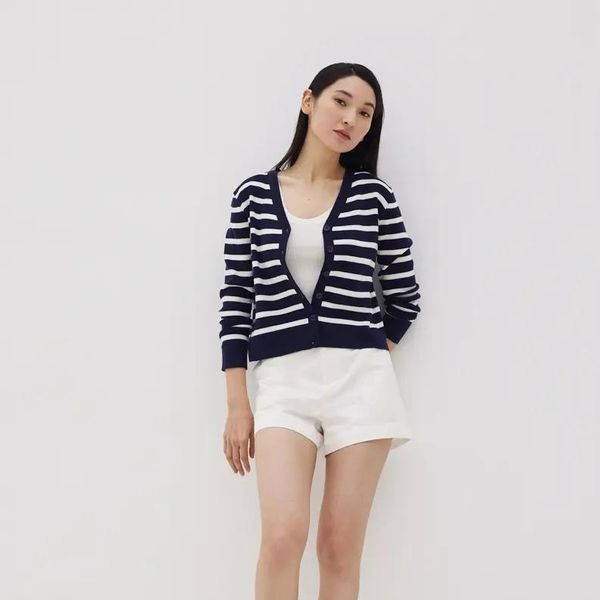 via Love Bonito
This cashmere blend comes in a striped print that will make you look and feel classy on a budget. As a cashmere blend, this lightweight, casual piece is ideal for transitioning from summer into fall. Emily in Paris could never.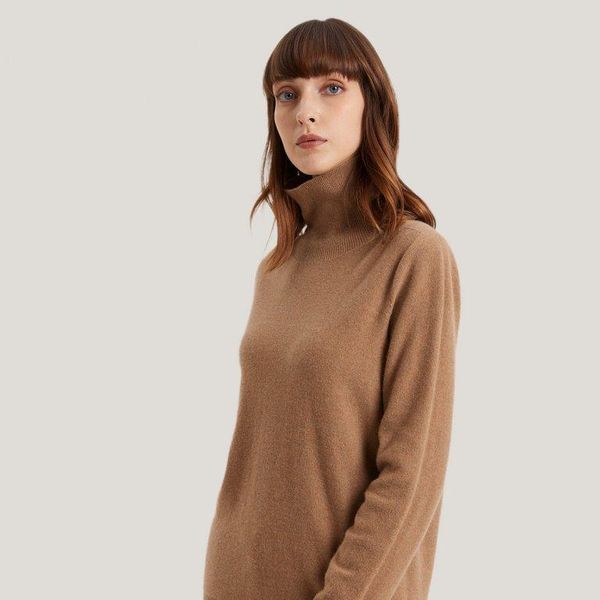 via Nap Loungewear
This pure cashmere sweater is the ultimate cozy closet piece. Composed of 100% cashmere, it boasts a thick turtleneck and comfortable ribbed trims that enhance the cozy feel.
Skip the $2k sweater, opt for this instead.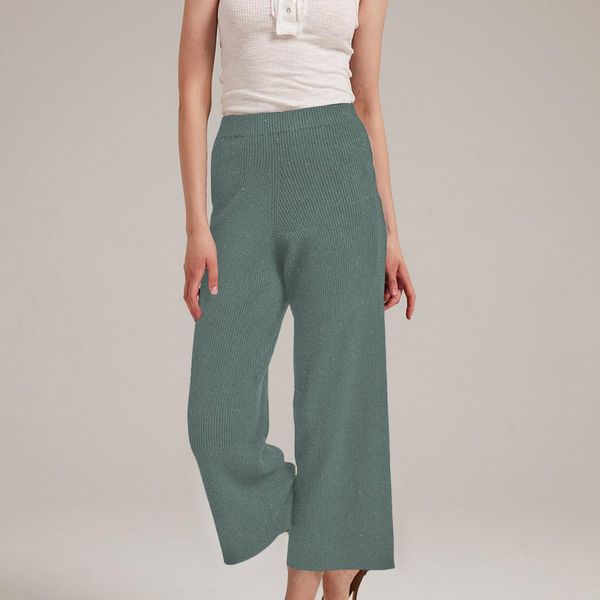 via Nap Loungewear
Cashmere isn't only for sweaters. Dress in head-to-toe opulence with these wide leg pants. Crafted from a cashmere blend it offers an elastic waist, an extra-high rise, full-length design, and a loose-fitting wide-leg cut.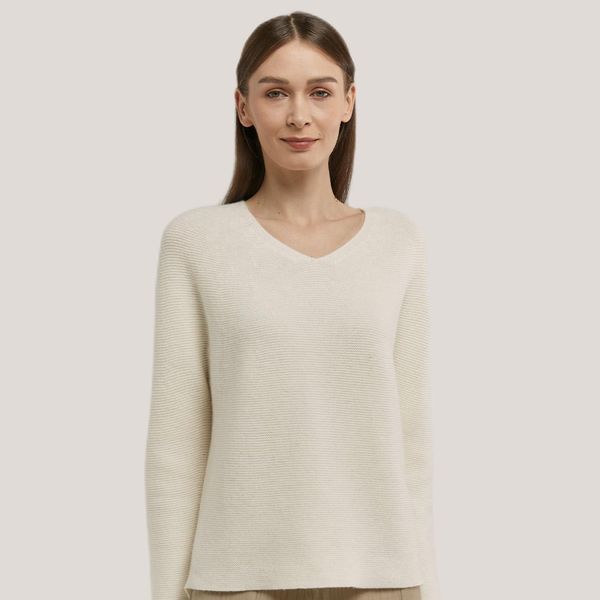 via Gentle Herd
For the ultimate cashmere piece, shop Gentle Herd. My effortless, Coastal Grandmother dreams come alive when wrapped in this gorgeous sweater. Crafted in soft cashmere yarn and finished with a classic V-neckline, you can wear this top with a half-tuck into skirts or pants. This is a year-round essential piece that you can start wearing now and roam the world for years to come.
Frontpage Popular News
Her Boohoo Sustainability Campaign Falls Short Of Helping Anyone
Andrew H. Walker/Shutterstock
Oh, Kourtney. You make my job so difficult because I wanted to root for you. I was on board with you publicly tonguing Travis as long as you
stayed out of trouble.
Kylie
's supposed to be the one who emits tons of carbon dioxide with her private jet -
and that's it.
But no. Instead, Kourtney Kardashian-Barker - who just received notices to cut back on her water usage from the city of Los Angeles - is now Boohoo's self-proclaimed "Sustainability Ambassador." And it just goes downhill from there.
What Doesn't Work?
Kris Jenner, I'm wondering if you have simply given up on Kourt's PR disaster here. Or does Kim have something up her sleeve that will distract us all? Who approved this? I find it hard to believe private-jet-taking, water-wasting, energy-consuming Kourtney Kardashian is one inch a "Sustainability Ambassador…"
And pairing that with a fast fashion brand! Fast fashion is one of the biggest contributors to the global landfill, creating 92 million tons of textile waste annually.
It's not just that Kourt's wasteful and careless in many ways, but the irony lies in the control with which she restricts her children's diet…Cutting out dairy, gluten, and sugar but then leading a life that contributes to the climate crisis.
What Actually Works?
Patagonia founder Yvon Chouinard announced the family is giving away their company shares to a nonprofit organization in order to fight climate change. Patagonia is valued at around $3 billion.
THIS is what commitment to fighting the climate crisis looks like. Not empty promises, a gluttonous lifestyle, or campaigns with fast fashion brands.
From Your Site Articles
Related Articles Around the Web