I grew up during Disney Channel's golden era — you know exactly what I'm talking about. It was the when Disney Channel Original Movies (DCOMs) were at their prime and peak Disney TV starring the Jonas Brothers, Miley Cyrus, Demi Lovato, the Sprouse twins, and more. In hindsight, it was wild. There has never been such a hotbed for stardom since Ryan Gosling, Justin Timberlake, Britney Spears, and Christina Aguilera were all on the Mickey Mouse Club.
And, yes, as I continue growing up I miss having these lighthearted shows and movies to watch. Every so often, my roommates and I will binge Disney movies like High School Musical or classics like The Princess Diaries. But lately, there's been a shift.
Has anyone noticed that we as a society are lacking a little…creativity? I mean, sure, it's completely normal to crave a little dose of your childhood here and there — who isn't comforted by memories of your life before you had an overwhelming sense of anxiety. But I almost feel as though we've gotten too comfortable with bringing back the old.
Some of the nostalgia-inducing events are exciting. Think: the fervor for Taylor Swift's Eras Tour or The Jonas Brothers' The Tour, where they play all of their old songs spanning their entire career. It's exciting and it's a good way to get fans of old and new in the room.
We're also in an era of reboots galore. Take a short glance at any of your streaming platforms and you'll see a lot of familiar titles. Former early 2000s favorites like Zoey 101, iCarly, and That's So Raven are finding themselves back on our television screens. And if you think that's all…oh, boy.
Some reboots are reimaginations of the show…like Gossip Girl with a new cast and fresh, young faces. While others are continuations of the show just in the future - think iCarly and Zoey 101 (the reboot being Zoey 102).
And then, there's Disney.
Disney is constantly trying to get the older generations into theaters, not only with Marvel, but with live action remakes of our favorite films. Over the past decade, we've seen versions of Aladdin, The Lion King, Beauty and the Beast, and most recently, The Little Mermaid. And while I surely will watch out of curiosity and lack of alternatives, I'm always left feeling a little underwhelmed.
Nostalgia-core is literally everywhere. It's in the way we dress, with Y2K trends consistently leading the pack. People are preferring jelly shoes and mini skirts over any other decades-inspired trend. But when do we border the line between nostalgia and overdoing something?
Maybe it's because we went through a global pandemic for so many years, we are craving stability and childhood…going back to our roots and finding comfort in what we know after a lot of uncertainty. Watching reboots of your fave show or movie can feel like the adult version of a pacifier.
Or maybe it's because we have completely lost identity in today's society…where we can't thrive on anything but the past. Unoriginal ideas cycling back into the trendscape just because we can't think of anything new.
Or maybe, just maybe, it's the "if it ain't broke, don't fix it" mentality. If something is getting those viewers in and bringing in the money, why wouldn't they keep rebooting shows? Why wouldn't Disney just make live action versions of their entire filmography? That way, they can release one original and make it really amazing in the interim.
One thing I know for sure is that trends recycle all the time. There was a time not so long ago where anything low-rise was considered a fashion crime and you wouldn't dare wear Crocs out of your house unironically. But in the early 2000s, and subsequently in 2023, you would be considered right on trend.
And while the Disney films will always be successful in some capacity, I don't know if every show needs a reboot. Some shows ended where they ended, and that's how it should stay. Honestly, I feel like I'm getting bored too easily, I already know the plotline of everything coming out!
With popular shows like Succession and Ted Lasso in their final episodes forever, we are met with the realization that we will soon run out of original content if we keep rebooting everything. And yes, I get that a reboot is still somehow original if it's a continuation of the series…you know that's not my point here.
So, I'm left with the question: when is it time to let the past be….the past?
We are living in an era where we have given up quality of clothing for a major discount. For fast fashion brands, the main goal is to schill as many trending clothing items to as many people as possible. The entire process is unsustainable, unethical, and incredibly bad for the environment.
While you're receiving a massive discount by shopping fast fashion, you're going to have to replenish your closet much more often. There's a reason these clothes are so cheap… most of them are ill-fitting and often come apart. Those "deals" really are truly too good to be true.
And I must admit, I'm not perfect. I have fallen victim to the glitz and glamor of buying fast fashion. I mean, what's more satisfying than getting 15 items for $200 or less? When there's a constant 20% off your purchase code, it's so hard to say no.
But then the package arrives and you realize nothing looks like it does online. The material is visibly cheap, with leather resembling a garbage bag and scratchy, thin sweaters that aren't the same color as the product photo. You're lucky if half of your order is acceptable to wear out of the house.
Recently, I've been trying to be a more sustainable shopper. It not only helps the environment, but it saves me money in the long run.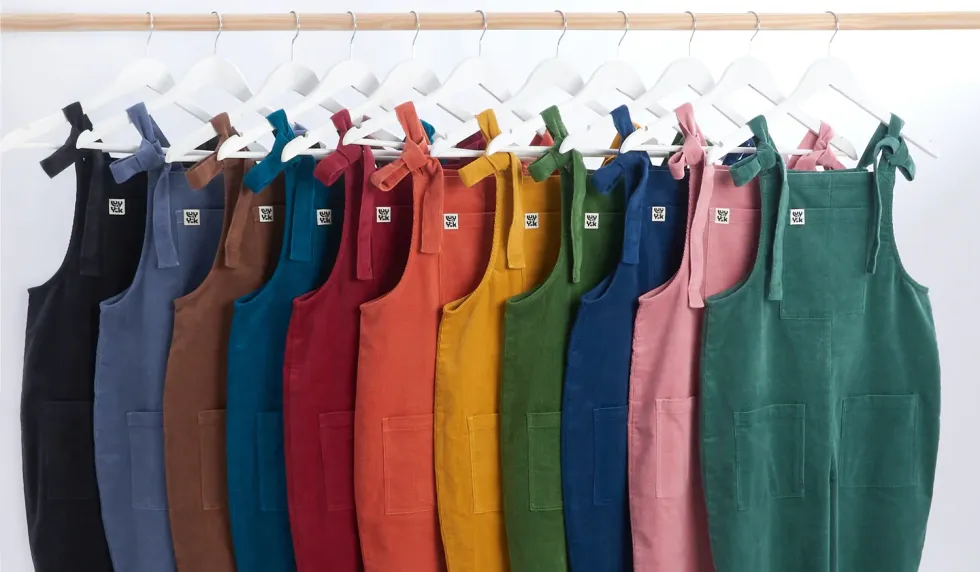 Lucy & Yak
Shopping sustainably can look different for everyone in every budget: going to thrift stores and consignment shops, buying sustainably-made clothing with recycled materials, and watching what brands are taking steps to mitigate their carbon footprint and overall waste.
While fast fashion clothes thrive on landfills, harmful materials, and often toxic conditions, sustainable brands ensure they are taking all steps to minimize their impact on the environment. Their clothing also lasts much longer, meaning you'll have these pieces for years to come.
If I don't have to replenish my closet every six months, then I'm saving at least a few hundred dollars. So, I wanted to find a brand that was both affordable and sustainable. After trying Lucy & Yak, I knew I had found the right place.
The brand started by selling pre-owned clothes on a beach in New Zealand in adorable handmade pouches. The handmade pouch, by the way, is one of my favorite parts of the purchase. It makes storing the clothes easy, and they don't wrinkle or tarnish as easily if they're secured in there. Also, it makes the perfect makeup bag for summer traveling.
Now that I have this handmade bag, it makes the jumpsuit even easier to pack away for the weekend. It keeps my clothes dry and safe, away from wrinkles and potentially wet bathing suits.
They specialized in the Dungaree, a more sophisticated take on the overall often made from cloth and not denim. Their fabrics are organic, which prioritizes your comfort, and come in funky prints that are perfect for the beach in the summer.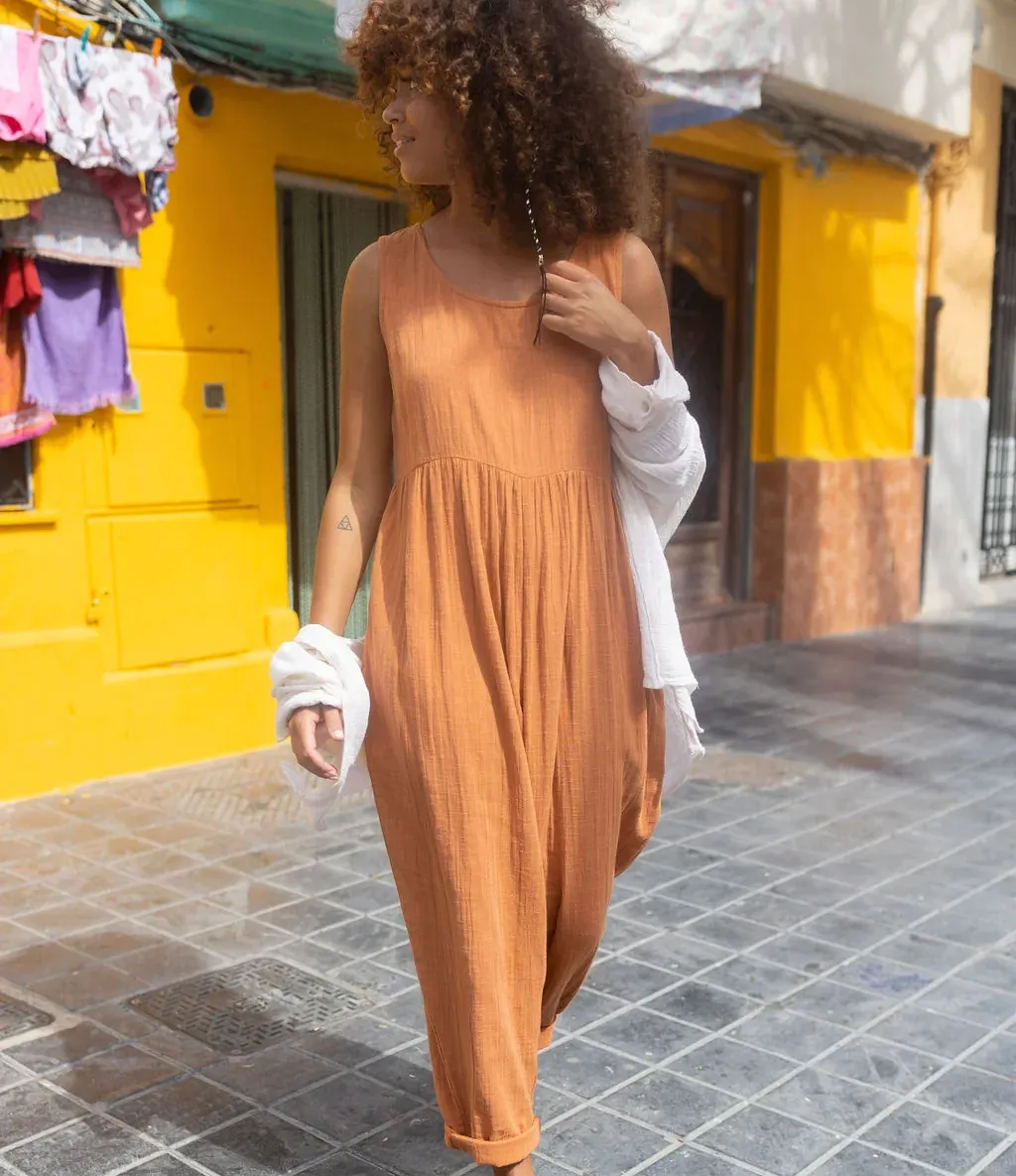 Lucy & Yak
I chose The Bowie Jumpsuit in Terracotta, the material is light and gauzy which makes it perfect for the summer. I imagined it on beaches as a coverup, going out to dinner, or even at work with a white t-shirt underneath. It would pair well with heels or sneakers, so I knew I couldn't go wrong with such a versatile piece.
But that's the thing with Lucy & Yak…all of their clothing is versatile. It's part of the reason shopping sustainably saves you money: you'll get a lot of wear out of these clothes, and they're multi-functional.
While I'm all for saving money, I'd recommend looking out for sales at sustainable brands rather than heading to a fast fashion website. It'll be worth your time and money to put a little extra research in your clothing.
Plus, Lucy & Yak has 10% off your first purchase so you can get a discount!
CULTURE
Cold bevs to get you through the hot months
For no particular rhyme or reason, there are certain silly little lifestyle traits that just scream summer to me. Some are obvious: backyard barbecues, beach days, al fresco dining. But there's something about the little moments of summer that I cherish.
For example, nothing beats the feeling of a hot shower after a long, summer day. Or that first bite of perfectly ripe summer fruit. And maybe even better: that first sip of an icy, refreshing beverage.
Whether it's a sparkling soda or a fun cocktail, summer is for sipping. If I don't have a beverage in hand, there's something wrong.
When running errands, I'm obviously (and somewhat obnoxiously) shaking a sugary Starbucks iced treat. On my midday hot girl walks, I'm sipping an iced matcha to keep me focused. At dinner, it's whatever the cocktail of the summer is. At lunch, it's a crisp Mexican coke. At breakfast, I look forward to nothing more than my cold brew.
Maybe it's middle school trauma — did you even grow up in New York if people didn't roast you for having "no bev" with your lunch — and the unhealthy number of Arizona Iced Teas I ingested with every meal as a kid, but I'm a certified beverage girl.
It sounds small, and maybe even a little silly, but to me, having a little drink as a treat is one of the best ways to romanticize my life and add some fun to my day.
Now that summer is here, I'm stocking up on all my favorite beverages. Needless to say: #OrganizationTok will be seeing me when it comes time to arrange all these different drinks in my fridge.
Looking for your drink of the summer? There's one for every time of day, every type of person, and every summer occasion. Here are some of my favorites:
All products featured are independently selected by our editors. Things you buy through our links may earn us a commission.
Polar Brew Cold Brew Concentrate
Craving a cold coffee in the morning? Don't want to brew a hot cup and wait for it to cool down? Enter: this delicious cold brew concentrate. Just add water, ice, and you're done. A yummy morning bev in literally 10 seconds. Bonus tip: enjoy it with the signature chalice.
Pop and Bottle Matcha Oat Latte
I love a matcha latte, but I don't have the time and energy to make a matcha from scratch every morning. I appreciate the TikTok girlies showing off their matcha routines — but I'm not built for that. This Pop and Bottle canned matcha is made of premium matcha and tastes like coffee shop lattes without breaking the bank.
Happy Being Antioxidant Tea
Craving the antioxidants of a berry smoothie without the heaviness of one? Happy Being makes antioxidant-rich teas that are perfect for summer. These nutrient-dense organic white teas are flavored with a splash of fruit juice. Plus they improve immunity, reduce inflammation, and boost gut health. Stock up on all three flavors: blueberry, cucumber mint, and peach rose.
Arva Spritz
From the mind of interior design icon Abi Marvel, Arva Spritz is fittingly the social drink of the summer. Perfect for mixers, cocktails, or as it is, it's a drink that will look good in your bar cart and impress all your guests.
De La Calle Mexican Tepache
De La Calle is the first brand to bring pineapple-based Mexican tepache to the U.S. Pineapple for the summer? Yes, please. This fermented Mexican classic is flavorful, refreshing, and better for you than most summer drinks! De La Calle Tepache is low in sugar, great for gut health, and available in exciting flavors such as Watermelon Jalapeño, Grapefruit Lime, Ginger Manzana, Picante Mango Chili, Tradicional Pineapple Spice, and more!
Olipop Probiotic Soda
Probiotic sodas are a dime a dozen, but none have the range that Olipop does. With full-bodied flavor, they don't taste artificial or too "healthy." Olipops are like drinking your favorite soda while taking care of your gut health. My favorite summer flavors are Orange Creamsicle and Cherry Vanilla because they remind me of dessert flavors I can enjoy any time of day.
FULWater Sparkling Spirulina Water
Ever wonder what makes those trendy drinks blue? It's blue spirulina! Besides being an aesthetically pleasing addition to your beverage, spirulina is a superfood that contains a ton of fiber and protein. Get your fix with FULWater, a sparkling water infused with spirula to fuel and detox your body.