FILM
Because tearjerkers are cheaper than therapy.
News of mass shootings, threats of nuclear war, and political and cultural unrest are inescapable these days.
The human brain isn't meant to take in such a constant stream of bad news. As a result, many Americans have become numb and pessimistic, hardly blinking an eye when we hear about the latest tragedy. It's not that we don't care—it's that letting every heartbreaking thing actually break our hearts is just too much to handle.
But how do you combat that numbness? A good cathartic cry, that's how. Just as it can be healthy to put up defense mechanisms, it can also be healthy to let some of those pent up feelings out. That's where catharsis comes in. Catharsis is formally defined as "the process of releasing, and thereby providing relief from, strong or repressed emotions," and it's one of the main reasons humans have always and will always need art and storytelling.
The next time you just need a good cry, check out these ten tear jerking masterpiece.
10. If Beale Street Could Talk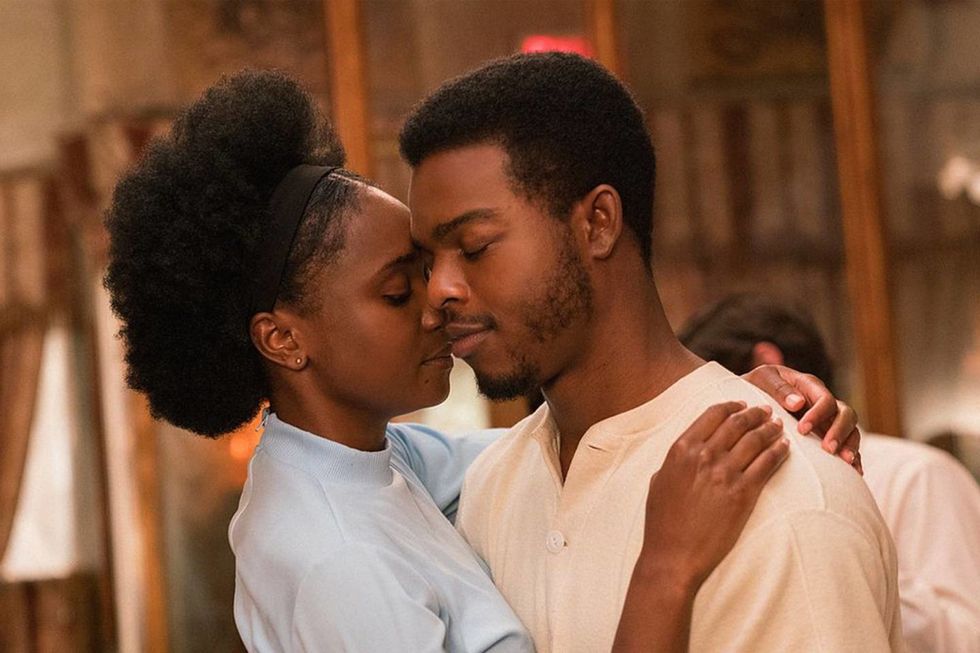 Directed by Barry Jenkins, this Oscar award-winning film based on James Baldwin's classic novel follows the heartbreaking story of a young black couple divided by racism. If you have a heart, the tears will keep rolling long after the closing credits.
9. The Fault in Our Stars
The Fault In Our Stars | Official Trailer [HD] | 20th Century FOX www.youtube.com
Nothing like combining young love and terminal cancer to really give you that one-two punch of feels.
8. Toy Story 3
Toy Story 3: Trailer www.youtube.com
Mothers of 18-year-olds beware: this movie might just be too much for you.
7. Room
Room | Official Teaser Trailer HD | A24 www.youtube.com
This pick isn't for the faint of heart, but if you're looking for an emotional journey, few movies can compare to this 2015 masterpiece. Featuring themes of innocence, trauma, and grief, this film should be viewed with tissues ready.
6. Moonlight
Moonlight | Official Trailer HD | A24 www.youtube.com
There are few better movies than this Best Picture Oscar winner, but it's by no means a feel-good film.
5. The Notebook
The Notebook trailer youtu.be
Sure, this one seems obvious, but it's a go to rom-com for a reason. If true love and Ryan Gosling don't at least make you shed a tear, perhaps you should seek professional help.
4. Marley & Me
Marley & Me Movie Trailer www.youtube.com
This should only be used in emergency situations when a good cry is desperately needed. Never underestimate the emotional toll a good dog movie can take.
3. The Last of the Mohicans
The Last Of The Mohicans - Official® Trailer [HD] youtu.be
This one's a real "even your dad cried" type of movie. The last 20 minutes of the film are guaranteed to leave you weeping into your popcorn.
2. The Bridge to Terabithia
Bridge To Terabithia (2007) Official Trailer www.youtube.com
This 2007 film is almost unfairly sad. We don't want to spoil it, so we'll just say the combination of childhood adventures and unexpected tragedy put this one at the top of our list.
1. Up
Disney/Pixar's Up - Official Trailer www.youtube.com
We dare you to make it through even the first 15 minutes of this movie with dry eyes. We dare you.
Carl and Ellie Fredricksen's love story will forcibly grab your heart and wring the tears right out of it. And if you literally don't have a heart, then Doug's incredibly-good-boy arc helping Carl and Russell bond will give you one—at which point you can go back to the beginning and have a good cry.
Culture News
Secret wedding in the South of France wearing a custom Vera Wang gown? We expect nothing less from Issa Rae
A royal wedding took place this weekend.
Sure, there was the wedding of Lady Kitty Spencer, Princess Diana's cousin, to billionaire fashion oligarch Michael Lewis. And sure, photos of her Rome wedding and Dolce & Gabbanna dress are going viral — and though she is an ambassador for D&G, going with the brand was an … interesting choice given the frequent claims of racism against its founders — but that is not the elaborate affair which matters to us.
No, our eyes are, as always, on Issa Rae.
Issa, a Hollywood jack of all trades, got married over the weekend in a gorgeous ceremony in the South of France. She wore a stunning, custom Vera Wang gown and posed in front of a pastel pink chateau like something right out of a fairytale.

But the best part? She kept it all a secret.
Unlike some celebrities, who dish out daily relationship content and whose couplings are the subject of tabloid gossip and social media fodder, Issa kept her whole relationship quiet until the wedding.
Issa Rae is a true African queen for officially revealing her man in a wedding day photo. Like ....exactly

— Bolu Babalola (@Bolu Babalola)1627306293.0
Congrats to the Queen of minding her business!
Don't get us wrong, we love the constant celebrity relationship updates — J-Lo's saga of exes which has culminated in an official, steamy, Instagram boyfriend reveal of her and Ben Affleck on a boat; Olivia Wilde and Harry Styles also serving peak boat romance; and Tommy Dorfman and Lucas Hedges gallivanting around Brooklyn … oh to be them all.

But the sheer mystery, the drama, and the epic reveal of Issa Rae's wedding triumphs over them all. Though fans knew Issa Rae had gotten engaged to her businessman husband, Louis Diame, the wedding announcement came as a shock over social media.
Even in the Instagram reveal, Issa didn't actually say she got married.
Instead, she referred to her wedding as a "photoshoot" and her husband as "somebody's husband" … iconic.
Issa Rae clearly made everybody sign NDAs this weekend 😂

— philip lewis (@philip lewis)1627307046.0
Due to the cryptic captions, some people on the internet weren't even sure if it was a real wedding, or maybe just promotion for a movie or a publicity stunt for Season 5 of Insecure (after Lil Nas X held a fake court trial to reveal "Industry Baby"… you never know).
Me trying to figure out if Issa Rae got married for real: https://t.co/uGZmMcRDxG

— Chiya (@Chiya)1627304955.0
Honestly, we wouldn't be surprised if the whole thing turned out to really be an elaborate promotional photoshoot. But the consensus is this: Her level of mystery is just another way we aspire to be her.
I aspire to Issa Rae's level of privacy, minding her business and rejecting celebrity culture omg. too happy for her, what an icon 🤎

— natty kasambala (@natty kasambala)1627306315.0
From Your Site Articles
Related Articles Around the Web
Music Features
On Moon Boy, Yung Bleu's debut album, the crooner attempts to balance his dueling personas and ultimately presents a radio-ready project ripe with agenda.
The infamous Drake co-sign.
It's long been seen as a coveted secret weapon, a guaranteed career kickstarter for any artist lucky enough to snag one. With that said, the Drake feature hasn't always translated into a guaranteed success story. The trajectories of ILoveMakonnen and BlocBoy JB are a testament to that. But a Drizzy verse has always translated into an opportunity for young artists to capitalize on budding attention rather than curate that attention on their own.
Yung Bleu, the self-made Mobile, Alabama success story, was the latest budding talent to be gifted some Drizzy bars. Released back in 2020, the success of "You're Mine Still" was a slow burn. It gradually gained traction on urban radio, quietly popped up in playlists across the country, and by this year's quarantine-less summer now seems completely inescapable.
But the song's success was due in equal measure to both artists. Sure, Drizzy's bar about the "type of hugs" given to ex-lovers bred many melodramatic tweets and Instagram captions as Drake's lyrics often do, but the meat of "You're Mine Still" was almost single-handedly driven by Bleu's infectious ear for melody. His saccharine voice could at one moment be candied and sensual, and at another gravelly and filled with the same visible anguish that many artists out of Mobile, Alabama possess.
Bleu has long been aware of this distinction. His Investment series catered to the listeners hungry for street-anthems, his Bleu Vandross series catered to the ladies. But with a Drake feature in his arsenal, the question remained how he'd use this newfound traction to break through the A-list glass ceiling.
Yung Bleu, Chris Brown & 2 Chainz - Baddest (Official Video) www.youtube.com
On Moon Boy, Yung Bleu's debut album, the crooner attempts to balance these dueling personas and ultimately presents a radio-ready project ripe with agenda. The album's 15 tracks alternate very plainly between sugary R&B club hits and trap-influenced street tales. Its bloated guest list – which Bleu flexed at not having paid a cent to put together – seems more like an overall flex rather than a specific curation of talent Bleu thought right for the project. "Baddest" is driven almost entirely by Chris Brown's hook, while 2 Chainz' verse sounds dull and lifeless ("I'ma kiss them lips, I'm talkin' both of 'em).

But elsewhere, Bleu's chops as a pop star are seen actively forming. Bleu's choppy flow glistens over the air-tight production of "Last Summer." "Unforgiving" is a woozy R&B cut that finds Bleu's gravelly howls compliment those of Afrobeats superstar Davido, and he and Kehlani sound right at home together on "Beautiful Lies." The highlights are slippery and satisfying, and even though the low points feel blatantly catered to commercial stardom, it's hard to resent the hustle.
Regardless of whether
Moon Boy
will catapult the Alabama warbler to star-studded heights, the project is a testament to just how talented and well-connected Yung Bleu is and that people need to start paying better attention.
From Your Site Articles
Related Articles Around the Web