Deposit Photos
Updated: 9/8/2022
In a surprising twist of events...it appears Kourtney Kardashian woke up and chose irony. Kourt has been named Boohoo's new Sustainability Ambassador....where do I begin?
Can we start with the fact that Boohoo, a fast fashion brand, is claiming they are at all sustainable? And to top it all off...their face of "sustainability" is Kourtney Kardashian, whose water intake literally had to be flagged by the city of Los Angeles? This has to be some episode of What Would You Do?
I bet Kourtney did this on Kris Jenner's day off, because there is no way my PR Queen would let this happen...I need a drink.
The summer's hottest gossip is in and it's scathing: celebrities don't give a damn about the global climate crisis and it shows. I can just hear the gasps now as the room falls silent.
Let's start with Elon Musk's nine-minute flight that's only five stops on the train. So much for Tesla being the pioneer of environmentalism, or whatever it was they claimed when they started. When it comes to celebs taking frivolous flights that pour CO2 into our atmosphere, Musk's private jet flight is only the tip of the iceberg.
Taylor Swift tops charts in more ways than one…leading with the most private jet flights taken. The most CO2 emitted. Even if she claims people borrow her private jet, why?
While California faces a drought worse than any since the 1800s…I wonder if anyone's listening. I wonder if we truly care that our environment is imploding. Is it worth defending celebrities if they refuse to acknowledge they're part of the problem? And why aren't they interested in being part of the solution?
Kim Kardashian, Kourtney Kardashian, Sylvester Stallone, Kevin Hart, and Dwayne Wade all received notices to cut back their water usage. They surpassed consumption by 150% since last year.
Before you start telling me about DWade's stats or how Kevin Hart cracks you up…I know. I love these selfish celebs who blatantly ignore the fact that people are dying so they can live a life of luxury.
No seriously. I get they have so much money they don't know what to do with it. But here's an idea, instead of all the wasteful jets and water use, donate to environmental charities!
We all make sacrifices to keep our planet going, so I'm sure Kim K can go without the fountain running for weeks on end. And, much to Elon's horror, public transportation won't kill you. Do better.
All products featured are independently selected by our editors. Things you buy through our links may earn us a commission
For such a tiny piece of clothing, bras are easily the most difficult product to buy -- and there is nothing more frustrating than coming home with one that either causes chafing or makes your boob pop out. We're not out here trying to look like some overhyped Victoria's Secret model, but you'd think we could find one that works for us.
On a quest to find the ultimate bra, our editors set out to find a brand that offers it all; a wide size range, different styles and colors, high-quality materials, and a reasonable price.
After some searching, we narrowed our findings down to three trending brands; CUUP, ThirdLove, and Skims. Here's everything you need to know:
Key Similarities
All offer bras designed to fit all shapes and sizes
All provide customer support to help you find the perfect fit
All are affordable
Key Differences
CUUP is a bra expert, offering lingerie and swimwear only – ThirdLove and Skims offer a broader range of clothing, including loungewear, activewear, and shapewear
CUUP and ThirdLove offer a Fit Quiz – Skims provides a sizing guide only
CUUP bras are constructed to enhance a woman's natural shape while providing maximum comfort and support – ThirdLove and Skims bras aren't as thoughtfully engineered
CUUP's mission is to redefine the way women look and feel in their underwear. Their bras are designed with stretchy, thin, light materials that support a woman's natural shape - no foam and no bump pads, just unlined simplicity. And yet, they still provide that effortlessly sexy look.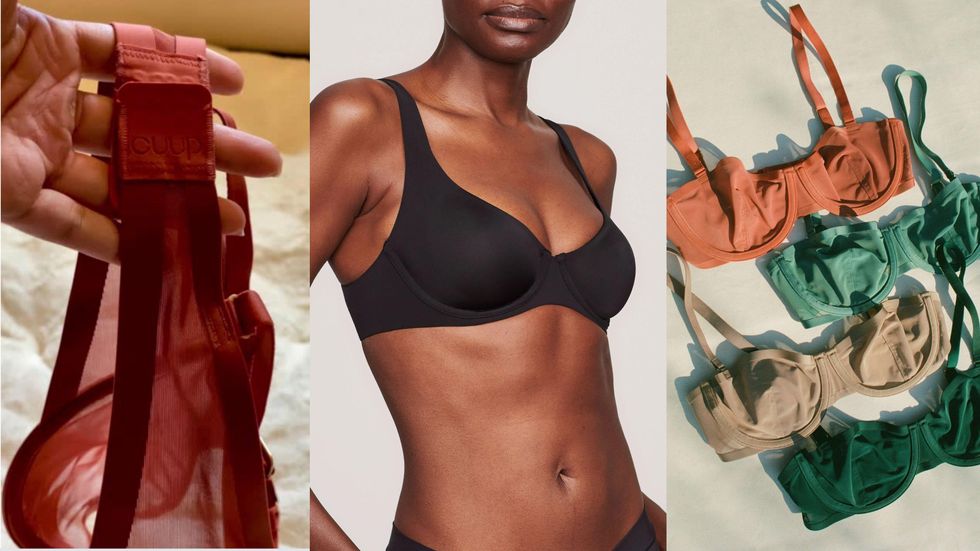 Image Courtesy of CUUP
Available in sizes A to H, there are 6 different styles and various materials to choose from. The Balconette, for example, is perfect for an open neckline, and The Plunge with its deep V silhouette works best when styled with a silk blouse or an open cardigan. CUUP even offers a FIT Quiz on their website to ensure you find your precise size.
By working with a development and manufacturing partner who's been producing bras worldwide for over 30 years and running a series of bra washes and wear tests, CUUP's quality is truly next-level.
CUUP leverages technology and even invented a flexiwire - a flexible underwire - that moves with you without poking or pinching -- they even reconstructed straps, gores, and cup proportions to achieve a perfect fit, even for bigger boob sizes.
For only $68 for premium materials and the flattering design, CUUP bras are super affordable.
Fit: 10/10, Material: 10/10, Design: 10/10, Support: 9.5/10, Price: 9/10
ThirdLove's main claim is to offer a wider-than-most size range, with band sizes ranging from 30 to 48 and cup sizes from A to I. But only a few combinations are available in their full-size range, which made their claim a little questionable…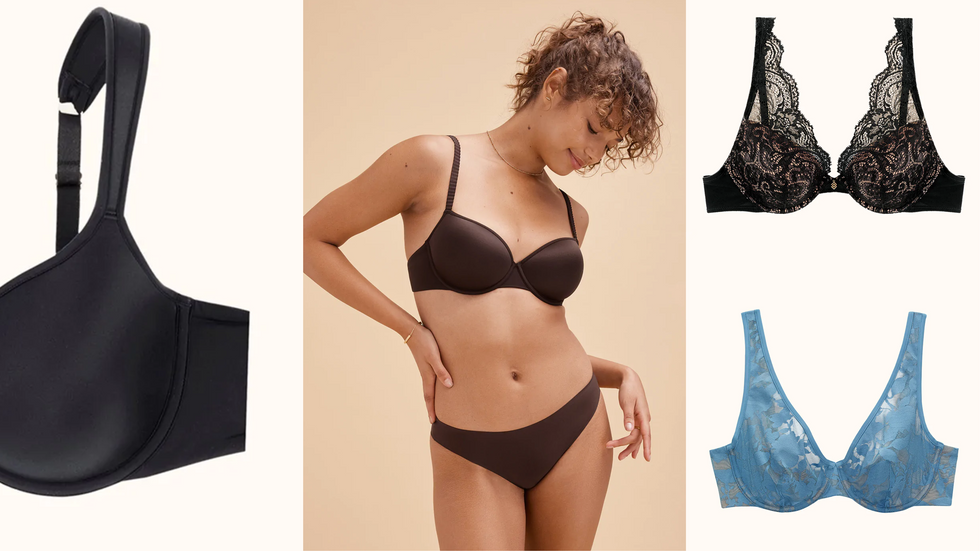 Image Courtesy of ThirdLove
ThirdLove's main claim is to offer a wider-than-most size range, with band sizes ranging from 30 to 48 and cup sizes from A to I. But only a few combinations are available in their full-size range, which made their claim a little questionable…
There are 11 different bra styles to choose from; classic styles such as strapless bras and T-shirt bras and more unique styles like their uplift plunge bra that comes with padding and a sheer mesh overlay.
While a ThirdLove bra is definitely comfortable, we weren't a big fan of the overall look and fit. What we did appreciate about ThirdLove is their 60-day return policy that includes worn and washed bras, which go to charity.
Fit: 8/10, Material: 7/10, Design: 8/10, Support: 9/10, Price: 7/10
Skims launched with undergarments and loungewear but became most famous for their shapewear. The brand offers 6 different bra styles in skin-matching shades with both non-padded and lightly padded options.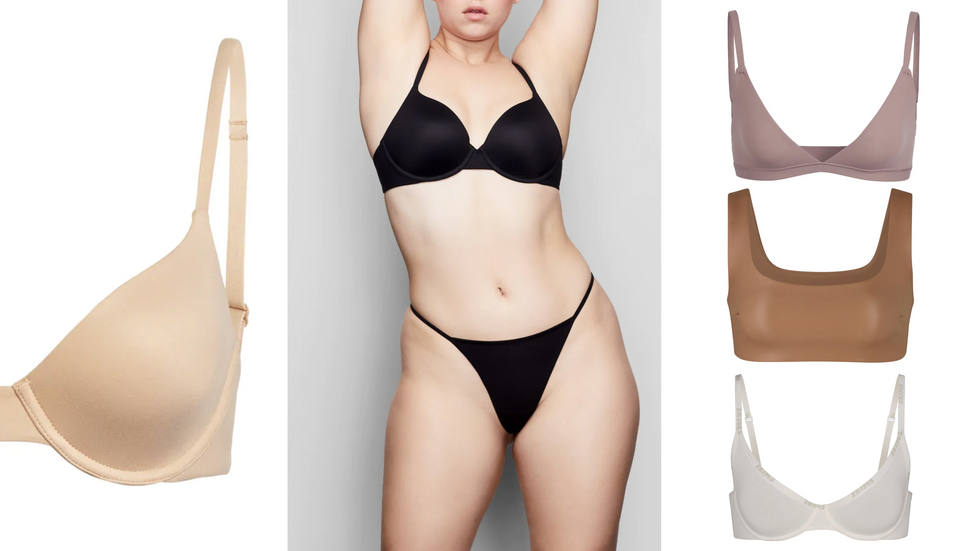 Image Courtesy of Skims
Looking at Skims' bra design, they're definitely on the simpler side. We took a closer look at their molded cotton underwire bra with no padding and customers reported that it wasn't as comfortable as they had hoped and that the underwire was digging into their chest.
Skims mastered shapewear, so their bras feel less engineered and less focused on support, comfort, and style. It's such a viral brand and while we usually love Kim K, we just don't think the bras live up to the hype. They not only lack quality, but they're also practically impossible to get with sizes and styles constantly being sold out.
Fit: 7/10, Material: 8/10, Design: 7/10, Support: 7/10, Price: 7/10
Final Thoughts
In terms of fit, materials, design, and support, CUUP is our top pick. Their bras feel luxurious and soft on the skin, and most importantly, they are affordable! Plus, we look damn sexy in them.
We could tell right away that Skims and ThirdLove focus more on other clothing categories than bras. Yes, they sell them but theirs are not nearly as thoughtfully designed or engineered as CUUP's -- especially when looking at material choice, comfort, and design.
And as an added bonus that we didn't even talk about in the comparison, CUUP's underwear is equally as incredible as the bras. Made in the lightweight and ultra-breathable, modal material, these are perfect for all-day and all-night wear. They come in a range of seamless styles and cuts from Thongs to Bikinis, and even High Waist for a timeless look, while colors range from basic packs for neutrals and blacks to cheetah and deep, oceanic blues.
CUUP has us all embracing our bodies as they are. No over-lifted padding, no push-ups, and no hiding what we're working with.
JUST FOR YOU: Shop bras that look and feel great in every size, A to H and shop Undies (3 for $48) for the perfect set. Follow this link to shop!
From Your Site Articles
Related Articles Around the Web