Updated 1/23/2023
We're down to four final teams heading into the Divisional Round: the Cincinnati Bengals, San Francisco 49er's, Philadelphia Eagles, and Kansas City Chiefs. Next weekend, the 49er's will meet the Eagles and the Chiefs will meet the Bengals in their respective games. Winner goes to the Super Bowl.
The Cincinnati Bengals upset the Buffalo Bills, which negates the need for a neutral AFC Championship game. The Bengals will travel to Kansas City to meet Patrick Mahomes. Meanwhile, Mr. Irrelevant Brock Purdy will try to lead the 49er's to the Super Bowl with a win in Philadelphia against Jalen Hurts and the Eagles.
Worth noting is that Patrick Mahomes suffered what looks to be an ankle injury during the Chiefs' game last weekend. He returned to the game, but there are obvious concerns there.
All 32 teams play 17 regular season games for a chance to get to the Playoffs and win it all. And we'll be updating you with all of the 2023 NFL Playoff news you'll need each week. Starting off with this weekend's Wild Card Round:
The Wild Card Round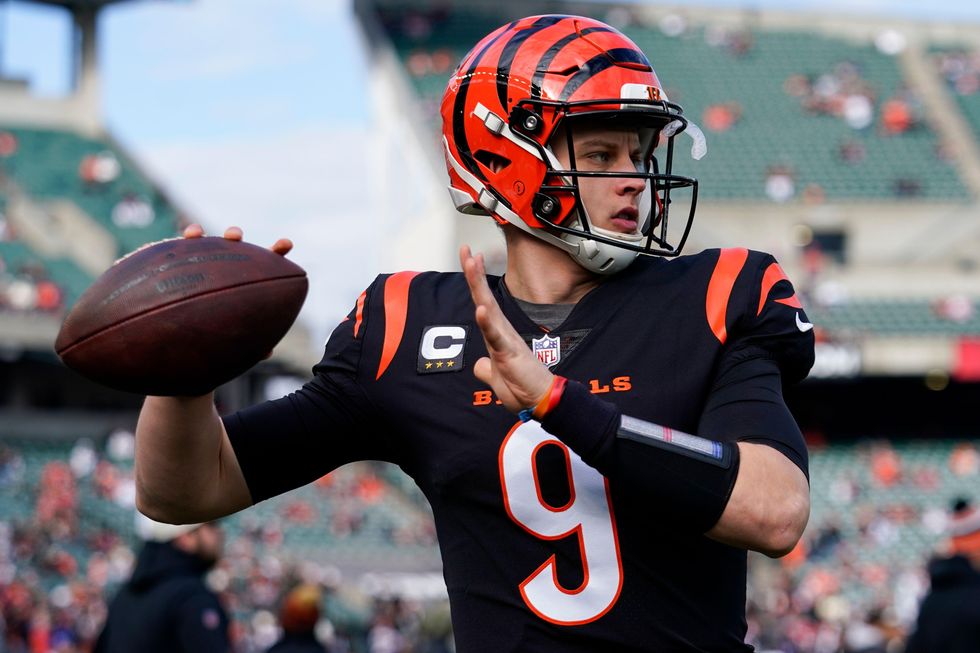 Joe Burrow
Jeff Dean/AP/Shutterstock
The NFL splits their 32 teams into two conferences: the American Football Conference and the National Football Conference. During the Wild Card round this weekend, there will be six games: three AFC games and three NFC games.
Since the #1 team from each conference has a bye week, they won't play until the weekend of the 20th during the Divisional Round. Both the Kansas City Chiefs and Philadelphia Eagles will benefit with the rest from the bye, and will face the lowest seed from the winners of the Wild Card Round.
According to the ESPN website, the games will go as follows:
NFC
(7) Seattle Seahawks at (2) San Francisco 49ers - WINNER: SAN FRANCISCO
(6) New York Giants at (3) Minnesota Vikings - WINNER: NEW YORK
(5) Dallas Cowboys at (4) Tampa Bay Buccaneers - WINNER: DALLAS
Bye: (1) Philadelphia Eagles


AFC
(7) Miami Dolphins at (2) Buffalo Bills - WINNER: BUFFALO
(6) Baltimore Ravens at (3) Cincinnati Bengals - WINNER: CINCINNATI
(5) Los Angeles Chargers at (4) Jacksonville Jaguars - WINNER: JACKSONVILLE
Bye: (1) Kansas City Chiefs
After the Wild Card round, teams will be re-seeded by the NFL. This ultimately becomes more fun if there are upsets. For example, if the New York Giants beat the Minnesota Vikings and Justin Jefferson, the Giants may have a chance to play the Philadelphia Eagles in the Divisional Round. Since both the Giants and the Eagles are in the same division during the regular season, this would be their third time playing each other this year.
The Divisional Round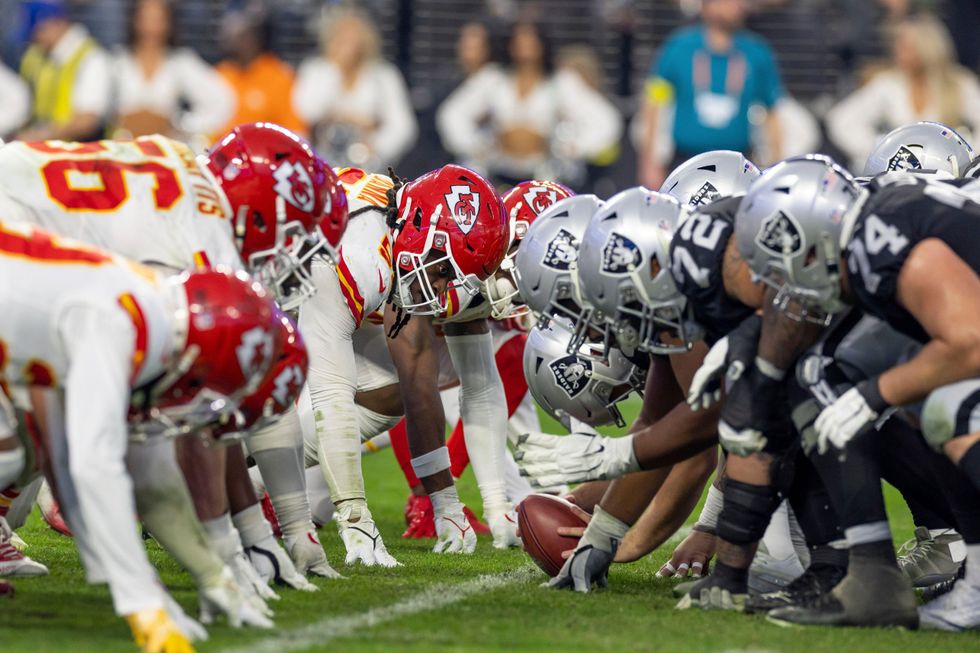 Kansas City Chiefs vs. Las Vegas Raiders
Jeff Lewis/AP/Shutterstock
Typically throughout the playoffs, the highest seeded teams get home field advantage until the Super Bowl. The Divisional Round games will be played in Kansas City and Philadelphia, as will the AFC and NFC Championships if both teams advance.
Conference Championships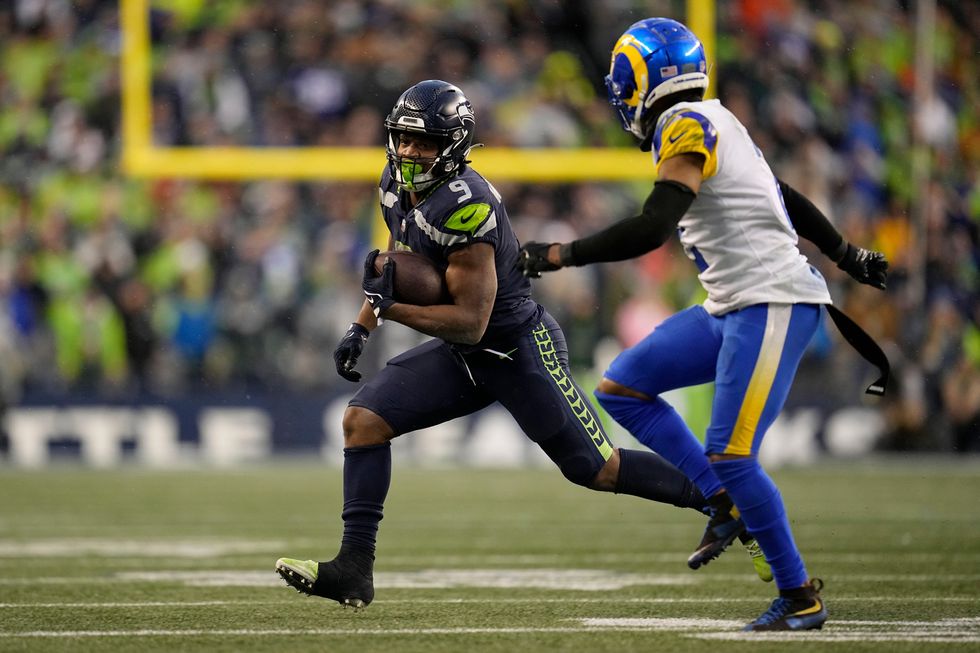 Seattle Seahawks vs. Los Angeles Chargers
Abbie Parr/AP/Shutterstock
On January 29, the final two games before the Super Bowl will commence. The remaining highest-seeded teams will have home field advantage. However, if the Chiefs end up playing the Buffalo Bills, the game will be held at a neutral site in Atlanta.
The neutral location decision was determined after the tragic Damar Hamlin injury during the Bengals-Bills game. Since the game was ruled a "no contest," the Chiefs automatically became the #1 seed.
Super Bowl LVII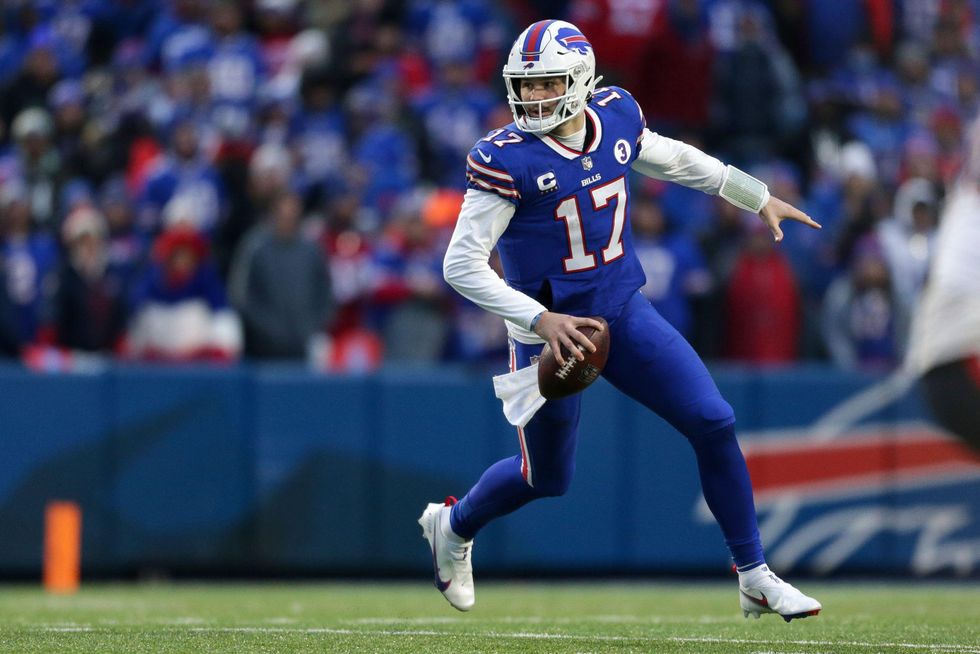 Josh Allen
Joshua Bessex/AP/Shutterstock
The respective winners from the AFC and NFC Championship games will meet in Glendale, Arizona on February 12 for Super Bowl LVII. Get ready for commercials, the Rihanna halftime show, and some of the best football you'll see all year.
What Makes The Playoffs Fun?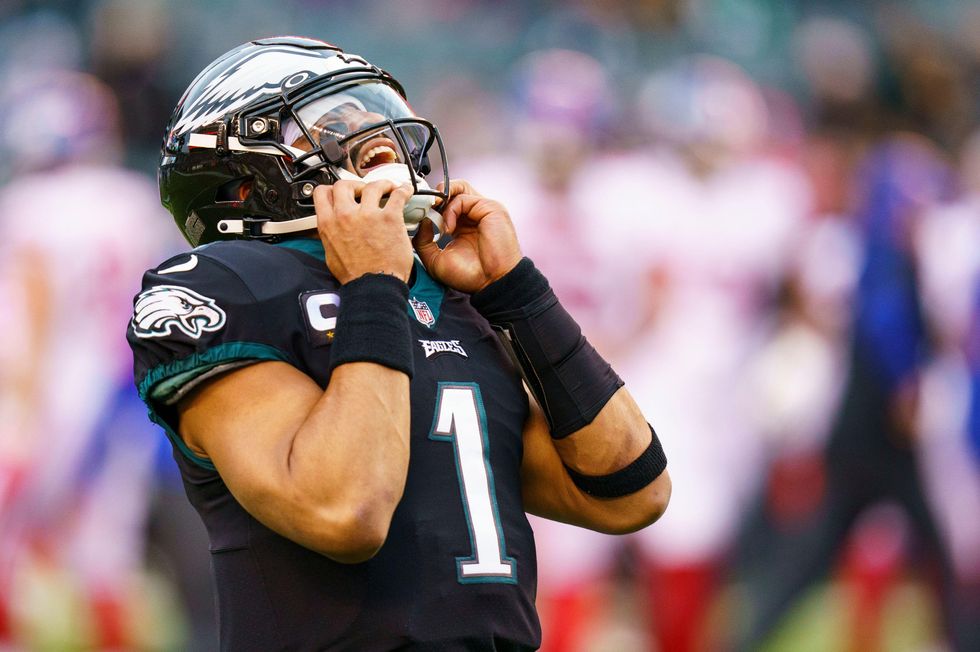 Jalen Hurts
Chris Szagola/AP/Shutterstock
This year, everyone has something to prove in the playoffs. We are potentially seeing Tom Brady's final year at QB after a 27-year reign in the NFL. Fan favorite Joe Burrow of the Cincinnati Bengals is looking for a return to the Super Bowl after losing to the Los Angeles Rams last year – and that's not all.
The New York Giants are seeing playoff contention for the first time in years, and the San Francisco 49er's will be led by third-string QB, last pick in the NFL Draft, Brock Purdy. Purdy has 1,374 yards and a pass completion of 67.1%, showing he maybe isn't Mr. Irrelevant after all.
Young teams like the Los Angeles Chargers and Jacksonville Jaguars will have chances to prove themselves. Lamar Jackson will make his return to the Baltimore Ravens after battling an injury towards the end of the season, while the Buffalo Bills led by a Josh Allen-Stefon Diggs duo will be hard to beat.
The Pittsburgh Steelers had a slow start to the season, but have had a Cinderella story throughout. We have more exciting teams like the Seattle Seahawks, led by potential Comeback Player of the Year, Geno Smith, and the Philadelphia Eagles and KC Chiefs are looking to prove why they're the #1 seed.
The stakes are high. Playing at the highest level of the game means anything can happen. While you may think the script is written and the best teams on paper will win, I have a feeling the playoffs are going to consist of some major upsets.
Syd Palmieri's new track "INSANE" takes us inside the experience of someone in a new relationship. And who has not yet gotten over their ex. A frustrating, infuriating state of being, where they're stuck in a cataclysm where they can't fully connect with a new significant other because they aren't 100% invested.
See our interview with her below.
SYD PALMIERI | Popdust Presents
For Syd, who typically writes from her own personal perspective, it's enough to drive a person insane. After penning the track and working alongside the legendary Keith Thomas – who has worked with big names in the industry like Selena and Whitney Houston – she created the perfect breakup anthem.
With an Evanescence/Paramore sound, it's a little different than anything Syd has done before. However, channeling the rage and anger she felt helped her treat this situation as a learning experience. Syd's hoping she can help others work out their emotions by relating to the song.
As far as getting over those tough breakups, Syd advises everyone to block exes and even their friends. She's found success in getting over someone by not seeing what they're doing - or who they're with - for six months.
You may recognize Syd Palmieri from her covers on L'Officiel, UNTITLED, or JEZ Magazine alongside Tayler Holder, but what's more important to Syd is that her music shows who she truly is inside. In our exclusive interview with Syd, she shares that she values her music because it can't be as superficial as looks.
Syd Palmieri is quickly becoming a rising star with her presence on social media, activity in the fashion industry, and her powerful vocals mixed with handwritten lyrics and catchy beats. Her new single is one we can all relate to – and one we have on repeat endlessly.

Syd Palmieri is releasing her new single "INSANE" exclusively with Popdust! Listen here:
By: Evan Agostini/Invision/AP/Shutterstock
I love a good ol' camp lesbian thriller. And that's what I expected when my chum and I sidled into our theatre seats with a bag of warm popcorn between us. Well. Lesbian drama is nowhere to be found in the pretentious, interminable Tár.
Writer/director Todd Field's third film features Cate Blanchett as Lydia Tár, a high-profile orchestra director and ethnomusicologist whose privileged life falls apart in a highly spectacular fashion.
TÁR | Official Trailer 1www.youtube.com
Blanchett served as executive producer and it's due to her superb efforts that the film was made. Blanchett knows a strong role when she sees it, and her performance has been widely acclaimed. Unlike the film.
Tár has received sharply divided responses. Audiences either love or loathe it. It was a box office bomb, grossing $6.3 million dollars against a $35 million dollar budget. So "loathe" seems to be in the ascendant. On the other hand, it's turned up on any number of "Best of 2022" film lists.
Like, why?
Did we see the same film? Do they not mind being dicked around by needless expositional dumps about how the Juilliard Conservatory works, or the hierarchy within a non-profit foundation, or the pecking order within a German orchestra?
And what's with running the end credits at the beginning of the film for 3 entire minutes - INSANE. Pompous. This isn't James Bond. What a fine way to lose your audience. And then the credits are repeated after the film, why? I mean, the film is 2 hours and 37 minutes of inert drama - time I'll never get back.
Todd Field, Meet Syd Field
Hasn't Todd studied Syd Field's Screenplay (a bible for anyone working in film)? Where's the suspense, conflict, action, overarching structure? And how bout some humor? What's with the endless chitter-chat about obscure musical references? Why 14 endings? Make a decision. And just. What. Happened with Krista?
Mind The Gap - The Missing Girl
There's a huge gap in this film. Krista, the accuser - aka Tár's would-be victim - is absent. Beyond a voice in Berlin tree branches, a shadowy figure lurking behind doors, she's nowhere to be found. There are no flashbacks, no seduction, no predation, no borderline torture, and . . . no evidence. Krista only exists as an offscreen obstacle represented by texts and emails.
Lesbian Tropes
The Hair - Straight, no-nonsense, greasy at times (indicating that Lydia's in extremis). When she's conducting and truly in the music, she flings her hair around like Medusa. This means that Tár is in the zone.
Athleticism - Boxing solo - pounding away on a punching bag indicating that she's fierce; running along grimy subway platforms (urban trainyards?); jogging in parks where a banshee screams in terror. Where am I?
The Long-suffering Partner - The notorious, humorless wife who's the . . . last to know.
Self-punishing - Lydia face-plants and refuses medical attention. Bold choice.
Sartorial Flourishes - Crisp, hand-tailored men's shirts. Black suits. Sleek performance wear.
The Shoes - Olga - a Russian cellist who is Lydia's latest protege - wears the worst flats to her audition. She's later seen in a black leather biker jacket and . . . emblematic boots.
Overall, there's decent acting in the service of a dialogue-heavy script that assumes that inflated research and a veneer of depth will cover a core of simplistic fatuousness. No one can deny that Blanchett was riveting, but what a waste of energy, locations, budget - and my evening.
Tár demands that the viewer must decide what it's all about. Is it an indictment or a refutation of the cancel culture/MeToo movement? Is it, as some have claimed, "anti-woman"? Does it examine or only reinforce sexual stereotypes?