I nearly shed a tear when the gym near my house closed. I was going to miss Avery at the front desk, and the class teachers, but I was also worried my routine was going to go out the window.
Just the act of going to the gym keeps me from getting lazy. I also don't have a stair climber, so I wasn't sure how I'd get my cardio in.
I texted my brother to reminisce about those weird locker rooms when he told me he downloaded an app called Aaptiv, so he'd still get his full workouts in without the gym. He said it was the only way he could drag himself to do Leg Day.
I doubted an app would motivate me more than a Bootcamp class, but he said he was a big fan of it.
I took a look at it online, and liked that they offer audio classes from a wide range of instructors - there was gentle yoga and intense strength training. I wanted to see more and saw that they had a 7-day free trial, so I planned on just setting up an account and browsing for a day.
Once I signed up, I was surprised at how many classes they offered - it was really detailed based on your fitness level, so you could find something for beginners, something for really advanced athletes, and everything in between. There were even fun challenges like learning the splits or increasing your push-up counts.
I don't have much room to work out at home, but I did have a mat that fit in my living room, so I wiped it down and decided to try one of the workouts, as a basis for what would become my new routine.
I chose to do an intermediate level 25-minute workout. I put on my headphones and was surprised to hear the Dua Lipa song I'd been listening to earlier - all the workouts have music, and you can even search by music type!
The workout was challenging, and I liked that it helped me access some muscles I don't typically use at the gym. The trainer was super talented and definitely pushed me to finish the workout.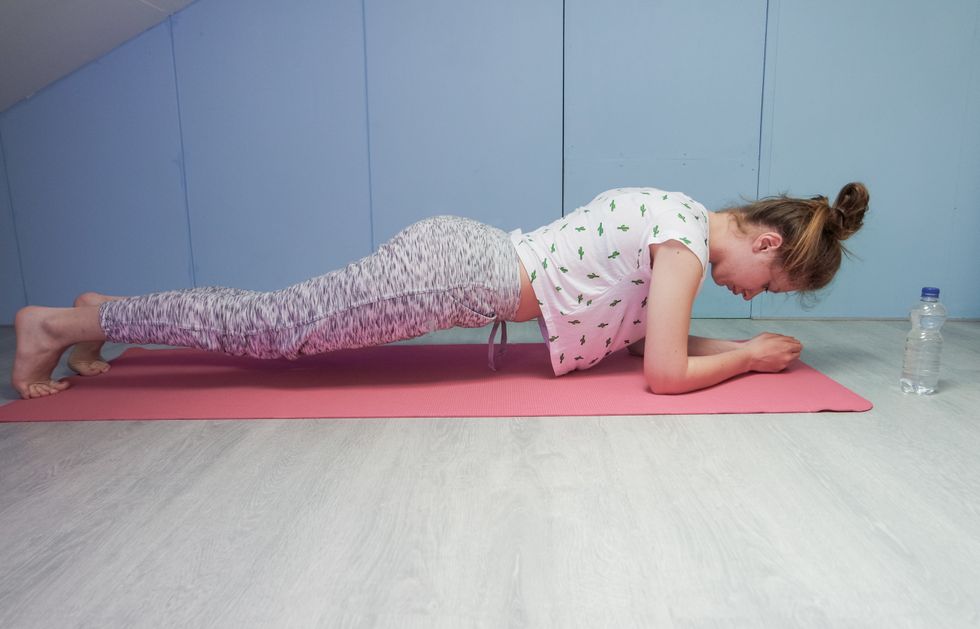 I still wasn't convinced but figured I'd use it as much as possible during my 7-day free trial.

In the next 7 days, I did 7 different workouts, and really enjoyed each of them! I also didn't feel like I was getting a lesser workout just because I was home. As someone who only owned one pair of weights, I liked how much of the workouts were focused on using your body instead of equipment, and I actually felt like I got better workouts than I was getting before.
Aaptiv only costs $99 for the year (way cheaper than the gym and now 50% off) so I decided to get it - but they also have a $15 monthly plan in case you aren't quite as ready to commit as I was. I don't know how long I'm going to be without a place to work out, but taking this to the gym and doing their treadmill and higher-weight workouts will be awesome.
I'm glad I tried Aaptiv because it fits perfectly into my routine right now. No matter what your fitness level is, they really have everything, so you'll find something that you like.
SPECIAL OFFER: Aaptiv is giving our readers a limited time offer! Sign up now to get your first year 50% off! Follow this link and try Aaptiv today!