There's an old saying advising that you invest in good shoes and a good mattress because you're always using one or the other.
However, our Men's Style editors are making a case for adding one more thing to that list: a leather wallet.
Even when it's not in your pocket, it holds your essentials – everything from cash, cards, IDs, and even that one-off coffee puncher from your neighborhood cafe.
So, how do you choose your wallet? While most people go with their favorite brand or find the color that suits them. We think it's time you opt for a stylish wallet that's packed with innovative tech designed to protect your sensitive data and streamline your day-to-day life.
Check out our Men's Style Editors' Guide for these must-have leather wallets and the ones to skip:
Ekster's Parliament Wallet
Ekster's Parliament wallet is incredibly attractive, thanks to its handcrafted, sustainable leather. It holds 6 cards and comes in 7 colors. It's also conveniently thin, starting at 0.15 inches (0.38cm). Yes, seriously!
Their leather wallet line-up – including the Parliament – are the slimmest wallets on the market. Ekster eliminates the bulk and bulge of a traditional wallet.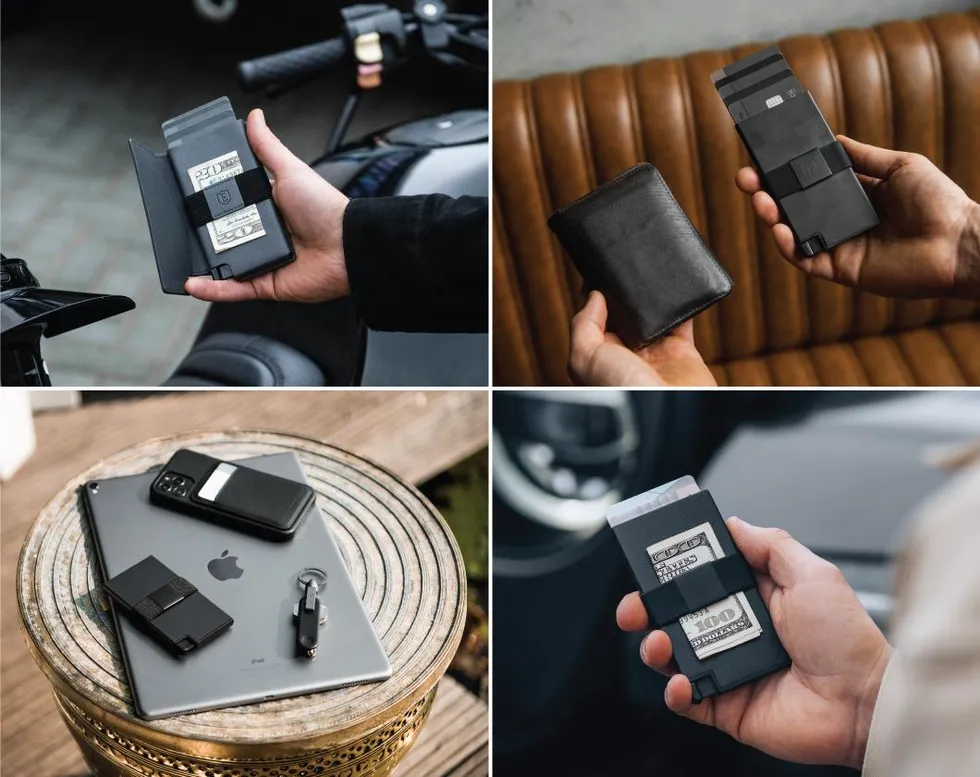 Bellroy's Hide & Seek Wallet
Bellroy's Hide & Seek features a bi-fold design that displays 3-card pockets for your 3 most used cards. Behind this quick-access pocket on the left is space to store the rest of your cards. Although Bellroy claims it can hold up to 11 cards, we could only fit 9 before the wallet got too tight for any more.
Sure, this wallet can accommodate your cards and cash, but the ancient design (115mm x 95mm) is something only your grandpa would rock. Plus, unlike Ekster, the Hide & Seek offers no extra features for its pricey price point.
Ekster's Wallet For AirTag
Calling all Apple fans! Ekster's Wallet for AirTag contains a slim pocket for your AirTag. Find your wallet anytime with Apple's Find My App. It also features an extendable strap for cash storage, all wrapped in Ekster's flagship premium leather.
At the click of a button, this luxury wallet quickly fans out up to 15 of your cards and protects against skimming. No more fumbling for the right card. What else could you want from a wallet?
Normest's AirTag Wallet
Designed to support Apple AirTag, Normest's AirTag Wallet is exactly what it looks like. It's a simple wallet that holds 1-2 cards and a few bills and can be traced using your phone to see where you last had it. To be honest, it's kinda blah.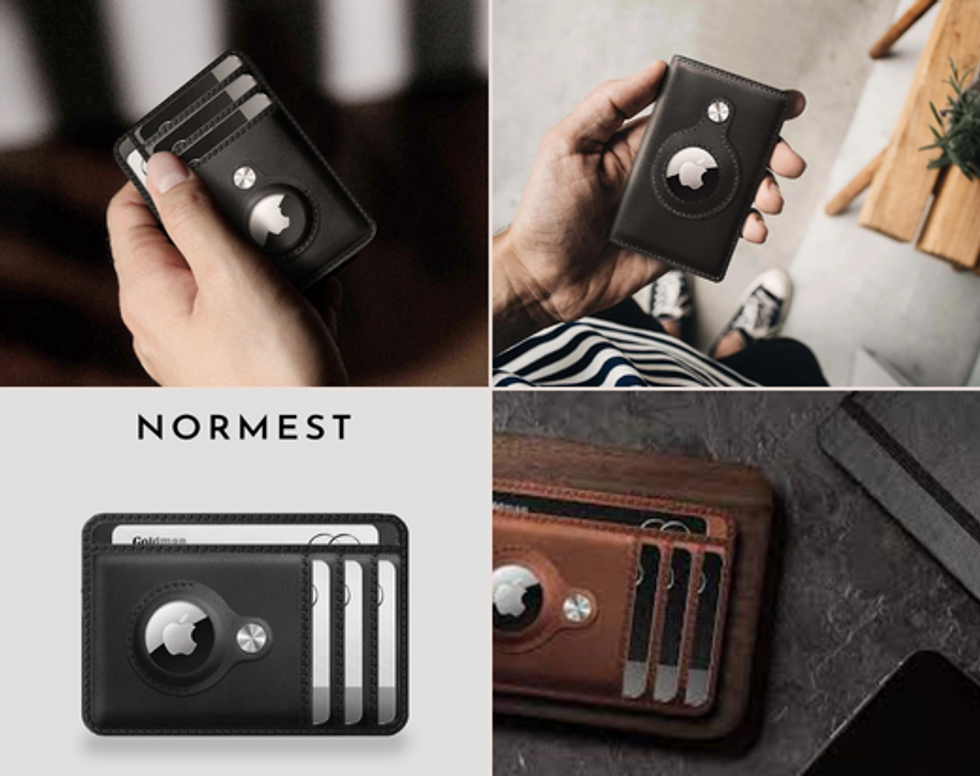 Ekster's Senate Cardholder
The Senate Cardholder has features similar to the Parliament Wallet. It includes an elastic backstrap that offers extra room for embossed cards. Trust us, when it comes to your next wallet, this is precisely the streamlined accessory you need.
Editors Favorite: It holds 6 non-embossed cards or 4-5 embossed and non-embossed cards.
This leather wallet has an array of innovative tech to focus your day. But more importantly, its built-in RFID protection keeps cards safe no matter where you are or what you're doing. With RFID protection, you can rest assured your cards and data are safe from electronic theft and skimming.
Bellroy's Flip Case Second Edition
Like Ekster's awesome lineup, Bellroy's Flip Case Second Edition also features built-in RFID to protect you from hackers. However, like Bellroy's Hide & Seek wallet, it didn't hold up to its claim of holding over 2-3 cards. This simply does not cut it for us.
And at close to $100, you deserve an intelligently designed smart wallet. Instead, this style aligns with a wallet you'd find in the $30-55 range.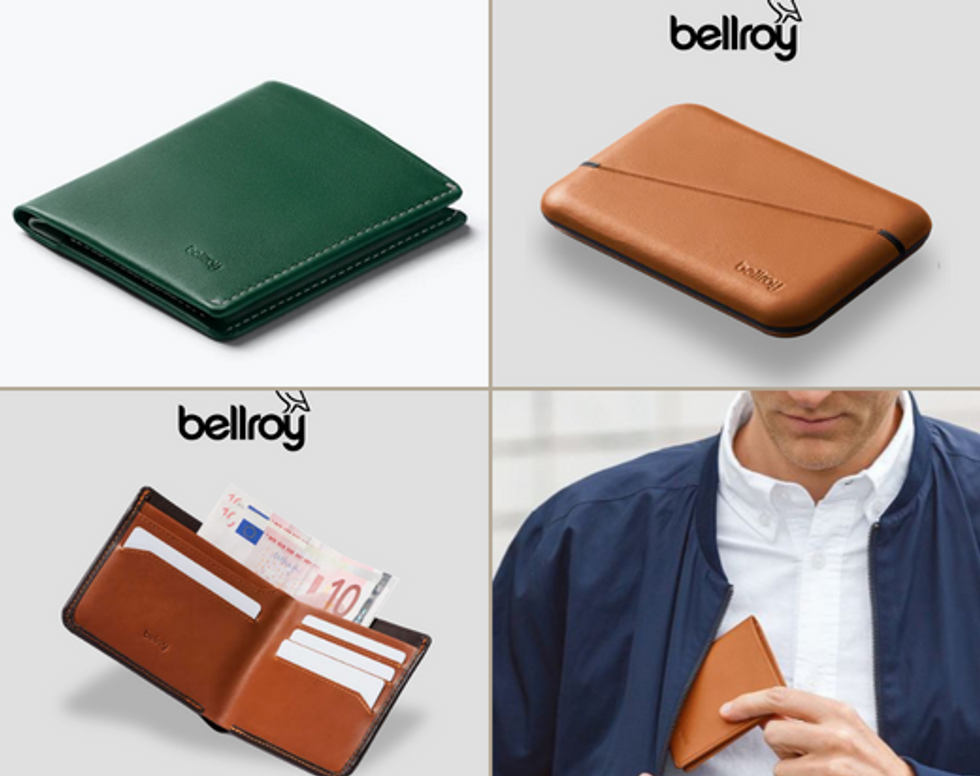 Overall Verdict
Although we love the 11 different color options that Bellroy offers, we found that their wallets did not have the sleek, luxurious design of the Ekster and Normest.
Both of these leather wallet brands have an elevated look across their line-up compared to other wallets. However, the material and lack of card space of Normest's Wallet For AirTag is not for everyone, and we personally were fans of Ekster's wallets, where you get the sophisticated leather look along with streamlined tech.
When it comes down to it, Ekster's innovative tech and sleek but timeless aesthetic speak to the needs of almost every contemporary consumer.
Plus, all Ekster wallets are compatible with the brand's solar-powered tracker cards, which allow you to call your wallet when you lose it or track it on a map. One better, you can connect your leather wallet to your Google Assistant, Amazon Alexa, or Siri.
Unlike Bellroy or Normest, Ekster's smart wallets keep tech, style, and functionality in mind. Always ten steps ahead, Ekster speeds up your daily routine, eliminating the annoyance of bulky, easy-to-lose wallets.
Time to say goodbye to boring, outdated wallets and hello to Ekster's top-of-the-line premium leather, super smart wallets!
NEW OFFER: Shop Ekster's Anniversary Sale To Get Up To 20% OFF Sitewide on ALL EKSTER PRODUCTS!