We're real adults now, I thought, as our agent Mindy gave us the keys to our very own apartment. I felt such a surge of happiness about finally owning real estate in Brooklyn. But as we headed home across Prospect Park, Dash said, "Holy hideous bathroom."
"All the crazy tile makes my eyes bleed," I said.
"We'll do something about that. Someday."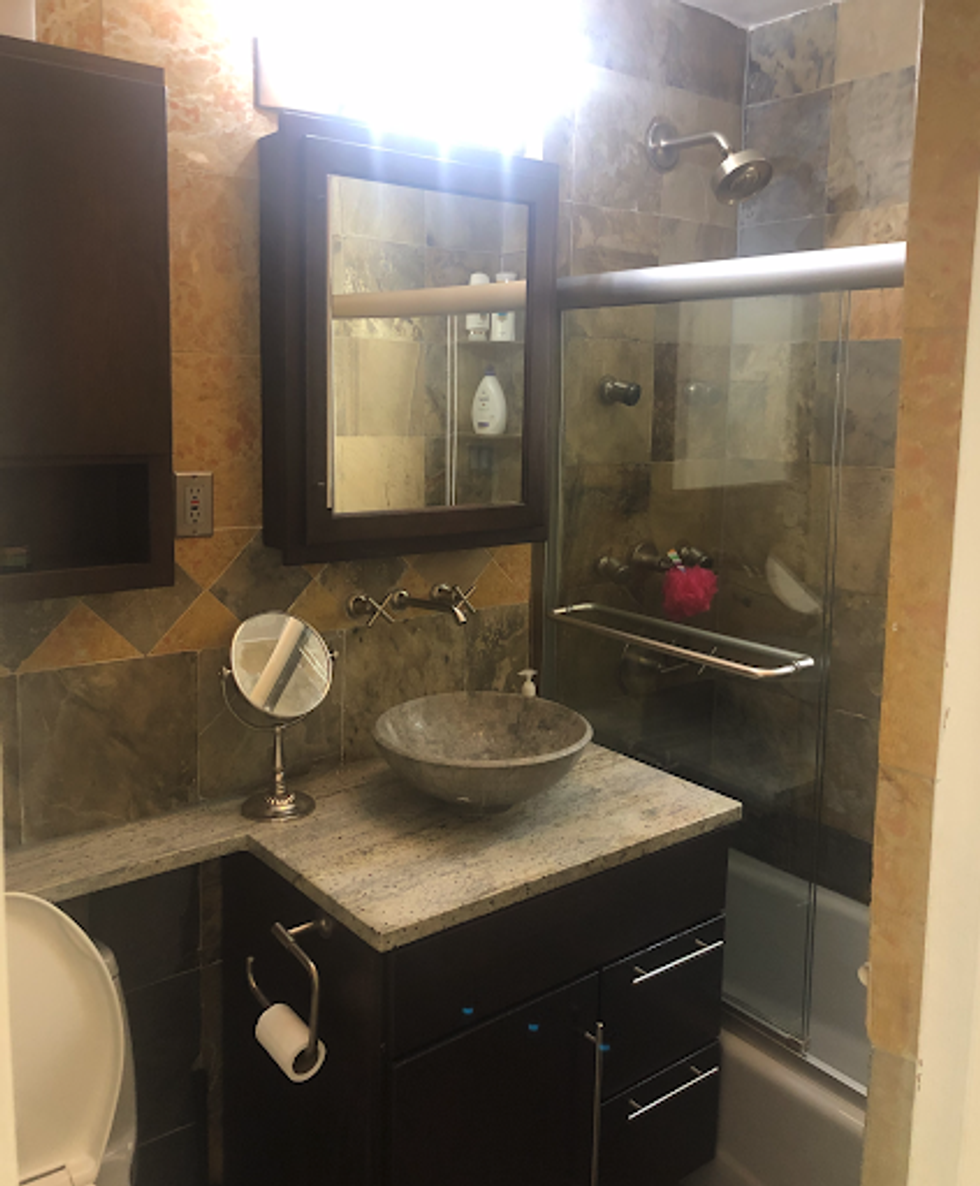 Someday?! How about immediately? That's the kind of person I am. I jump into action. And I get speedy results - always.

Dash's had a big birthday that was only four weeks away - why not revamp that hideous bathroom? The perfect gift!
He said there would be no way we'd get it done in time, so it'd be more like an anniversary present. Renovations are notoriously slow, and I've heard they always go over budget, but I told him I was determined to make it happen. I texted our real estate agent, begging her to recommend a reliable general contractor who'd meet my crazy deadline.
She instantly sent me a link to Block Renovation, a company that specializes in kitchen and bathroom renovations. She said they partner with topnotch architects and builders to bring design, sourcing, and project management under one roof. They'd also be able to complete our bathroom within 4 weeks. No way.
Block provides libraries of designs that you can build off of and then matches you with a vetted contractor.
I clicked through Block's Design Library – they offer 4 different bathroom styles or worlds - and I quickly homed in on the Classic. Dash would love this - It's Timeless. Luxurious. Filled with light.
I read the customer reviews and got comfy with my research before we started in on Operation Beautiful Bathroom.
Free Estimate In Less Than 5 Minutes - We filled out a brief online questionnaire and received a renovation estimate within minutes. These guys must not sleep!
Video / Photo Share - The next morning, I was standing in the ugly hot pink tub shooting videos of the hideous bathroom on my phone. Once I sent them to Block, they delivered an in-depth project proposal complete with timelines and the scope of work within one business day. Now I know they don't sleep.
Total Transparency - Block's all-inclusive proposal provides transparent pricing upfront. Not only that, we paid online with a credit card.
Seamless Design - Block's expert team of architects and designers provided a complete package tailored specifically for the room. This included designs, building approvals, detailed drawings, a 3D rendering, and all finish materials. They don't fool around - they even scheduled deliveries directly to our new apartment.
Trusted Builders - Their network of vetted contractors go through a rigorous onboarding to ensure they're licensed and insured. On top of that, Block's contractors build within a set of proprietary construction standards. So even though Dash was ready for a season-long project, I was fully confident they'd finish our bathroom efficiently and on time.

Rapid Build Begins - My construction team started in on the bathroom demolition. Then came the rough-in of carpentry, plumbing, and electric. After that, the fixtures went in. And finally, the finishes.
I couldn't stop myself from occasionally dropping by with coffee and donuts to see how things were coming along. How satisfying to see those mish-mash tiles chipped from the walls.

Block's highly competent team was obsessed with getting things right - and what a clean, organized worksite.
The team finished earlier than expected with more than enough time for us to bring in cleaners and prep the new apartment for moving day.
From design execution to follow-through, the entire project was flawless. Block Renovation's end-to-end customer support and ongoing communication made sure of that. But the best thing is the straightforward cost. No unpleasant surprises. Just high-quality work right on time and on budget.
And so, the Friday night before Dash's birthday, when it was supposedly 100% complete, the two of us met in the subway to check out our new bathroom. The anticipation built as we fumbled with the key, but when we made it in, we headed straight to it.
Dash is completely floored. When he's able to speak again, he says, "It feels like twice the size it was! I can't believe it."

It was just like the 3D rendering. I ran my hand along the clean subway tile and new fixtures we'd picked out together.

"Happy Birthday!" I said. He kissed me, and we opened a bottle of wine - a Barolo I'd kept hidden in my peacoat - another birthday surprise. We raise our glasses. "Here's to the good life we're building together."

"Here's to it." Dash sips his wine. "Hey, your birthday's round the corner. What do you want?"
I glance at the beige fridge, beige counters, beige stove. "You know," I say, " Block Renovation does kitchens, too . . ."