I don't know about you, but my Instagram feed is full of perfectly white gleaming smiles. The new must-have accessory has to be a perfect smile with gorgeous teeth.
A few influencers who I love following, of course, have the perfect teeth. How do they do it? I always thought it was out of my reach until I noticed so many of them were talking about a new electric toothbrush, BURST Sonic toothbrush. It kept popping up all over my feed. I checked out and saw that it has some pretty cool features.
But don't just take my word for it here's what the IG influencers have to say about the BURST Sonic ToothBrush;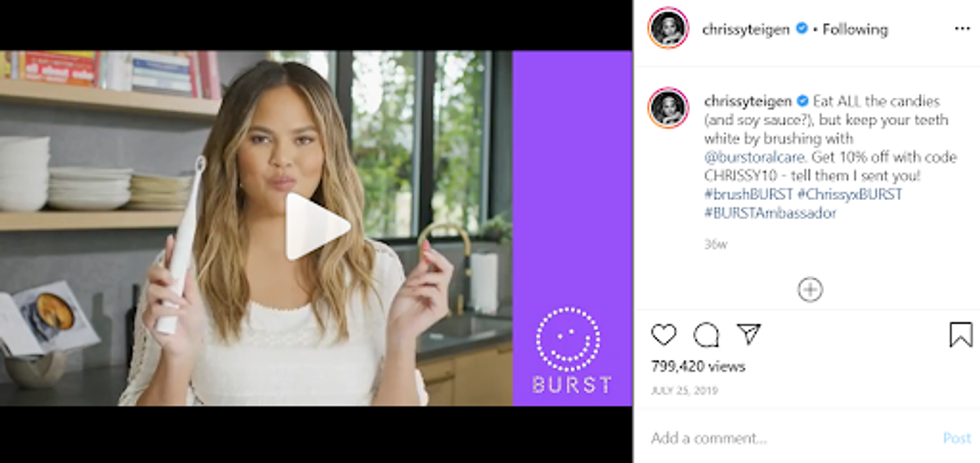 Chrissy Teigen, need I say more?. If there is anyone we should all be more like, it has to be Chrissy. I mean, look at her husband (Mr. Legend), cutest kids, gorgeous home, amazing cooking skills, and mostly her clever sense of humor. I know using the same toothbrush as her doesn't make me more like her, but if it's good enough for CHRISSY TEIGEN, it is good enough for me. And I think we all know she ain't going to be a brand ambassador for any toothbrush, only the best toothbrush out there.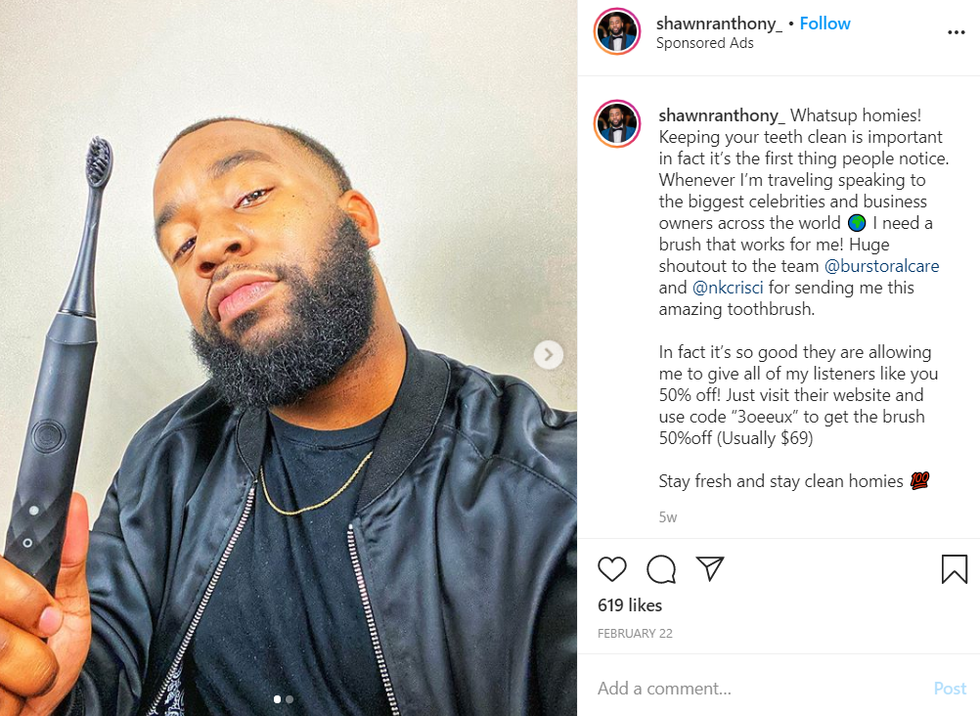 Brand Strategist Shawn Anthony is a podcaster who is never without his BURST toothbrush, perfect for traveling. His teeth are the first thing people notice about him, so his BURST toothbrush keeps his teeth clean and fresh, so he's ready to speak to the biggest celebrities and business no matter where he is.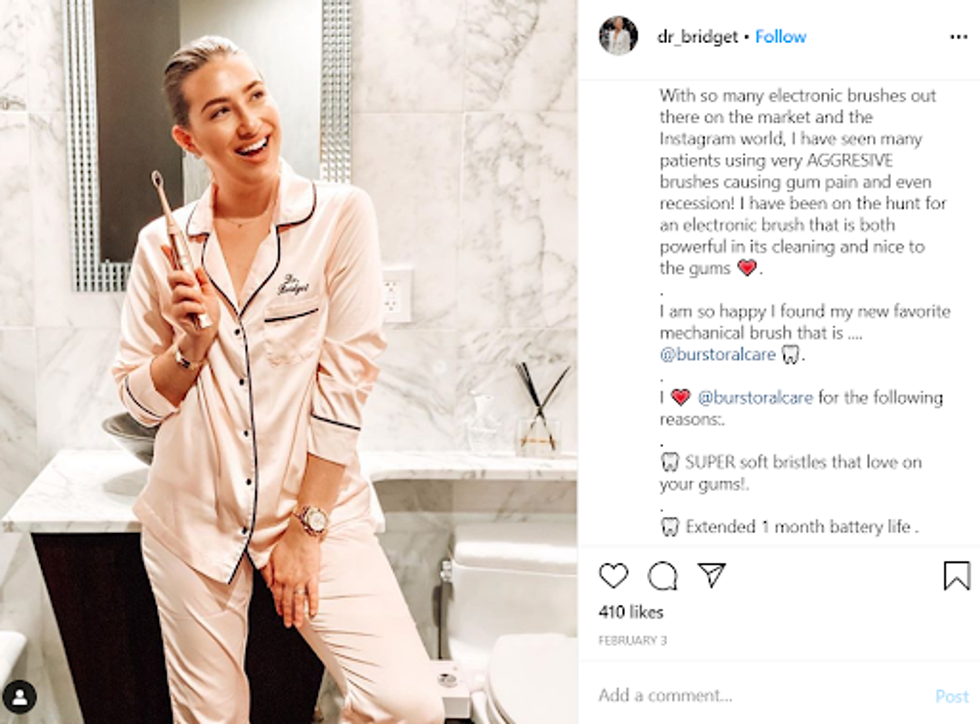 Dr. Bridget isn't only a fashion and lifestyle influencer but also an NYC aesthetic dentist, cancer survivor, and women's health advocate who loves her BURST Sonic toothbrush. She comments on how she sees a lot of her patients using very aggressive brushes, damaging their gums. But with three modes, whitening, sensitive, and massage, the BURST toothbrush is powerful on cleaning while also nice to gums. The reason why she says BURST is her favorite toothbrush and why she recommends it. Dr. Bridget can't get enough from the super-soft bristles to the 1 month battery life, replacement heads mailed quarterly, and the sleek and sexy design.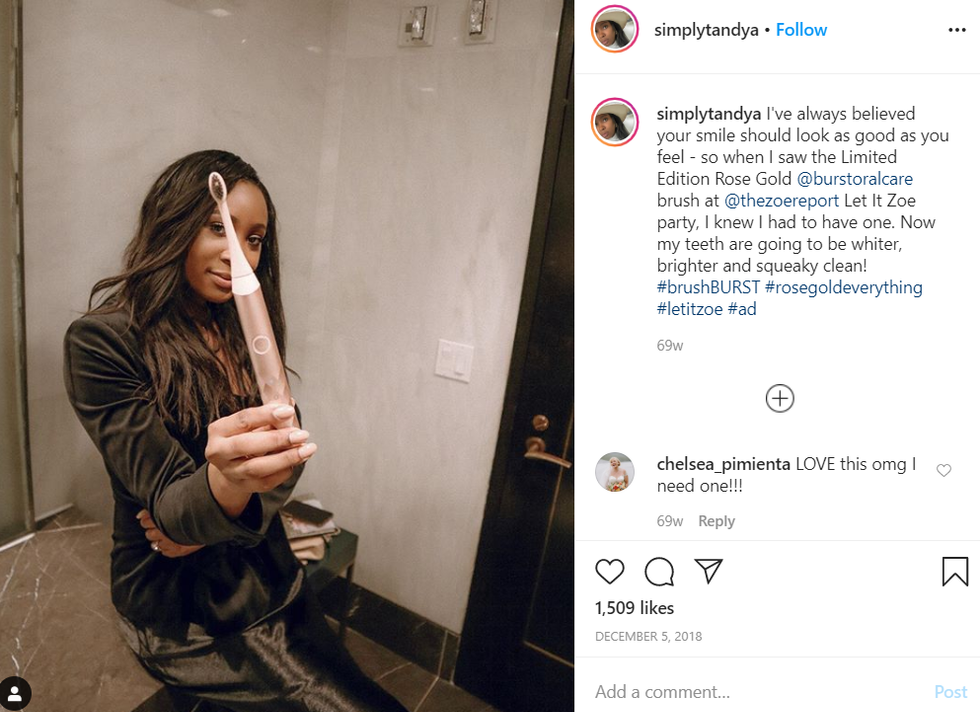 Tandya is easily one of my favorite influencers to follow. I am obsessed with the aesthetic of her page, and her content is the best, from designer fashion ideas to only the best products out there. Seeing her with the Rose Gold BURST Sonic toothbrush and hearing how much she loved it really helped me click that "add to cart" button. She loves how it makes her teeth "whiter, brighter, and squeaky clean!"

Yes, I'll admit I was influenced by these Instagramers, but for once, I'm so glad I was. Everything these influencers are saying is so true. I've been using my BURST toothbrush for two months now, and I don't know what I did before I had it. My teeth are definitely whiter from the charcoal infused bristles, my gums never bleed anymore, and my dentist was impressed at how much less plaque I have.
BURST removes 10 times more plaque than a manual toothbrush and reduces bleeding gums 3 times more effectively than manual toothbrushes. And it pauses every 30 seconds, prompting you to move to a different area in your mouth, and stops after 2 minutes, so you know you've brushed for the perfect amount of time.
Kits that also contain their amazing Expanding Floss start at just $74.99. And as low as $6, they send you out a new brush head every 3 months. No more buying those plastic ones that barely last a month. Plus, BURST is offering their amazing Expanding Floss for just $5 with the purchase of any toothbrush.
BURST gets the seal of approval from me, influencers, but most importantly from over 25,000 Dental Professionals who use and recommend BURST. Do you need any more recommendations?