A bed is supposed to be the one place we find relief from the chaos that is our phones, laptops, watches - pretty much anything that rings. So, when we heard about a smart mattress from Eight Sleep, we couldn't help but think, is nowhere safe? But now that we've looked into it, we're all in agreement that Eight Sleep's Pod Pro is actually using technology to help us sleep even sounder.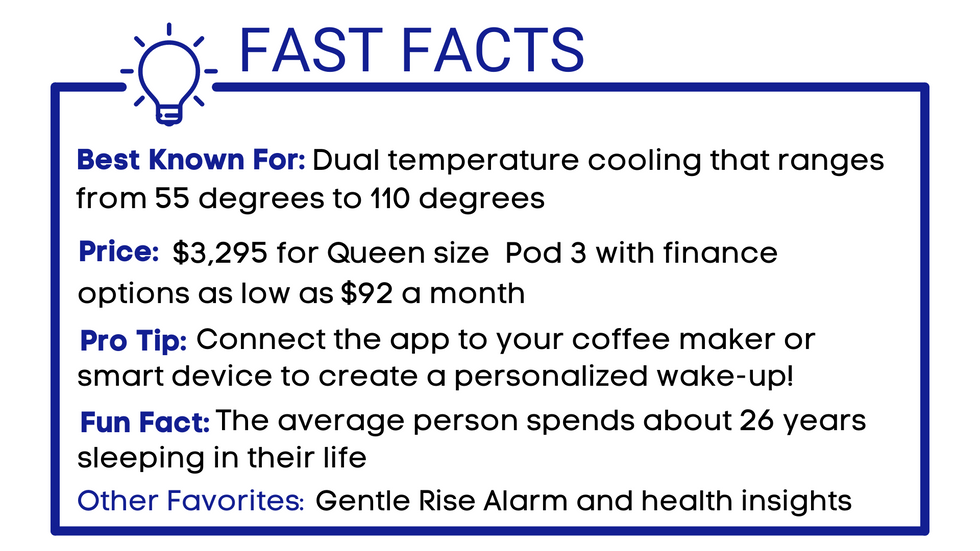 Sleeping lately looks a lot different for our editors. What used to be lumpy or stiff mattresses has now turned into little oases for us. If there's one thing you need to do in 2022, fix your sleep!
Eight Sleep's Pod Pro is one of the highest tech mattresses we've seen. It has dual-side temperature control ranging all the way from 55 degrees to 110 degrees, and unlike other cooling mattresses, the temperature doesn't move into the other half of the bed.
The Intelligent Smart Temp™ AI technology created by Eight Sleep allows the mattress to automatically adjust your temperature and keep you asleep all night without tossing or turning. No more raging fans plugged in all night - Eight Sleep can cool you down before you even need to.
For those who may be thinking that such a smart mattress has to be uncomfortable, it's actually more comfortable than any traditional mattress we've tried! The Pod Pro is a 12" luxurious foam mattress with
five layers of memory foam. The top 2" of the layers is the Airflow Top Layer that provides support, airflow, and immediate response to body impressions.
While Eight Sleep clearly has every base covered when it comes to your sleep, it can even take care of you post-sleep. The Pod Pro uses GentleRise Smart Alarm™ that will naturally wake you up by sending small chest-level vibrations and gradual temperature changes. Bonus: you can pair your coffee maker and Alexa with Eight Sleep's app, so your morning ritual can start before you even get out of the covers.
The Pod Pro also has Advanced Sleep tracking which lets you know when you reach REM, how long you slept, and if you tossed or turned. Their Daily Health Check & HRV Monitoring also analyzes your respiratory rate, resting heart rate, and everything you need to keep your physical health in check. Plus, this works for each side of the bed individually, supporting two sleepers.
Eight Sleep is the ultimate hack for those looking for cozier snuggles, deeper dreams, and gentler wakes. Invest in your sleep this year with a 100-day money-back guarantee, flexible finance options, and endless benefits with Eight Sleep.
Update: Eight Sleep has created the new Pod 3 mattress. It contains all the same features as the Pod Pro mattress but includes additional comfort benefits like the new Invisible Sensing technology with 4000x greater resolution that helps support advanced health tracking and increased comfort. The Pod 3 also includes expanded WiFi and stability.
Eight Sleep's End of Summer SALE - $100 Off a Pod Pro purchase and $50 Off a Pod Pro Cover purchase.