Managing a vacation property shouldn't be complicated.Yes, owning and managing a rental involves a lot of work — you need to handle everything from the cleaning to the marketing and management, but that doesn't mean it has to be daunting.
Especially when you consider that there are so many ways to market your vacation home online. Of course, we know about Airbnb and Vrbo, but the company that handles every aspect of vacation property management has to be Vacasa.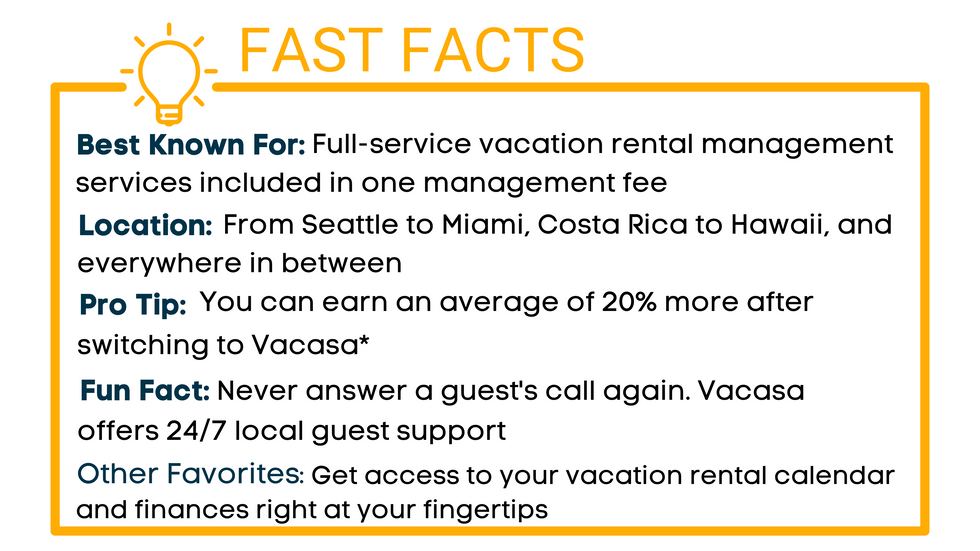 Vacasa takes care of everything from listing properties to handling bookings and even cleaning and maintenance. Even better— there are no additional charges. It's all included in your management fee.
The Vacasa team even handles all your marketing, from eye-catching listings to 3D home tours and high-resolution photography. They also take care of targeted advertising through emails, social media, and Google.
Their online dashboard allows you to view your bookings and block off your calendar for your own vacations. They adjust your home's nightly rates to meet market demands —meaning you'll make the most possible out of every stay.
It's a much easier way to manage your vacation rental property with Vacasa's dedicated team of experts. Not to mention, Vacasa's local housekeeping team goes in before every new guest arrives to re-stock toiletries and give the house an additional clean-up. Plus, their 24/7 guest support allows you to put your phone on do not disturb mode because you'll never get late-night calls worrying about WiFi logins.
Wondering how to sign up? It's incredibly easy. Once you contact them,their Homeowner Consult Team will assess whether your home is a good fit.
Vacasa has the resources to turn your second home into someone's dream vacation rental. Sit back, relax and let Vacasa take care of your vacation rental property.
*Reflects same store basis; Before Vacasa vs. After Vacasa metrics based on portfolio additions with an onboarding date from August 1, 2017 - January 1, 2019 and 12 months of history leading up to onboarding and at least 12 months of management by Vacasa after onboarding