Recently, I've been having an odd stressful day at work more often than not. When I reach that heightened level of stress, I freeze up and can't get anything done.
I can't shake the feeling when I get home, which also means I'm getting barely any sleep.
One day, I spotted something interesting on my co-worker's desk. It looked like a 3-pack of perfume samples. When I saw her dropping oil into her mouth, I was confused.
"Amy, what's that?" "It's CBD. Try it." she replied. "It'll make you feel better. I ordered the CBD Flight from Feals, of 3 different dosages to find out the right strength of CBD for me."
CBD? At the office?! I had heard of it and seen it around, but I didn't know too much about it. "What does it do?"
She said it's known to have all kinds of benefits, from pain and anxiety relief to sleep. "I take it for stress," she said, "but my mom takes it for her back pain."
Even though it worked great for Amy, I was kinda scared to take it.
I mean, what if it made me high? How would I know how much to take? She sent me the Feals website to see what I could learn, and I was really impressed with all the information.
They have real people's testimonials and a "help" section that was very informative – you can even call a hotline or instantly chat with someone about your questions. When I saw the testimonials and read that it can't get me high, I felt a lot better about trying it.
But I was still unsure about which strength – which is where their Flight comes into play. The Flight is made up of 3 vials of CBD in different strengths – 40 MG, 80 MG, and 160 MG.
I did a quick search for other brands, but the Feals site is the most transparent, with plenty of testimonials from real people and lots of information. I chatted with someone on the live chat, and it was so helpful to be able to ask all the questions. I told them about my issue, and they explained that the Flight is a great way to try out different CBD strengths to see which one would be best for me. Plus, it's just $20. So I decided to order it, and it arrived within a few days.
I started off by trying the 40 MG, the lowest dose. I felt the effects, I think, but it was so gentle, it wasn't quite what I needed. I tried 80 MG the next time I felt anxious, and I felt the relief this time. It swept over me, but I was still sharp and productive for work.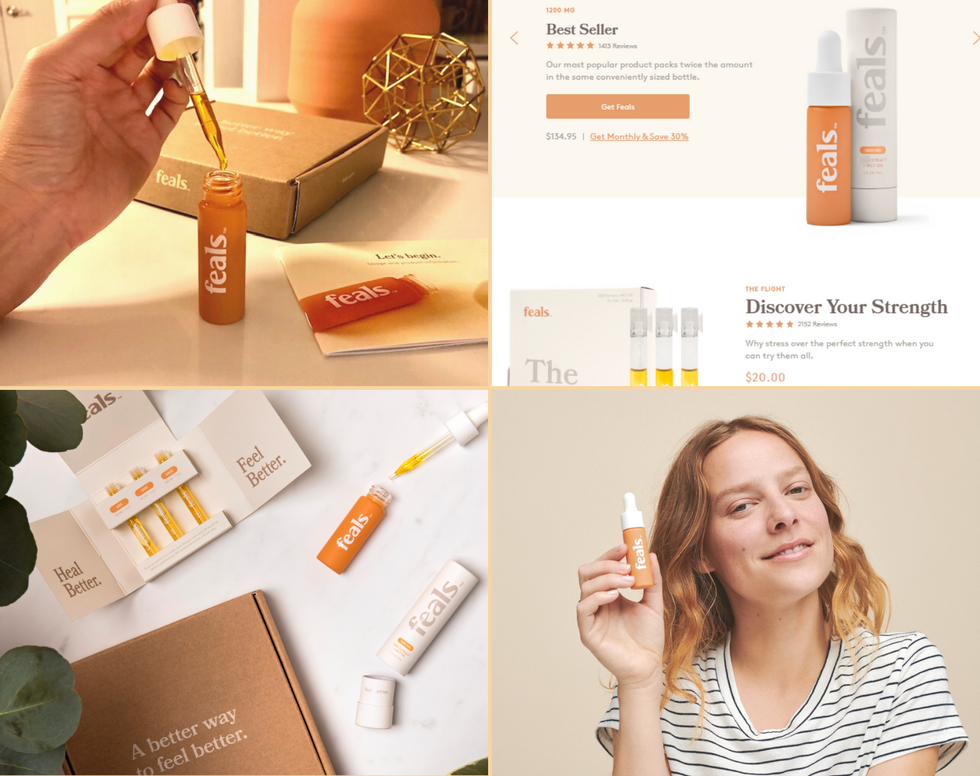 I was happy with the 80 MG, but I thought I should still try the 160 MG, just so I knew for sure. A few nights later, when I felt anxious and couldn't sleep, I reached for the 160 MG sample. It left me feeling super relaxed and sleepy, but I knew the 80 MG was the perfect dose for me.
With this discovery, I ordered a full-sized bottle of the 1200 MG off the Feals website for when I get that overwhelming stressed or anxious feeling that I just can't shake off with a few deep breaths.
Now, when I have a big meeting, a dropper of CBD really helps ease my nerves. Or if I'd have a crazy day and feel overwhelmed, a dose helps me wind down and have a great night's sleep.
My brother recently had trouble sleeping, so I directed him to the Feals flight, and he ended up getting the 2400 MG full-sized bottle after trying all the strengths. It has really helped him fix his sleeping habits, so much so that he decided to subscribe, and he now gets 30% off his bottles every month.
Feals made my experience trying CBD so much less scary thanks to their informative website and helpful service. Plus, the Flight makes finding the right strength for you so easy. I never thought CBD would be for me, but I'm so glad I tried it.
My entire customer experience with Feals was great, from navigating the site to chatting with someone, to being able to test out different strengths before buying a whole bottle. I'd recommend Feal's service to anyone who would like to try CBD but is unsure where to begin.
Update: The folks at FEALS are extending a special offer to our readers! Sign up for a membership and get 30% off your order, every time!