Wellness is a top priority for many, yet we often neglect our diets. That's why the supplement industry is growing rapidly, with vitamins available for every ailment or deficiency.
The market is saturated with mass-produced, synthetic vitamins that don't actually deliver what you'd expect, so how do you know which is best? Or if you should take capsules, tablets, or something more efficient?
With 92% of Americans reporting that they're nutrient deficient, we decided to help you find the supplements that are the most beneficial.
When we looked into the space, two popular vitamin companies kept popping up — GEM and Athletic Greens. Here's what we discovered:
Key Similarities:
Both offer a range of vitamin supplements designed to fill nutritional deficiencies
Both use natural and organic ingredients
Both are recommended to be taken daily
Key Differences:
GEM supplements are real food vitamins that come in the form of "bites" for easy, tasty consumption | Athletic Greens has a multivitamin powder, Vitamin D +K drops, and other add-ons
GEM vitamins are regulated as food, so you can be sure they're safe to consume | Athletic Greens vitamins are not FDA approved
GEM is $60 for a one-time purchase or $55 with a monthly subscription | Athletic Greens starts at $99 one-time purchase or $90 per month with a subscription
GEM Overview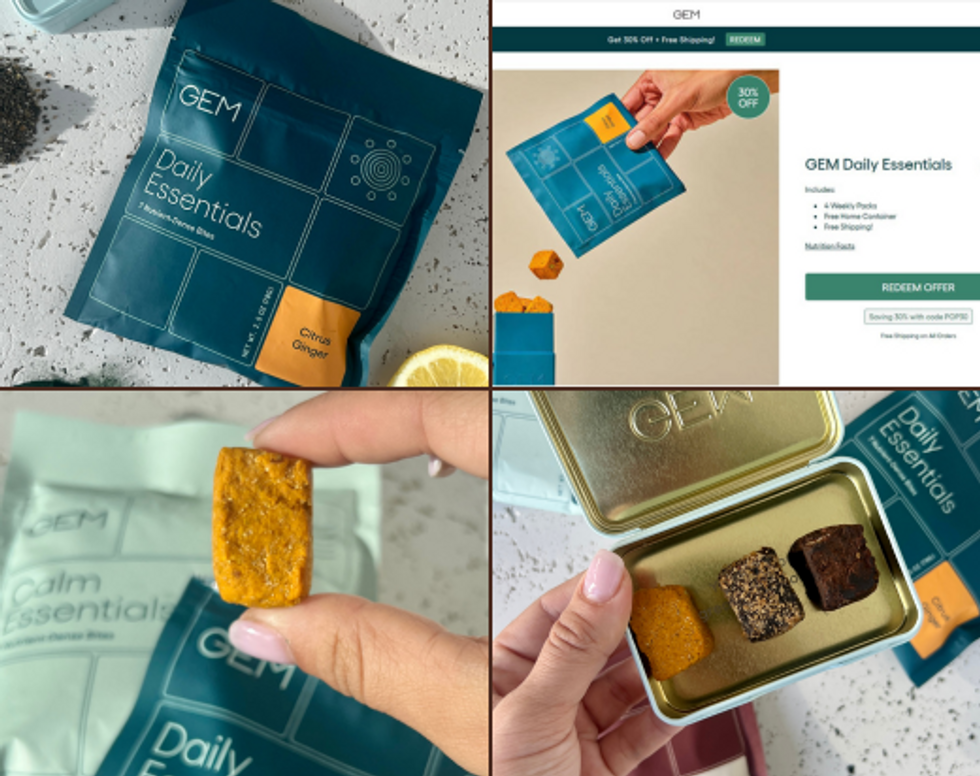 GEM is one of the most natural ways to efficiently and effectively get all the vitamins you need into your diet.
While with most other brands, you have to remember to gulp them down each morning, GEM is made with real, whole-food ingredients that you eat. Everything offered by GEM is free of synthetics, fillers, added sugar, animal products, and other harmful ingredients! These tasty vitamins make an ideal addition to your daily routines.
Their Daily Essential bites were crafted by a pastry chef, packed with whole food sourced nutrients, and featuring mouth-watering ingredients like ginger, turmeric, black pepper, and stone fruit, all formulated by their Scientific Advisory Board to ensure the highest efficacy. Not to mention, they come in three delicious flavors — Citrus Ginger, Lemon Raspberry, and Cacao (Citrus Ginger is our favorite!). They include TLC for digestion, mood, and immunity, as well as probiotics, D3, zinc, and turmeric.
Your body has an innate ability to extract raw nutrients from food sources like GEM that are far more effectual than isolated nutrients in pill form. Plus, eating a tasty GEM bite is much easier than swallowing a pill or capsule — we really enjoy taking it with our morning coffee!
GEM
Bite-sized vitamins
Packed with superfoods, probiotics, and adaptogens
Try GEM Today!
Athletic Greens Overview
Athletic Greens has multivitamins, protein powders, and greens powders. Depending on the subscription tier, you'll get a 30-day pouch of the AG1 powder and branded bottle in your first month.
Athletic Greens also incorporates ingredients such as organic spirulina, lecithin, organic apple powder, inulin, organic wheat grass juice powder, and more.
However, Athletic Greens' multivitamins come in powder or capsule form. And we read multiple customer reviews complaining about a gross, dirt-like aftertaste, stomach issues, and unreliable customer service.
Final Verdict
We're going with GEM!
GEM is completely unique. In a world teeming with tasteless, cumbersome capsules and pills, GEM's flavored "bites" make taking your vitamins a treat instead of a chore. We actually look forward to taking it every day and absolutely adore their Citrus Ginger flavor.
And because they're considered food, they're regulated. In general, other vitamins aren't FDA approved and are made with fillers and potentially harmful ingredients — which is concerning.
We love how GEM keeps things simple. Their Daily Essentials are suitable for everyone and can help you with digestive health, anti-inflammation support, immune health, and skin support.
If you're looking for a great way to integrate fundamental nutrients into your diet, we recommend GEM. We're obsessed with their Daily Essentials and can't wait to try their lineup of Sleep Essentials and Calm Essentials.
JUST FOR OUR READERS: Use Code P-AG30 For 30% Off Your First Order!