I only saw my kid sister, Nandi, a handful of times over what felt like a decade-long year. Sure, we Zoom on weekends and text all day, on-the-daily. But the lack of seeing her in real life called for some serious sister time.
Spring — my favorite season — was fast approaching, so Nandi booked us a four-day stay at the closest Getawayoutpost. No kids, no cooking cause I'm sick to death of my stove. Nothing but peace and the great outdoors.
Getaway combines the best parts of camping without having to rough it. We'll still get huge, stunning views — but from our very own handcrafted hideaway. Only a 90-minute drive away, they're close to home so airplanes, no crowds — just a safe, quiet place to unplug, relax, and revive.
Here are my three fave things I did during our Excellent Spring Getaway:
Kick Back & Spring Ahead
What was on the schedule? Absolutely NOTHING! Phones stashed in the thoughtfully provided lockbox, Nandi and I were free to live in the moment. It must have been noon when we got up. Sunlight filled the cabin and the outside world. Nandi went for a walk while I relaxed with a big 'ol mug of chamomile tea as the stress of city living melted away…
After lunch, we worked on a jumbo jigsaw puzzle I brought along. Puzzles are a family ritual and soon we were sharing memories of Dad's camping expeditions back in the day.
We both agreed that if those campsites had been like Getaway cabins — with their freshly made comfy queen-sized beds, AC and heat, kitchenette with a two-burner stove, mini-fridge, and staples like salt and pepper, even olive oil — we'd have enjoyed ourselves a whole lot more!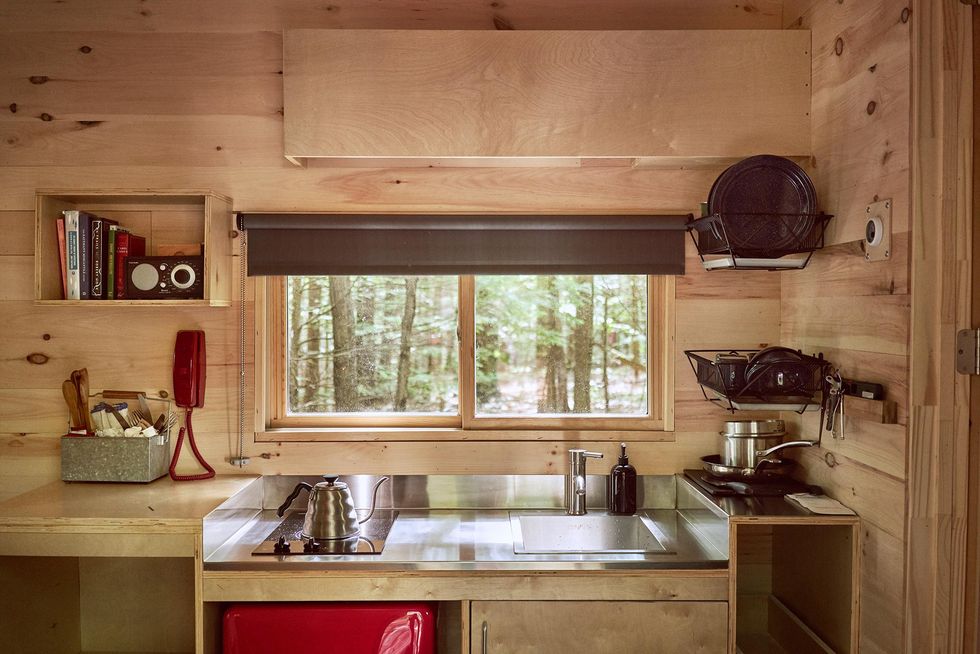 Lunch was a baguette, yummy goat cheese, and a simple stew I prepped at home. I checked out Getaway's selection of books, board games, even a deck of cards.
A twilight walk-and-a-talk through the trees brought home how much we'd both needed this escape from the stress and routines of our daily lives.
Adventures In Wonderland
Taking a cue from Nandi, I stretched out using the picnic table and took a solitary stroll in the quiet freshness of the spring morning. I let my mind roam as I watched the sunrise. When was the last time I saw that in the city?
After breakfast, we decided to get in touch with nature with a long hike. The nearby trails are suited for a rigorous three-hour hike or a leisurely stroll in the woods. We actually took a longer walk than intended — that's how lovely it was!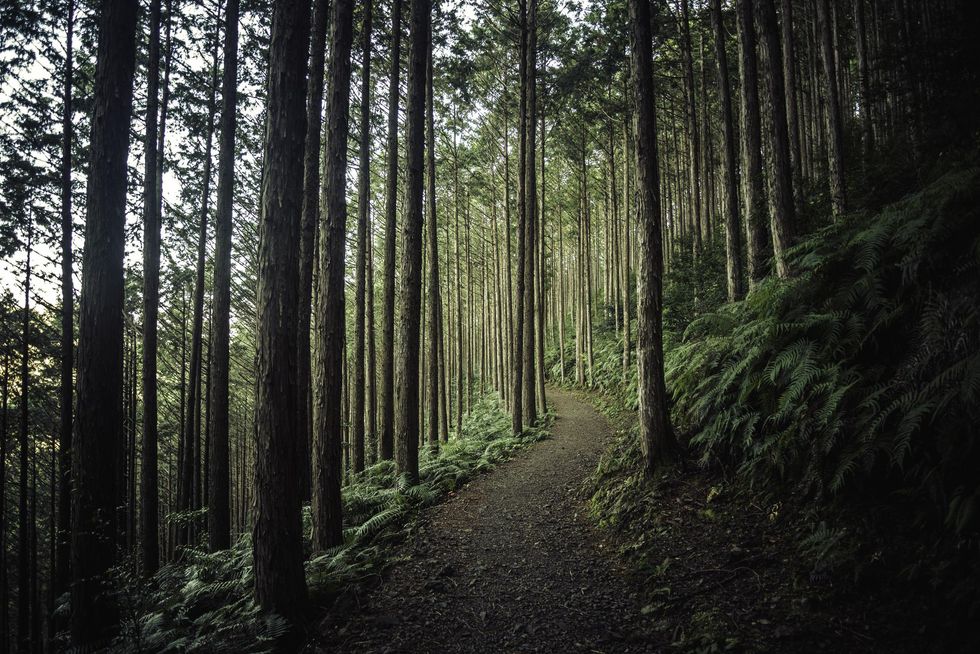 After a hot shower — using Getaway's complimentary shampoo & conditioner — I dried off with a fluffy towel. Then we spent the late afternoon — you'll never guess — talking. It was a real heart-to-heart. Zoom doesn't even come close.
Lost In The Night Sky
We spent the crisp evenings enjoying gooey s'mores around a crackling campfire, listening to the sounds of nature. Each night, Nandi and I lingered out front of our cozy cabin — lounging in Adirondack chairs, savoring the moment, and raising a glass of Sancerre, "to sisters."
I gazed at the scatter of stars above and noticed that Getaway's peace and quiet was exactly what I needed to hear my own thoughts. It's spring. All is fresh, verdant, green. It's a new day, a new season.
Then, Nandi and I chatted and yapped and laughed till we headed into the golden warmth of our cabin and I drifted off to a deep-deep sleep.
Handcrafted tiny cabins, nestled in the middle of nature, starting at $99 a night. Getaway's outposts are all over the country: about a two-hour drive from major cities like Austin, Dallas, Houston, San Antonio, Pittsburgh & Cleveland, Portland, Charlotte, Atlanta, Boston, New York, and Washington, DC.
For your rejuvenating spring trip, I'd highly recommend Getaway. With at least 50 to 150 feet between cabins, they're socially distant places by design. With contactless check-in and check-out, Getaway texts a lock code the day your stay begins. Simply drive right up and make yourself at home.
If we've learned anything from the last year, it's that the virtual world is convenient but the actual world is priceless. So book your bonfire. Book your reconnect. Book your Getaway getaway. And don't forget to pack light for spring.