When looking after our hair, the most forgotten area can be our scalp. Healthy hair starts with a healthy scalp. The growth process starts at the root, and if our scalps are blocked with oils or product and environmental buildup the hair cannot break through the follicle and flourish. If longer, thicker-looking, more luscious hair is your goal then treating the scalp is the place to start.
Vegamour, the vegan toxin-free hair wellness company with the most powerful formulas might just have the answer to all our scalp and hair needs. Their GRO Foundation Kit is our new favorite pick for anyone who wants a quick easy solution to nourishing their hair from root to tip.
The kit comes with the GRO Revitalizing Shampoo and Conditioner, and theGRO Scalp Detoxifying Serum. The GRO Revitalizing Shampoo and Conditioner contain the clinically proven phyto-actives and Vegamour's proprietary Karmatin™, a microencapsulated b-SILK™protein (the first-of-its-kind vegan keratin) works to restore and strengthen your hair.
The GRO Scalp Detoxifying Serum takes scalp health to an entirely new level. Just because you don't see the buildup doesn't mean it isn't there preventing hair growth. Its base is an anti-dandruff formula with evening primrose oil to help clear your scalp of buildup, dirt, and any other impurities that may clog its pores.
The GRO Scalp Detoxifying Serum is so effective because it has vegan b-SILK™protein, a powerful ingredient that repairs scalp damage, destroys unhealthy bacteria, helps lock in moisture, and protects the scalp from environmental pollutants. It also contains Zinc PCA, another all-star component that absorbs excess oils and reduces irritation for a balanced, healthy microbiome, while increasing scalp blood circulation for the perfect combination for optimal hair health. The magic of this detox is that it creates the perfect entryway for the GRO Shampoo and Conditioner to work their magic.
We have tried and tested a lot of shampoos and conditioners but this one blew our minds. Vegamour's science has gone above and beyond this time creating the world's first chemical-free, vegan keratin hair treatment products. Both the shampoo and conditioner contain Karmatin™, Vegamour's proprietary microencapsulated vegan b-SILK™ protein which physically bonds to hair follicles and remains attached to strands even after rinsing, repairing cellular damage, and locking in moisture.
Combining the powers of Karmatin™, a microencapsulated b-SILK™ protein, along with marula oil, organic murumuru butter, and ximenia oil means the GRO Shampoo and Conditioner does more than just cleansing your hair. It has the ability to work deep beneath the scalp to promote thicker, fuller-looking and stronger hair. Not to forget the GRO Conditioner is rich in mung bean to ensure the hair is soft, shiny, and full of volume.
This trio is the most seamless 3-step process we can do to ensure our scalps are happy and healthy, which means our hair will be healthy too.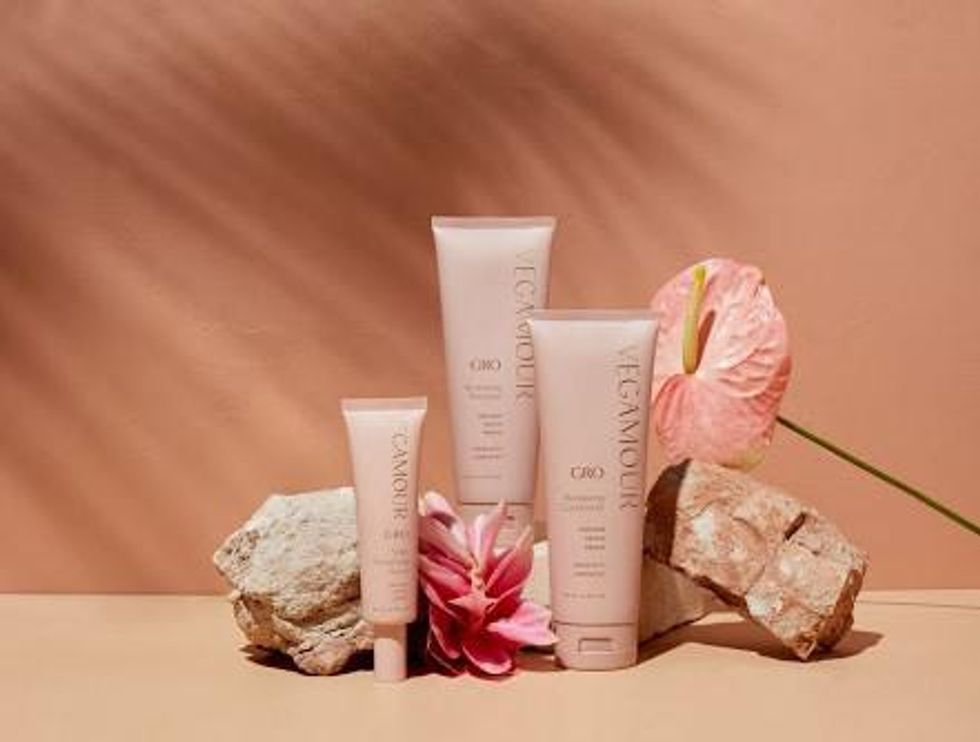 When you subscribe the GRO Foundation kit costs $112, so each product comes in at about $37. The kit should last for approximately 2 months, depending on your usage. This is an amazing deal, especially when we consider the crazy amount of $ we have paid for just one hair treatment by itself that didn't give the visible results this Gro Kit can deliver.
If you are looking for an easy yet effective way to clean, nourish and treat your hair in one go, the Vegamour GRO Foundation Kit has everything you need. Get ready for thicker luscious and longer hair.
JUST FOR YOU: Our friends at Vegamour are offering our readers an EXCLUSIVE offer! Follow this link and enter BEAUTY20 at checkout to receive 20% OFF!