I'd just come from my physical, and my doctor's voice still echoed in my mind. "You only walk? You'll be 30 next year. You're far too young for walking to be your sole form of exercise. You must do something about your health."
So I went for a walk to think things over. I've been a bit pudgy my whole life. I'm a homebody, me lounging on the couch after work, Netflix frequently asking me, "Are you still watching?" I don't eat the best either, but can I help it if my parents aren't gourmet cooks? They raised me on Hot Pockets and Pringles Cheddar Cheese--still my faves.
I stopped into my local grocery store and felt totally intimidated by the fruit and veggies. I can't tell a scallion from celery, from--what's it called--back-choy? So I caved and stuffed my basket with cookies, chicken nuggets, and salsa (salsa's a veggie, right)?
After polishing off a dinner of Salsa-n-Nuggets, I was washing my hands when I caught a glimpse of myself in the bathroom mirror. Holy moly! My face was pink and bloated. That's when it really hit me. The doctor's right--I've got to revolutionize my diet.
First, I checked out online cooking classes, but they were expensive, and the grocery lists needed were kind of intimidating. So that's out. Then I stumbled upon the most amazing thing...a meal kit service called HelloFresh. Instead of me going on grocery runs, they'd send me fresh, pre-measured ingredients and tasty recipe instructions straight to my door.
I clicked on their Low Calorie Menu, and wow--the photos made me outright drool. For next week, there were 21 different recipe options available from a wide variety of cuisines. It seemed so awesome that I signed right up. I'd receive 2 recipes per week at 2 servings per recipe--I figured I'd eat any leftovers for lunch.
I selected the Tex-Mex Beef & Poblano Enchiladas with Pico de Gallo & Lime Crema, cooking time: 40 mins. And I took a huge risk with the Bavette Steak & Roasted Garlic Pan Sauce w/ mashed potatoes and asparagus--how gourmet!! Another 40 minute meal? I had serious doubts I could make this work.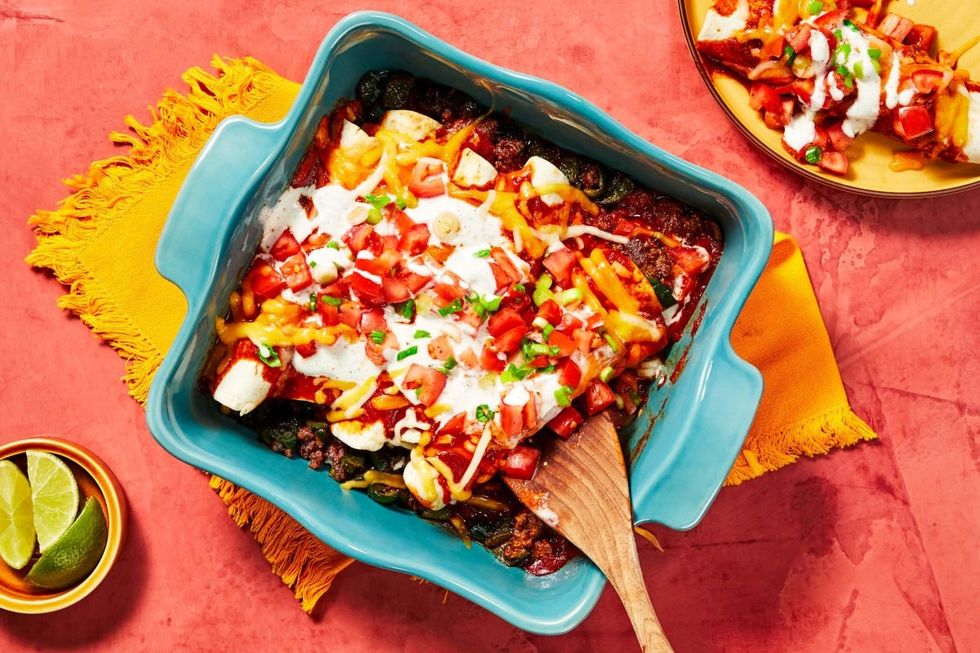 Tex-Mex Beef & Poblano Enchiladas
My first HelloFresh box arrived the following Monday. Truthfully, I left work early because I was that excited. When I opened the fully recyclable box, I checked the meat and the contents of the brown bags. The ingredients were perfectly portioned, fresh, and clearly labeled. Asparagus--it was the first time seeing that in my kitchen.

Laying the ingredients out on the counter, my heart was pounding with anxiety because I was convinced it would take me 5 hours to put together the Bavette Steak. And on top of that, it would taste horrible, and the kitchen would be completely trashed.
But taking a look at the HelloFresh recipe cards, I calmed down. The instructions were easy to follow, and I executed them step by step. From cutting board to plate only took me an hour!!
A mere 60 minutes, and I was digging into my very first, cooked-by-myself, homemade meal. The steak was a show-stopper. I mean, who cooked this? It was juicy, tender, and the garlic sauce was to die for.
Once I knew my carrots from parsnips, there was no going back to Salsa-n-Nuggets. After two months with HelloFresh, I felt completely confident about my cooking skills because it's totally stress-free, thanks to the recipe cards, clear instructions, minimal prep, and cleanup time. So I upped my HelloFresh subscription to three recipes a week and kept sampling meals from the Low Calorie Plan.
Unlike my mom and dad, I've become a gourmet chef! So next week they're coming over for dinner. Not sure what I'm serving yet--maybe the Cherry Balsamic Chicken with Almond Couscous and Roasted Carrots. Yummm. Whatever it is, they'll be impressed. And they'll be happy to see that I'm eating healthier these days, thanks to HelloFresh.
Update: Our friends at HelloFresh are extending a special New Year's offer to our readers. Follow this link to get 10 meals free, including free shipping!