Summer…I miss it so much.
Outside of the holidays, I've never been a huge fan of winter, and honestly, the older I get, the worse I like the cold and ice.
Instead of going to the farmer's market, hanging out at a family friend's pool, and grilling out, I completely avoid going outside by January and February. Dropping off the kids at school, going to work, and grocery shopping is about the extent of it.
I also don't like the kids being inside so much. They love their video games and screens, which is fine sometimes, but I try to limit it.
We're always looking for productive and creative new activities for them to do. Them getting bored can end up in fights, which I'm trying to limit as well.
Chatting with my friend Nia a couple of weekends ago over lunch, she mentioned a new hobby she's gotten her kids to pick up: cooking.
A meal kit service called HelloFresh had sent her a coupon in the mail, and being curious, she gave it a test run.
She said the steps and instructions were really easy to follow, and her going through the same winter dilemma as me (her kids are the same ages as mine), decided she'd get the kids involved. And surprisingly, it worked.
The icing on the cake: she said HelloFresh ships all the ingredients and recipe cards to your door. That means no extra grocery runs.
That means fewer trips outside! I was sold.
I read a couple of reviews online after lunch just to make sure the ingredients were fresh when they showed up, texted the husband about it, and then signed up. I chose the family plan (which includes kid-friendly meals), choosing 4 recipes per week, 4 servings per recipe.
That night, I told Max and Zoe about HelloFresh, me showing them a few YouTube videos of people using the meal kit. Max (age 9) was super excited, but Zoe (11) wasn't too impressed...she's in middle school now.
Our first box arrived after a few days, and Max and I were ready to start cooking. Our first recipe was Chicken Penne alla Rossa.
The box came with all the ingredients perfectly portioned inside labeled bags, plus the recipe cards. Max helped me read the recipe card, and I let him get involved in the steps that didn't involve chopping!
Not only was the recipe easy to follow, but it was also super delicious too. My husband praised Max for helping me cook. Later in the week, Zoe caved and decided to join in on the fun.
We've been using HelloFresh for a few weeks now and have gotten into a routine. The kids still help me most of the time. It's super convenient--I only have to go grocery shopping once a week now!
The meals are delicious and are things I would never make myself. I feel good about introducing the kids to new types of food, such as Pork and Veggie Korean Bibimbap and Tex-Mex Beef and Poblano Enchiladas, while still keeping some classic burger, pasta, and soup dishes in the mix.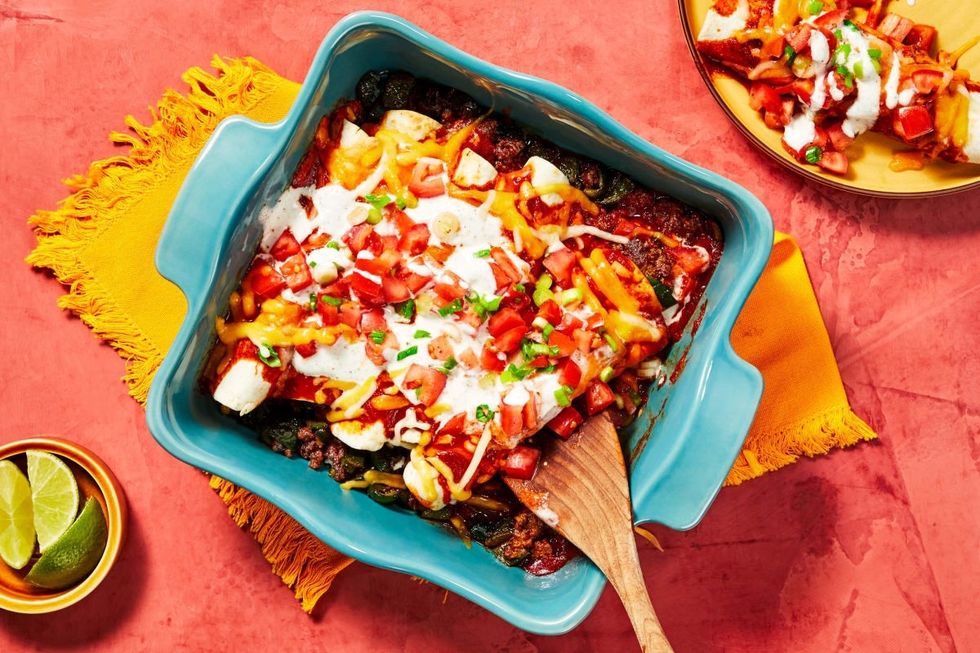 It really has been a treat to make such nice food on those cold winter evenings. Plus, they have add-ons like garlic bread and brownies--perfect comfort foods for the winter. Plus, the meals are wholesome too.

Each recipe has three to four different fruits, and vegetables and HelloFresh incorporates between 40 and 60 different types of produce each month!
I don't have to trek to the grocery store in the cold that much anymore--a huge win in my book--but the best part is that I am helping the kids learn valuable life long skills.
HelloFresh is convenient, affordable, and delicious, and like my friend Nia did for me, I'd recommend HelloFresh to anyone who doesn't have time to go to the grocery store, or wants to learn to cook new meals.
They have options like low-calorie and vegetarian too, so there really is something for everyone.
Update: Our friends at HelloFresh are extending a special New Year's offer to our readers. Follow this link to get 10 meals free, including free shipping! Follow this link to get 10 meals free, including free shipping!