We've all heard the term vegan a lot more in the past few years, but many people shy away from making plant-based choices because they're assumed to be boring and not as filling.
You don't have to convert to veganism to enjoy its benefits. Incorporating more vegan meals into your week will not only have a massive positive impact on your health but also on the environment. Many people don't know where to start when it comes to plant-based meals, and that's where vegan food delivery companies come in.
There's a lot of them out there, so we've outlined everything you need to know about the two best: Purple Carrot & Splendid Spoon.
Key Similarities
Both meal delivery services are 100% Vegan.
Both are subscriptions that let you tweak, pause, or cancel at any time.
Both offer a range of meals inspired by worldly cuisines like Mexican, Italian, and Indian.
Both are Non-GMO and mostly organic.
Both offer multiple plans -

Splendid Spoon has Breakfast, Breakfast + Lunch, and Breakfast, Lunch and Reset options.
Purple Carrot has High-Protein, Gluten-Free, Quick & Easy, or Chef's Choice plans.
Key Differences
Purple Carrot can take up to 40 minutes to prepare, whereas Splendid Spoon's smoothiesarrive ready to drink, and their soups and grain bowls only require a couple of minutes in the microwave.
Splendid Spoon has a lot more breakfast options - there are 15 smoothie flavors to choose from every week, whereas Purple Carrot's Breakfast plan only has 2 to choose from a week.
Purple Carrot only has 2 lunch recipes + 8 dinner recipes per week, but Splendid Spoon has 30 soup and grain bowl varieties
Splendid Spoon also offers immunity-boosting wellness shots.
Splendid Spoon is slightly more affordable - their breakfast and lunch plan costs $9.50 per meal, whereas Purple Carrot's 2 serving plan works out to $11.99 a serving, and their 4 serving plan costs $9.99 a serving.
Splendid Spoon Overview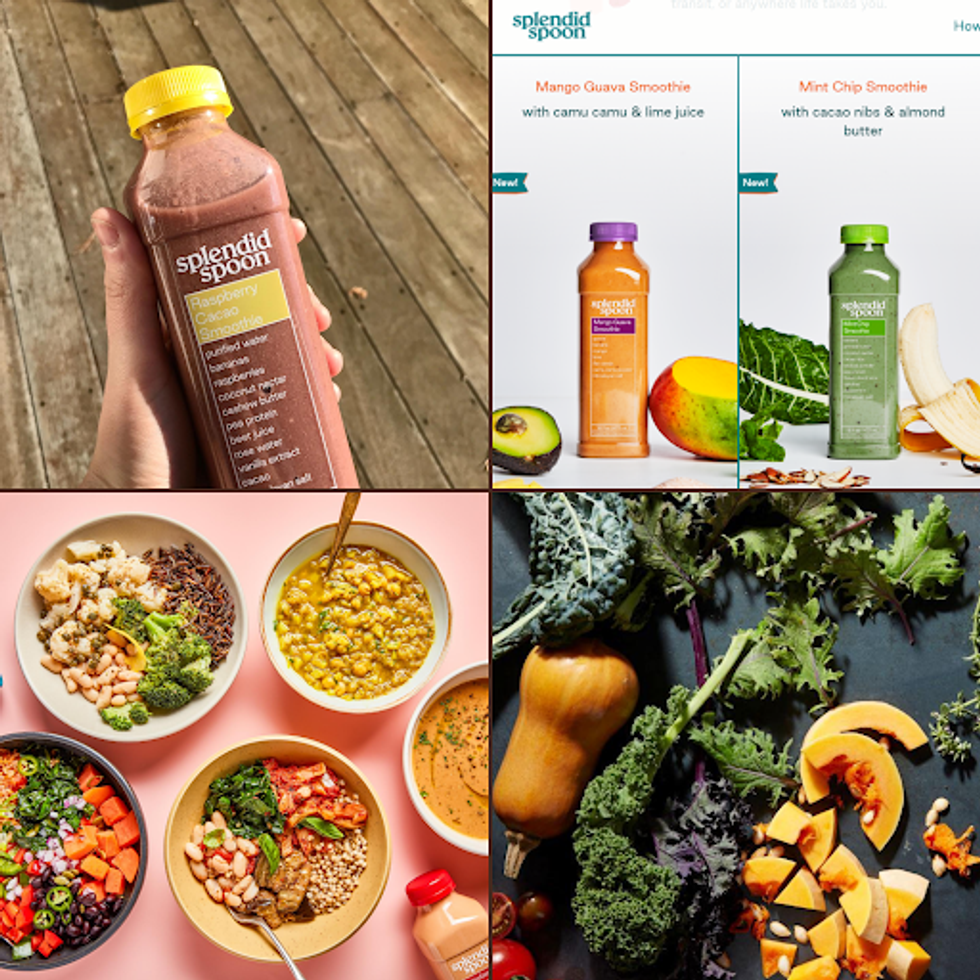 You can't fault Splendid Spoon on convenience. All of their meals require little to no prep, and the range of ingredients they use is pretty impressive. All of their smoothies, soups, and grain bowls are filled with nutrient-dense superfoods like Plantains (packed with Vitamins A & B6 to keep energy levels up), Sorghum (keeps hair and nails healthy and strong), and Navy Beans (helps maintain good blood sugar levels) to name a few.

What sets Splendid Spoon apart is that they are constantly evolving their product offering. Vegan food doesn't have to be boring, so always having something new to try is what keeps Splendid Spoon's customers coming back for more
Their large range of recipes includes options like Cauliflower Tikka, Vegetable Bolognese Bowl, and Cuban Black Bean Bowl. Customers report that all of the Splendid Spoons meals are delicious, contain fresh ingredients, and keep them feeling full throughout the day.
Plus, if you're feeling a little run down, their line of Reset Soups and wellness shots could be just what the doctor ordered! The Reset Range includes 5 light, superfood-packed soups designed to help you reset your digestive system, and the immunity-boosting wellness shots, which contain lemon and ginger, are made to give you a quick hit of goodness on the go.
Purple Carrot Overview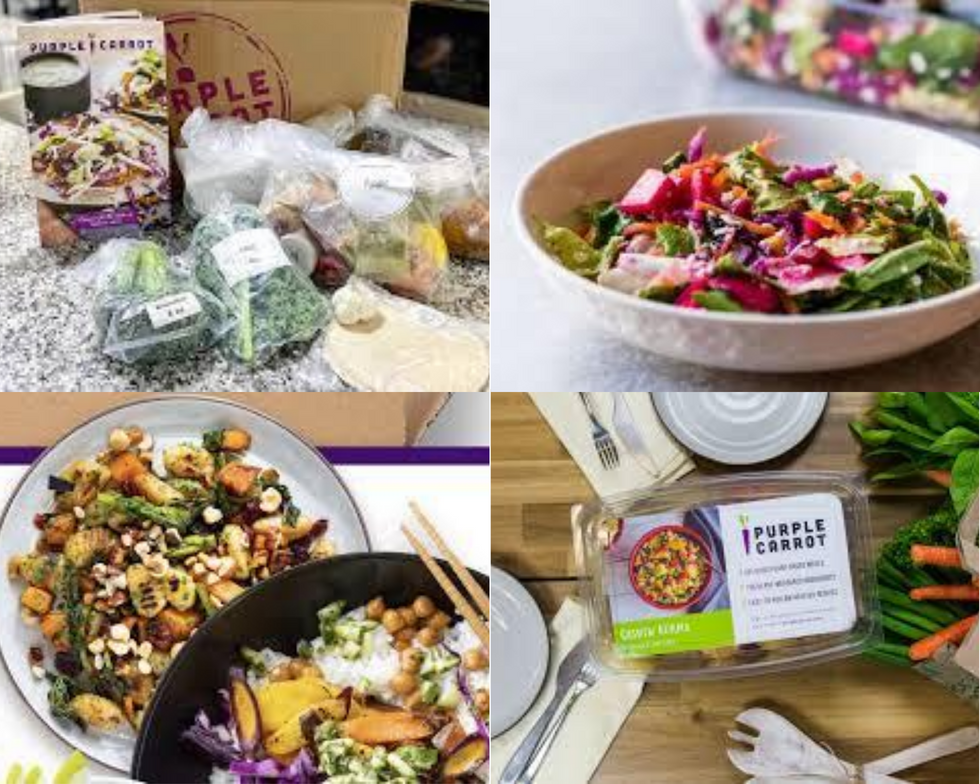 Everybody has heard of meal kits, and Purple Carrot has set themself apart from the rest by offering a fully vegan line. Every week, you get to choose from 8 mouth-watering plant-based recipes, and Purple Carrot will send you all of the pre-portioned ingredients you need to make a delicious home-cooked meal. Beet Burgers with Smoky Tomato Aioli, Vegetable Panang Curry, and Lemon Miso Pasta are just some of the elevated vegan dishes on offer.
A lot of Purple Carrot meals take up to 40 minutes to prepare and require chopping, not to mention cooking and clean up time. If you're someone who likes to cook, this is fine, but if you want healthy meals that are also super convenient, then Purple Carrot might not be a good fit for you.
Their range of recipes is also very small, and it's hard to know if recipes get repeated a lot because you can't see any future menus. If you're going to sign up for a subscription, you should know what's on offer in the coming weeks, and Purple Carrot provides zero transparency into that.
Final Note
Both Purple Carrot and Splendid Spoon have brought vegan cuisine up a notch with their impressive offerings. But if you're looking for convenience, variety, and affordability, we highly recommend Splendid Spoon.
Purple Carrot simply takes too long to prepare, and their small range of recipes really lets them down. Plus, we noticed that a lot of their meals have a much higher fat content than Splendid Spoon.
Just because something is vegan doesn't mean it's healthy, and a lot of people fall into this trap. Splendid Spoon not only contains a massive amount of superfoods, but their sugar and fat content is also impressively low. Splendid Spoon makes healthy food for busy people.
The folks at Splendid Spoon are extending an exclusive offer to our readers! Follow this link and get $15 OFF the Most Popular Plans!