Arts
After selling for $1.4 million, Girl with a Red Balloon self destructed.
Even Banksy is sick of Banksy.
Everyone's favorite laptop decal designer has been up to more mischief, this time destroying his own painting at a London auction on Friday. In a seemingly coordinated stunt with Sotheby's, one of Banksy's trademark paintings self-destructed after being auctioned off for $1.4 million. The anonymous artist posted a video of the painting passing through a shredder built into the frame. Sotheby's denied having any prior knowledge of the incident.
One thing's for sure, in a world where the definition of art is becoming looser and looser, that torn Pulp Fiction poster you never bothered to take off your wall? A commentary. That pizza sauce stain you can't get off your white sofa? Expressionism.
"The urge to destroy is also a creative urge," Banksy captioned a second Instagram post about the incident, quoting Picasso.
The New York Times reports that it seems unlikely that no one found the shredder, supposedly built into the frame twelve years ago, before the auction. Indeed, "Detailed condition reports are routinely requested by the would-be buyers of high-value artworks. Unusually, this relatively small Banksy had been hung on a wall, rather than placed by porters on a podium for the moment of sale. And the artwork was also the last lot in the auction."
So if Sotheby's was in on the stunt, is it still the moment of anti-establishment rebellion we all want it to be?
Sotheby's senior director Alex Branczik said in a statement that is difficult not to picture him practicing in the mirror the night before, "It appears we just got Banksy-ed."
This is not the first "subversive" act of Banksy's to make headlines. In 2005, the artist hung one of his "modified canvases," showing a woman wearing a gas mask, for two hours in the Metropolitan Museum of Art in New York. Similar to the Sotheby's incident, the 2005 stunt—and subsequent similar stunts at other museums—seemed unlikely to have reached fruition without collaboration by the very establishment Banksy claimed to be condemning. In 2005, Banksy told NPR that he'd read biographies of Harry Houdini to learn how to sneak into the museums with his artworks, some of which were large and heavy.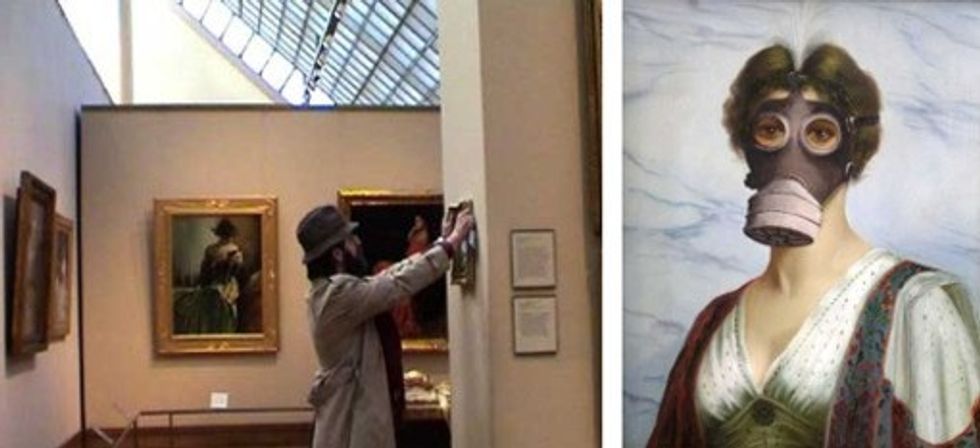 Wired
The Independent reported Saturday that the work has "doubled in value" since its partial destruction. Whatever Banksy was trying to prove with the stunt, consumers ate it up.

But still, there's something about it all that seems a little, well, Disney. If Banksy's intention were to criticize the commodification of his art — originally intended to be street art belonging to no one — doesn't the uptick in the piece's value only cement Banksy as a consumable, commercial artist?

---
Brooke Ivey Johnson is a Brooklyn based writer, playwright, and human woman. To read more of her work visit her blog or follow her twitter @BrookeIJohnson.
---
POP⚡DUST | Read More…

Protest Leads to Arrest for Comedian Amy Schumer and Model/Actress Emily Ratajkowski
Swim At Your Own Risk: Louis C.K. Performs Second Show At Comedy Cellar
How Pop Culture Bullies Us, and How to Fight Back