MUSIC
As always, Bey has outdone herself.
This was a year of change and tumult, but if anything has remained consistent through it all, it's been Beyoncé's greatness.
This year, she consistently outdid herself and gave us incredible work, releasing one project after another and reminding us all to reconnect with our power and rise up again and again.
It's her 38th birthday, so here are some highlights from her 37th year on Earth.
1. The Homecoming Documentary
On April 29, Homecoming dropped on Netflix. The chill-inducing documentary details Beyoncé's incredible 2018 Coachella performance, showing the nuances of her choreography, costume design, and flawless dancing in high-definition. Though it sometimes highlights the unattainability of Beyoncé's lifestyle, that's kind of always been Beyoncé's brand; she's more of a deity than a human being at this point, and we love her for it.
Homecoming: A Film By Beyoncé | Official Trailer | Netflix www.youtube.com
2. When She Gave Us Homecoming and Lemonade on Streaming Services
If the documentary wasn't enough, Beyoncé dropped two albums on all streaming services—including Lemonade, which had formerly been inaccessible for those without access to Tidal or other roundabout ways of listening to music. Now, we can all listen to the elegant, gloomy harmonies of "Pray You Catch Me" or the radiant rhythms of her iconic hits like "Who Run the World (Girls)" on repeat to our hearts' content.
Beyoncé - Sorry (Video) www.youtube.com
3. When Blue Made Her Singing Debut
Beyoncé's oldest daughter made hearts melt when she lent her voice to a rehearsal of "Lift Every Voice and Sing." As a mother of three, Beyoncé must have her hands full, but she's obviously incorporating her children into her work. Blue has appeared in a lot of Beyoncé's videos and albums by now, and most likely, we'll be getting a surprise release from Blue Ivy one of these days.
Lift Every Voice and Sing Blue s Version Homecoming - Beyonce www.youtube.com
`4. The Lion King
Beyoncé announced that she would be voicing Nala, the leading lioness in Disney's The Lion King, back in 2018, and when the film dropped on July 19, her vocals didn't disappoint. She adds her smooth riffs to "Can You Feel the Love Tonight," her voice fusing seamlessly with Donald Glover's and sometimes eviscerating it (but who can hold up to Beyoncé in a duet, really? Definitely not Ed Sheeran). Thanks to her presence, despite somewhat mixed reviews, the whole film feels like it's wrapped in the glow of her star power.
5. When She Met Meghan Markle
Beyoncé and Meghan Markle's meeting at the UK premier of The Lion King was documented carefully by the press. The two real-life superheroines exchanged some words of support and thoughts about motherhood (and/or world domination), and the Internet celebrated.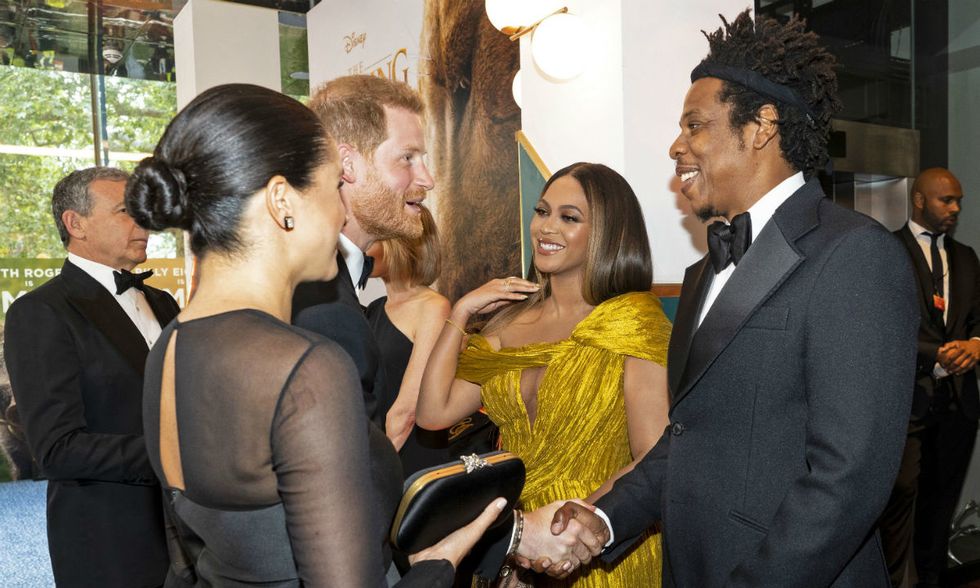 hellomagazine.com
6. The Lion King: The Gift
Of course, since it's Beyoncé, she couldn't just star in a movie and call it a day. Instead, she had to also produce and curate a companion album featuring incredible artists from around the world. Called The Gift, the album features 20 artists in total, many hailing from Nigeria, Cameroon, South Africa, and Ghana, and it fuses Afrobeats with American hip hop and blends many languages together, bringing much-needed diversity to the Disney brand.
"Spirit" + "Bigger" Extended cut from Disney's The Lion King in theaters now (Official ... www.youtube.com
6. When She Danced to Lizzo at her 38th Birthday Celebration
Two days before her 38th birthday, Beyoncé posted videos of herself celebrating backstage at the Made in America festival in Philadelphia. She was spotted alongside Jay-Z, dancing along to Lizzo, and fans (and Lizzo herself) couldn't have been more thrilled.
A story in two parts: https://t.co/mmOfgA9wOK

— |L I Z Z O| (@|L I Z Z O|) 1567385309.0
Has anybody had a year that compared to Beyoncé's? The only person who could hold a candle to 37-year-old Bey is probably...36-year-old Beyoncé. That year, she gave birth to twins, performed at Coachella, dropped her album Everything Is Love with Jay-Z, and carved a space for herself in the classical art world with the music video she filmed at the Louvre.

Then again, at 34, she released Lemonade, a video that was revolutionary in the way it combines music with poetry and visuals...and the year before, she was named the world's most charitable celebrity.
What will 38-year-old Beyoncé give us? Maybe she'll finally give herself a break—but honestly, we need her strength more than ever nowadays, and after 37 years of excellence, it's probable that she'll deliver. She's a master of multimedia, so the idea that she might forge her way into the virtual reality sphere isn't so hard to imagine, or maybe she'll invent an entirely new form of media in order to highlight her talent. As always, the sky is the limit.