Interview and Photos by Jordan Edwards

Since winning The Voice in 2018, Brynn Cartelli has matured as both a vocalist and songwriter. You can hear this on her latest single, "Secondhand Smoke." The lyrics have more weight, and her voice sounds more confident. Shortly before its release last month, Cartelli performed the song solo with piano on The Kelly Clarkson Show. Clarkson, who coached Cartelli on The Voice, has continuously supported the 19-year-old's career.

During a recent trip to Los Angeles, we caught up with Cartelli to talk about her growth as an artist and the new single. We also filmed an episode of 5 Tracks That Inspired Me (watch below).

Where did "Secondhand Smoke" come from? Is it about a real person?
"Secondhand Smoke" is a true story about the heartbreaking end to a friendship I experienced. I was getting ready to graduate high school, and so many things from my childhood were changing; where I would live, who I would be surrounded by. In these transitional phases, we tend to assess where we're at, how we're really feeling about the people we're closest to. I had the title "Secondhand Smoke" in my notes app for a while, and rediscovered it one morning while at my piano.

You just performed it on The Kelly Clarkson Show with just a piano. What was that experience like?
It was really emotional for me to return to "Secondhand Smoke" on just a piano while returning to NBC to play music live. I honestly felt very nostalgic, and so grateful for Kelly's love and support.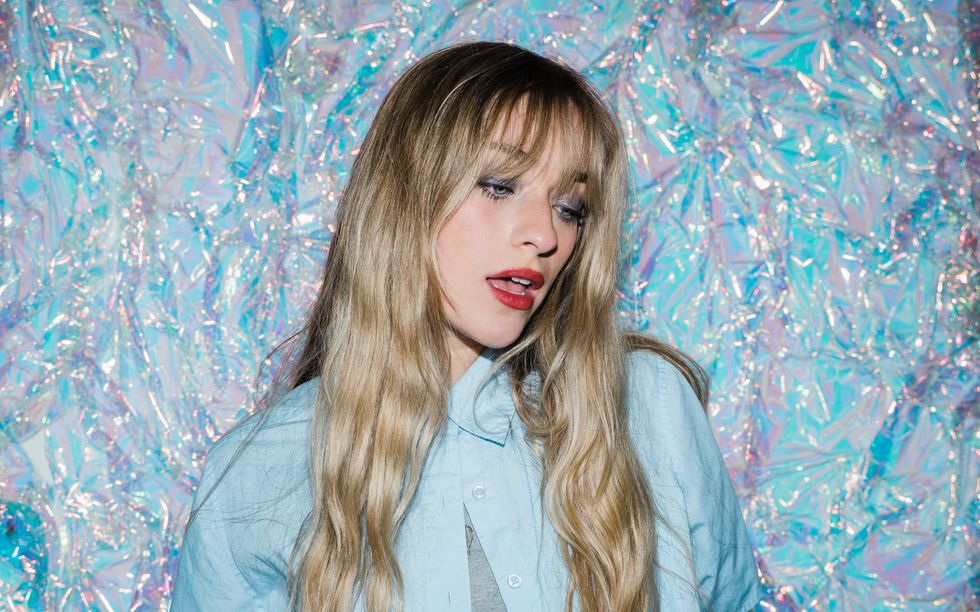 What's the best thing and the worst thing about performing on TV?
The best thing is definitely how dramatic we can be with lights and stage design, that's always been my favorite part of planning a performance. The worst part is trying to ignore the cameras by getting lost in the song while also making sure my hair isn't falling in my face.
How have your vocals evolved since you were on The Voice?
I think my voice has obviously grown up a lot since then, especially because I was like 15 and fresh out of puberty haha. I used to cover up my nerves with more vibrato. I think I'm less likely to do that now.
How many of your song ideas actually get turned into songs? How do you organize everything?
Most of the ideas I either write down in my notes or record on my phone somehow find their way into a song at some point. I keep a big, long list in my phone of ideas and a separate one of titles. There are also little notes scattered all over my apartment with ideas and concepts that I might use one day. The only way to organize anything is to write it down. I mourn all the hits that could have been written if someone wrote down the lyric or recorded the melody, even if it's just on a phone.
Are you able to relax the night before a new song comes out?
No! Never. Especially not with "Secondhand Smoke." I was so nervous for people to listen to such a vulnerable song.
5 Tracks That Inspired Brynn Cartelli
What was it like working with Ben Abraham on "If I Could?"
Ben and I wrote "If I Could" on the first day we met, which is pretty magical. I remember we had been throwing out a lot of ideas that day with different topics, but I felt so safe to share with Ben what had been going on back home with my friends. Just like that, "If I Could" was born.

What would you be doing if you weren't in music?
I always dreamed of directing a film.

Can you tell us anything about your next album?
I won't give away too much, but for now I'll say the next project is about liminality, the "in betweens" of life. Away from your past but not quite in your future yet, on the brink of something exciting. There's tension and heartache and so much hope.

What have you been listening to lately?
I have been listening to a lot of Caroline Polachek recently. Her new record is phenomenal, and she is an incredible artist on so many fronts. I'm a huge fan.
'The Voice' Winner Brynn Cartelli Performs 'Secondhand Smoke' On The Kelly Clarkson ShowTeam Kelly alum and the youngest winner of "The Voice" Brynn Cartelli performs her new single "Secondhand Smoke.
For more from Brynn Cartelli, follow her on Instagram and TikTok.