Kourtney Kardashian has finally dumped her long term douchebag partner Scott Disick.
In a wholly unsurprising move, she has at long last had enough of his wild partying and constant cheating.  They've been together for nine years and have three children—but no-one in the world would have bet on them drawing their old age pension together.
Their relationship has been under strain for years, with his focus being on having a good time and all that it entails, and her focus being on popping out children.
Scott Disick Is Bummed That Kourtney Is No Longer Banging Biebs
Disick, 32, has had brief spells in rehab but has never appeared fully committed to recovery.  He fell off the wagon again and again and has been embracing his latest downward spiral with a vengence. He was photographed in a room filled with alcohol and prescription drugs snuggling up to a dark haired mystery girl on June 14 in New York, and according to TMZ, their 'solid sources' reveal that he hasn't visited the pair's Calabasas mansion in over a month.  Kourtney, 36,  lost her patience with both him and his friends who she believe are enabling his substance abuse and dumped his ass.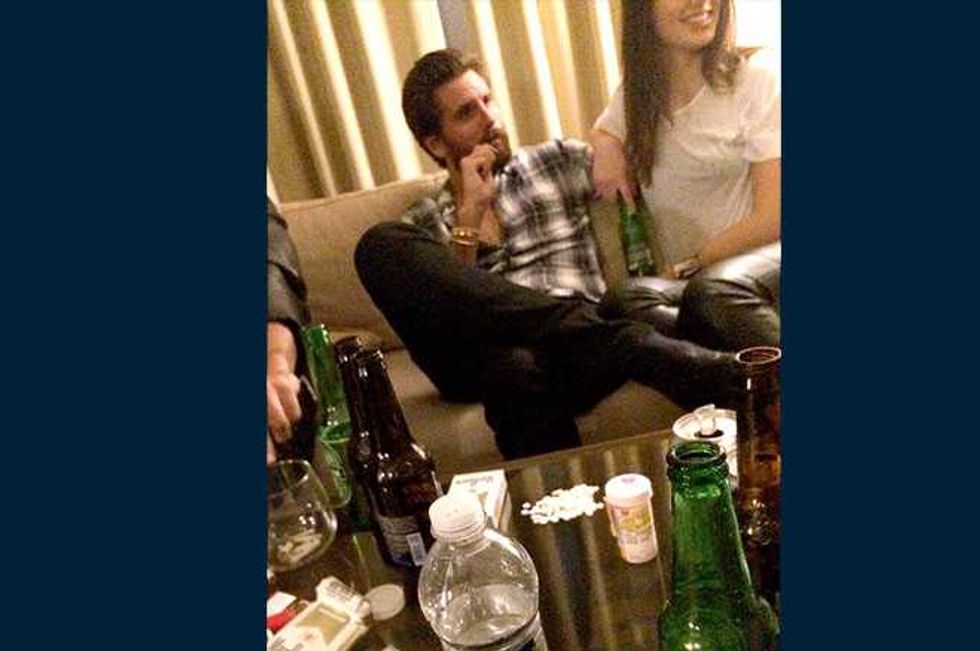 The Lord moved his party on to Monte Carlo, and more damning photos came out this week of Disick enjoying the company of an ex, Chloe Bartoli—apparently he was a 'drunken mess' and has been telling people he was 'newly single'.
The break up could get nasty though....and by nasty we mean expensive.  Even though they never married, Scott could go after some of those Kardashian $$$ by seeking alimony and child support.
To be honest, when you think of the way he has behaved over the years, Scott couldn't have made it clearer that he wanted out of the Kardashian Klan if he'd hired a plane and written it across the sky of Calabasas.