Top Stories
The split comes just five months after the couple welcomed their first child in July.
Theo Wargo / Getty Images
In a surprisingly friendly—and seemingly topless?—post on her favorite platform, rapper Cardi B announced to her fans that she and her husband, Migos rapper Offset, have decided to end their romantic relationship. Despite "trying to work things out" with her "baby father" for a "hot minute now," the 26-year-old mother of Kulture Kiari candidly noted that she and her now-ex remain very good friends and business partners.
The split comes just five months after the couple welcomed their first child in July and six months after announcing to all of the "nosey lil fucks" in June that they'd been secretly married since September of 2017.
As a celebrity couple engendered by the social media era, the two have had their share of public ups and downs. So frequent were the declarations of admiration that they effectively, er, offset the equally frequent speculation of trouble. After alternately denying and confirming their relationship to the press since collaborating on the single "Lick" in 2016, the couple used their respective social media accounts to stream their first official date: an intimate evening between the two and 70,000 others at the January 2017 Super Bowl in Houston, Texas. By Valentine's Day of that year, the two were sending sweet nothings to one another in the form of emojis and Twitter comments.
By March, however, each was quietly denying the existence of a relationship. When "Lick" dropped in May 2017, it appeared as though things were back on and better than ever. Despite walking the red carpet separately at the BET Awards, a $50,000, PDA-heavy shopping spree in Beverly Hills in June signaled commitment, and the engagement rings they were eyeing in August seemed to confirm it. However, less than a week after they were seen considering rings, Cardi B shut down any notion of impending marriage in an interview with Charlamagne Tha God.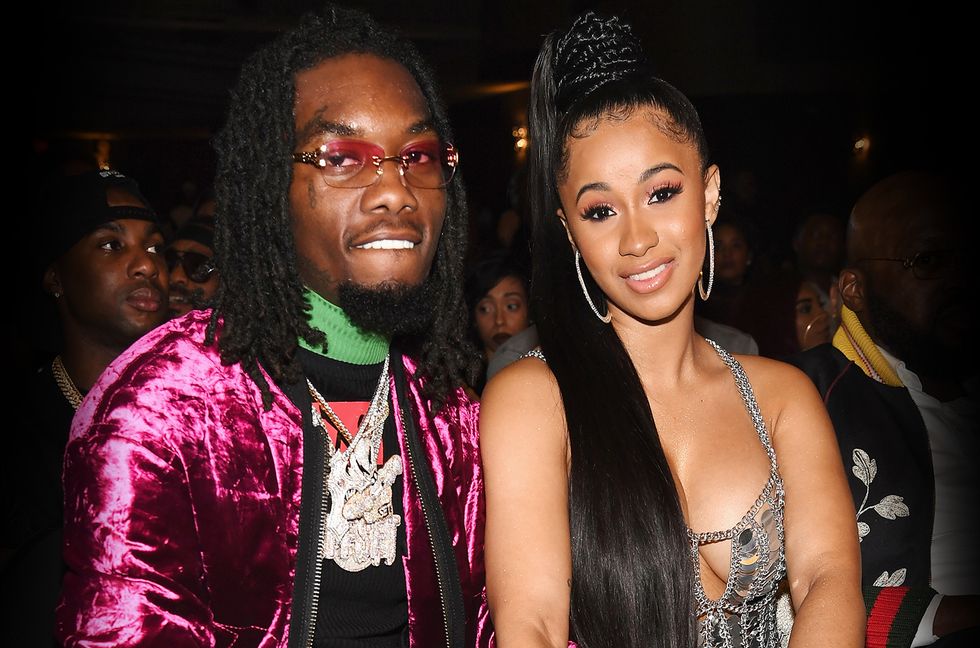 Paras Griffin
October 2017 was easily the most emotionally turbulent month for the couple, who followed sweet birthday missives with a breakup, a reconciliation, a new single, and a very public proposal.
For his part, Offset has remained quiet about the split, save a single comment on Cardi's Instagram post, ostensibly directed at the fans, "y'all won," which he re-posted on his own account. Given the couple's inability to stay separated for long and Cardi's claims that the end of their relationship is "nobody's fault" and she's "always going to have a lot of love for him," it's easy to speculate that this is not the end for them. For those remaining nosey lil fucks, there's still hope.
---
Rebecca Linde is a writer and cultural critic in NYC. She tweets about pop culture and television @rklinde.
---
POP⚡DUST | Read More...
Pete Davidson: I've Been Bullied For Nine Months
Tekashi 6ix9ine Faces Minimum Sentence Of 32 Years In Prison