CULTURE
Let's not get confused about what it means to be an ally.
Photo by Alexander Grey (Unsplash)
Every Pride Month is a long overdue celebration that recognizes and embraces marginalized identities, combats histories steeped in oppression and violent hate crimes, and gives soulless, opportunistic capitalists a ready-made marketing campaign for all of June.
The corporatization of Pride Month is nothing new; throughout Pride's 50-year history, companies have capitalized on support from the LGBTQ+ community in attempts to increase profits. But in an age when celebrities are no more than brands, they cash in on Pride for publicity and monetary gain just as much as companies do. Thankfully, there are also true celebrity activists who are active members and allies of the queer community. With rates of hate crimes against LGBTQ+ individuals approaching all-time highs, let's not get confused about what it means to be an ally.
While we get to enjoy a full month of queer positivity, learn to identify which messages are about outreach and activism and which ones are just trying to sell Pride as a product. From the regal Neil Patrick Harris becoming a gay ambassador in Tel Aviv to the cave-dwelling Donald Trump diving below our expectations to sell his own Pride t-shirts, we've categorized celebrity celebrations of Pride Month by their true intentions.
CAPITALISM:
In honor of Pride, Jesse Tyler Ferguson and his husband, Justin Mikita, opened a pop-up shop of their bow tie Company, The Tie Bar, in New York City. He announced its grand opening on Instagram, posting, "The @tietheknotorg pride pop up is officially open! Come check it out and pick up all your pride merch henney!!! Shout out to @geronimo who created the fab balloon installation! ❤️ 🌈."
It's lovely that he and his husband share a love of bow ties; but, in the press, Ferguson encouraged customers to shop for their "Pride needs," as if supporting the LGBTQ+ community requires rainbow-themed accessories. "We have been wanting to do something big for Pride for years," he said, "so I am so excited for this collaboration with The Tie Bar building the go-to collection and location for all your Pride needs."
As a concept, Pride merchandise is a frankly gross commodification of LGBTQ+ support, especially considering that most of the profits from selling rainbow merchandise don't fund support for the community. However, while Ferguson and Mikita get free publicity from their pop-up shop, they do donate a portion of the profits to Tie the Knot, a non-profit organization that fights for global marriage equality.
Lance Bass and LeeAnne Locken say to celebrate the Stonewall Uprising with vodka. The 40-year-old NSYNC singer and Real Housewives of Dallas star participated in the 2019 Stoli Key West Cocktail Classic in Key West. On Instagram, he posted an ad for Stoli's limited edition "Spirit of Stonewall" bottle, decorated with Lisa Marie Thalhammer's mural of the same name, located in Key West. Bass wrote, "Checking out the 'Spirit of Stonewall' mural in #KeyWest painted by @lisamariestudio this week to celebrate the 50th anniversary of the Stonewall Uprising! #ad You can check out the art on @Stoli's new limited-edition Spirit of Stonewall bottle too – available on ReserveBar now! #stolipride #LoudandClear #keywestcocktailclassic."
Following up last year's Harvey Milk-themed bottles, Stoli will donate a portion of its "Spirit of Stonewall" sales to the Stonewall Inn Gives Back Initiative, which combats bigotry and intolerance through awareness campaigns, educational programming, fundraising, and candid public dialogue. That's great and all, but with companies using "cause marketing" to boost sales since 1983, most companies put low caps and strict stipulations on how much they end up donating; and they always end up profiting more than they give from their goodwill marketing.
LOVE:
Neil Patrick Harris says he's not a gay icon. But he and husband David Burtka recently traveled to Israel to celebrate Tel Aviv Pride with 250,000 other attendees. The June march is the largest pride parade in the Middle Eastern region, and Harris was named this year's International Ambassador. He took to Instagram to express his gratitude: "Pride. Love. Life. Thank you for having us as International Ambassadors #telavivpride, the outpouring of positivity was truly overwhelming. #grateful @dbelicious"

Afterward, Harris toldThe Associated Press that he has "no interest in being a representative or an ambassador for anything except my kids." He added, "I'm just a guy who is married to another guy and we have kids and we live our lives I would say as 'normally' as one would. But I think normal is a very subjective term, especially in the gay community." He added, "It's nice to appreciate where we've come from," he said. "I'm very grateful that I live in a time and in a world where the needle has moved a lot because of others and I'm happy to promote the positivity of it all."

Like Lance Bass, Jonathan Van Ness is also celebrating Pride with vodka—but the difference is that Van Ness' partnership with Smirnoff reflects the company's long-standing and transparent commitment to advocating for LGBTQ+ issues. This year, Smirnoff's "Welcome Home" campaign includes a digital video series, an immersive pop-up store, and limited edition bottles featuring the word "Welcome" in six different languages and a "Love wins" design that features photographs of real same-sex couples who submitted their photos for inclusion. $1 from each bottle is donated to the Human Rights campaign.

The beloved non-binary member of the Queer Eye foursome joins Alyssa Edwards and Laverne Cox in partnering with Smirnoff. Van Ness says, "When we first started [working together] Smirnoff had pledged to contribute $1.5 million to the HRC by 2021, which I'm was so excited about, and [Smirnoff is] staying true to that and I just think that is amazing." On Instagram, he's posted his own message of Pride ahead of hosting Smirnoff's "House of Pride' experience in New York City from June 26 to June 28. He writes, "Happy Pride loves 💕💙 Time to celebrate with your LGBTQ fam & allies alike to celebrate the diversity that makes everyone stronger! 🌈🌈💕"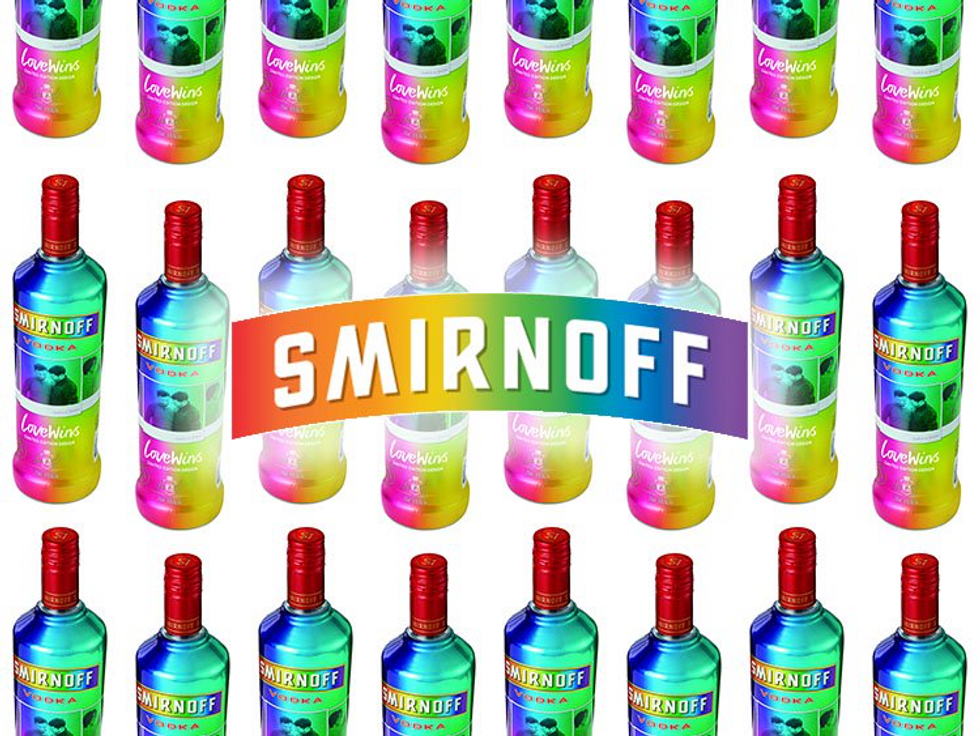 HELL:
Now that Taylor Swift's finally gotten political after years of silence, she's trying to "cash in on her LGBTQ+ fanbase." Her latest single, "You Need to Calm Down," so blatantly panders to the queer community that it tokenizes support of the LGBTQ+ community as a trendy fad. With cringe-y, careless rhymes like, "Why are you mad when you could be GLAAD," Swift's lazy wannabe gay anthem is insultingly blasé about the dire encroachment on queer people's rights. Additionally, Swift has effectively minimized Pride as a fashion statement and queerbaited her fans with clear allusions to bisexuality in the video's imagery and her costumes.
To her credit, Swift has taken legitimate steps towards LGBTQ+ activism, such as posting an open letter to Tennessee Senator Lamar Alexander urging him to support the Equality Act, a landmark bill that would legally protect American LGBTQ+ people from discrimination.
But, still, "You Need to Calm Down" is such a horrendous song.
At no one's request, Joe Biden visited Stonewall this week. He appeared at the iconic bar and bought a round of drinks. Again, members of the queer community disapproved of being treated like a bargaining chip for publicity and personal gain. As Left Voice wrote, "This is the type of allyship that Democrats have always given and will always give: support for marginalized groups when it is politically popular and complicity in their oppression when support is no longer politically popular."

As one Twitter user wrote, "Get the fuck out of Stonewall you aren't an ally Biden. You voted for the 1996 Defense of Marriage Act that hurt the LGBTQ community. Full fucking Stop. #JoeBiden #NeverJoe"
Trump sells Pride T-Shirts now. The back reads, "Make America Great Again," and the website's description says, "Show your pride and your support for Trump with this exclusive equality tee."
Well, when he wasn't detaining migrants in over 200 concentration camps at the U.S.-Mexico border (where 24 people have died in ICE custody due to the inhumane conditions), maybe Trump fingerpainted this shitty logo himself and he's really proud of it.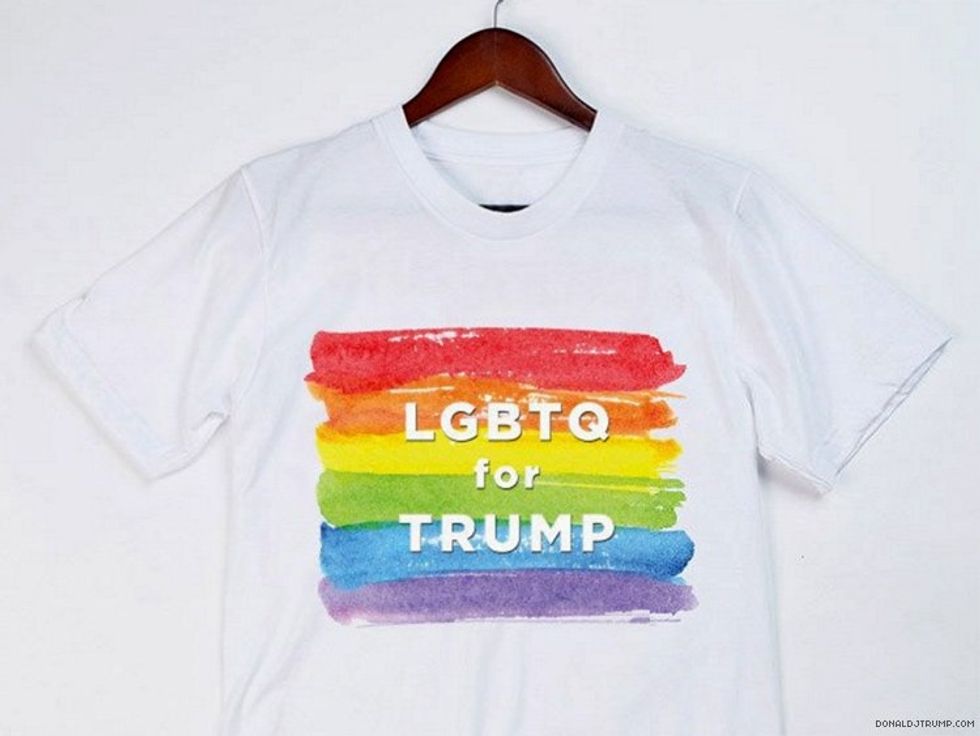 In closing, don't be fooled by fake allies, always take a shot when it's endorsed by Jonathan Van Ness, and don't let Joe Biden buy you one. Happy Pride.