Culture News
They are two masters at the top of their game—their game just happens to be making fools of themselves.
Photo by Nathan Posner (Shutterstock)
Once in a generation two titans in their fields go toe-to-toe in a battle that will echo through the ages.
Ali vs. Frazier. Venus vs. Serena. Kasparov vs. Topalov. Now we have a new match to mark down in the annals of history. Not between two great athletes or cunning strategists, but between two of the most unflappably obnoxious ghouls the world of TV punditry has ever known: Rudy Giuliani and Piers Morgan.
In interview after interview they have each proven themselves incapable of allowing others to speak or of recognizing when they're making asses of themselves. No call for civility or reminder of their contradictions will convince either of these mythic figures to back down, apologize, or allow someone else to finish a thought. To see such paragons of interruption and phony outrage sparring over President Trump's disgusting handling of the George Floyd protests—shouting over each other through a delayed video feed—is like watching Baryshnikov and Nureyev stomping on each other's toes.
Piers and Rudy Giuliani Clash over Donald Trump's Tweets | Good Morning Britainwww.youtube.com
Both men are frequently entertaining—though never on purpose. Whether matched against Chelsea Handler or Chris Cuomo, Giuliani's and Morgan's achievements in dismantling discourse have been twin marvels to behold, but never before have they been pitted against each other so stunningly as in Giuliani's Thursday morning appearance on Good Morning Britain, where Piers has been a permanent host since the short-lived CNN interview show Piers Morgan Live was canceled—from a network where a man as bland and empty-headed as Wolf Blitzer has managed to keep his show for more than 15 years.

Thursday's interview focused particularly on Donald Trump's use of the phrase "when the looting starts the shooting starts," which Rudy characterized as "an accurate warning," dismissing its racist roots, all while Piers repeatedly interjected with "Rudy… Rudy… Rudy… Rudy, it's Piers Morgan..."
In the past, the two might have butted heads on a number of issues. On the Iraq War, for instance, Rudy Giuliani was once described as among George W. Bush's "most consistent cheerleaders" on the topic of that disastrous invasion and occupation, while Piers Morgan was so skeptical of the whole thing that he published faked photographs of British soldiers abusing Iraqis and got himself fired as editor of the Daily Mirror—the renowned tabloid that engaged in celebrity phone hacking under his watch.
But despite their prior disagreements, Morgan and Giuliani had found much to agree on in recent years, supporting their mutual friend/Giuliani's employer, President Donald Trump. It's only in the past few months, reacting to President Trump's mishandling of the coronavirus pandemic that Morgan has begun to step back from the Trump-love he exemplified in multiple fawning interviews. But now that President Trump has unfollowed him on Twitter, it seems that Morgan is ready to take off the kid gloves and take full advantage of a juicy tabloid story about an American president glorifying violence and racism.
If he'd been up against another of President Trump's advocates, Morgan might have easily talked over them, insulted them, and projected his self-righteous outrage with impunity. But Morgan met his match in the unpaid personal lawyer of our country's worst president, and the shouting quickly became personal, with insults flew fast and loose while the two argued about whether Donald Trump knew that his fundamentally inflammatory and horrible statement was a direct quote from a racist Miami police chief in the 1960s.
The full exchange truly must be seen to be believed, but highlights include Morgan indignantly asking the former New York mayor, "Who are 'you people,'" before saying that Giuliani has "gone completely mad" and sounds "deranged," telling him, "It's really sad to see what's happened to you," and Giuliani responding, "It was really sad to see the way your career imploded in the United States, Piers." They both repeatedly accuse one another of dishonesty, but perhaps the biggest and funniest lie comes from Morgan when he claims that Giuliani "used to be one of the most revered people in America"—referring to his tenure as mayor, during which time Giuliani once dressed in drag to be publicly groped by Donald Trump.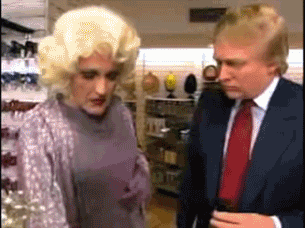 Other joyful moments include the phrase "completely barking mad" and Giuliani's strange use of the term "sucked up," which the GMB hosts mistook for profanity. All in all, watching two bombastic morons tear each other down—neither seeming to realize that they both come out of the mess looking worse than they went in—is a spiritual balm in these trying times.