MUSIC
The song is the first collaboration from the two jet-setting musicians.
Maluma and J Balvin just dropped a new video for "Qué Pena," and in many ways, it seems straight from 2010.

It's mostly about the two singers in a club meeting women whose faces they remember from previous encounters; eventually they realize that though they'd spent the night with them in the past, they don't remember the women's names. It's a tongue-in-cheek ode to drunk hookups and overconfidence, set over a sultry beat.
The video is an ode to lavish consumption, selfies and self love, picking up ladies, and gesticulating at the camera in front of dozens of candles.
For a pop song, it's rather long—stretching to nearly 4 minutes. But if you manage to watch the video at least three quarters of the way through, you'll notice that Maluma and J Balvin seem to have quite a cute rapport going. Is it a bromance or a romance or some combination of both? It's hard to say, but regardless their affectionate, touchy relationship is probably the best part of all of it.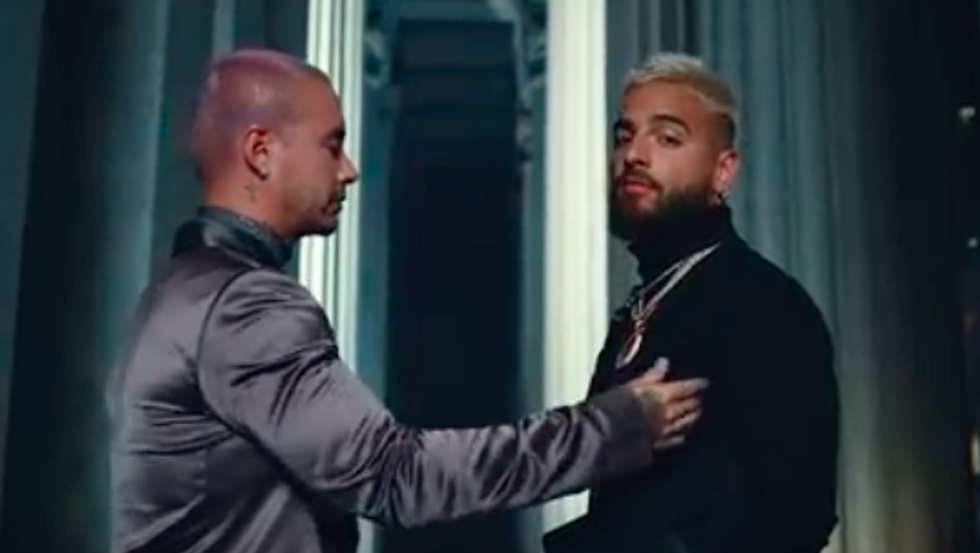 Maluma, whose real name is Juan Luis Londoñdo Arias, is a 25-year-old Spanish-language musician who also happens to be one of the highest grossing touring artists in the world. His album 11:11 dropped in May and features collaborations with Madonna, Ricky Martin, and Ty Dolla $ign.

This is the first time he's collaborated with fellow Colombian musician J Balvin, though apparently the two have been wanting to work together for nearly four years. In 2018, Balvin told Billboard that he wanted to work with Balvin and create a movement for new urban singers in Colombia. "If Maluma and I can support each other to start a movement and inspire others, we will do it," he said.
"They know this will mean so much to their country of Colombia, and show unity within the Reggaeton movement," a source told Page Six. "Their collaboration is pivotal as they both globally represent the movement of Reggaeton that came out of Colombia."
Reggaeton is a music style that originated in Puerto Rico in the 1990s. It's a fusion of hip hop, Latin American, and Carribbean styles, and usually blends rap and vocals. The music has struggled to gain recognition from mainstream sources like the Latin Grammys, leading to some controversy, which is likely why Balvin and Maluma wanted to collaborate so badly. Or maybe they just love each other.
The music video was filmed in New York City, and was directed by Colin Tiley. Check it out below.
Maluma, J Balvin - Qué Pena (Official Video) www.youtube.com