The only thing more American than apple pie is a nip slip.
Or in this case, bottom slips. On August 29th, Farrah Abraham of Teen Mom fame accidentally showed more skin than planned on the red carpet for the screening of Ad Astra. Her floral-print ball gown by French designer Christophe Guillarme featured a thigh-high slit that made it clear Abraham had opted to attend the premiere sans undergarments. You might think that in this age of sexual freedom, skimpy outfits, photo leaks, and body positivity, we'd be past making a big deal out of something as run of the mill as a skirt revealing more than intended. But the incident immediately made headlines, overshadowing the premiere and causing a stir on social media. She later posted a picture on Instagram.
Interestingly, the reality star had a similar "accident" at last year's Cannes Film Festival, and video later showed that the crotch-shot was intentional. Commenters on Abraham's Venice Instagram were not going to let her forget it.
One person wrote: "So you had to flash your vag just like you did at the Cannes? Pretty sad that's how you choose to keep your name in the tabloids. At each event you were clearly pulling your dress to flash everyone your vag." Another said, "Farrah 101 for when you're an irreverent wannabe...of course we flash our cooter...oooops I mean 'wardrobe malfunction'...you've got to be one of the most desperate people I've ever seen...and all in the presence of poor Sophia...such a roll model."
If the "malfunction" was in fact intentional, one has to admit that if the goal was free publicity, it was a savvy move. If you Google "celebrity wardrobe malfunction," 32,100,000 results appear immediately. Admit it, you can't name who won the 2004 super bowl, you probably can't even say for sure which teams played, but you absolutely remember the exact instant during the half time show when Janet Jackson showed America more than her killer dance moves.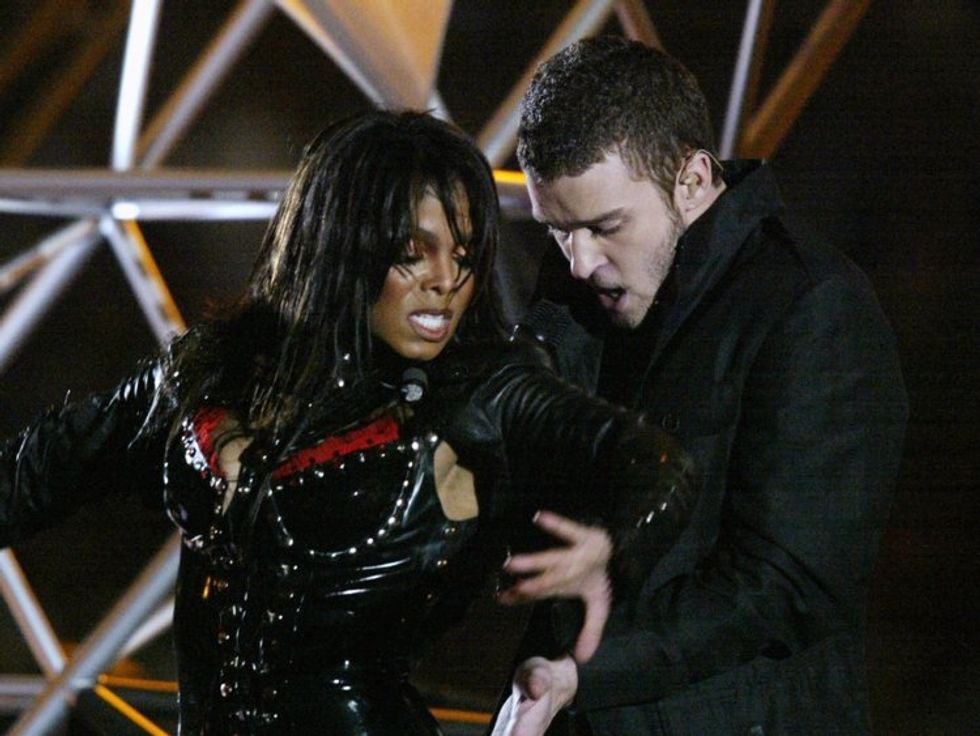 The iconic wardrobe malfunction made headlines everywhere, throwing the game into the background. Or maybe you remember when Chrissy Teigen didn't account for the breeze and accidentally showed off her immaculately waxed undercarriage. Or the famous instance of Britney Spears exiting a car without any underwear on. So why are people vilifying Abraham for merely giving the people what they want?

Why do we care so much about glimpses of usually covered human anatomy? Why do we find nip slips and accidental cr*tch shots more titillating than images of bare bodies that are readily available online or even in movies? What is the undeniable appeal of an outfit going rogue?
The truth is that we love seeing someone's body without their explicit consent.
People are so riled up about Abraham's manufactured malfunction because knowing it was intentional takes away much of the appeal. And that's pretty f*cked up.
As we take baby steps towards becoming a society that prioritizes consent, we have to realize that reveling in wardrobe malfunctions can't be a part of that better future. The human body isn't inherently sexual or scandalous, and it's never okay to look at someone's naked body if they don't mean to show it to you. It's 2019: Aren't we a different society than we were when n*pple gate shook our worlds? Isn't it time to stop treating the human body like a spectacle? Maybe, instead of shaming Farrah Abraham for merely capitalizing on an American perversion, we should take a look inwards and think about why we're still so fascinated by wardrobe malfunctions—and what exactly that says about us.