While they didn't get quite as much attention as certain other attendees, they got enough to earn themselves lifetime bans from MLB events.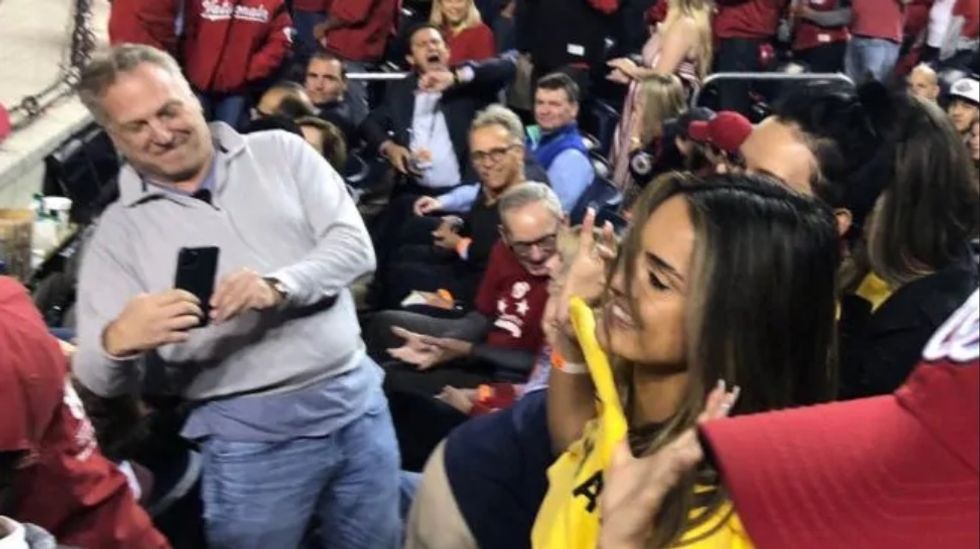 This guy is a big fan of breast cancer awarenessTwitter
As far as I'm concerned, that's all great. Nudity is wonderful, being proud of your body is wonderful, and being an agent of chaos on live TV is among the best uses of anyone's time. But as it turns out, these women had much higher ideals in mind when they showed the world their breasts. They were apparently raising awareness for breast cancer, which, in case you weren't aware, is a type of cancer that occurs in the breast tissue and predominantly affects women. You probably hadn't heard of it before, because this is pretty much the first attempt at getting the word out—and there is no reason to think that awareness campaigns are the wrong approach entirely—but now that these women pulled up their tops at the World Series, you're finally aware, and you have the tools to contribute to prevention and treatment.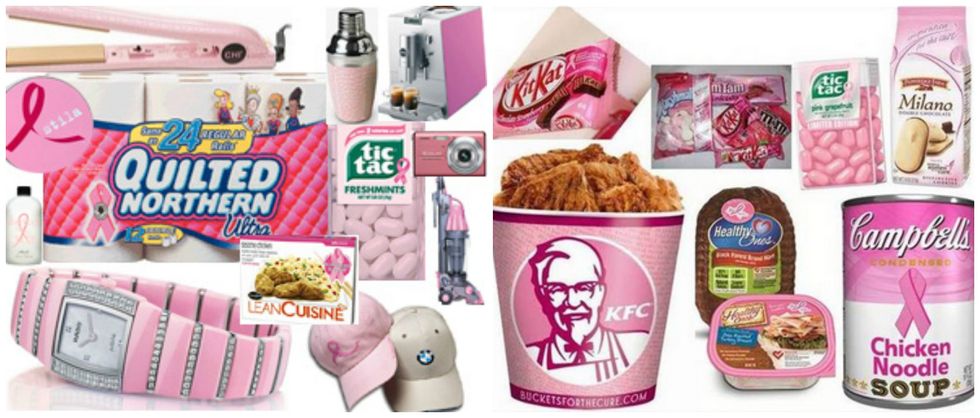 Pictured: A total lack of awarenessMy Cancer Chic
Oh, and they were also protesting the double standard that treats women's chests as fundamentally sexual objects, that need to be censored, while men are free to have their torsos exposed to the world without shame or fanfare. It's a fair point and the focus of the Free the Nipple campaign, which Julia Rose connects to their efforts. You can tell that this issue is particularly dear to these women because of the consistent effort they put into desexualizing their breasts. Almost every picture on their respective social media accounts practically screams, "It's just a chest, people! Get over it!"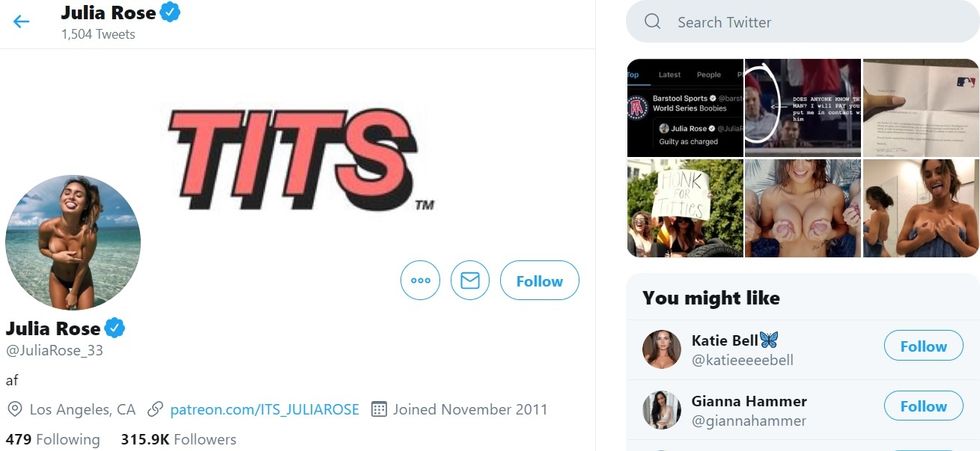 Oh, and I almost forgot that they are also promoting Rose's digital magazine, SHAGMAG, which promises "SEX, BOOBS, SPORTS, UPCOMING ARTISTS & ENTREPRENEURS and a bunch of other fun surprises" and which Rose promotes as "the Millennial Playboy." It certainly sounds like the sort of place where you would find thoughtful discussion of feminist theory and women's issues.
Rose's mission statement puts it succinctly: "I wanted to create a (?)place that was fun but one that still had meaning. There is nothing wrong with sex and nudity, and wanting more of it but I definitely think our generation needs more of a voice. There are all these beautiful instagram models but who are they really? Who are the upcoming innovators and creators, and what the actual f*ck is going on in the world? So many questions and now there is an answer: SHAGMAG."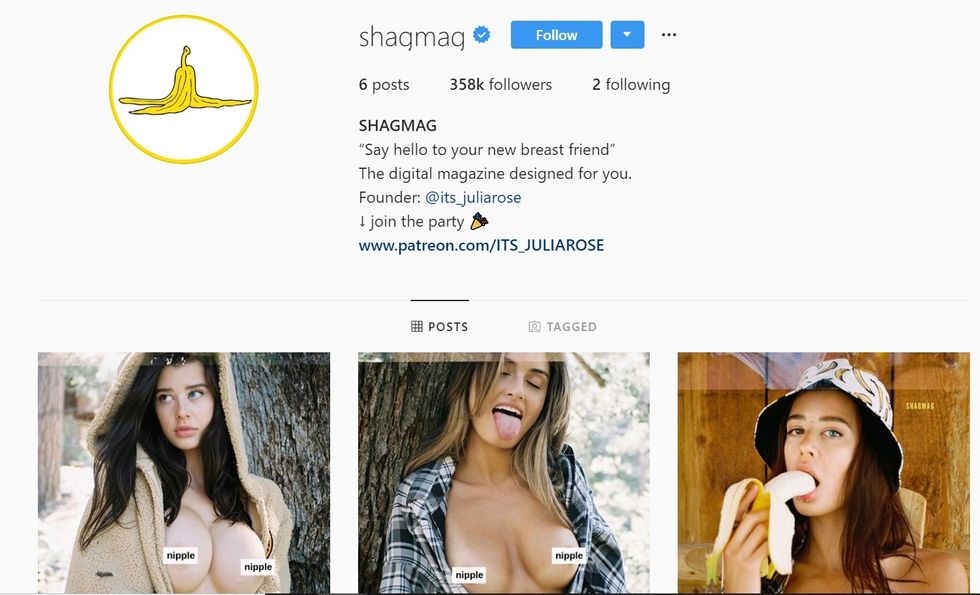 Instagram
So… seriously? Obviously sex sells, and it's a recognized feature of our society that attractive young women can make solid careers out of selling it. If that's what they want to do, there's nothing to stop them, and there are some serious feminist arguments to be made for finding empowerment in the embrace of sexuality. But what does this half-assed veneer of selfless motives do for anyone?
Is your audience drawn in by the promise that SHAGMAG will explain "what the actual f*ck is going on in the world?" Or do they just want to look at some naked women? The entire business model is based on teasing at the edges of Instagram's nudity policy, so they can offer "exclusive and uncensored content" behind a paywall. So why bother appropriating Free the Nipple as your purpose—or breast cancer, for that matter—unless your goal is specifically to undermine the people who take these causes seriously?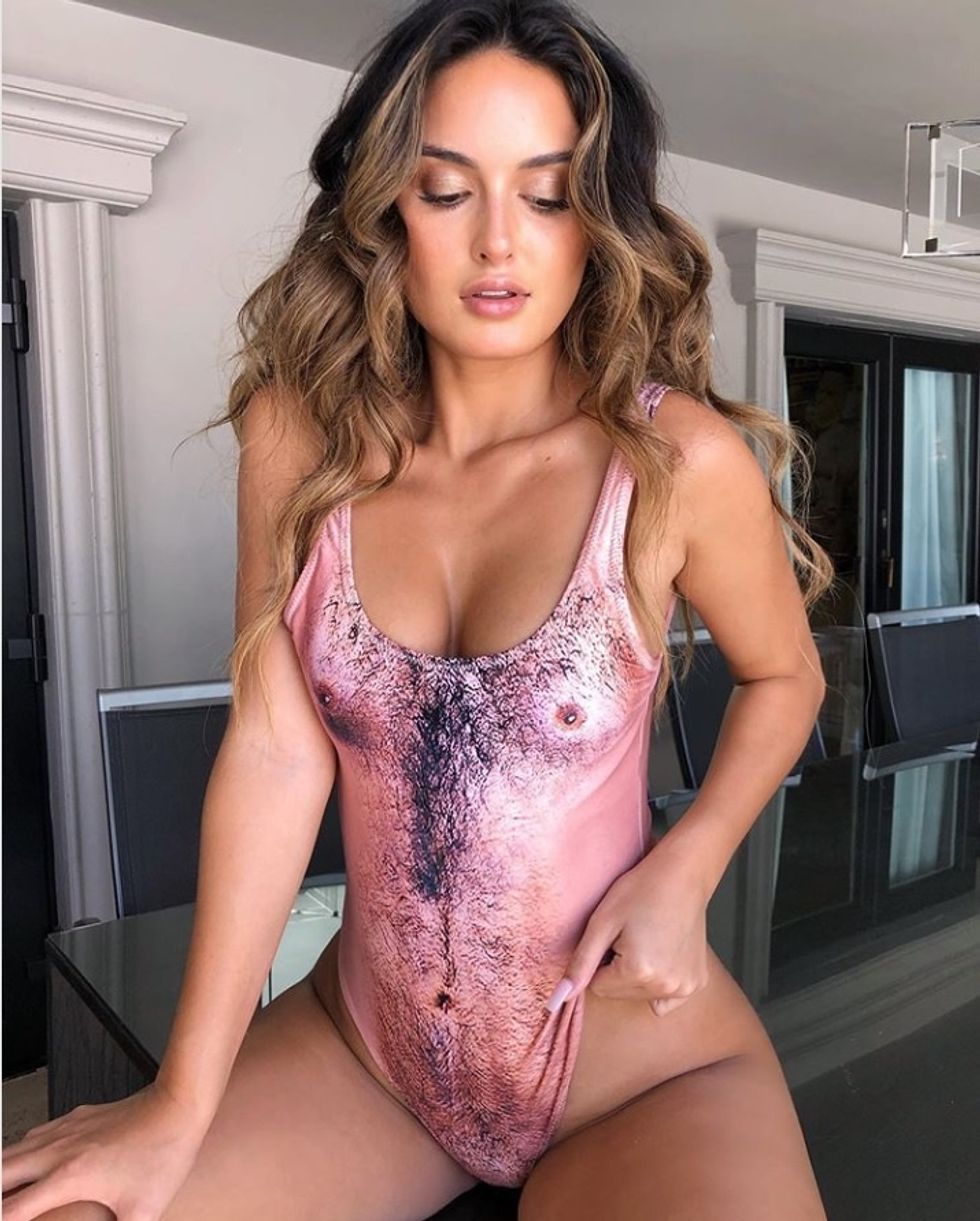 Because activism!
As usual, the answer is probably to get people like me to write about it, and people like you to read about it, and it's clearly working well. Rose claims that SHAGMAG has already received $10,000 in new subscriptions, and she's planning future topless stunts.
Somehow it seems doubtful that any of that money is going to breast cancer research, but wouldn't it at least be nice if the shame of exploiting a good cause outweighed the temptation to draw in that extra attention? With that said, if you really want to pay a monthly fee to see an Instagram model naked, please consider any of the thousands of others who won't pretend they're being activists.