The MCU's Loki, nemesis of Thor and "God of Mischief," is now the first openly queer major character in the MCU.
The reveal occurred in the third episode of the Disney+ series Loki, in a scene where the title character has lunch with a version of himself from an alternate timeline.
"What about you?" Sylvie, his alternate female persona, says. "You're a prince. Must have been would-be princesses. Or perhaps another prince?"
"A bit of both," Loki replies. "I suspect the same as you."
The show's director, Kate Herron, confirmed the revelation in a tweet, writing, "From the moment I joined @LokiOfficial it was very important to me, and my goal, to acknowledge Loki was bisexual. It is a part of who he is and who I am too. I know this is a small step but I'm happy, and heart is so full, to say that this is now Canon."
Another recent reveal confirmed that Loki is also gender fluid. A tweet posted by the show's official twitter reveals a case file containing information about Loki, and on it, his sex is listed as "fluid."

POV: You've just arrived at the TVA 🕰 Marvel Studios' #Loki starts streaming Wednesday on @DisneyPlus. https://t.co/fhP2pWvOz5

— Loki (@Loki) 1622995200.0
In an interview with Inverse , head writer Michael Waldrom confirmed the reveal. "I know how many people identify with Loki in particular and are eager for that representation, especially with this character," Waldron said. "We worked really hard."
Tom Hiddleston also told Inverse that Loki's gender fluidity has "always been there in the comics for some time and in the history of the character for hundreds, if not thousands of years." In a previous panel with ACE Universe, Hiddleston described Loki as "ambiguous" and capable of being a "man or a woman."
It's true that in the Marvel comics, Loki is often portrayed as a shapeshifter, and he sometimes shifts to female-bodied characters. In 2014's Original Sin Vol #1 and #2 comics, Thor and Loki arrive at a female-run society and Thor remarks, "These are fair maidens." Loki replies, "So am I, sometimes."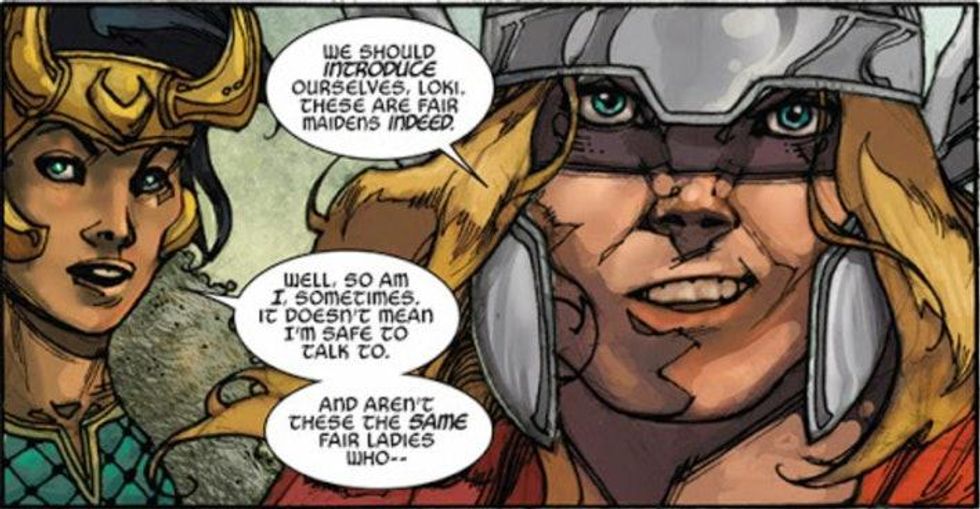 Loki and Thor Marvel Comics
In the same comic, Loki and Thor's father Odin says, "My son, my daughter, and my child who is both," once again referencing the character's gender fluidity.

The revelations about Loki come at a time when Marvel is showcasing more and more LGBTQ+ folks onscreen. The film Eternals, directed by Chloe Zhao of Nomadland fame, will feature the MCU's first onscreen gay kiss. And Loki isn't the series' first confirmed bisexual character — the MCU's Valkyrie, played by Tessa Thompson, is bisexual in the comics, and fans (as well as Brie Larson and Thompson themselves) have encouraged a relationship between Valkyrie and Captain Marvel.