CULTURE
Turns out angsty Tumblr superstars of 2014 can find real love in 2019.
"Bad at Love" singer Halsey and American Horror Story actor Evan Peters are officially dating.
They made things official this weekend, stepping out on Friday dressed as two of music's most terrifying figures. Halsey went as a red-haired Marilyn Manson, and Peters was a Juggalo, a fan of the Insane Clown Posse. Then on Saturday, they arrived at the 100th episode celebration of American Horror Story as a polka-dot-clad Sunny Bono and Cher.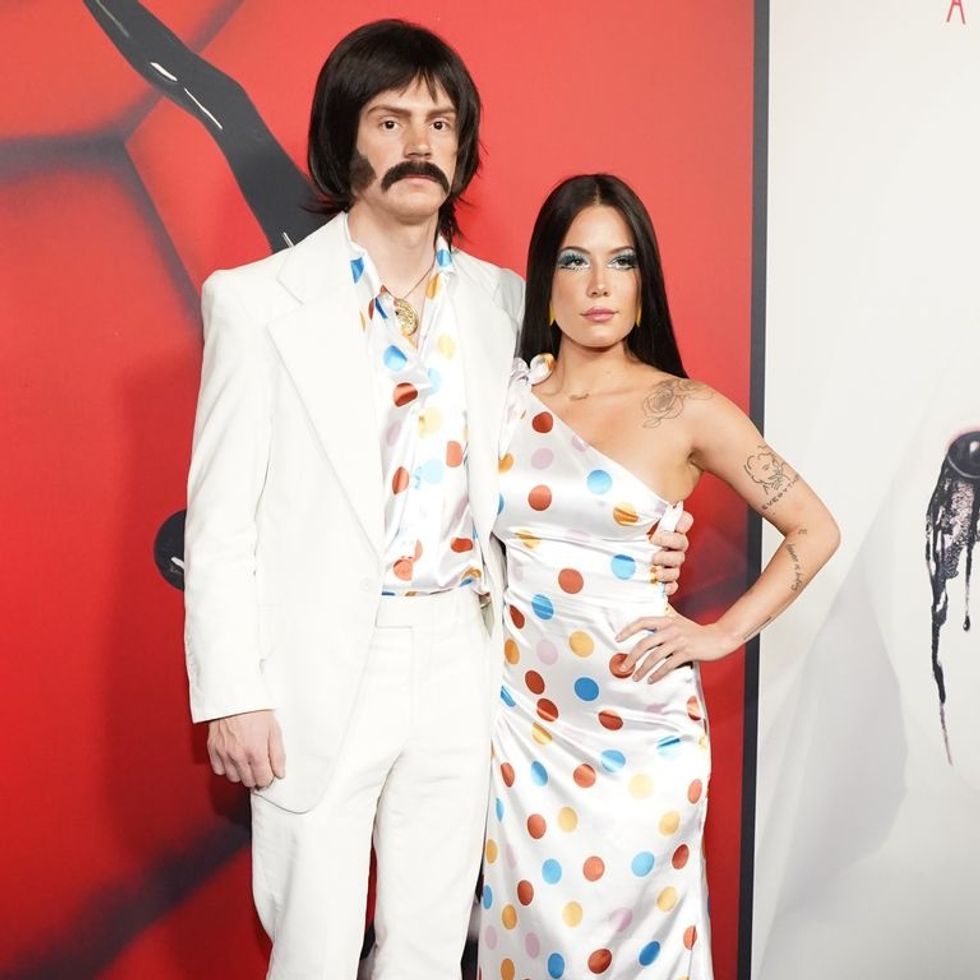 Elle.com
The two first sparked dating rumors when they were seen on a roller coaster at Six Flags Magic Mountain. They're both coming off breakups—Peters' seven year relationship with Emma Roberts ended in March after it apparently became toxic. Though it's unclear exactly when Halsey and Yungblud broke up, they were dating at least through September.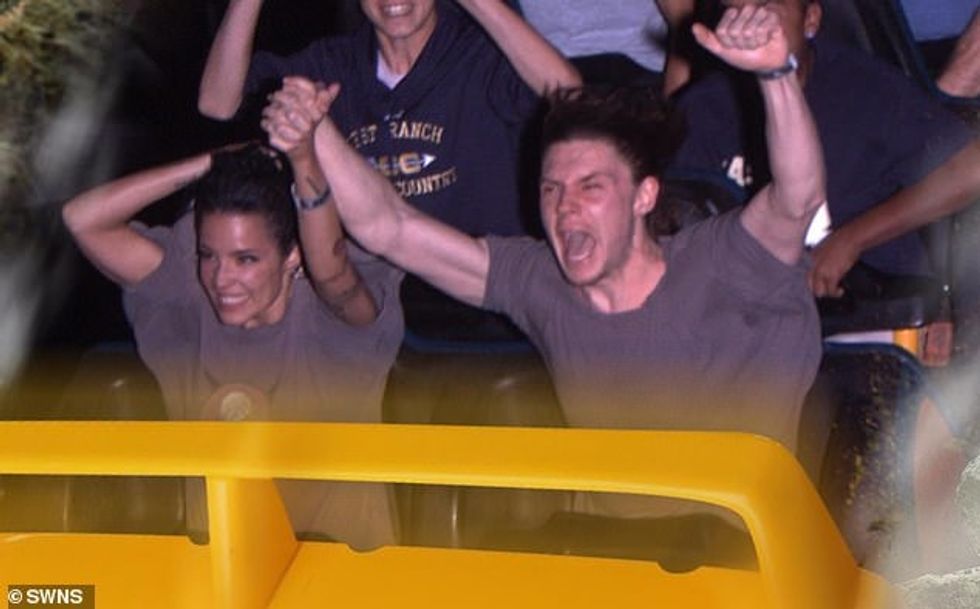 Daily Mail
Halsey and Evan Peters at Six Flags in LA recently https://t.co/yWhrG4Up4x

— Halsey Updates (@Halsey Updates) 1569620779.0
Following Halsey and Peters' roller-coaster debut, fans quickly dug up some of Halsey's old tweets about Evan Peters. For those who didn't know, for a total of seven years, Halsey's been tweeting about her crush on the actor. Though they've all been deleted, as we know, nothing on the Internet ever goes away.
Halsey + Evan Peters https://t.co/1EoNE5aRvd

— dead (@dead) 1448690673.0
"Halsey, your powers are strong. May this be a lesson to us all!" wrote Mari Lodi in Vulture when the dating rumors began to swirl. It's true that Halsey's ability to successfully tweet her way into a relationship may indicate that she's cast some sort of occult love spell, but honestly, Halsey has always been powerful on her own. She recorded her first demo, "Is There Somewhere," on GarageBand while a homeless teen and scored a major label contract. Her first (and best) album, Badlands, went platinum, and if you listen to its lyrics, you can see that Halsey's always had some sort of divine power. Maybe it's because of her song "Hurricane," but if I had to judge her type of magic, I'd label her as a weather witch, able to conjure up storms and to change the color of the sky (possibly from red to blue to violet) at will.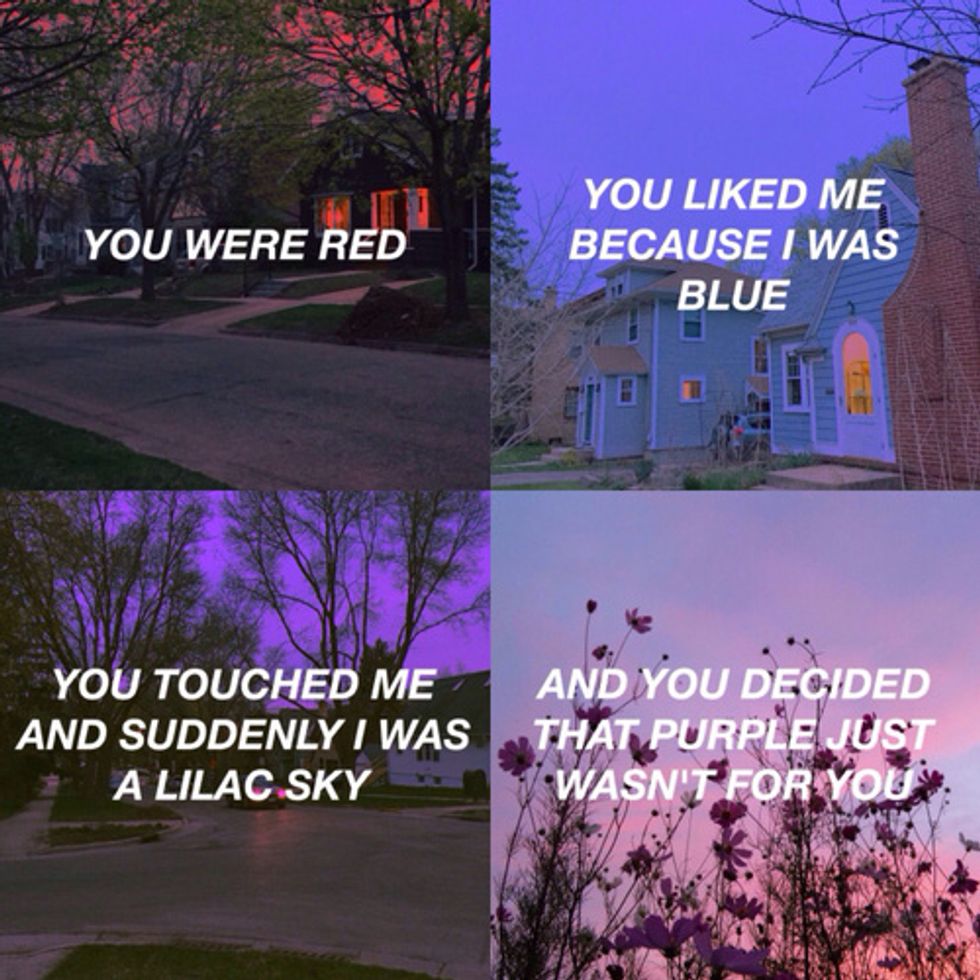 PinterestLyrics from "Colors", circa Tumblr 2014
Meanwhile, Evan Peters has been dabbling in occultism on his own, albeit in his role on American Horror Story. He was the iconic homicidal ghost Tate Langdon in Murder House, and in a 2012 tweet, Halsey perfectly articulated every teenage girl's feelings about his character. "Seriously Evan Peters stop making me attracted to alleged sociopaths and accused murderers…" she wrote.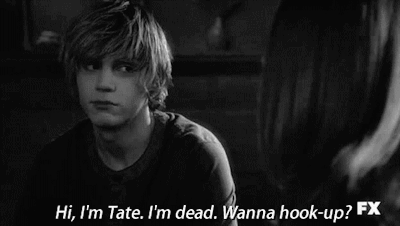 https://www.tumblr.com/tagged/wanna-hook-up
Now that their union has emerged from the purely ethereal plane, becoming manifest on our physical one, we can see that it was always written in the stars. They do seem to exist in separate universes, in a way, as they come from TV and pop music respectively. On the other hand, they're both the highest possible evolution of Urban Outfitters teens, Tumblr darlings who somehow made their way into adulthood without losing their perfectly grungy, relatable-yet-alluring mystique. Of course they chose Scorpio season to make their debut as a couple; this time of transformation, rebirth, intensity, and Halloween seems designed for them to join forces. Plus, Sunday was a New Moon, the most goth of all the moons, perfect for a couple that captions their Instagram couple shots "Resident goths."

Sure, their best work may have been done years ago, but maybe this means there's more magic where their early masterpieces came from. Maybe Halsey will write a song from the perspective of Violet Langdon (she did film the music video for "Colors" in the actual Murder House from AHS Season 1). Maybe I don't know which one I'm more attracted to, but I'm not complaining. Maybe if we Tweet enough about our truest desires, they might just become incarnate—though of course, being a world-famous pop star helps.
Halsey - Colors (Official Music Video) www.youtube.com