CULTURE
The sexist history of censoring nipples is senseless and due to change with better understanding of gender and trans identity.
The Independent
Look closely at Jason Momoa's nipple. Do you find it offensive? Amber Heard wants to know.
Recently, the Aquaman actress called out Instagram's sexist censorship policies. When promoting her recent feature in Interview Magazine, Heard posted to Instagram a shot from the black and white photo shoot in which she is bare chested underneath a black blazer. After the photo received nearly 750k likes, Instagram took it down as a violation of their "community guidelines." In response, Heard criticized the policy by posting a picture of costar Jason Momoa in an identical pose and semi-nude state.
"In honor of IG's rigorous and equitable Community Guidelines against showing the Female nipple," she captioned, "and since mine enjoyed the brief privilege that's afforded to my male counterparts.. I decided to pay homage by replacing it with a picture that DID meet IG's strict nudity guidelines and such careful gender policies." She also took to her Instagram stories to ask viewers to vote "on which edit you prefer the most." She thanked Instagram and said, "here's to 2019!"
For what it's worth, Instagram's policy acknowledges that nudity can be artistic rather than lewd or pornagraphic; they just don't care. Their policy reads: "We know that there are times when people might want to share nude images that are artistic or creative in nature, but for a variety of reasons, we don't allow nudity on Instagram. This includes photos, videos, and some digitally-created content that show sexual intercourse, genitals, and close-ups of fully-nude buttocks. It also includes some photos of female nipples, but photos of post-mastectomy scarring and women actively breastfeeding are allowed. Nudity in photos of paintings and sculptures is OK, too."

Really, Heard harnessed the elegance of Jason Momoa's right nipple to add to a conversation about double standards and the social shaming of the female body that dates back to the early 19th century. Before then, in the 17th and 18th centuries, toplessness wasn't even taboo. In France and Britain (influenced by French culture), "the latest fashions were cut so low that applying nipple make-up or nipple rouge became a part of some women's beauty routine at the vanity table."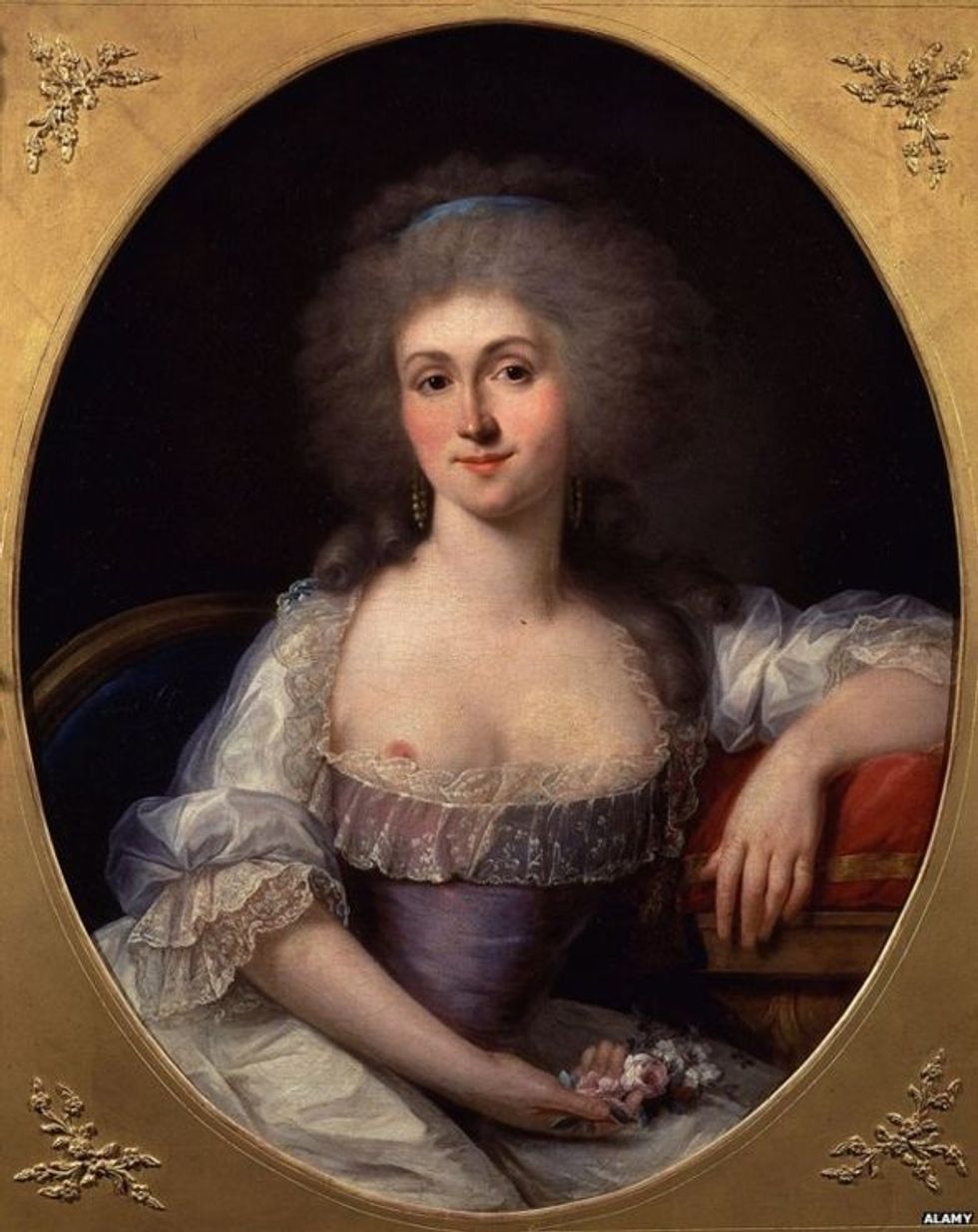 Portrait of Princess of Lamballe by Duplessis, 18th century, ALAMY
Then came the Victorian era, during which Queen Victoria imposed rigid restrictions on how females should express their sexuality—or, more specifically, that they shouldn't. As writer Sara Sheridan recounted for the BBC, "Victoria's childhood had been scarred by her domineering mother, the Duchess of Kent, who left the Queen with a lifelong horror of sexual impropriety."

So, thanks to one queen's childhood trauma, Instagram (along with most media outlets) bans female nipples but condones graphic images of slain hunted animals, pus-filled pimple popping, and "stomach-churning" medical accounts. And, of course, men's nipples.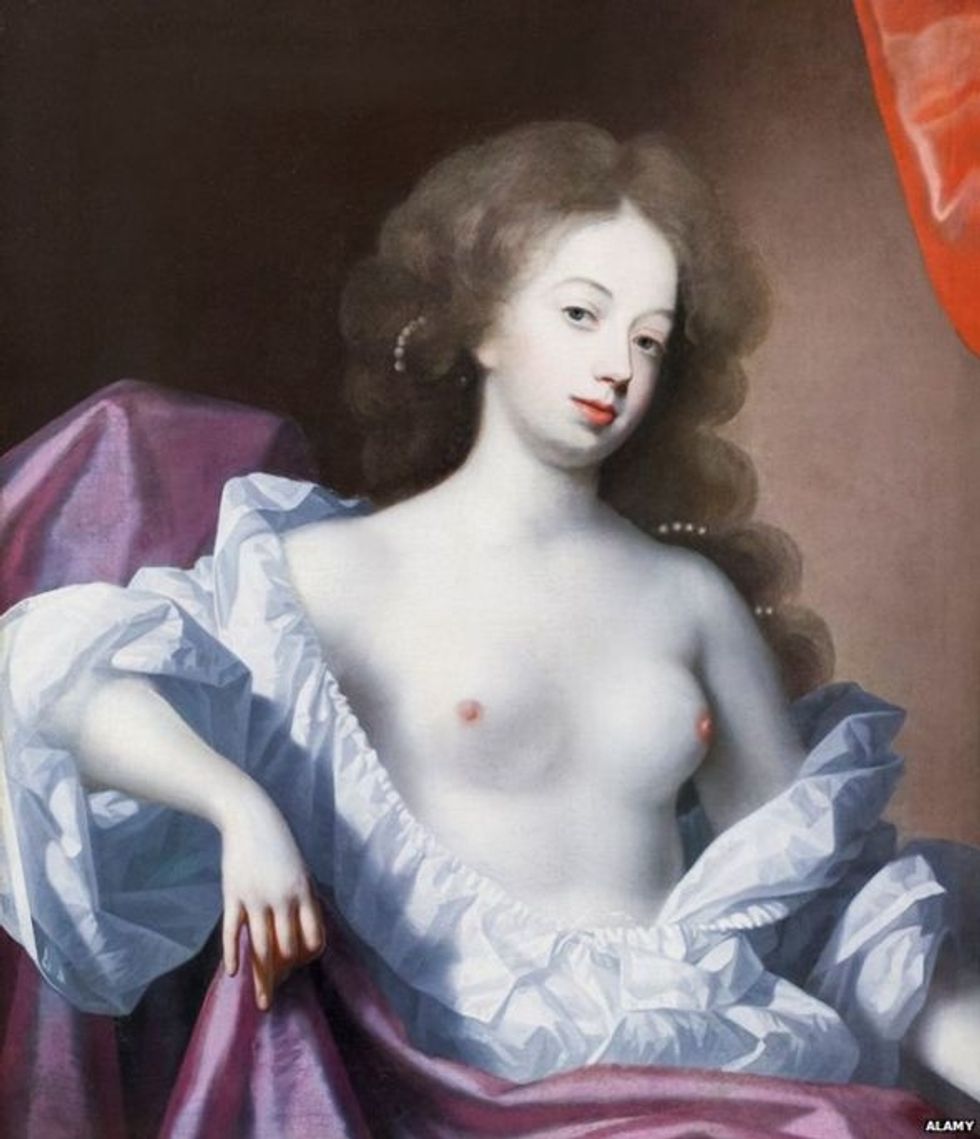 Portrait of Nell Gwyn, Simon VerelstALAMY
But Heard's sly salute to 2019 also highlights that time is running out for out-dated double standards. Namely, with trans and non-binary individuals expressing themselves more freely and finally being represented in the media, society is becoming more aware that gender is a social construct, and gender identity exists on a spectrum. When Robyn Kanner writes about being a trans woman in media, she admits that, to a degree, she understands Instagram's problem and attempt at a solution: "Its algorithm attempts to track and delete nudity. If that doesn't work, it's up to an Instagram user to see and report it. That's when a 'global team' at Instagram decides if it should stay or go." But, she wrote, "In 2013, when I had just started estrogen, there was a strong possibility that Instagram would have let me upload a picture of my breasts…It's 2018, and my C-cup breasts are too scandalous for Mark Zuckerberg and Kevin Systrom's photo-sharing platform." She concludes, "Instagram has successfully shamed women into believing our nipples and breasts are cursed images. It should reconsider its policy. Pretending nipples aren't family-friendly in 2018 is a massively silly endeavor." In 2019, Instagram is now, more than ever, "failing its community" by shaming female nipples.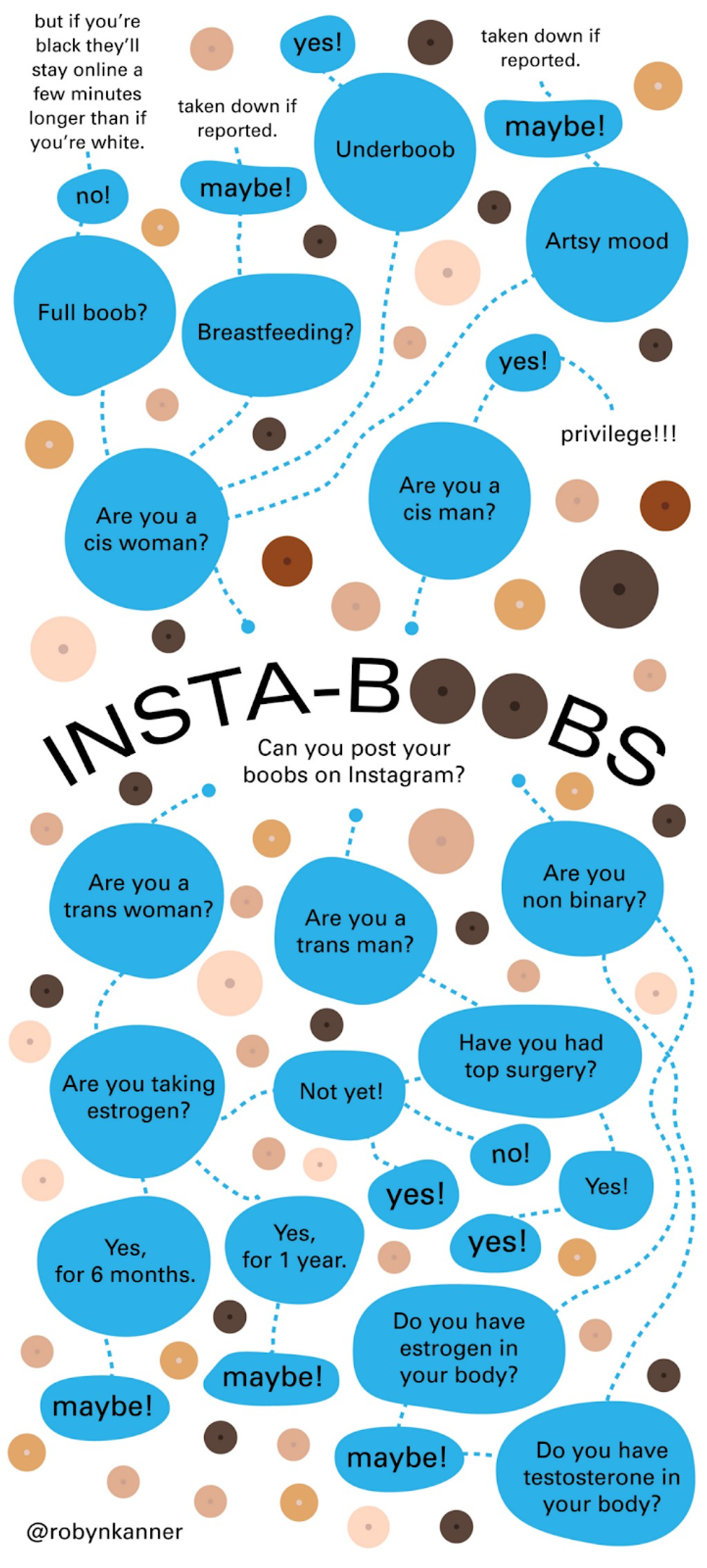 Twitter / @Robynkanner
But, with censorship and shame around the human nipple based solely on gender, what could more inclusive gender expression mean for the nipple?

Freedom, according to the Instagram account @genderless_nipples. Since 2016, the account has been publishing user-submitted close-ups of nipples, both male and female, with no indication of what gender (or agender) the body is. Instagram doesn't ban the images, because A) there's no way to tell which one is a female nipple and so a violation of their policy, B) there's nothing innately shameful or lewd about the body part, in the first place, and C) anyone who reports the account in attempt to have the pictures banned is close-minded and trapped in a Puritan mindset that clearly needs to be expanded by watching Fleabag or anything on HBO or any of Laura Dodsworth's celebrated photography projects of 100 penises and vaginas.
So while you freely gaze at the beauty of Jason Momoa's nipple, remember the long history of nipples that came before his and the arbitrary reason you're not allowed to gaze at so many more.