Frontpage Popular News
Bury Me In Jacquemus
Tragedy: Girl born with luxury taste … but not the luxury bank account to match. Unfortunately, that means I spend most of my time pining after luxe clothing and high-end accessories, then hunting to find dupes on the market.
There's no shame in the knockoff game — if you can't beat 'em, join 'em. But what's most exciting about high-end fashion houses is that they don't just follow trends, they dictate them. They start by giving select high-profile celebrities pieces from their upcoming collection to debut casually, wordlessly dropping the breadcrumbs of a looming trend.
We see this marketing tactic employed by the Kardashian-Jenner family often: Kim will wear an unreleased Skims piece and it gets everyone talking. Kylie Jenner debuted her Khy clothes long before she announced them…and the entire family exhibits preview pieces from brands like Schiaparelli and Dolce & Gabbana.
Love them or hate them, they're exactly who you want to pay attention to if you want to recognize early trends. With the 2023 holiday season upon us (how is Thanksgiving in a week?), we are seeing more and more high-fashion holiday collections pop up. It comes as no surprise when Kendall Jenner was just revealed as the face of Jacquemus' winter collection.
What is the 2024 Jacquemus Holiday Collection?
The French fashion house posted a picture of nude Kendall Jenner covered in Christmas lights with the caption: "GUIRLANDE with @kendalljenner. The holiday collection out tomorrow!" — guirlande is French for garland or wreath.
The campaign shoot is riddled with sultry photos of a festive Jenner barely clothed for the holidays. It ditches the emphasis on the clothes and more on the fun-loving nature of the campaign and its designs.
This winter, brands are leaning into the classic look that romanticizes all things holiday. With elements like leather details and fur cuffing, staying true to the iconic Jacquemus structure and style that we know and love, and rich holiday colors, this is my favorite holiday line this year.
Think sparkles, satins, wool, and the best sweater set you could ever dream of. This collection screams holiday elegance- featuring pieces in classic reds, greens, and silvers. They even have iconic bag styles like Bambino and Chiquito reimagined for the gifting season.
There's something for everyone in this collection- from simplistic t-shirts with an open back to a dramatic shearling long coat valued at a mere $7,500. Which is why I will see this coat in only my dreams.
Trends We Spotted From The Jacquemus Holiday Collection
Oversized Sets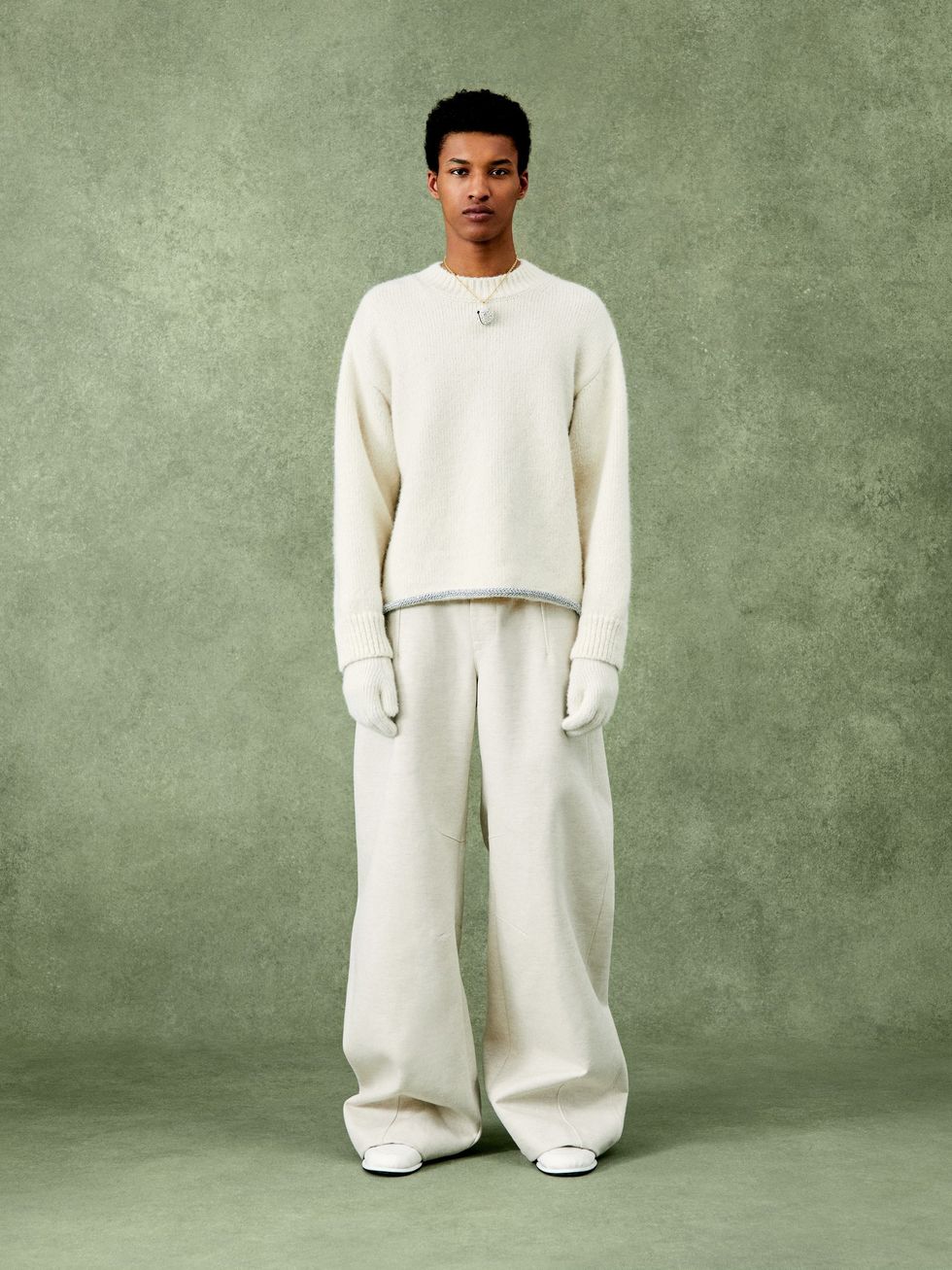 La maille Pavane
Jacquemus
Long ago, Billie Eilish pioneered the oversized, no-clinging clothes look. Flash forward to 2023, and baggy fits are ever-so-popular. The wool La Maille Pavane off-white logo sweater and pants keep you comfy-cozy all winter long. They even have matching gloves.
It shows that oversized sweaters and pants are not going anywhere, especially during the colder months. Sets are the perfect way to mix up your wardrobe- good for wearing separately and together.
Long Statement Coats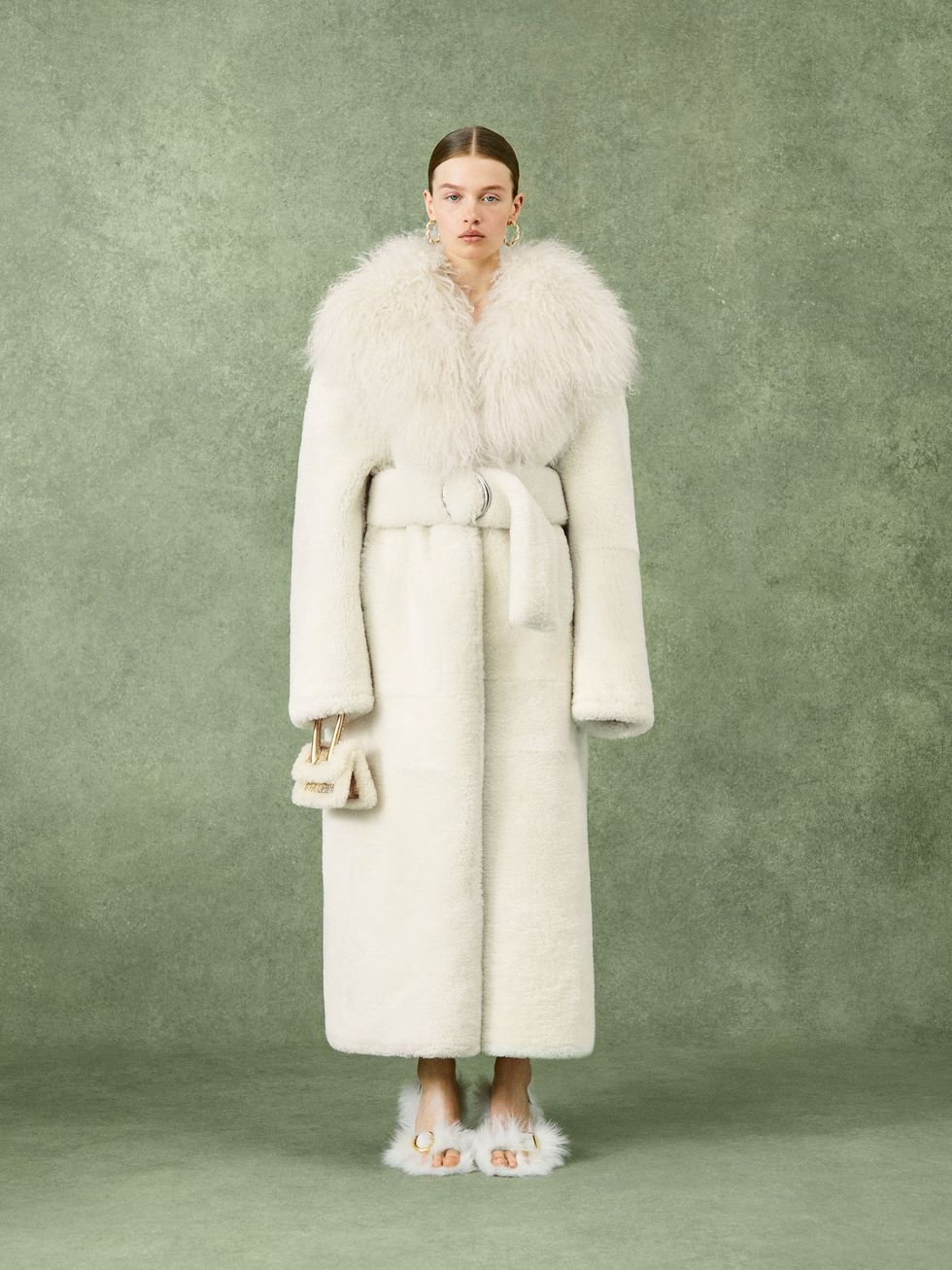 La manteau long Pilou
Jacquemus
There is nothing that feels better than a coat that serves. During the colder months, it's hard to let your outfit shine through when you just want to be bundled up. That's why a statement coat is all you need, and floor duster jackets are trending lately.
Jacquemus' version is the ideal outerwear to make its very own statement: fur-trim, shearling all over, and all white for a winter wonderland vibe.
Emphasis On Accents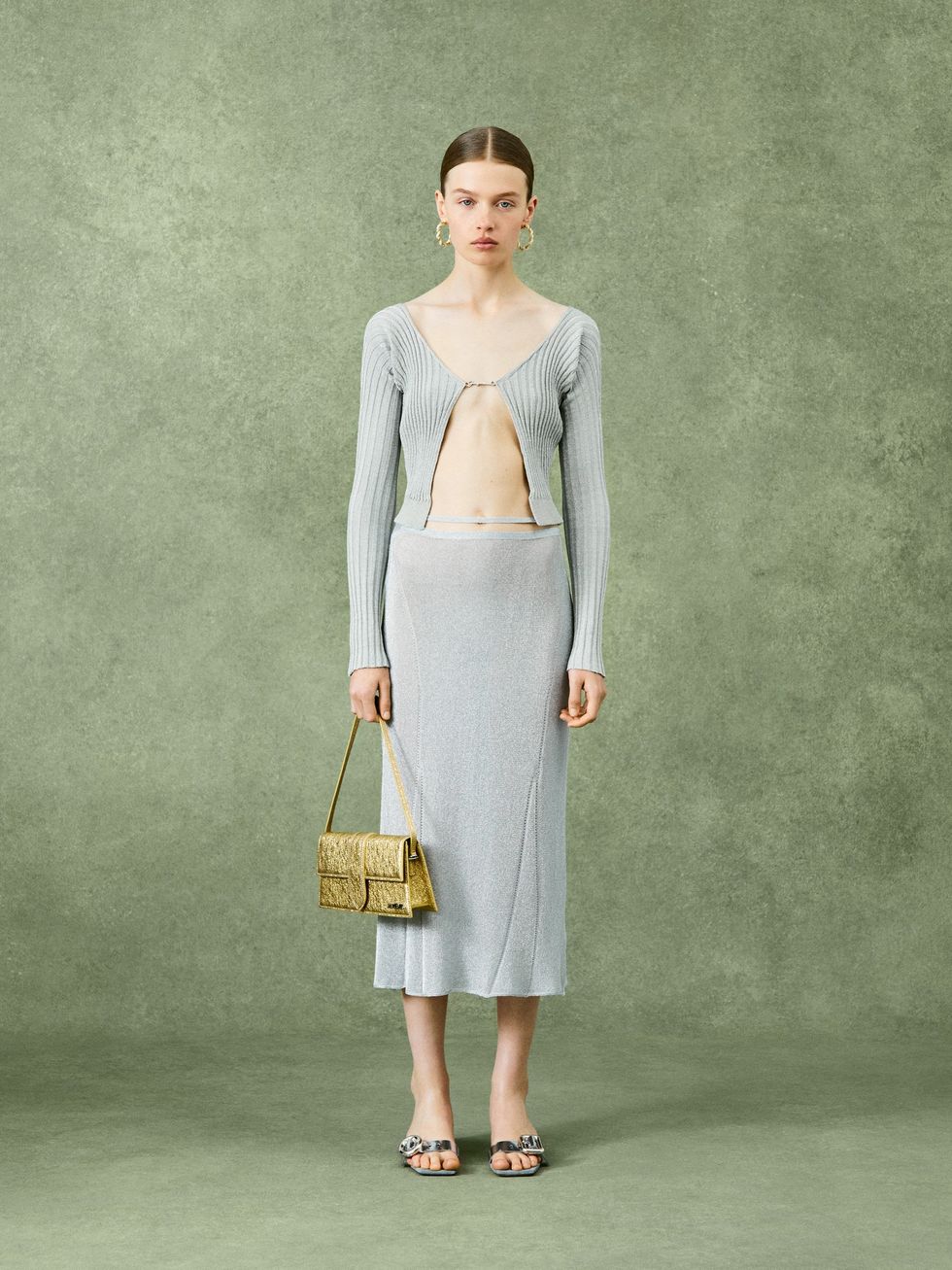 La jupe brilho
Jacquemus
Instead of in-your-face texture, Jacquemus opts for accents like fur lining instead of full fur. Sequins, silks, and satins are featured in accessories like bags. Their sweater dress and sweater sets offer gold-plated details and keyhole openings, elevating the pieces from your average sweater dress.
The
La Maille Pralu
silver set includes an open-front cardigan fastened by a gold Jacquemus logo. The skirt of it all is fashionably low-rise with a string of rhinestones inlaid at the waistband. It's not about a statement piece, but the attention to detail that makes the pieces a statement.
Red Is Still Raging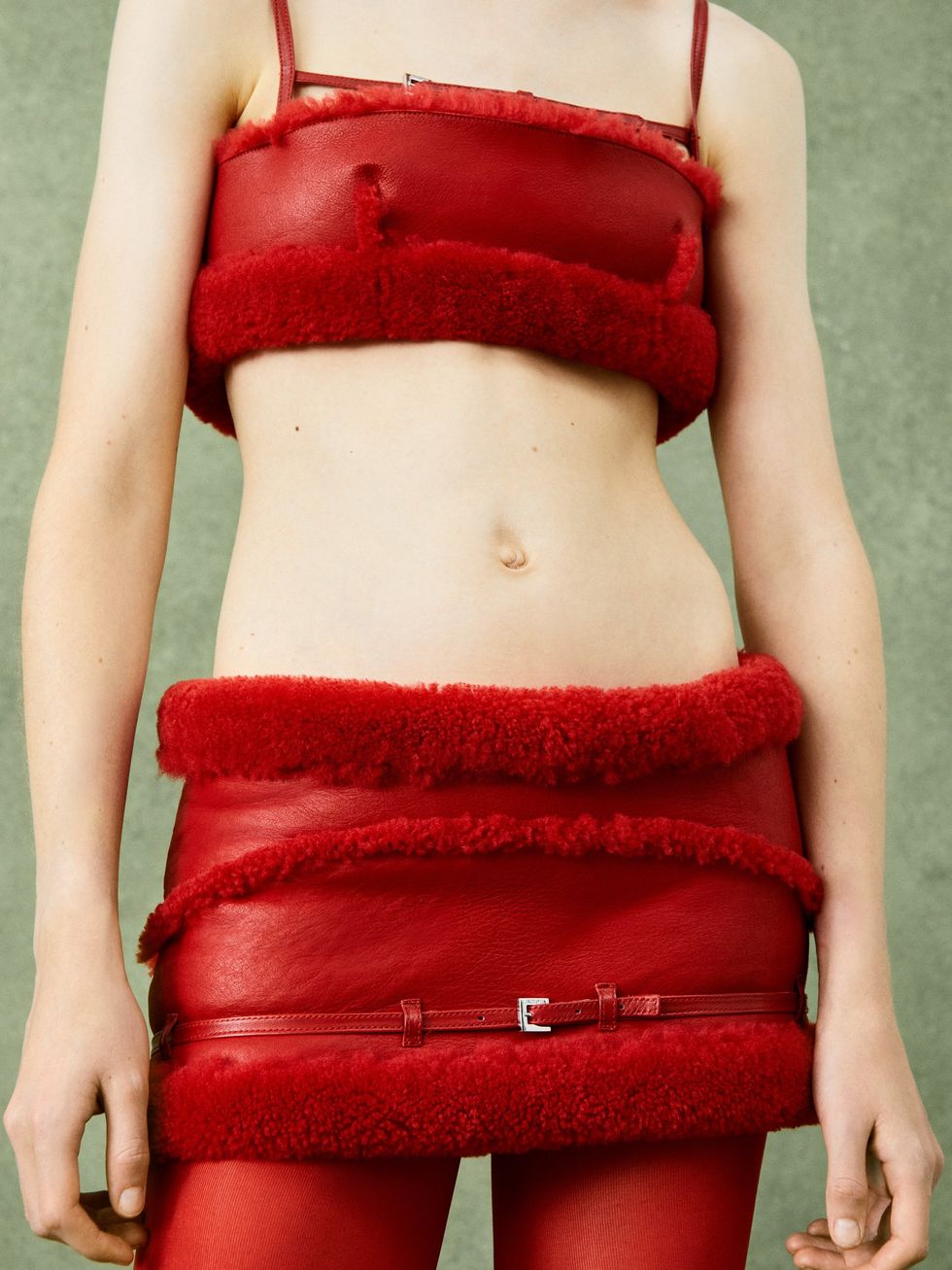 La jupe Pilou
Jacquemus
While red is the color of Christmas and all things holiday, it's also the power color of fall and winter. Red nails, red dresses, red T-shirts, and skirt sets…Jacquemus's holiday collection has it all. It's a power color in itself, and it's still going to be a favorite during this winter season.
The holidays are for deep, rich hues like eggplant, emerald, and fire engine red this year. Don't be afraid to brighten up a dark outfit with a pop of color in your accessories, either.