MUSIC
The Voice Season 12 alumnus is back in Nashville, and turning heads with his new EP.
Blake Shelton called him "the next Mick Jagger." Alicia Keys called him "a male Gwen Stefani."
Whatever you want to call Johnny Gates, you can't say he doesn't turn heads. Former lead singer of The Runaway Saints and notable for his appearance on Season 12 of The Voice, his first two singles have already amassed more than two million listens on Spotify alone. The young trailblazer has recently returned to Nashville to ignite a solo career with his debut EP, "Hell Outta Here."
The project opens with a slow guitar riff with drifting John Mayer overtones. "Hell Outta Here" is the story of running away, running inward, and running into another person. These three acts blend together in a black-and-white haze. It's a mellow opening that sets the stage for the melancholic sound Gates is cultivating.
Plucked guitar chords are also the foundation for "Dive Bar." Here, he brings out the classic American tropes for coping with grief: alcohol, bars, and more alcohol. He mixes them together in a smooth, bittersweet track that feels like it has already started haunting your dreams.
"Bandit" has a sparse acoustic riff, married with the EP's distinctive use of airy/synthy slide. It's a pained love song, and he gives his voice a sharp metallic edge that lets his lyrics plunge straight down into your soul. Gates appears to be cultivating his own vision of Americana on this EP: a hybrid of old and new that alternates between angelic and chimeric.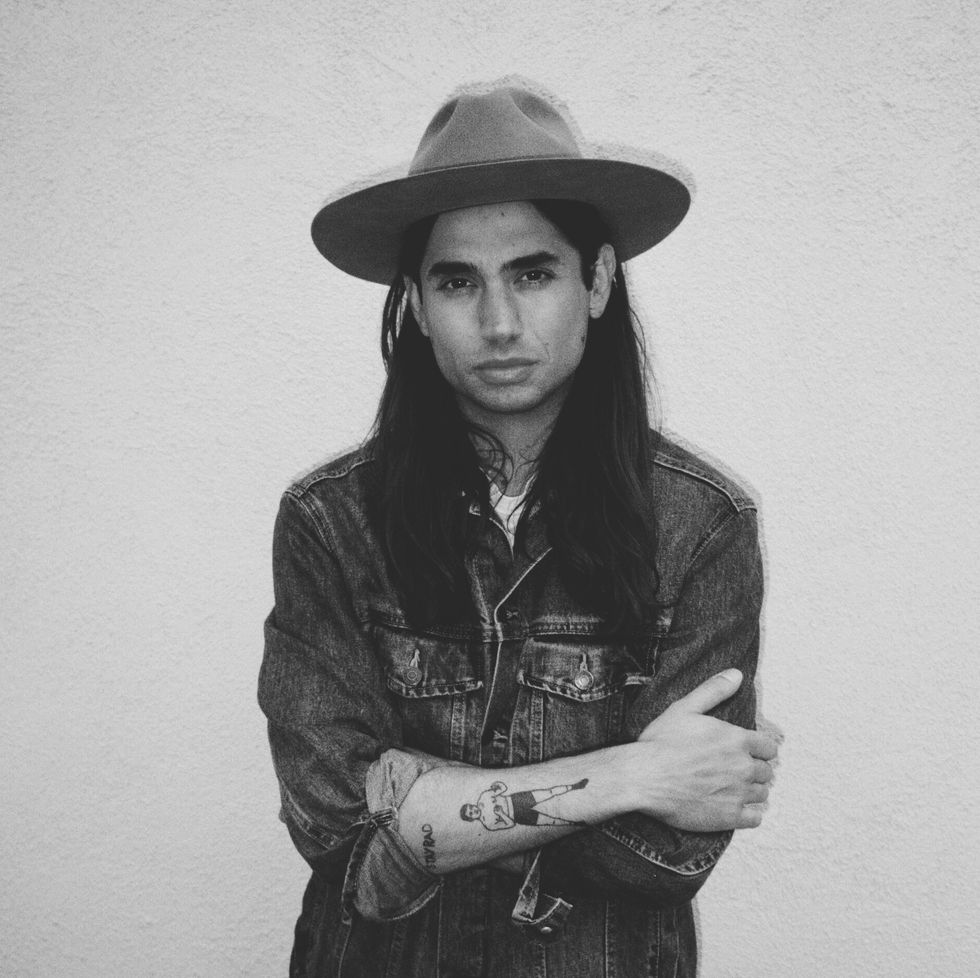 Photo by Meghan Cummings
He evokes John Legend in the soulful intro to "Church Girl," though he cultivates a classic country sound when the song starts to kick in. The production then blends electronic and live drums, giving the impression of a heartbeat moving from stationary to transcendent between verse and chorus. Lyrically, it's a wistful love song that holds its heart out in its hands as they stretch up towards the heavens.

It's hard not to be enamored with how Johnny Gates' EP sonically blends rough and smooth tones. This medley crystallizes the contrast between the coarseness of the stories he tells and the fineness of the tools he uses to tell those stories. This EP doesn't feel like it was recorded; it feels like it was discovered, hidden in the sands of a desert somewhere, calling out to whoever might be aching to hear it.
Follow Johnny Gates Online!